Georgia, Texas Incumbents at Risk in Primaries to Watch Tuesday
Cuellar-Cisneros, McBath-Bourdeaux are among top races
GOP firebrand Marjorie Taylor Greene seeks to avoid runoff
There are numerous story lines to watch for in the primary elections Tuesday, including the sure ouster of a Georgia Democratic congresswoman and a potential loss by the only House Democrat who opposes abortion rights.
Reps. Lucy McBath and Carolyn Bourdeaux became suburban Atlanta rivals after Georgia Republican legislators redrew the congressional map to their partisan advantage. In Texas, Rep. Henry Cuellar is being challenged in a runoff by Jessica Cisneros, an immigration lawyer who's running as an abortion-rights supporter just as Democratic leaders warn that Roe v. Wade may soon be overturned.
Elsewhere, Rep. Marjorie Taylor Greene, whose incendiary rhetoric and embrace of conspiracy theories has drawn national criticism, is trying to win a majority of Republican primary voters in her Georgia district and avoid a runoff election. Alabama Republicans are weighing who should succeed retiring six-term Sen. Richard Shelby (R). And Arkansas and southern Minnesota also are holding primaries Tuesday.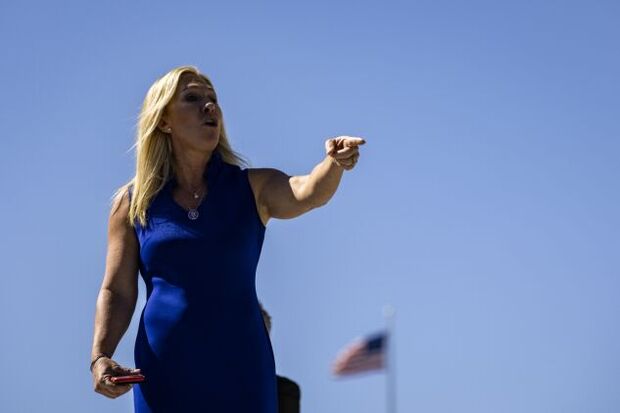 Here's what to know about the key races. The 2020 presidential election percentages for Joe Biden and Donald Trump are noted parenthetically.
Alabama
Senate (Trump won Alabama 62%-37%): Rep. Mo Brooks may still qualify for a likely Republican runoff even after Trump withdrew his endorsement of the conservative firebrand in March, when Brooks' campaign was struggling.
Polls suggest Brooks, aided by the conservative Club for Growth Action, has recovered and is running competitively in a Republican field that includes Katie Britt, who was Shelby's chief of staff, and Mike Durant, a former Army helicopter pilot involved in the 1993 "Black Hawk Down" incident in Somalia.
If no one wins a majority of the vote in the primary, the top two finishers will compete in a runoff on June 21. The Republican nominee will be a shoo-in to succeed Shelby in one of the nation's most Republican states.
Read More: Alabama Senate GOP Primary Draws Unprecedented Outside Spending
5th District (Trump 62%-35%): Six Republicans are vying to succeed Brooks in a Huntsville-area district where capturing the Republican nomination is tantamount to winning the November general election.
The best-funded candidate is Madison County Commission Chair Dale Strong, whose county includes Huntsville. The US Chamber of Commerce supports Strong, who said he expects to advance to a runoff. His top rival may be Casey Wardynski, a retired US Army colonel who's backed by the political arm of the House Freedom Caucus.
Arkansas
Senate (Trump won Arkansas 62%-35%): Sen. John Boozman (R), a soft-spoken conservative, is opposed by Jake Bequette, an Army veteran and former NFL player trying to run to Boozman's right.
Bequette's benefactors include Richard Uihlein, a packaging company owner who's one of the biggest donors to political candidates and committees. Uihlein sent at least $1.5 million to an pro-Bequette super PAC called Arkansas Patriots Fund.
One pro-Boozman super PAC is funded by Arkansas business leaders Alice Walton, Warren Stephens, Ronald Cameron, and John Tyson. Another pro-Boozman PAC, called Crypto Innovation PAC, has donors including former Trump White House communications director Anthony Scaramucci.
In an interview, Boozman said his polling "numbers are good" and that he's "running through the finish line." He touted his work on veterans issues and his perch as the top Republican on the Agriculture Committee.
"I think we really have a great story as to what we've done and how we can help in the future," he said.
Georgia
Senate (Biden won Georgia 49.5%-49.3%): The primary should tee up a long-anticipated November matchup between Sen. Raphael Warnock (D) and Herschel Walker (R), a former football star at the University of Georgia.
Trump's early endorsement of Walker cleared the Republican field of top-flight opposition. Under Georgia election law, Walker needs a majority of the vote over five lesser-known opponents to avoid a runoff.
Warnock, a senior pastor at Ebenezer Baptist Church in Atlanta, is seeking a full six-year term after his special-election win in January 2021 helped Democrats secure control of the Senate. This year's Georgia election is one of five Senate contests rated as a tossup by the nonpartisan Cook Political Report with Amy Walter.
Read More: A Football Hero Takes On Pastor From a Famous Clergy in Georgia
2nd District (Biden 55%-44%): House Appropriations Agriculture-FDA Subcommittee Chair Sanford Bishop, a 15-term House member and one of the most senior Black lawmakers in Congress, faces a more competitive re-election after Georgia Republican legislators redrew his mostly rural southwestern district to be a little less Democratic-leaning.
The six-candidate Republican primary includes Jeremy Hunt, a West Point graduate and frequent Fox News guest. His backers include Sens. Josh Hawley (R-Mo.) and Tom Cotton (R-Ark.) and Wesley Hunt, a fellow Black Republican West Point graduate who's likely to win a House seat in Texas. The Hunts are not related.
Other candidates include Chris West, a real estate developer and Air Force veteran, and Wayne Johnson, a former Trump Education Department official and Army veteran, who's described Hunt as a "puppet" of Washington power brokers with weak ties to the district.
6th District (Trump 57%-42%): Redistricting made the competitive 6th so strongly Republican that McBath shifted to the strongly Democratic 7th District to challenge Bourdeaux. The winner of a nine-candidate Republican primary or a subsequent runoff will be a November shoo-in to flip the 6th from Democratic control.
Trump backed Jake Evans, a lawyer who formerly led Georgia's ethics commission. Evans benefited from a super PAC funded primarily by his father Randy Evans, an influential Georgia Republican lawyer who was Trump's ambassador to Luxembourg.
Jake Evans' rivals include Rich McCormick, an emergency room doctor and Marine Corps and Navy veteran who lost a close race to Bourdeaux in 2020; former state Rep. Meagan Hanson, who touted her work in the legislature; and Mallory Staples, who called herself a "MAGA mom" aligned with Trump's Make America Great Again movement.
7th District (Biden 62%-36%): The Bourdeaux-McBath matchup is the second member vs. member primary of the year and the first between Democrats. Bourdeaux and McBath have practically identical voting records and haven't disagreed on major policy.
Bourdeaux, who's seeking a second term, now represents much more of the reconfigured district's population than McBath, 57% to 12%. She's banking on a network of supporters within Gwinnett County, the dominant population center of the 7th. Bourdeaux said McBath leaving open the 6th District to challenge her will help Republicans win a majority.
McBath, who's seeking a third term, has been a leading advocate for gun control in the decade since her teenage son was shot and killed at a gas station by a stranger.
She benefited from more $5 million in outside spending from groups including the political arm of Everytown for Gun Safety, which advocates for universal background checks and other gun control measures, and the Independence USA PAC. Former New York City mayor Michael Bloomberg, who's the majority owner of Bloomberg Government's parent company, funds the Independence USA PAC and serves as a member of Everytown's advisory board.
McBath, who is Black, also received support from some Black members of Congress and groups promoting Black political power.
Bourdeaux hasn't received any significant outside aid from super PACs.
A third Democratic candidate, state Rep. Donna McLeod, noted that neither McBath nor Bourdeaux lives in the 7th District.
Read More: Redistricting Pits Democratic Incumbents in Atlanta-area Clash
10th District (Trump 61%-38%): Eight Republicans are seeking to succeed Rep. Jody Hice, who has Trump's backing to unseat Georgia Secretary of State Brad Raffensperger.
Trump's choice is Vernon Jones, a former Democrat who previously served in the state legislature and once called himself the "Black Donald Trump." Jones' other supporters include former Sen. David Perdue, who's opposing Gov. Brian Kemp in the GOP primary with Trump's support.
Jones' opponents include trucking company executive Mike Collins, whose father Mac Collins served in the House, and state Rep. Timothy Barr, who's endorsed by Hice and other members of the anti-establishment conservative House Freedom Caucus. Collins is one of several candidates who've loaned their campaigns hundreds of thousands of dollars.
Former Rep. Paul Broun, who served in the House from 2007 to 2015, is making another comeback attempt.
13th District (Biden 80%-19%): Agriculture Committee Chairman David Scott (D) faces three challengers, including former state Sen. Vincent Fort and South Fulton City Councilman Mark Baker, who are trying to run to Scott's left. Scott was almost forced into a runoff in 2020, winning 53% against three opponents.
14th District (Trump 68%-31%): Greene, a strident backer of Trump and his false claims about the 2020 election, could win outright despite a string of inflammatory statements and being stripped of her committee assignments just one month into her term. Of the five Republicans trying to pull her into a runoff, the strongest is Jennifer Strahan, a health-care executive.
"We've heard a lot of talk and our district has nothing to show for it," Strahan said at a candidate debate.
Strahan's received political donations from Sen. Mitt Romney (R-Utah), Atlanta-based United Parcel Service, and the Republican Jewish Coalition. She's also benefited from some modest outside spending by Value in Electing Women PAC and a super PAC called Georgians for Strong Families that hasn't yet revealed its donors.
But the bulk of anti-Greene money hasn't gone to Strahan or other Republican primary challengers. Democrat Marcus Flowers has raised more than $8 million opposing Greene even though a Democrat has little to no chance of winning a district where Biden received less than one-third of the vote.
Greene said at the debate she would receive committee assignments in a Republican-led House and would continue to oppose "Democrat Communists" and the "Biden crime family."
Read More: Greene's Opponents Bet on Forcing Runoff With Establishment Cash
Minnesota
1st District (Trump 54%-44%): Both parties have special primaries to determine nominees for the Aug. 9 special election in a southern Minnesota district vacated by the February death of Republican Jim Hagedorn.
In the Republican primary, state Rep. Jeremy Munson's backers included Rep. Thomas Massie (R-Ky.) and the Protect Freedom PAC, which has ties to Sen. Rand Paul (R-Ky.).
Brad Finstad, a former state legislator with a background in agriculture, is supported by Defending Main Street, which backs more centrist Republican candidates, and American Dream Federal Action, a super PAC funded by cryptocurrency exchange executive Ryan Salame.
The Republican candidates also include Hagedorn's widow Jennifer Carnahan, who was forced to resign as Minnesota Republican Party chair amid scandal.
The leading Democratic candidate is former Hormel Foods CEO Jeff Ettinger, whose supporters include Dan Feehan, the Democrat who lost close races to Hagedorn in 2018 and 2020.
The primary and the Aug. 9 special election will be held under the congressional lines from the 2020 election. The special election will coincide with the regularly scheduled primary election, which will be held under slightly different lines following redistricting.
Texas
15th District (Trump 51%-48%): The Democratic runoff pits Ruben Ramirez, a lawyer and Army veteran, against Michelle Vallejo, a community organizer. They advanced from a six-candidate, first-round primary in March in which Ramirez outran Vallejo 28% to 20%.
Ramirez's supporters including Rep. Vicente Gonzalez, who represents the 15th but is seeking re-election in the more Democratic 34th District; the political arm of the New Democrat Coalition; and the Democratic Majority for Israel (DMFI) PAC.
Vallejo is backed by more progressive Democratic politicians and groups including EMILY's List, which aids Democratic women who support abortion rights.
The winner will face Monica De La Cruz (R) in a Hispanic-majority district that Texas Republican mapmakers redrew to have a small pro-Trump edge.
28th District (Biden 53%-46%): The Cuellar-Cisneros runoff will test the ability of national progressive groups to increase their clout in the House Democratic Caucus and rid it of the lone House Democrat opposed to abortion rights.
Cisneros criticized Cuellar's vote last year against legislation (H.R. 3755), known as the Women's Health Protection Act, that would safeguard abortion rights.
They disagree on more than abortion. Cisneros supports the union-backed Protecting the Right to Organize (PRO) Act (H.R. 842), which would boost workers' ability to organize unions and collectively bargain. Cuellar was the only House Democrat who voted against the bill last year.
Cuellar criticized Cisneros's support for the Green New Deal environmentalist blueprint, which he said would hurt the local energy industry that employs many district residents. The US Chamber of Commerce endorsed Cuellar.
In the first-round primary in March, Cuellar took 48.7% to Cisneros's 46.6%. A third candidate, Tannya Benavides, took 4.7% and endorsed Cisneros in the runoff.
In the Republican runoff, party leaders are backing Cassy Garcia, a former aide to Sen. Ted Cruz (R-Texas), over Sandra Whitten, who lost to Cuellar 58%-39% in the 2020 general election. Garcia led Whitten 24%-18% in the first-round primary.
Read More:
30th District (Biden 78%-21%): The Democratic runoff between state Rep. Jasmine Crockett and former House aide Jane Hope Hamilton is the key election in this Democratic bastion in Dallas.
Crockett, who was endorsed by retiring Science, Space, and Technology Committee Chair Eddie Bernice Johnson, took 48% of the vote in the March primary compared with 17% for Hamilton. Crockett was a beneficiary of an outside spending campaign by the Protect Our Future PAC funded by billionaire Sam Bankman-Fried.
Zach C. Cohen in Washington also contributed to this story.
To contact the reporter on this story: Greg Giroux in Washington at ggiroux@bgov.com
To contact the editors responsible for this story: Bennett Roth at broth@bgov.com; Kyle Trygstad at ktrygstad@bloombergindustry.com