Greene's Opponents Bet on Forcing Runoff With Establishment Cash
First-term Republican aims to win outright in May 24 primary
Top two advance to a June 21 matchup if no one tops 50%
For Rep. Marjorie Taylor Greene (R-Ga.) not to win re-election, state Republican strategist Jay Williams says, "they'd need to find a dead body in her car."
But Greene's Republican detractors, averse to her inflammatory rhetoric, are hoping the May 24 primary results force the race into a June 21 runoff. An extended, one-on-one matchup could attract money and attention for a quixotic bid against a high-profile incumbent.
With state officials turning back a long-shot effort by a voters' group to kick Greene off the ballot, the outspoken supporter of former President Donald Trump and his unproven allegations of widespread voter fraud in the 2020 election is favored to win in the ruby-red district. Greene has five challengers, including health-care executive Jennifer Strahan, who's backed by a smattering of establishment GOP politicians and donors.
"If we can get Marjorie to a runoff, I have a feeling a lot of outside support will flow directly to Jennifer once they realize, 'Wow, this is really in play,'" said Julie Conway, who runs a PAC, Value in Electing Women, that supports Strahan and other Republican women running for Congress.
There's been scant public polling of the race. But Greene in an interview Thursday said she felt "very confident" she'll win the nomination outright later this month based on "incredible support" in the district and "very strong" polling her campaign has conducted. Her campaign didn't provide the specific results from those surveys.
"I don't think anybody really is supporting them," Greene said of her opponents.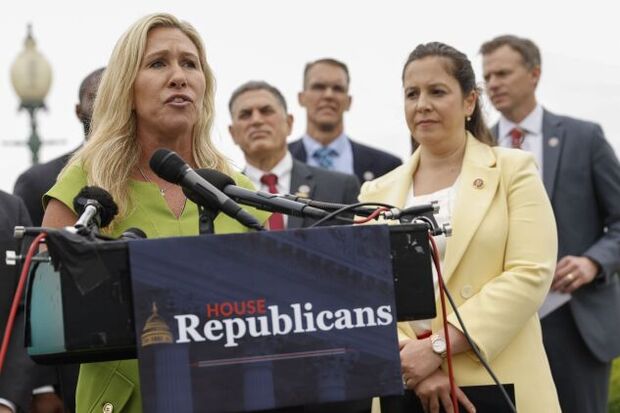 A runoff, which is required if no candidate receives a majority of the primary vote, would be familiar territory for Greene. She punched her ticket to Congress in 2020 in a runoff, defeating John Cowan by fewer than 11,000 votes. Georgians in record-setting numbers began voting last week ahead of the state's primaries.
"If you're one of the other five candidates in that race, your goal has to be coming in second place and holding Marjorie Taylor Greene under 50" percent, Georgia Republican consultant Chip Lake said. "If you can do those two things, then you live to fight another day."
"We've learned many times in this state that runoffs are very unpredictable," said Lake, who called them "truly new elections."
Fundraising Advantage
Greene enters the closing weeks of the primary with a financial advantage. She reported Thursday raising $858,000 for her re-election campaign since April 1, thanks in large part to a national donor base. She also reported having $3 million on hand as of May 4, giving her a cash cushion she could draw on as she typically burns through her campaign donations as she earns them.
Strahan by comparison raised only $69,000 last month, leaving her with $160,000 on hand, according to her latest filing with the Federal Election Commission.
"We are continually motivated by the level of support Jennifer is receiving from people across the district," Strahan spokesperson Jake Monssen said in an email. "Jennifer's phone has been inundated with texts and pictures with 'I voted' stickers. Many folks who voted for the current representative last time, have already voted for Jennifer. May 24 will be a good day."
Strahan has attracted some support from a constellation of PACs run by establishment Republicans as well as political organs for Atlanta-based corporations Home Depot and UPS.
Groups organized by Sen. Mitt Romney (R-Utah) and Rep. Tom Rice (R-S.C.) gave the maximum of $5,000 to Strahan in recent months. Sen. Bill Cassidy (R-La.) also headlined a Strahan fundraiser last week that was organized by Conway.
Romney, Cassidy, and Rice voted to impeach or convict Trump for his role in the Jan. 6 riot. Greene at a televised debate this month blasted Strahan for her ties to the former president's Republican antagonists.
"The Republican Party needs serious candidates for the serious problems that are before us," Cassidy said in an interview, "and I think that district needs the same."
The Republican Jewish Coalition has also backed Strahan, giving her campaign up to the legal limit and encouraging its members to support the campaign.
Sam Markstein, RJC's national political director, said in an email that Strahan appeals to Trump's supporters "without all of the baggage that comes with Marjorie Taylor Greene." Earlier this year, Greene opened a conference hosted by Nick Fuentes, considered by anti-hate groups as a white nationalist.
"RJC opposed Marjorie Taylor Greene in 2020, and we are proud to oppose her again this year in 2022," Markstein said. "Jennifer Strahan is a true conservative who will put the voters of Georgia's 14th congressional district first, and fight back against the Democrats' radical policies in Washington DC."
Emily Wilkins in Washington and Greg Giroux in Washington also contributed to this story.
To contact the reporter on this story: Zach C. Cohen in Washington at mailto:zcohen@bloombergindustry.com
To contact the editors responsible for this story: Bernie Kohn at bkohn@bloomberglaw.com; Kyle Trygstad at ktrygstad@bloombergindustry.com