South Texas Rematch Pits Centrist Incumbent Against Progressive
Rep. Cuellar faces Cisneros in March Democratic primary
Their second contest takes place in district with new lines
The first consequential midterm primaries include a South Texas rematch between the lone anti-abortion House Democrat and a progressive lawyer who almost unseated him two years earlier.
The March 1 contest between nine-term Rep. Henry Cuellar, a member of the Blue Dog Coalition of centrist Democrats, and Jessica Cisneros, once a Cuellar intern, stands out as an early test of national progressive groups' ability to increase their influence in the House Democratic Caucus. It also comes with legal wrangling and debate over the state's restrictive abortion law likely to continue into next year.
Cuellar revamped his campaign team after Cisneros held him to an unexpectedly close 52%-48% victory last year. What's also different about the 2022 primary is that it'll be held under redrawn lines, it won't coincide with a higher-profile Democratic presidential primary, and it won't be a straight one-on-one contest.
Anyone expecting a repeat of 2020 "might be in for a little bit of a surprise," said Jon Taylor, a political scientist at the University of Texas at San Antonio. After Cisneros' strong showing in 2020, Cuellar "is not going to take her lightly in 2022," he said.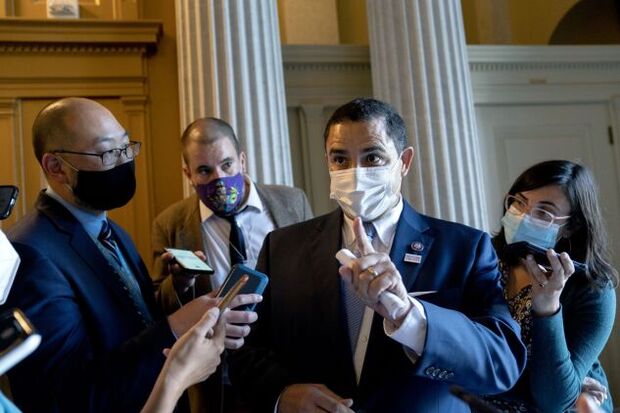 Policy Splits
Cisneros is again running on a progressive platform that includes a Green New Deal blueprint to curb greenhouse gas emissions, a government-run health-care system known as Medicare for All, and the union-backed Protecting the Right to Organize (PRO) Act (H.R. 842) that would boost workers' ability to organize unions and collectively bargain. She said she'd champion expanded health care, including enhanced Medicare benefits, in a way Cuellar hasn't.
"We're not starting from scratch this time around," Cisneros said in a phone interview. "We had a lot of ground to cover in our first race. I'm a known quantity now."
Cuellar and Cisneros also disagree on abortion rights, a difference magnified by a Texas law banning abortion after the sixth week of pregnancy along with Mississippi's ban on abortion after 15 weeks of pregnancy. The Supreme Court on Dec. 10 refused to block the Texas law while letting clinics and doctors press parts of their lawsuit at a lower court.
"I've been running an unabashedly pro-choice campaign," Cisneros said. EMILY's List, which aids Democratic women who support abortion rights, endorsed Cisneros on Dec. 7.
In September, Cuellar was the only House Democrat who voted against a bill (H.R. 3755) that would ban restrictions on abortions other than those that are medically necessary. Speaker Nancy Pelosi (D-Calif.) scheduled a vote on the bill after the Supreme Court first allowed for the Texas law to take effect. Cuellar told KGNS-TV in Laredo his vote was "a matter of conscience."
Cuellar opposes the Green New Deal as detrimental to a local economy that depends on oil and gas. He supports the rights of gun owners, who are plentiful in his district, but also voted for a bill (H.R. 8) that would require background checks on all gun purchases including at gun shows.
While bucking Democratic leaders from time to time on cultural politics, Cuellar has aligned with them on most big-ticket economic policy. He voted for a $1.9 trillion pandemic relief package (Public Law 117-2), the large domestic benefits legislation known as the Build Back Better Act (H.R. 5376), the Democrats' "Dream Act" that would provide a path to citizenship for undocumented immigrants brought into this country as children (H.R. 6), and the infrastructure package (Public Law 117-58).
James Sonneman, a spokesman for Cuellar's campaign, noted the congressman's "long track record of delivering for our area" and seniority on the Appropriations Committee.
"If we lose this seat, our entire region will be forced to the back of the line and will lose our voice in this decision making process," Sonneman said in a statement. "We need a representative who can build bridges across the aisle and our opponents' extreme policies like dismantling the border patrol, defunding the police, eliminating oil and gas jobs, and raising taxes will harm South Texas."
New Voters
Both Cuellar and Cisneros are reaching out to new voters who redistricting added to the 28th District, a Hispanic-majority area running from the San Antonio area south to the U.S.-Mexico border.
In the southern part of the district, the remap shifted out the 28th's share of Hidalgo County, a border community that backed Cisneros over Cuellar in the 2020 primary. It added the lesser-populated, heavily Hispanic counties of Duval and Jim Hogg. Those counties abut Webb County, which includes the Laredo hometown of both candidates.
Webb, the biggest source of Democratic votes in the district, voted 55%-45% for Cuellar over Cisneros in 2020. Colin Strother, a Democratic strategist who was Cuellar's longtime chief political consultant, said Cuellar underperformed in Webb and turnout was not as strong as it should've been.
In the northern part of the district, the 28th added more of Bexar County (San Antonio), including heavily Hispanic and Black precincts in the southeastern quadrant of the city inside the Interstate 410 Loop. Cisneros crushed Cuellar in Bexar in the 2020 primary, though Cuellar represented southern Bexar County earlier in his House career as well as next-door Guadalupe County, most of which was added to the 28th in the most recent redistricting. The new 28th shed its share of Wilson County, where Cisneros edged Cuellar in 2020.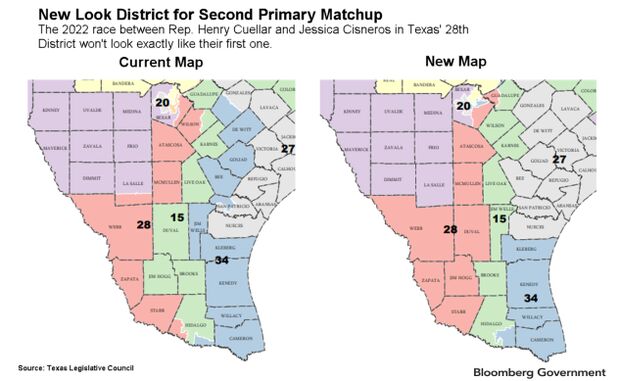 Strother said Cuellar "will win by a much wider margin than last time" after the Cuellar campaign did a top-to-bottom review of the unexpectedly close 2020 election and installed a new campaign team.
"In 2020, we had a failure to execute at a high level and we were too comfortable, and I think the margins reflected that," said Strother, who himself resigned in September.
Cuellar had $2.2 million in cash-on-hand as of Sept. 30 after raising $653,000 in the third quarter from donors including the PACs of Lockheed Martin Corp., Boeing Co., the American Gas Association, General Electric Co., Northrop Grumman Corp., American Petroleum Institute, ExxonMobil Corp, and Koch Industries Inc..
Cisneros's early donors include the political action committees of NARAL Pro-Choice America and Justice Democrats, the progressive group that helped propel Alexandria Ocasio-Cortez (D-N.Y.) to Congress in 2018. Sen. Elizabeth Warren (D-Mass.) endorsed Cisneros on Dec. 8 and also backed her 2020 campaign.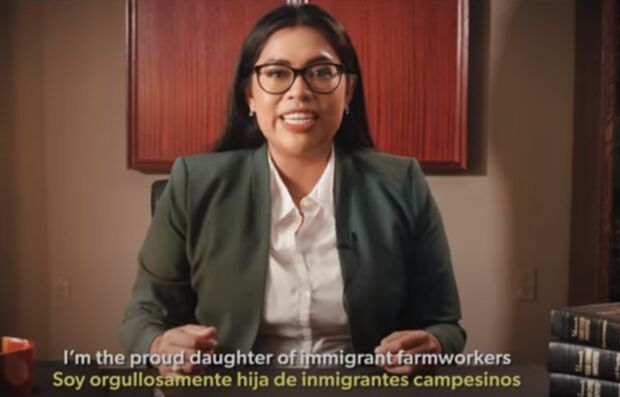 'Strong Latina Women'
Cisneros isn't guaranteed another 1-on-1 race against Cuellar. Also seeking the Democratic nomination is Tannya Benavides, a teacher and community organizer who, like Cisneros, is a progressive Latina in her 20s.
Benavides said in a phone interview she "wasn't told or asked to run" and that she'd exemplify "a new kind of leadership that isn't tied to the establishment." She supports term limits and said South Texas "can and should be the leaders in the transition from oil and gas to a cleaner-energy economy."
Benavides had $14,000 in her campaign account on Sept. 30 compared with $312,000 for Cisneros.
"We have two strong Latina women who are challenging Henry Cuellar," Benavides said. Texas has elected only two Hispanic women to Congress, Veronica Escobar of El Paso and Sylvia Garciaof Houston, both in 2018.
It's not clear if a top-tier Republican campaign will materialize. None of the Republicans seeking the seat reported raising more than $25,000 through Sept. 30. The candidate filing period closes Monday.
The reconfigured district leans Democratic—Joe Biden would have defeated Donald Trump 53%-46% there in 2020—though Republicans made gains in South Texas in the 2020 election.
The district "leans Democratic, but it's not leaning Democratic as much as it did 10 or 20 years ago," Taylor said.
To contact the reporter on this story: Greg Giroux in Washington at ggiroux@bgov.com
To contact the editors responsible for this story: Bennett Roth at broth@bgov.com; Kyle Trygstad at ktrygstad@bloombergindustry.com