Anti-Abortion Rights Democrat Hit by Rival After Leaked Draft
Rep. Cuellar criticized by primary opponent Cisneros
May 24 Texas runoff could be early test of abortion issue
The primary challenger to Rep. Henry Cuellar, the lone House Democrat to oppose abortion rights, quickly seized on a leaked Supreme Court draft opinion that would overturn Roe v. Wade to boost turnout and bolster her case to unseat him in a May 24 runoff election in Texas.
After the draft was published in Politico on Monday evening, Jessica Cisneros took to Twitter to warn that "losing the right to choose is imminent" and criticize Cuellar's vote last fall against legislation (H.R. 3755) that would safeguard abortion rights. In a fundraising email Tuesday, she said Cuellar "could very much be the deciding vote on the future of our reproductive rights in this country."
"On May 24 we will defeat the last anti-choice Democrat once and for all," she said in the email.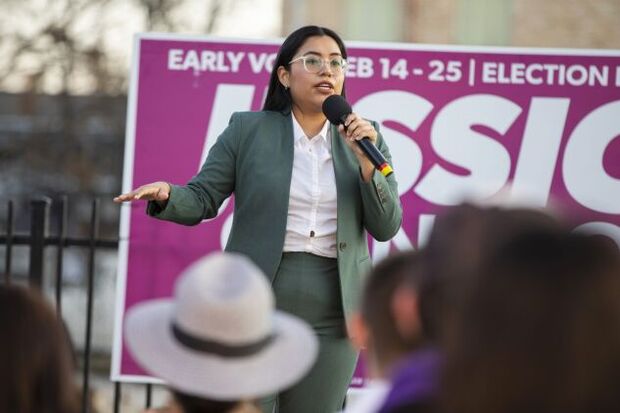 Abortion issues were already primed to play a role in the 2022 midterms with the Supreme Court planning to issue an opinion on a Mississippi abortion law. With the leak of the draft opinion, the Cisneros-Cuellar matchup could be an early test of how Democratic voters respond to a potential overturn of abortion rights.
In a statement Tuesday, the Supreme Court said while the leaked draft is authentic, it does not represent a decision by the court. Still, the renewed attention on an issue central to the race could provide a boost in voters in what might otherwise be a lower-turnout contest.
Cuellar hadn't posted on social media about the leaked draft as of Tuesday afternoon, and his campaign didn't respond to a request for comment. After his vote opposing legislation to codify protections under the 1973 decision legalizing abortion, Cuellar told Laredo's KGNS-TV that the vote was one of conscience.
In the March primary, Cuellar won 48.6% of the vote compared to 46.6% for Cisneros.
Abortion-rights groups including EMILY's List and NARAL Pro-Choice America have backed Cisneros, as has Sen. Elizabeth Warren (D-Mass.), who stumped for Cisneros ahead of the primary. NARAL announced a new digital ad for her and sent four staffers to assist on-the-ground efforts in the district hours before the opinion leaked.
Kristin Ford, vice president of communications and research for NARAL, said the leaked draft opinion has "sparked more widespread attention and awareness" on the issue of abortion rights.
"We can absolutely harness this really troubling development to educate, galvanize, and motivate voters to turn out and vote in this election," she said.
Cisneros focused a mid-February campaign ad solely on abortion, warning that "women's rights are under attack" and describing Roe v. Wade as "hanging by a thread."
Still, abortion might have a minimal influence on the runoff, as the issue has played out for months, said Matt Angle, the founder and director of the Texas Lone Star Project, a Democratic group.
"The exception would be if Cisneros can take and translate this into the direct assault on personal privacy and personal liberty and get that down to the voter level," he said. "It sounds easy to do, but it's hard to do."
To contact the reporter on this story: Emily Wilkins in Washington at ewilkins@bgov.com
To contact the editors responsible for this story: Bennett Roth at broth@bgov.com; Kyle Trygstad at ktrygstad@bloombergindustry.com