Multiple Members of Congress Will Lose Re-election on Tuesday
Certain defeats in two Illinois member vs. member faceoffs
Palazzo in danger of losing Mississippi Republican runoff
At least two House members will be lame ducks after primaries on Tuesday, but a few others are worth watching for potential defeat.
The two incumbents certain to be ousted are in Illinois, where pairs of colleagues are pitted against each other as a result of reapportionment and redistricting. Democratic Reps. Sean Casten and Marie Newman are vying for the same metropolitan Chicago district, and Republican Reps. Rodney Davis and Mary Miller are rivals for the same downstate district.
The Davis-Miller primary will provide another test of former President Donald Trump's sway. He endorsed Miller at the beginning of the year and stumped for her at a June 25 rally in Illinois.
Other House members who may be unseated Tuesday include Rep. Steven Palazzo (R-Miss.), who's in a runoff after receiving less than one-third of the vote in a first-round primary earlier this month. Rep. Michael Guest (R-Miss.) also was pulled into a runoff.
Davis and Guest are trying to fend off opponents who conflated their votes for a proposed bipartisan Jan. 6 commission that never became law with the current select committee that all Republicans opposed except for Reps. Liz Cheney (Wyo.) and Adam Kinzinger (Ill.).
Reps. Blake Moore and John Curtis of Utah and Stephanie Bice of Oklahoma, who are on ballots Tuesday, were also among the 35 Republicans who backed a bipartisan commission.
Other elections Tuesday include primaries in Colorado, where Democratic groups meddled in two Republican elections, and a special election in Nebraska's 1st District to complete the term of ex-Rep. Jeff Fortenberry (R). State Sen. Mike Flood (R) is favored to succeed Fortenberry and narrow the balance of power in the House to 220 Democrats and 211 Republicans.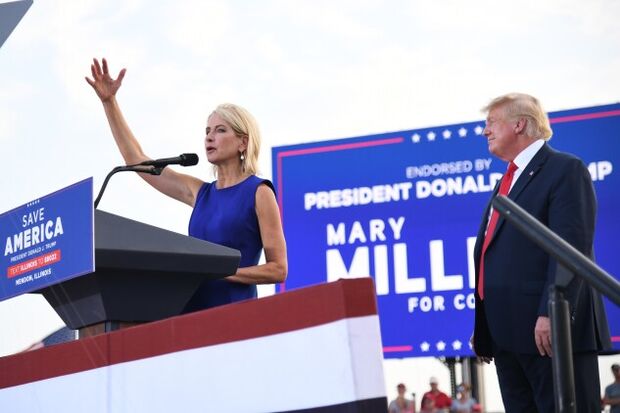 Here's what you need to know about the key primaries and runoffs. The 2020 presidential election vote percentages for Trump and President Joe Biden are noted parenthetically.
Colorado
Senate (Biden won Colorado 55%-42%): A Democratic group is trying to sway the Republican primary that will nominate a candidate against Sen. Michael Bennet (D), who's seeking a third full term.
A Democratic group indicated it would prefer Bennet's opponent to be state Rep. Ron Hanks, who aligned with Trump's false claims of widespread election fraud in the 2020 presidential election, rather than Joe O'Dea, a wealthy construction company owner.
A pop-up super PAC called Democratic Colorado spent more than $4.2 million in the Republican primary, including on ads highlighting O'Dea's past campaign contributions to Bennet and other Colorado Democrats while referring to Hanks as "too conservative" for Colorado. The super PAC hasn't yet disclosed its donors.
Dick Wadhams, a former Colorado Republican Party chairman, told Bloomberg Government in April that nominating Hanks would lead to Bennet once again getting "bailed out." Bennet won 48%-46% in 2010 and 50%-44% in 2016 over strongly conservative Republican opponents.
3rd District (Trump 53%-45%): Rep. Lauren Boebert (R), one of the most conspicuous supporters in Congress of gun rights and of Trump's voter-fraud allegations, is favored to win a second term.
Boebert is opposed in the primary by state Sen. Don Coram, who decried "extremists" in both parties and made a play for "unaffiliated" voters who can vote in either major party's primary. He raised $229,000 through June 8 from donors including Kinzinger's Country First PAC.
"I've been known as a negotiator, a facilitator. I've been a legislator, not an instigator," Coram said at a candidate forum this month.
Boebert said she's shown the "guts" to stand up to Biden and Speaker Nancy Pelosi (D-Calif.). "If we're going to get our country back on track, we need more fearless conservatives in Congress, not fewer," she said at the forum.
None of the three Democratic candidates is well-known. Democrats will be hard-pressed to unseat Boebert after Colorado's redistricting commission made minimal changes to the Republican-leaning 3rd District, which will continue to include vast swaths of western and southern Colorado.
5th District (Trump 53%-43%): Rep. Doug Lamborn (R) faces three primary opponents led by state Rep. Dave Williams, who suggested he'd be a legislator in the mold of Boebert and Rep. Marjorie Taylor Greene (R-Ga.).
Williams called attention to the House Ethics Committee's probe of allegations that Lamborn misused official resources by having members of his staff perform personal and campaign-related tasks for him and his family during official working hours. Lamborn denied wrongdoing.
Lamborn has won primaries underwhelmingly before, including with 53% in 2014 and 52% in 2018. The 5th District leans Republican and is wholly within El Paso County in and around Colorado Springs.
7th District (Biden 56%-42%):Dominated by Jefferson County west of Denver, the 7th District favors Democrats and would be out of reach for Republicans most election years. But with Rep. Ed Perlmutter (D) eschewing re-election and Republicans likely to make gains at the midpoint of Biden's term, GOP officials are keeping an eye on the seat.
The leading Republicans are Tim Reichert, a self-funding economist, and Erik Aadland, an Army veteran who served combat tours in Iraq and Afghanistan. The Democratic nominee will be state Sen. Brittany Pettersen, who's running unopposed.
8th District (Biden 51%-46%): Fast-growing Colorado won a district in reapportionment and the state's redistricting commission crafted the new 8th as a politically competitive area north of Denver.
Four Republicans are seeking the nomination. State Sen. Barb Kirkmeyer's supporters included Americans for Prosperity Action, which promoted her views on economics. Jan Kulmann, the mayor of Thornton, received a donation from the pro-Republican Value in Electing Women (VIEW) PAC. Tyler Allcorn, an Army veteran who served in Iraq, partially self-financed his campaign.
Democrats have signaled they'd prefer to instead face Lori Saine, a Weld County commissioner and former state legislator whose donors include Rep. Thomas Massie (R-Ky.). House Majority PAC, the top super PAC defending the Democrats' slender House majority, intervened in the primary with a TV ad that highlighted Saine's conservative credentials.
The Republican nominee will face Democratic state Rep. Yadira Caraveo, a pediatrician who's Mexican American. The 8th is more than 38% Hispanic, the highest share of any Colorado district.
Illinois
Senate (Biden won Illinois 58%-41%): Sen. Tammy Duckworth (D) is unopposed in the primary and is favored to defeat the winner of the Republican primary in one of the nation's most Democratic states.
1st District (Biden 70%-28%): A whopping 17 Democrats are seeking to succeed Rep. Bobby Rush (D), a senior member of the Energy and Commerce Committee who's retiring after 15 terms. Whoever wins a plurality of the vote will be a House member-in-waiting from a Black-majority Democratic bastion that's dominated by parts of Cook and Will counties in metropolitan Chicago and also includes a slice of Kankakee County farther south.
Rush endorsed Karin Norington-Reaves, who formerly led the Chicago Cook Workforce Partnership. Jonathan Jackson, a business professor and a son of civil-rights activist Jesse L. Jackson, was backed by the Congressional Progressive Caucus and the Protect Our Future super PAC funded by billionaire crypto CEO Sam Bankman-Fried. Jonathan Swain, a nonprofit CEO, raised the most money through June 8, followed closely by Pat Dowell, who serves on the Chicago City Council. The Democratic ballot also includes state Sen. Jacqueline Collins.
3rd District (Biden 70%-28%): No incumbent is seeking the Hispanic-plurality, heavily Democratic 3rd District in parts of Cook and DuPage counties in metropolitan Chicago. The district was created by Illinois Democratic lawmakers during redistricting to facilitate the election of a Hispanic Democrat.
The top candidates are Chicago Alderman Gilbert Villegas and state Rep. Delia Ramirez. Villegas, a Marine Corps veteran, received outside support from VoteVets.org Action Fund and was also endorsed by the New Democrat Coalition Action Fund and Democratic Majority for Israel (DMFI) PAC. Ramirez's backers included the Working Families Party, the Congressional Progressive Caucus PAC, and EMILY's List, which aids Democratic women who support abortion rights.
6th District (Biden 55%-44%): Marie Newman and Sean Casten have similar progressive voting records as they seek re-election in a district that includes parts of Cook and DuPage counties.
Newman represents more of the merged district's population than Casten, 41% to 23%, though Casten lives in the district and Newman doesn't. Members of Congress aren't required to live in their districts. Casten entered the final 20 days of the campaign with more money to spend, $886,000 to $394,000.
Casten, a clean-energy businessman before entering Congress, underscored his support for abortion rights. Newman, who's supported by EMILY's List, disclosed that she had an abortion at age 19.
Read More: Congresswoman Brings Up Her Own Abortion in Pivotal Election
Casten's campaign and his allies called attention to an Office of Congressional Ethics report that said "there is substantial reason to believe" that Newman during her 2020 campaign "may have promised federal employment to a primary opponent for the purpose of procuring political support." Newman's lawyers said she violated no laws or rules and that the OCE report had "fatal defects."
The Democratic primary took on a more subdued tone after the death of Casten's teenage daughter earlier this month.
Republicans could seriously compete for this district in November. Their primary includes Keith Pekau, the mayor of Orland Park in Cook County, and Gary Grasso, the mayor of Burr Ridge.
7th District (Biden 86%-13%): Rep. Danny K. Davis (D) is opposed by Kina Collins, a political activist who's campaigned against gun violence, in what's a sharp generational contrast between the 80-year-old incumbent and the 31-year-old challenger. The Democratic primary is the election that matters in a Black-plurality district that includes Chicago's Loop as well as parts of the West Side and South Side that have been plagued by gun violence.
Davis took 60% in a 2020 primary in which the anti-Davis vote was about evenly split among three challengers, including Collins. What's different about the rematch is that Collins is now the chief alternative to Davis in a three-candidate race and is much better-funded than she was two years ago. Collins has the assistance of Justice Democrats PAC, a progressive group that helped elect Rep. Alexandria Ocasio-Cortez (D-N.Y.).
Davis' campaign on June 26 released an endorsement from Biden, who said Davis has "always been an effective leader and lawmaker who is deeply rooted in his community."
8th District (Biden 57%-41%): In Democratic-friendly suburbs and exurbs northwest of Chicago, Rep. Raja Krishnamoorthi (D) is opposed in the 8th District primary by Junaid Ahmed, a technology businessman who raised $1.1 million and said the congressman relied too much on corporate PAC money. Krishnamoorthi had $12.7 million in cash on hand as of June 8.
The best-funded Republican is Chris Dargis, a businessman and retired Navy officer.
11th District (Biden 57%-41%): Like the 8th District, the 11th will be tough for Republicans to flip in November. Still, the district is less overwhelmingly Democratic after redistricting, and the Democratic Congressional Campaign Committee in January added Rep. Bill Foster (D) to its list of "Frontline" Democrats who are in the most competitive re-election campaigns.
The Republicans seeking the nomination include Catalina Lauf, a former Trump Commerce Department appointee who ran for Congress in 2020, and Cassandra Tanner Miller, a domestic violence survivor whose estranged husband killed her toddler son. Lauf dominated GOP fundraising.
13th District (Biden 54%-43%): The Democratic-drawn congressional map includes some mildly but not overwhelmingly Democratic districts such as the 13th, which snakes from near St. Louis, northeast past Springfield and Decatur to Urbana. Redistricting prompted Rodney Davis, who represents most of this district, to seek re-election against Mary Miller in the heavily Republican 15th District.
The likely Democratic nominee is Nikki Budzinski, a former senior adviser to Illinois Gov. JB Pritzker (D) with close ties to labor unions.
Of the four Republicans, the top two probably are Regan Deering, an educator, and Jesse Reising, a lawyer. Deering's donors included Maggie's List, which says it works to elect conservative women to federal office.
14th District (Biden 55%-43%): Democratic mapmakers shifted Democratic voters out of Foster's 11th District and into the 14th to bolster two-term Rep. Lauren Underwood (D), who was almost unseated in 2020.
The five-candidate Republican primary includes Scott Gryder, who's a member of the Kendall County Board west of Chicago, and Mike Koolidge, a radio talk show host and Army veteran.
Underwood, a defender of the Affordable Care Act, has pressed Congress to extend temporary public subsidy boosts for people on Obamacare plans.
15th District (Trump 68%-30%): Davis, the ranking Republican on the House Administration Committee who's seeking a sixth term, and Miller, a first-term member who's in the strongly conservative House Freedom Caucus, are vying for an overwhelmingly Republican district that traverses the width of Illinois. Miller now represents 31% of the revamped district's population compared with 28% for Davis.
Read More: Trump's Sway and a Five-Term Career Tested in Illinois Primary
At the June 25 rally Trump headlined in Mendon, Ill., in the western part of the 15th, the former president praised Miller as a "fearless America First patriot." Miller lauded Trump and described her primary as "between MAGA and a RINO establishment member," using acronyms for Make America Great Again and Republican In Name Only.
Miller attacked Davis' vote for what she said was a "disgraceful Jan. 6 witch-hunt commission," though Davis voted against the current select committee and instead helped write the bill that would have established a bipartisan commission.
Miller attracted far more attention for saying at the rally that the Supreme Court's June 24 ruling overturning Roe v. Wade was a "victory for white life." Miller's campaign said she misspoke and meant to say "right to life."
Davis, in a statement, said Miller's comments "are just another part in a disturbing pattern of behavior she's displayed since coming to Congress."
Read More: Votes for a Bipartisan Jan. 6 Panel Weigh on House Republicans
17th District (Biden 53%-45%): Republicans are eyeing the seat of Rep. Cheri Bustos, a former DCCC chair who isn't seeking re-election in a northwestern Illinois district that became more Democratic-friendly after redistricting but should still be competitive in November.
The likely Republican nominee is Esther Joy King, a lawyer and Army veteran who lost to Bustos 52%-48% in 2020.
The six Democrats include Eric Sorensen, a former TV meteorologist who's emphasized climate change, and Jonathan Logemann, who serves on the Rockford city council and in the Illinois Army National Guard.
Mississippi
3rd District (Trump 62%-37%): Michael Guest, who's seeking a third term, is looking to recover after being unexpectedly pulled into a Republican runoff with Michael Cassidy, a former Navy fighter pilot and political newcomer. Guest won 47.5% of the vote to 46.9% for Cassidy in the first-round primary on June 7.
Guest intensified his fundraising, sharpened contrasts with Cassidy, and benefited from more than $500,000 in anti-Cassidy spending from the Congressional Leadership Fund, a super PAC aligned with House Republican leaders.
Cassidy attacked Guest's votes for humanitarian assistance for Ukraine and for the proposal that would have created a bipartisan Jan. 6 commission, though Guest pointed out that he opposed the current select committee.
4th District (Trump 68%-30%): Steven Palazzo, a six-term House member, is in danger of losing the Republican runoff to Mike Ezell, a veteran law enforcement official who's the sheriff of Jackson County in and around Pascagoula on Mississippi's Gulf Coast. Palazzo won just 31.5% of the first-round vote compared with 25% for Ezell, who won the endorsements of the other Republican candidates.
Palazzo's vulnerability stems mostly from an Office of Congressional Ethics report last year that said there was "substantial reason to believe" that Palazzo improperly converted campaign and congressional office funds for personal use and performed special favors for his brother. Palazzo denied wrongdoing.
"I'm the only candidate in this race that's not under investigation," Ezell said at a June 24 candidate debate. He also portrayed Palazzo as an absentee congressman.
Palazzo underscored his seniority and service on the Appropriations Committee and its Homeland Security panel.
"Do you really want to sacrifice all that you've invested in me for malicious allegations by my political opponents?" Palazzo said at the debate. "But I can tell you this: time and time again, I've been here when it mattered."
Oklahoma
Senate (Trump won Oklahoma 65%-32%): Oklahoma, one of the nation's most Republican states, is hosting two Senate elections this year that the GOP should win with ease.
Sen. James Lankford (R) is a shoo-in to win another six-year term.
The seat now held by Sen. Jim Inhofe (R), who's resigning two years into the term he won in 2020, almost certainly will stay in Republican hands.
A two-candidate GOP runoff on Aug. 23 is likely because 13 Republicans are seeking Inhofe's seat and none of them are likely to win a majority of the total vote. Rep. Markwayne Mullin probably will get one of the runoff berths. Other Republicans running include Luke Holland, Inhofe's former chief of staff; T.W. Shannon, a former Oklahoma House speaker who lost to Lankford in a 2014 Senate primary; and Scott Pruitt, who was Trump's first Environmental Protection Agency administrator.
The Republican nominee will be favored against former one-term Rep. Kendra Horn, who's unopposed in the Democratic primary.
Read More: Republicans Race for Runoff in Oklahoma Senate Special Election
2nd District (Trump 76%-22%): There are 14 Republicans seeking the staunchly conservative eastern Oklahoma district that Mullin is giving up after five terms to run for Senate. A runoff is likely, and it will in effect determine Mullin's successor in one of the nation's most pro-Trump districts.
5th District (Trump 58%-39%): Republican-led redistricting significantly boosted Rep. Stephanie Bice (R), who unseated Horn in 2020. The changes, which included shifting part of Oklahoma City out of the 5th District, boosted Trump's victory margin to more than 18 percentage points from 6 points before.
Bice has a lightly funded primary opponent in Subrina Banks, a real estate agent and YouTube show host who attacked Bice's votes for a bipartisan Jan. 6 commission and a $1.5 trillion omnibus government funding law (Public Law 117-103).
Utah
Senate (Trump won Utah 58%-38%): Sen. Mike Lee (R), a Judiciary Committee member with one of the Senate's most conservative voting records, is favored to defeat two primary opponents.
Lee, a former Trump critic who's now an ally of the ex-president, is opposed by former state Rep. Becky Edwards, who said she'd provide "more productive, proactive and inclusive leadership" than Lee, and Ally Isom, a self-described "Reagan Republican" who worked for ex-Gov. Gary Herbert (R).
The Utah Democratic Party declined to nominate a candidate and is instead supporting independent Evan McMullin, a former CIA officer who ran for president in 2016 and won 22% of the general-election vote in Utah.
1st District (Trump 57%-38%): Blake Moore is seeking re-election for the first time after winning a 2020 primary with 31% of the vote against three opponents.
His Republican primary competitors this year are Tina Cannon, an accountant and former Morgan County commissioner, and Andrew Badger, a former Defense Intelligence Agency officer who's running as an "America First" candidate against what he called the "old GOP establishment approach" of compromising. Badger compared Moore to Sen. Mitt Romney (R-Utah).
Moore's rare breaks from most Republicans on floor votes included his support for a bipartisan Jan. 6 commission, though he voted against creating the current select committee.
3rd District (Trump 57%-38%): John Curtis, who also voted for a bipartisan Jan. 6 commission but opposed the current select committee, is opposed in the GOP primary by former state Rep. Chris Herrod, who placed second to Curtis in a 2017 special primary and then lost more decisively to Curtis in 2018.
Herrod struggled to raise money, though his late donors included Richard Uihlein, a packaging company executive and prodigious donor to conservative candidates and super PACs.
4th District (Trump 60%-34%): After unseating Ben McAdams (D) in 2020, Rep. Burgess Owens (R) is more politically secure after GOP-led redistricting shifted Republican voters from Curtis' district to Owens'.
Owens is opposed in the primary by Jake Hunsaker, a political newcomer who promoted a "big tent" Republican Party and defended Kinzinger and Cheney. Kinzinger's PAC donated to Hunsaker.
To contact the reporter on this story: Greg Giroux in Washington at ggiroux@bgov.com
To contact the editors responsible for this story: Kyle Trygstad at ktrygstad@bloombergindustry.com; Loren Duggan at lduggan@bgov.com