Colorado Senate Race Primed for Pivot Point at GOP Convention
Candidates need 30% delegate support to make ballot
Leading contender has touted election fraud charges
A Colorado Republican convention this weekend will test the strength of a candidate espousing Donald Trump's election fraud claims and influence the party's chances to upset Democratic Sen. Michael Bennet.
Up to 4,743 delegates are set to meet in Colorado Springs on Saturday to "designate" statewide candidates for multiple offices on the June 28 primary ballot. A leading Senate contender is Ron Hanks, a first-term state lawmaker who announced his candidacy in a video showing him shooting a copy machine labeled, "Dominion Voting Machine," a reference to the company that filed defamation lawsuits after Trump allies claimed without evidence its machines were involved in election fraud in 2020.
While winning the assembly vote doesn't assure the nomination, that stamp of approval could provide significant momentum heading into the primary—and upend Republican hopes once again in the Democratic-trending state.
"We nominate Ron Hanks, you can kiss this election goodbye," said Dick Wadhams, a GOP strategist and former chairman of the Colorado Republican Party. "And this will be the third consecutive time that Sen. Bennet has been bailed out of what should have been competitive elections."
Making a serious run for the seat Bennet's held since 2009 in a state President Joe Biden carried by 13 percentage points would expand the narrow range of battleground states and improve Republicans' chances at the majority.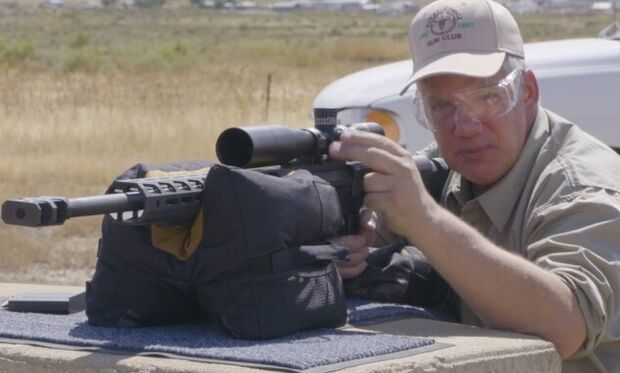 Wadhams said Hanks could be the only candidate to garner the 30% of the vote needed to advance from the assembly to the primary ballot, derailing the other candidates while elevating someone who appeals to the party faithful but would be disastrous in the general election.
Hanks' campaign didn't respond to a request for comment.
Hanks has continued to emphasize election fraud claims in the run-up to the Republican assembly. He appeared Tuesday at the state Capitol in Denver at an "Election Truth Rally" with Mike Lindell, founder of My Pillow Inc., who's spent millions of dollars seeking to bolster Trump's unproven claims of fraud in the 2020 presidential election. Hanks also attended Trump's Jan. 6 rally in Washington and marched to the Capitol, but Colorado House leaders of both parties said there's no evidence he did anything illegal.
A half-dozen relatively unknown candidates are also trying to get on the primary ballot through the GOP assembly process. They include: Gino Campana, a businessman and former Fort Collins councilman; Eli Bremer, an Air Force veteran and former Olympic pentathlon athlete; Deborah Flora, a talk radio host; Greg Moore, a Colorado Christian University professor; and Peter Yu, a consultant.
Joe O'Dea, a wealthy businessman who spent more than $500,000 starting up his campaign last year, pursued an alternate path to get on the primary ballot. He gathered voter signatures in each of the state's seven congressional districts by a March 15 deadline. Officals said Monday that O'Dea qualified for the primary ballot.
Likely to Prevail
Nonpartisan analysts view Bennet as likely to be re-elected. But Jessica Taylor, Senate editor of the Cook Political Report with Amy Walter, in February changed the race rating to Likely Democratic, rather than Solid, because polls in the state showed Biden unpopular and many voters with no opinion on Bennet.
Taylor said this week that the results of Saturday's Republican assembly would "have a huge bearing" on the race. If Hanks prevails and goes on to win the primary, she said the Colorado race would "go back to Solid Democratic" in her ratings.
Bennet was appointed to his Senate seat in 2009 and won a full term in 2010 by beating now-Rep. Ken Buck (R), a Tea Party conservative who alienated moderates and fumbled during a nationally televised debate.
In 2016, Darryl Glenn, a county commissioner, unexpectedly won 70% of the vote at the state Republican assembly, knocking better known candidates off the ballot after making a speech touting Christian values and blasting Democrats. That convention performance helped him overcome four primary opponents who petitioned onto the ballot, before Bennet beat him in the general election by nearly 6 points.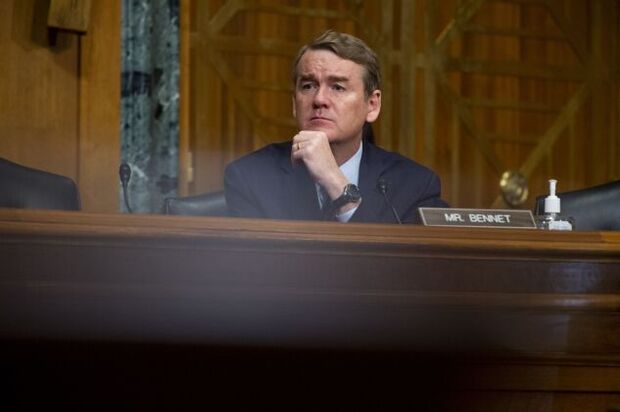 Bennet's campaign acknowledges the senator could face a tough race this year but is confident he'll be re-elected.
"Michael is running on his record of delivering for working families and fighting for Colorado," Bennet campaign manager Justin Lamorte said in an email. He cited Bennet's work to expand Child Tax Credit payments to families, on environmental issues important to his state, and on "cleaning up Washington."
When asked in a Capitol hallway, Bennet declined to comment on the GOP candidates. But his home state colleague, Sen. John Hickenlooper (D), said in an interview that Republicans "don't have anyone on that list who has anywhere near the same experience or name recognition that Michael has."
National Mood
Republican consultant Tyler Houlton downplayed the potential for any GOP candidate to hinder the party this year against a "weak, unknown incumbent who will have to defend Joe Biden's economic policies."
While Colorado has turned blue over the past few election cycles, Houlton said Bennet's unpopularity and Biden's record "could easily swing the Colorado Senate race into what we saw in the Virginia governor's race last fall," when Glenn Youngkin (R) bested Terry McAuliffe (D).
Wadhams said the biggest share of voters in the state are those not affiliated with either major party, and they could be open to voting for Republicans who don't embrace Trump or Biden. That's why it's critical to have a candidate capable of attracting them.
"This is the question going into 2022," he said. "Are those unaffiliated voters who hated Donald Trump and saw every Republican as a manifestation of Donald Trump going to take a second look at Republicans because they don't like Joe Biden?"
Trump Factor
Trump hasn't endorsed anyone in this race but has backed candidates in other races who endorse his election grievances.
Sen. Rick Scott (Fla.), chairman of the National Republican Senatorial Committee, said in an interview that Trump shouldn't be the main factor in Colorado or other Senate races.
"Everybody always likes to get people to endorse them, but it ultimately comes down to, 'Do you have the right message?'" said Scott, a Trump ally. He said it was important for Senate candidates to focus on issues Democrats are vulnerable on, such as inflation, energy independence, and border security.
Sen. Gary Peters (Mich.), chairman of the Democratic Senatorial Campaign Committee, said in an interview that Trump is "a problem for Republican candidates across the board."
Zach C. Cohen in Washington and Nancy Ognanovich in Washington also contributed to this story.
To contact the reporter on this story: Kenneth P. Doyle in Washington at kdoyle@bgov.com
To contact the editors responsible for this story: Bennett Roth at broth@bgov.com; Kyle Trygstad at ktrygstad@bloombergindustry.com