Congresswoman Brings Up Her Own Abortion in Pivotal Election
Freshman weaves her personal history into campaign
Two members of the Illinois delegation endorsed Casten
The abortion decision future Rep. Marie Newman made as a 19-year old has become current and relevant nearly four decades later in her bid for re-election.
"I thought it was time as a member of Congress to speak out and let folks know that it's a common medical procedure and people should not feel shamed," the Illinois Democrat said in an interview ahead of Tuesday's primary, where she's up against fellow Democratic Rep. Sean Casten.
Turnout could be influenced by Friday's US Supreme Court opinion allowing state governments to ban abortion.
"A Supreme Court decision dropping right before this primary election is going to further amp up the salience of the abortion issue in that particular election," said Kelly Baden, senior vice president at State Innovation Exchange, whose organization works with progressive state legislators around the country.
Breaking Silence
"This is just a cruel moment in our history, and people continue to stigmatize abortion and treat those who have had abortions in a really shameful way," Newman said.
She's not alone in opening that chapter of her life to constituents. Her colleague Rep. Cori Bush (D-Mo.) told a congressional hearing about having an abortion in Mexico after being raped, and Rep. Barbara Lee (D-Calif.) has talked about flying to a border town in Texas to obtain an abortion when she was 15.
"Politicians are people with lived experiences. And those lived experiences illustrate how they operate," Newman said. "I think voters want lived experiences and results."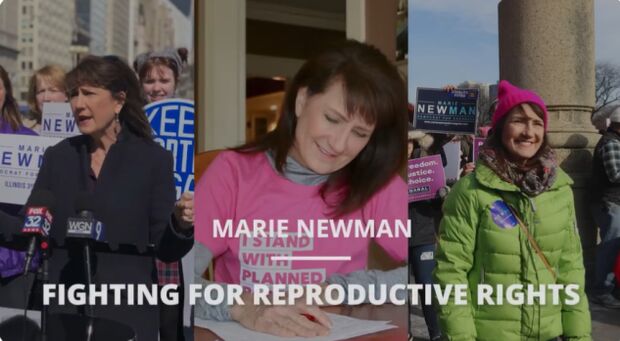 "The personal is political," Baden said. "Legislators sharing their abortion stories is a reflection of that."
In the Newman–Casten race, that candor will be a wild card, since candidates have no way of knowing who will show up on Election Day. Voters in Illinois don't register as members of a political party and they can choose to cast either Republican or Democratic ballots in primaries.
The new 6th District contains slices of six current seats. People represented by Newman comprise about 41.3% of the new district, with 23.5% coming from Casten's current district, according to data compiled by Bloomberg Government.
Those numbers may not translate into a pro-Newman lean, though, since the line-drawers let the freshman keep areas that voted against her in the 2020 primary, where ousted then-Rep. Dan Lipinski.
Abortion Politics
Both Casten and Newman are vocal about their abortion-rights positions, and both have been endorsed by NARAL Pro-Choice America, Planned Parenthood Action Fund, and Progressive Turnout Project.
"Sean was endorsed by Planned Parenthood, NARAL, and local pro-choice activist Marcie Love, the founder of Personal PAC, not only because of his 100% pro-choice voting record in Congress, but also because they trust he will never hesitate" to protect a woman's right to make her own health-care decisions, Jacob Vurpillat, Casten's campaign spokesman, said in a statement.
Casten declined a request for an interview. He suspended public campaigning following the death of his daughter in mid-June.
Without taking a side in the 6th District primary, Kelley Robinson, executive director of Planned Parenthood Action Fund, said she believes abortion is an issue that will boost turnout. "This is something that is going to motivate people in the midterms and could really be the difference maker," she said.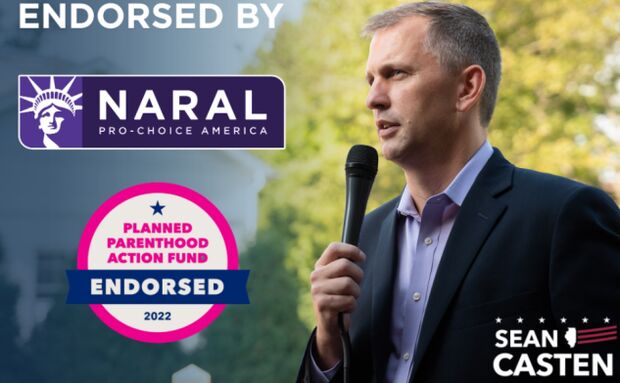 She pointed to a Monmouth University poll in which 35% of voters surveyed said abortion was an extremely important issue to them, a higher percentage than gun control or economic policy. In a Marist poll conducted in May, 66% of Democrats who responded and 40% of Republicans said a reversal of Roe v. Wade would increase their likelihood to vote in November.
Dual Endorsements
Abortion-rights organizations aren't alone in hedging their bets in the primary that will end the congressional career of Casten or Newman unless they decide to run again.
The Illinois Federation of Teachers, which in 2020 endorsed both Casten and Newman when they were running in different districts, this year hasn't endorsed either candidate.
The United Automobile Workers supported Casten in 2018 and 2020: This year the organization has endorsed no one in the 6th District primary.
Rep. Jan Schakowsky (D-Ill.) endorsed Newman in the 2018 and 2020 primaries when she took on Lipinski. This year Schakowsky isn't endorsing either candidate in the 6th District race.
Two other fellow Democrats in the Illinois delegation did take a side: Reps. Brad Schneider and Bill Foster have endorsed Casten, who was first elected in 2018, over his one-term rival.
Personal Appeal
Casten's pitch to voters is that he's a scientist and clean-energy entrepreneur who counts among his priorities a push to combat climate change, tighten gun regulation, increase the minimum wage, and change the nation's immigration policies.
He and Newman both voted for legislation (H.R. 3755) that sought to create a statutory right to have an abortion.
In a TV ad, Newman looks straight at the camera and briefly addresses her own experience.
"When I was 19 I made the very difficult decision to have an abortion. I just wasn't ready to start my family. I've fought for women's reproductive rights for over 30 years and I'm outraged that this fundamental right is being taken away," she said.
Throughout the campaign, Casten had more resources to commit to trying to motivate supporters to turn out. As of June 8, his committee had raised $3.2 million compared with Newman's $1.5 million.
After Dobbs
The Dobbs decision is bound to have an impact on more of this year's primary and general elections.
A Kaiser Family Foundation poll released in June found that nearly 40% of the Democratic voters surveyed said they'd be more motivated to vote in 2022 midterm elections if the US Supreme Court overturns Roe v. Wade.
Those voters will want to hear specifics from candidates, said New York City-based attorney Julie F. Kay, who successfully argued before the European Court of Human Rights that Ireland's ban on life-saving abortions violated her client's human rights.
"The old model of being pro choice by ticking that box on a form one of the endorsing organizations sends to candidates is not enough any more," she said. "We really do need people who are going to be champions for these rights and who understand them."
With assistance from Kimberly Strawbridge Robinson and Greg Giroux
To contact the reporter on this story: Stephen Joyce in Chicago at sjoyce@bloomberglaw.com
To contact the editors responsible for this story: Katherine Rizzo at krizzo@bgov.com; Tina May at tmay@bloomberglaw.com