What to Look for in Super Tuesday's Congressional Primaries
Primary challenges to two veteran Texas lawmakers and comeback attempts by five former members of Congress punctuate House and Senate elections on Super Tuesday, the first and busiest day on this year's congressional primary calendar.
There is voting in five states — Alabama, Arkansas, California, North Carolina and Texas — whose combined 113 congressional districts account for more than a fourth of the nationwide total. Alabama, North Carolina and Texas also will help determine control of the Senate.
Reps. Henry Cuellar (D) and Kay Granger (R) of Texas are facing well-funded primary challenges from more ideological opponents. Jeff Sessions (R-Ala.) is seeking a return to the Senate after serving as President Donald Trump's first attorney general; ex-Reps. Pete Sessions (R-Texas) and Darrell Issa (R-Calif.) are running for seats they didn't previously represent; and ex-Reps. Steve Knight and David Valadao of California are seeking to reclaim the seats they lost in 2018. North Carolina has a new congressional map that is more favorable to Democrats and forced two Republicans into retirement.
There are also many crowded Republican primaries for open districts in which candidates are brandishing their loyalty to Trump in TV ads. Rep. Alexandria Ocasio-Cortez (D-N.Y.) is backing three liberal candidates on Tuesday's ballots, including Cuellar's challenger.
Here's a rundown of the races to watch, with the 2016 presidential result in parentheses.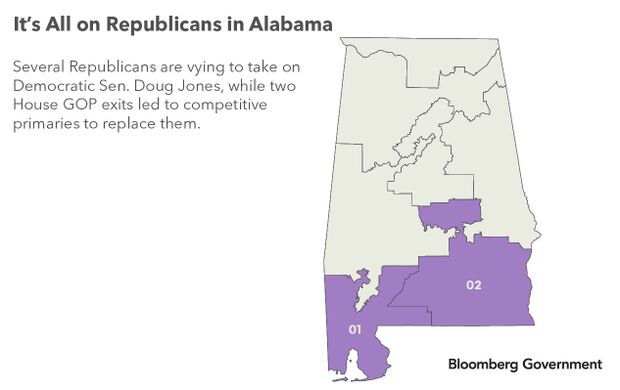 Alabama (Trump 62%-34%)
Senate: Jeff Sessions, a senator for 20 years and a Trump ally before becoming the president's attorney general in 2017, faces vigorous competition for his former seat in part because his relationship with Trump deteriorated. Sessions' most serious contender probably is Tommy Tuberville, a former Auburn University football coach running as a political outsider. Sessions has run ads portraying Tuberville as weak on illegal immigration, while saying he has been with Trump "from the start," noting his early endorsement of the president in the 2016 election. Rep. Bradley Byrne (R) has also attacked Tuberville on immigration and highlighted what Byrne says is a 97% pro-Trump voting record.
If no one in the seven-candidate primary receives a majority of votes, a runoff between the top two finishers would be held March 31.
Roy Moore, the controversial former Alabama Supreme Court chief justice, is unlikely to advance to the runoff after losing narrowly to Doug Jones (D) in a December 2017 special election held after Sessions resigned. Jones, who has minor primary opposition, is the most politically vulnerable senator in either party.
1st District (Mobile; Trump 63%-34%): Five Republicans are seeking to succeed Byrne in a southwestern Alabama district where the party's nominee will be heavily favored in November. The best-funded Republicans are Jerry Carl, a Mobile County commissioner; Bill Hightower, a former state senator who ran for governor in 2018; and Chris Pringle, a state representative.
2nd District (Dothan, part of Montgomery; Trump 65%-33%): Seven Republicans want to succeed Rep. Martha Roby (R), who isn't seeking re-election. Jeff Coleman, a wealthy moving company executive, probably is the leading candidate. Those seeking to pull him into a runoff include Troy King, Alabama's former attorney general; Jessica Taylor, a businesswoman backed by some Republican women in Congress; Barry Moore, a former state representative and military veteran; and Terri Hasdorff, a former congressional aide. Coleman's business record has come under scrutiny.
Taylor is among four Republican women running for Congress this year who have dubbed themselves the "Conservative Squad," a partisan counterweight to the liberal Democratic quartet that includes Ocasio-Cortez. In one ad, Taylor appeared with a Trump-branded flamethrower and vowed not only to "drain the swamp" but "burn it down." Hasdroff has received outside assistance from a super-political action committee called Making Congress Great Again.
Arkansas (Trump 61%-34%)
Senate: It's a measure of how abundantly Bill Clinton's home state has shifted from Democratic to Republican that Sen. Tom Cotton (R) didn't even draw Democratic opposition in 2020 — six years after he decisively unseated Democrat Mark Pryor and 12 years after Pryor ran unchallenged by Republicans.
Arkansas' four House members, all Republicans, are favored to win re-election.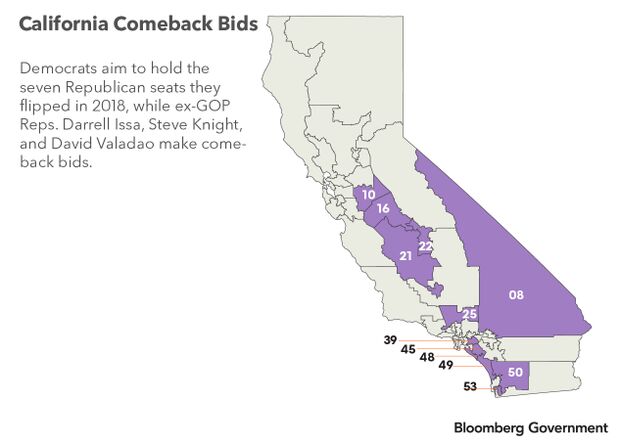 California (Hillary Clinton 62%-32%)
California uses a "Top Two" primary, in which all candidates of all parties run on one ballot, and the top two finishers, regardless of party affiliation, advance to the general election. It may take days to confirm some November matchups because California has a drawn-out process for counting its many vote-by-mail ballots.
8th District (Victorville, Hesperia; Trump 55%-40%): In California's largest district, a triangle-shaped area hugging most of the state's border with Nevada, Rep. Paul Cook (R) is foregoing re-election to instead run for the San Bernardino County Board of Supervisors. Trump endorsed Assemblyman Jay Obernolte, who's also the preferred candidate of House Minority Leader Kevin McCarthy. Obernolte's chief opponent is Republican Tim Donnelly, a former assemblyman who's running as the stronger conservative. Donnelly is backed by the House Freedom Fund, the political arm of the House Freedom Caucus, a bloc of some of the most conservative House Republicans. Christine Bubser, an engineer, is the top Democrat of the three on the nine-candidate ballot.
10th District (Modesto, Tracy, Turlock; Clinton 49%-46%): Three Republicans want to oppose first-term Rep. Josh Harder (D), who unseated Jeff Denham (R) in 2018: Bob Elliott, a San Joaquin County supervisor and retired Army officer; Ted Howze, a veterinarian who sought the seat in 2018; and Marla Livengood, a former congressional aide.
16th District (most of Fresno; Clinton 58%-36%): Jim Costa, an eight-term Blue Dog Democrat who leads the House Agriculture Committee's Livestock and Foreign Agriculture Subcommittee, faces opposition from fellow Democrat Esmeralda Soria, a Fresno councilwoman. Costa's campaign aired anti-Soria TV ads, suggesting the veteran incumbent is taking the challenge seriously. Kevin Cookingham, a businessman, is the lone Republican. The district is majority-Hispanic.
21st District (Hanford, Delano, part of Bakersfield; Clinton 55%-40%): The primary should confirm a November rematch between between Rep. TJ Cox (D) and David Valadao (R) in a low-income and agricultural Hispanic-majority district in the Central Valley. Cox unseated Valadao 50.4%-49.6% in 2018.
22nd District (Visalia, Clovis, part of Fresno; Trump 52%-43%): Rep. Devin Nunes (R), a high-profile Trump defender who formerly led the Intelligence Committee, probably will face either Democrat Phil Arballo, a financial adviser, or Democrat Bobby Bliatout, a health-care executive. Nunes was re-elected 53%-47% in 2018.
25th District (Santa Clarita, Palmdale; Clinton 50%-44%): The regularly scheduled primary will coincide with a first-round special election for the seat Katie Hill (D) vacated last November. Assemblywoman Christy Smith is the preferred candidate of the Democratic Congressional Campaign Committee and EMILY's List, which aids Democratic women who support abortion rights. Cenk Uygur, a liberal activist allied with Sen. Bernie Sanders, is running. The top Republicans are Steve Knight, who was unseated by Hill in 2018 after two terms, and Mike Garcia, a former Navy pilot. The DCCC and House Majority PAC, a super political action committee aligned with House Democrats, intervened in the election with television ads.
39th District (Fullerton, Chino Hills, Yorba Linda; Clinton 51%-43%): First-term Rep. Gil Cisneros (D) and Republican Young Kim, a former assemblywoman, are headed for a general election that will be a rematch of a 2018 race that Cisneros won by about 3 percentage points.
45th District (Irvine, most of Mission Viejo; Clinton 50%-44%): Six Republicans are vying to oppose first-term Rep. Katie Porter (D), who unseated Mimi Walters (R) in 2018 in an Orange County district. They include Don Sedgwick, a Laguna Hills councilman; Lisa Sparks, a member of the Orange County Board of Education; Greg Raths, a Mission Viejo councilman and former Marine; and Peggy Huang, a Yorba Linda councilwoman and state prosecutor.
48th District (Huntington Beach, Costa Mesa; Clinton 48%-46%): Rep. Harley Rouda (D) is likely to face Michelle Steel, an Orange County supervisor who's one of the best-funded Republican challengers. Rouda unseated Dana Rohrabacher (R) in 2018.
49th District (Oceanside, Carlsbad; Clinton 51%-43%): Rep. Mike Levin (D) and Republican Brian Maryott, the mayor of the Orange County city of San Juan Capistrano, are the only two candidates running in the primary. In 2018, Levin was easily elected to succeed Darrell Issa (R), who chose to retire.
50th District (Escondido, San Marcos; Trump 55%-40%): Issa is now seeking a comeback in an adjacent and more Republican-friendly district vacated by the January resignation of Duncan Hunter (R) amid a campaign-finance scandal. Issa has spent heavily from his own pockets to emphasize his support of Trump in a primary that includes Republicans Carl DeMaio, a former San Diego city councilman, and state Sen. Brian Jones. Democrat Ammar Campa-Najjar, who lost to Hunter in 2018 by fewer than 4 percentage points when Hunter was under indictment, is running again.
See also: Issa's Congressional Comeback Comes Down to Trump Loyalty Test
53rd District (parts of San Diego and Chula Vista; Clinton 65%-30%): Democrats are favored to keep control of a San Diego-area district where 10-term Rep. Susan Davis (D) isn't seeking re-election. The best-funded candidate is Sara Jacobs (D), a former State Department official who ran unsuccessfully for the 49th District in 2018. Georgette Gómez (D), a San Diego councilwoman, is backed by the San Diego County Democratic Party, the LGBTQ Victory Fund PAC, the Congressional Hispanic Caucus PAC, and Ocasio-Cortez. Janessa Goldbeck, a Marine Corps veteran and LGBTQ woman, is among the other Democrats competing for a November ballot slot.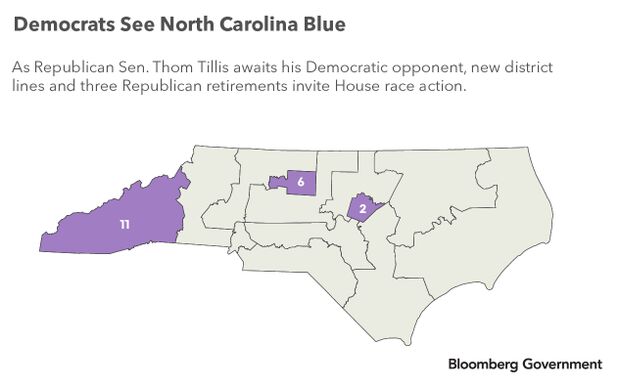 North Carolina (Trump 50%-46%)
Senate: The contest for the seat Thom Tillis (R) is defending has been characterized by huge early campaign spending, including a Republican effort to sink Senate Democratic leaders' preferred candidate.
Cal Cunningham, a military veteran and former state senator, is backed by the Democratic Senatorial Campaign Committee. A super PAC called Faith and Power PAC that ran TV ads promoting the more liberal views of Democratic state Sen. Erica Smith was funded by about $3 million from the Senate Leadership Fund, a super-PAC aligned with Senate Republican leaders — a sign GOP officials view Smith as a weaker Democratic nominee than Cunningham. A pro-Cunningham super PAC called Carolina Blue, which hasn't yet released its donors, has spent more than $4.5 million on the race.
Three lesser-known Democrats join Cunningham and Smith on the primary ballot. North Carolina law requires 30% of the vote to win a primary and avoid a runoff.
Tillis, who's seeking a second term, avoided serious primary opposition by securing Trump's endorsement and with the withdrawal of Garland Tucker, a wealthy businessman who had been running to Tillis' right.
See also: Air War in North Carolina Tops Super Tuesday Congressional Races
2nd District (Cary, most of Raleigh; Clinton 60%-36%): A Democrat is favored to succeed Rep. George Holding (R), who declined to seek re-election after redistricting reshaped the 2nd as a Democratic-heavy area within Wake County. The four Democratic candidates include Deborah Ross, a former state legislator who ran a close race against Sen. Richard Burr (R) in 2016, and Monika Johnson-Hostler, a member of the Wake County School Board. Ross' donors include Majority Leader Steny Hoyer (Md.). The Congressional Black Caucus's PAC donated to Johnson-Hostler, who's black.
6th District (Greensboro, most of Winston-Salem; Clinton 59%-38%): Like Holding, Rep. Mark Walker (R) opted against a re-election bid after the new map converted his district into a Democratic stronghold. The five Democratic candidates are Kathy Manning, an immigration lawyer who lost a competitive 2018 House race to Rep. Ted Budd (R); Rhonda Foxx, a former chief of staff to Rep. Alma Adams (D-N.C.); state Rep. Derwin Montgomery; former county commissioner Bruce Davis; and former state Rep. Ed Hanes. Manning has dominated in fundraising. She's the only white Democrat running in the district in which a majority of registered Democrats are black.
11th District (Asheville, Hendersonville; Trump 57%-40%): Twelve Republicans are seeking to succeed retiring Rep. Mark Meadows (R) in North Carolina's westernmost district, which still leans Republican after the remap gave the 11th all of liberal Asheville. Meadows and the House Freedom Caucus back Lynda Bennett, a real estate broker who's the only woman in the Republican primary. Unite America, a bipartisan group that supports a more-responsive government, opposes Bennett and supports Dan Driscoll, an Army veteran of the Iraq War, through a super-PAC called Fix Congress Now! With Honor Fund, which aids veteran candidates from both parties, also backs Driscoll. State Sen. Jim Davis, an orthodontist, got help from an independent expenditure campaign by the American Dental Association. Businessmen Chuck Archerd, who won 14% against Meadows in the 2018 primary, and Madison Cawthorn were the best-funded Republicans.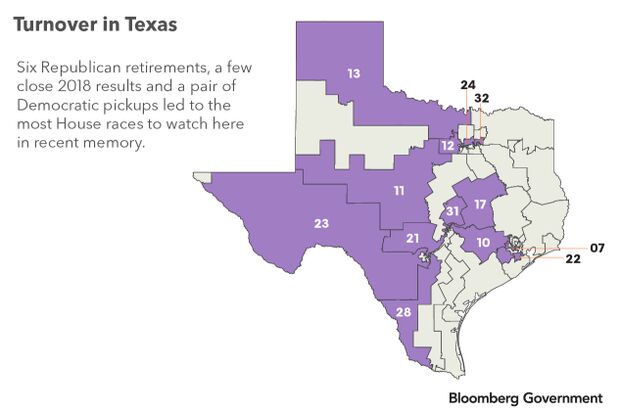 Texas (Trump 52%-43%)
Senate: Sen. John Cornyn (R), a former majority whip, is seeking a fourth term against the winner of a 12-candidate Democratic contest that probably will go to a May 26 runoff because no one is likely to win a majority of the vote on Super Tuesday.
MJ Hegar, an Air Force veteran who almost unseated a House Republican in 2018, has the endorsement of the DSCC. Her competitors include Cristina Tzintzún Ramirez, a more strongly liberal candidate endorsed by Ocasio-Cortez and aided by a super PAC, Lone Star Forward, that ran an ad noting she would be Texas' first Latina senator. Other Democrats running include Royce West, a longtime state senator, and Chris Bell, who served on the Houston city council and one term in the House.
7th District (western Harris County including part of Houston; Clinton 48%-47%): Of the six Republicans seeking to oppose one-term Rep. Lizzie Fletcher (D), military veteran Wesley Hunt has Trump's endorsement and the most in campaign funds. Hunt's closest challenger may be Cindy Siegel, the former mayor of Bellaire. Fletcher unseated John Culberson (R) in the 2018 election.
10th District (parts of Harris and Travis Counties; Trump 52%-43%): Rep. Michael McCaul, the top Republican on the Foreign Affairs Committee, will face the winner of a three-candidate Democratic primary in a district along the Austin-Houston corridor. Mike Siegel, a lawyer, wants a rematch after holding McCaul to a 51%-47% win in 2018, but he has competition in the primary from Shannon Hutcheson, a lawyer endorsed by EMILY's List. Pritesh Gandhi, a doctor, rounds out the field.
11th District (Midland, Odessa; Trump 78%-19%): Ten Republicans are vying to succeed retiring Rep. Mike Conaway (R), the top Republican on the Agriculture Committee, in one of the nation's most Republican districts. Trump endorsed August Pfluger, a former Air Force fighter pilot who served on the president's National Security Council.
12th District (part of Fort Worth; Trump 63%-33%): Rep. Kay Granger (R), the Appropriations committee ranking member who has been in Congress since 1997, is facing a serious primary challenger for the first time in her career. Chris Putnam, a wealthy technology businessman, is running to the incumbent's right on abortion and called attention to Granger's criticism of Trump during the 2016 presidential campaign. But Granger has Trump's endorsement, and she's highlighted her support for his agenda, including more military spending and a border wall.
The Congressional Leadership Fund, a super PAC aligned with House Republican leaders, aired ads attacking Putnam's business record and touting Trump's endorsement of Granger. WFW Action Fund Inc., a super PAC aiding Republican women, also intervened to help Granger. Putnam's backers include the Club for Growth, a conservative group that has sometimes clashed with Republican leaders over spending and tax policy.
13th District (Amarillo, Wichita Falls; Trump 80%-17%): Fifteen Republicans are seeking to succeed retiring Rep. Mac Thornberry, the top Republican on the Armed Services Committee, in one of the nation's most Republican districts. Josh Winegarner, a former Senate aide who works for the Texas Cattle Feeders Association, has Thornberry's endorsement and campaign contributions from groups representing Texas farmers and ranchers. Chris Ekstrom, a self-funding businessman, has run as a political outsider vowing to help Trump "drain the swamp" in Washington. Ronny Jackson, the former White House physician, has highlighted praise from Trump but lagged Winegarner and Ekstrom in fundraising.
17th District (Waco, Bryan, College Station; Trump 56%-39%): Pete Sessions (R) is seeking to succeed retiring Rep. Bill Flores (R) after losing re-election in the Dallas-based 32nd District in 2018. Sessions has 11 rivals for the Republican nomination including Waco businesswoman Renee Swann, who has Flores's endorsement. Sessions' ads have highlighted his opposition to illegal immigration. Businessman George Hindman aired multiple TV ads, including one attacking Swann. Other Republicans include Scott Bland, a former Secret Service agent, and Trent Sutton, a Marine Corps veteran.
21st District (parts of Austin and San Antonio; Trump 52%-42%): Freshman Rep. Chip Roy (R) will be opposed in November by Wendy Davis (D), a former state senator who attracted national attention in 2013 for a filibuster against anti-abortion legislation before losing a bid to unseat Gov. Greg Abbott (R) the following year. Roy has cast contrarian votes on some foreign policy and spending measures.
22nd District (Pearland, Sugar Land, part of Houston; Trump 52%-44%): Fifteen Republicans are seeking to succeed retiring Rep. Pete Olson (R) in a racially and ethnically diverse district in metropolitan Houston. Pierce Bush, a grandson of former president George H.W. Bush and a nephew of former president George W. Bush, has promoted his experience as CEO of Big Brothers Big Sisters Lone Star.
Bush's rivals include Kathaleen Wall, who's spent about $4 million of her own money; Fort Bend County Sheriff Troy Nehls, the top law enforcement officer in the district's dominant county; and Greg Hill, a former Pearland councilman and U.S. Border Control agent. Wall's ads include one that portrayed Nehls as weak on illegal immigration.
The Democratic field includes Sri Kulkarni, a former diplomat who came within 5 percentage points of unseating Olson in 2018.
23rd District (parts of San Antonio and El Paso; Clinton 50%-46%): Republicans will be hard-pressed to keep this Hispanic-majority, Rio Grande-hugging district in their column with Rep. Will Hurd (R) retiring. Gina Ortiz Jones, an Air Force veteran who almost unseated Hurd in 2018, is favored to win the Democratic nomination again and has a big early lead in fundraising. The top Republican among the party's nine candidates probably is Tony Gonzales, a Navy veteran.
24th District (Carrollton, Euless, parts of Dallas and Irving; Trump 51%-44%): Democrats are eyeing a pickup opportunity in a district where Rep. Kenny Marchant (R) is retiring. EMILY's List is backing Candace Valenzuela, a local school board trustee, over other Democrats including Air Force veteran Kim Olson and 2018 Democratic nominee Jan McDowell, whose underfunded bid came within 3 percentage points of unseating Marchant. The top Republican candidate is Beth Van Duyne, a former Irving mayor who served in Trump's Housing and Urban Development department. Trump endorsed Van Duyne.
28th District (Laredo, most of Mission; Clinton 58%-38%): Henry Cuellar (D), a Blue Dog Democrat in his eighth term and with a history of collaborating with Republicans, is facing his first serious primary challenge since 2006. He's opposed by Jessica Cisneros, an immigration lawyer and a former Cuellar intern who says the strongly Democratic district should be represented by someone with a more-progressive voting record than Cuellar. Her backers include EMILY's List, Ocasio-Cortez, Sens. Bernie Sanders (I-Vt.) and Elizabeth Warren (D-Mass.), and some labor unions irked by Cuellar's votes, including one against a bill (H.R. 2474) that would expand protections for private sector workers' right to unionize. The U.S. Chamber of Commerce and Americans for Prosperity, which back more Republicans than Democrats, are aiding Cuellar.
See also: Progressive Movement Tested Tuesday in Fiery Texas House Primary
31st District (part of Austin, most of Killeen and Round Rock; Trump 54%-41%): Six Democrats are vying to oppose Rep. John Carter (R) in a district where he was re-elected by 3 percentage points in 2018 over Hegar. Donna Imam, the best-funded Democrat, aired a TV ad Feb. 27 that touted her support for a Medicare for All single-payer health-care system.
32nd District (part of Dallas, most of Garland and Richardson; Clinton 49%-47%): Republicans seeking to oppose one-term Rep. Colin Allred (D), who defeated Sessions in 2018, include businesswoman Genevieve Collins and retired Navy SEAL Floyd McLendon.
To contact the reporter on this story: Greg Giroux in Washington at ggiroux@bgov.com
To contact the editors responsible for this story: Kyle Trygstad at ktrygstad@bgov.com; Bennett Roth at broth@bgov.com