Progressive Movement Tested Tuesday in Fiery Texas House Primary
The first primary of the year to pit a moderate House Democrat against a progressive challenger stands out amid the vast Texas political landscape on Super Tuesday.
Rep. Henry Cuellar, who since 2005 has held the 28th District based in Laredo and metropolitan San Antonio, faces Jessica Cisneros, an immigration attorney who at 26 years old would become the youngest person in Congress. The race has garnered outside attention, heavy spending, and big-name endorsements — and it's poised to set the tone in the dozen or so similar ideological showdowns to follow.
House Democrats including Joyce Beatty (Ohio) and Dan Lipinski (Ill.) face primary challenges from the left by contenders who boast support from their own congressional colleagues. And, in a sign of confidence about his prospects, the Cuellar campaign eschews understatement in explaining the importance of this first test.
It's nothing less than a "fight for the soul of Democratic party," said Cuellar spokesman Colin Strother, who recently changed his Twitter handle to "Democratic Establishment."
"We are their proving ground," he said of progressive groups supporting Cisneros. "They feel like if they beat us, they can beat anyone."
Progressive organizations are more hesitant to cast this primary as a bellwether, noting that while Cisneros is a talented candidate, each race is different. A win along the border with Mexico against a Democrat who frequently votes with Republicans won't portend results elsewhere in the country, said Stephanie Taylor, co-founder of the Progressive Change Campaign Committee. Taylor praised Cisneros, but also pointed to the larger trend of candidates running on issues such as Medicare for All, the Green New Deal and expanding Social Security.
"Regardless of the outcome, the strength of the progressive movement in this country shouldn't be in doubt," she said, adding that some increasingly common platforms "would have been unthinkable a decade ago."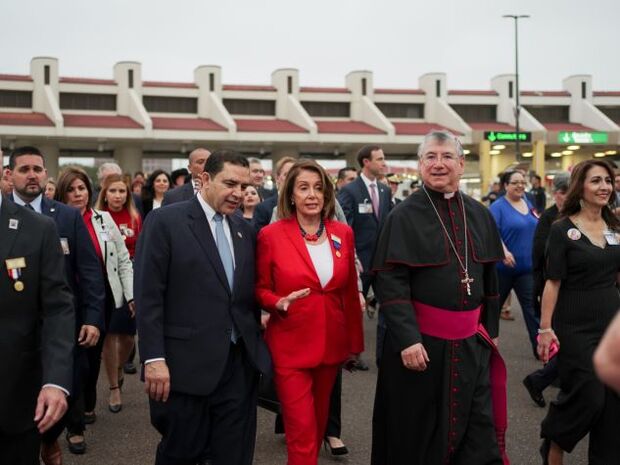 Financial Firepower
The Democratic primary has blanketed the south Texas airwaves, with Cuellar, Cisneros and their supportive outside groups combining to spend more than $3.6 million on TV, radio and digital, according to Advertising Analytics.
The mix of Spanish- and English-language ads have included one from the EMILY's List-affiliated Texas Forward, in which the announcer says Cuellar "used to be a Democrat, used to be one of us" but voted against unions, Planned Parenthood funding and raising the minimum wage. The group spent nearly $1.2 million overall.
Cisneros raised more than $1.3 million by Feb. 12, including funds from EMILY's List and Courage to Change, a new PAC created by Rep. Alexandria Ocasio-Cortez (D-NY), who unseated 20-year incumbent Joe Crowley in a 2018 primary. Sens. Elizabeth Warren (D-Mass.) and Bernie Sanders (I-Vt.) endorsed Cisneros, as did the Texas AFL-CIO.
That allowed her to out-duel Cuellar in media spending, including far more on digital. In a bio spot that has run for the past month, she describes herself as a "daughter of immigrant farmworkers" and says "south Texas needs a new voice." Another calls Cuellar President Donald Trump's "favorite Democrat."
She's said Cuellar's centrist policies are out of touch in a district Hillary Clinton carried by 20 percentage points in 2016. He's pro-gun and anti-abortion rights, frequently works across the aisle and votes with Republicans, and is a member of the fiscally conservative Blue Dog Coalition. Former Rep. Lamar Smith (R-Texas), who now works at Akin Gump, recently donated to Cuellar, who raised a total of $1.7 million through Feb. 12 and outspent Cisneros overall 2 to 1.
The incumbent's media campaign has included a contrast ad on abortion, oil and gas, and campaign funding. In his closing ad, Cuellar touts the federal funds he's helped bring to the district and promises to fight Trump to protect Obamacare.
He's received help on the airwaves from the U.S. Chamber of Commerce's political action arm and a dark-money group called American Workers for Progress, which highlighted his record on health care.
Members Weigh In
Several Democrats said they were surprised Cuellar was facing an opponent with such a strong backing.
"We all draw primary opponents," said Rep. Filemon Vela (D-Texas), whose district also covers a part of the Mexican boarder. "I'm surprised he drew a primary opponent who has been able to muster so much financial support."
Rep. Marcy Kaptur (D-Ohio), who donated to Cuellar's campaign and sits next to him on the Defense Appropriations subcommittee, said, "Henry and I have had some serious disagreements, but we've always done it in a civil manner."
Kaptur paused for a minute when asked if the progressive movement within the party was getting stronger.
"I think I view myself as a progressive member," she said. "I think there's a generational change happening."
Lawmakers emphasized that all primary challengers should be taken seriously. Vela said he is using more social media in his campaign, including video ads, and spending more money on the ground. While Vela's opponents in the primary lack Cisneros' funding, he's not taking anything for granted.
"Joe Crowley thought he was in a pretty good spot," he said.
To contact the reporter on this story: Emily Wilkins in Washington at ewilkins@bgov.com
To contact the editors responsible for this story: Kyle Trygstad at ktrygstad@bgov.com; Bennett Roth at broth@bgov.com