Air War in North Carolina Tops Super Tuesday Congressional Races
The $20 million onslaught in North Carolina kicks off the first and largest congressional primary day of the year with an advertising bang.
Both parties' late financial investment to influence which Democrat takes on Republican incumbent Thom Tillis catapulted the race to the highest TV spending of any March 3 down-ballot contest — by far — and may not be topped before the end of primary season.
The Tar Heel State air war stands alone, both among the other already-expensive races that will decide the Senate majority and the few high-dollar contests on next week's docket. That includes competitive primaries to take on Sens. Doug Jones (D-Ala.) and John Cornyn (R-Texas), both of which could advance to runoffs.
Unlike the party's overcrowded presidential nomination race, Democrats have successfully "cleared the field" of major primary battles in key Senate races, said Martha McKenna, a media consultant who's previously led independent expenditure efforts at the Democratic Senatorial Campaign Committee.
Democratic challengers in other critical races, such as John Hickenlooper in Colorado, Mark Kelly in Arizona and Sara Gideon in Maine, are on track to win Senate nominations without having to shell out large amounts of money for primary campaign ads, she said. Instead, they're concentrating resources on general election contests against Republican incumbents Cory Gardner, Martha McSally and Susan Collins.
"With these Senate races requiring tens of millions of dollars" in campaign spending, she said, candidates can't afford to fight off a primary challenge that could cost additional millions. Not having a primary challenge "just makes a world of difference."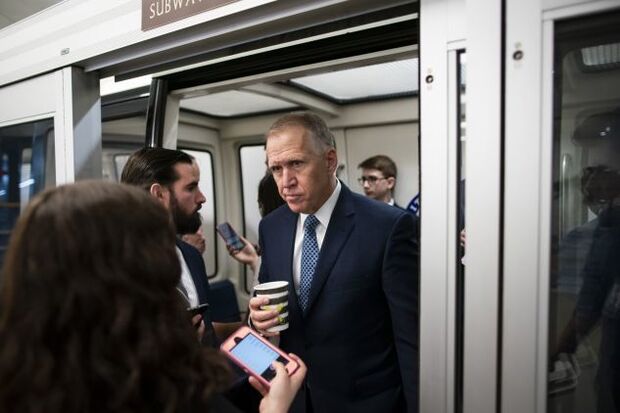 Tinkering for Tillis
Outside spending by a GOP-aligned group ensured that wouldn't be the case in North Carolina, where the seat is likely a must-win for Democrats to take the majority.
The Democratic primary battle there between DSCC-endorsed former state Sen. Cal Cunningham and state Sen. Erica Smith was initially fueled by a $2.4 million Republican effort. It was then supercharged by an even bigger Democratic counterattack. The total spent or booked for ads in the Democratic contest as of Thursday morning was around $15 million, according to Advertising Analytics.
That followed an earlier burst of ads on what appeared to be a competitive GOP primary, when nearly $4 million was spent on behalf of Tillis and a potential challenger, businessman Garland Tucker, who dropped out in December.
The Senate Leadership Fund, a super PAC aligned with Senate Majority Leader Mitch McConnell (R-Ky.) and other GOP leaders, financed TV ads backing Smith, according to a Federal Election Commission report filed by the ad sponsor, a new entity called Faith and Power PAC. The Republican-funded ads sought to derail the campaign of Cunningham, a military veteran.
The ads focused on issues that have split the party nationally, including the Green New Deal and Medicare for All proposals favored by Sen. Bernie Sanders (I-Vt.).
SLF President Steven Law justified the effort by saying Senate Democrats, led by Minority Leader Chuck Schumer, have meddled in Republican primaries.
"We stole a page out of Chuck Schumer's playbook, and it's been more successful than we could have imagined," Law said. "Democrats are burning cash in a $13 million rescue mission for Cal Cunningham, who has proven to be a lackluster candidate."
McKenna said the Republican spending unveiled the party's concerns about Tillis' vulnerability level and need for extra help against Cunningham. The tactic of playing in the other party's primary has been used before but not on the scale seen in North Carolina, she said, adding she didn't think the Republican effort would work in this case because it was exposed in enough time for Democrats to respond.
Cunningham supporters fired back with their own super PAC spending, including $4 million in ads airing over the contest's final days by a group called Carolina Blue, whose funders won't be revealed until after the election, according to FEC reporting rules. The ads emphasized Cunningham's support for President Barack Obama's signature health care law, gun background checks and measures to fight climate change.
Fierce Fight for Senate Control Triggers 92% Surge in TV Ad Buys
Elsewhere on Super Tuesday
Other big-money Super Tuesday battlegrounds include Alabama, where the advertising price tag is expected to reach nearly $5.4 million for the Republican Senate primary, according to Advertising Analytics. The race includes former Attorney General Jeff Sessions, Rep. Bradley Byrne and former Auburn football coach Tommy Tuberville. Many of the ads focus on which candidate is closest to President Donald Trump.
The Democratic Senate primary to face Cornyn is approaching $4 million. Former congressional candidate M.J. Hegar, whom the DSCC endorsed, faces several others, including Cristina Tzintzun Ramirez, the founder of an organization focused on mobilizing young Latino voters.
Challenges to two House members from Texas, Republican Kay Granger ($4 million) and Democrat Henry Cuellar ($3.6 million), have seen major ad spending.
And it's topped $1 million in seven open-seat House races: two Alabama races for seats vacated by Republicans Martha Roby and Byrne; two California races for seats vacated by Duncan Hunter (R) and Susan Davis (D); two Texas races for seats vacated by Republicans Michael Conaway and Pete Olson; and a North Carolina race for the seat vacated by Republican Mark Meadows.
To contact the reporter on this story: Kenneth P. Doyle in Washington at kdoyle@bgov.com
To contact the editors responsible for this story: Kyle Trygstad at ktrygstad@bgov.com; Bennett Roth at broth@bgov.com