Senate 2024 Lineups Full of Question Marks: Ballots & Boundaries
Bloomberg Government subscribers get the stories like this first. Act now and gain unlimited access to everything you need to know. Learn more.

Republicans have to be extra-strategic in their 2024 Senate calculations because the next couple cycles after that look far less favorable for their party.
No Democratic senators from Trump states are up in 2026 or 2028.
In this cycle, though, three incumbents are in that category. There's enough uncertainty about who's going to be on next year's ballot that it felt like a good time to ask BGOV's Greg Giroux to take inventory.
Read his rundown here: GOP Seeks Senate Recruits Who Won't Squander 2024 Advantages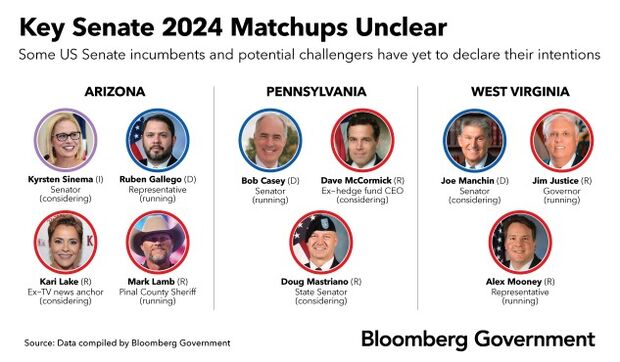 More On Senate '24
OHIO: Brown Bucks Biden
"The President got this one wrong," Sen. Sherrod Brown (D-Ohio) said after Joe Biden vetoed a resolution (H.J. Res. 39) that would have reinstated tariffs on solar panels from Southeast Asia.
Brown may find some other ways to separate himself from Biden as they both seek votes in a state that's drifted Republican in the past decade.
The National Republican Senatorial Committee criticized Brown for opposing a resolution (H.J. Res. 42) that would block Washington, D.C., from overhauling its police practices. Joe Manchin (W.Va.) and Jon Tester (Mont.), the other two Democrats up for re-election from states Biden lost in 2020, were among the eight Democrats or Democratic-aligned independents who voted yes. – Greg Giroux
(Friendly reminder: This newsletter is free! SUBSCRIBE HERE )
House '24
REMATCHES: Rollins, Vallejo Trying Again
Two more Democrats who lost House races last year by single digits will try again in 2024.
Will Rollins, a former federal prosecutor from southern California, said he'll again oppose Rep. Ken Calvert (R) in what would be a rematch of a race Calvert won by 4.7 percentage points. Calvert has since ramped up his fundraising and became chair of the Appropriations Defense Subcommittee.
Michelle Vallejo, a progressive community organizer from south Texas, is seeking another shot at Rep. Monica De La Cruz (R), who won their 2022 matchup by 8.5 points in a Hispanic-majority district that's shifted away from Democrats the past few years.
Other Democrats who had close calls in 2022 also are running again, including Adam Frisch, who lost by 546 votes against Rep. Lauren Boebert (R-Colo.). READ MORE: Second-Chance Campaigns Seek Vindication — Greg Giroux
NEW YORK: Olympian Takes Political Rink For Spin
Sarah Hughes, the 2002 Olympic figure-skating gold medalist, is preparing a 2024 campaign to try to unseat Rep. Anthony D'Esposito (R).
Hughes (D), now a lawyer and MBA candidate, is a "few weeks" away from an announcement, spokesman Max Kramer said after she filed a statement of candidacy with the Federal Election Commission.
We'll bypass the chance to quip about politics as a contact sport and instead recall some US Olympic athletes who later served in the House: decathlete Bob Mathias (R-Calif.), sprinter Ralph Metcalfe (D-Ill.) and middle-distance runner Jim Ryun (R-Kan.). In the Senate: hockey player Wendell Anderson (D-Minn.), basketball star Bill Bradley (D-N.J.), and judoka Ben Nighthorse Campbell (R-Colo.). And of course Sen. Mitt Romney (R-Utah) oversaw the Salt Lake City Olympics where Hughes struck gold.
Already in the New York race: Laura Gillen (D), a former Hempstead, N.Y., supervisor angling for a rematch. — Greg Giroux
TEXAS: Surgeon Seeks Allred Seat
A Dallas trauma surgeon who tended to police officers shot by a sniper in 2016 is running for a House seat in 2024 on a platform that includes curbing gun violence.
After a rampage that killed five officers and wounded seven other officers and two other people, Brian Williams (D) appeared at a press conference to say that "this experience has been very personal for me and a turning point in my life." The deadly Dallas attack came right after two Black men, Alton Sterling in Baton Rouge and Philando Castile in St. Paul, were killed by police.
Williams, who is Black, filed papers with the Federal Election Commission to run in the heavily Democratic 32nd District represented by Rep. Colin Allred (D), a candidate for the Senate. — Greg Giroux
This Year's Elections
KENTUCKY: Nominee Is a Trump Choice
Kentucky is about to test whether a familiar name and personal popularity can help a red-state Democrat fend off a challenge from a Republican backed by Donald Trump. READ MORE from Maura Kelly Lannan.
PENNSYLVANIA: Party Contentment
The major political parties got the nominees they wanted for Pennsylvania Supreme Court, so the November general election starts out relatively drama-free. READ MORE from Jennifer Kay.
Redistricting
SOUTH CAROLINA: SCOTUS Takes the Case
The US Supreme Court will consider reinstating a Republican-drawn South Carolina congressional map in a case that could help determine which party controls the House over the next decade. READ MORE about the case from Bloomberg's Greg Stohr and check out what former House Majority Whip Jim Clyburn (D-S.C.) had to say on the HBO and CNN show Who's Talking to Chris Wallace?
Voting Law
INDIANA: Age Complaint
The US Court of Appeals for the Seventh Circuit is considering whether a state law that only allows select groups, including those 65 years old or older, to vote by mail is discriminatory. Among the questions is whether the law violates the 26th Amendment to the US Constitution, which prohibits denying the right to vote based on age. — Stephen Joyce
Ballot Questions
OHIO: Fast Approval and Litigation
The Ohio Ballot Board has now certified language to present to voters in August. The proposed ballot measure would make it harder to amend the Ohio Constitution (and possibly thwart an effort by abortion rights activists).
The next step in the process is for lawmakers to write pro and con arguments to be presented to voters. Meanwhile, there's already a lawsuit. READ MORE about the certification process and the litigation.
FLORIDA: Pot Potential
A potential referendum allowing adults to use marijuana is being challenged in the Florida Supreme Court, which will decide whether legal requirements have been met for the proposal to appear on the ballot in 2024. — WFLA
Resources
Add Us to Your Inbox
SIGN UP for Ballots & Boundaries to keep up with congressional campaign trends, ballot initiatives, state voting laws, and redistricting.
To contact the reporters on this story: Greg Giroux in Washington at ggiroux@bgov.com; Greg Stohr in Washington DC; Jennifer Kay in Philadelphia at jkay@bloomberglaw.com; Stephen Joyce in Chicago at sjoyce@bloomberglaw.com; Maura Kelly Lannan in Washington D.C.
To contact the editors responsible for this story: Katherine Rizzo at krizzo@bgov.com; Bennett Roth at broth@bgov.com
Stay informed with more news like this – from the largest team of reporters on Capitol Hill – subscribe to Bloomberg Government today. Learn more.