GOP Seeks Senate Recruits Who Won't Squander 2024 Advantages
GOP seeks to avoid fractious primaries, flawed nominees
Democrats defending one-seat majority, twice as many seats
Bloomberg Government subscribers get the stories like this first. Act now and gain unlimited access to everything you need to know. Learn more.
Republicans have yet to land top-flight US Senate candidates in Montana or Wisconsin. Democrats don't know whether Sen. Joe Manchin is going to leave them in the lurch in West Virginia. There are many question marks on the map as the parties prepare for 2024.
GOP candidates have been slow to emerge in five states President Joe Biden won by fewer than three points in 2020 — Arizona, Michigan, Nevada, Pennsylvania, and Wisconsin.
In that group, Senate Minority Leader Mitch McConnell (R-Ky.) is prioritizing Pennsylvania, the only state in the 2022 Senate elections where a seat shifted to Democratic from Republican control.
The candidate he wants is Dave McCormick, a former hedge-fund CEO and Army veteran who hasn't yet announced a run against Sen. Bob Casey (D).
McCormick narrowly lost the 2022 Republican primary to the candidate endorsed by Donald Trump, celebrity physician Mehmet Oz, who then lost to Democrat John Fetterman.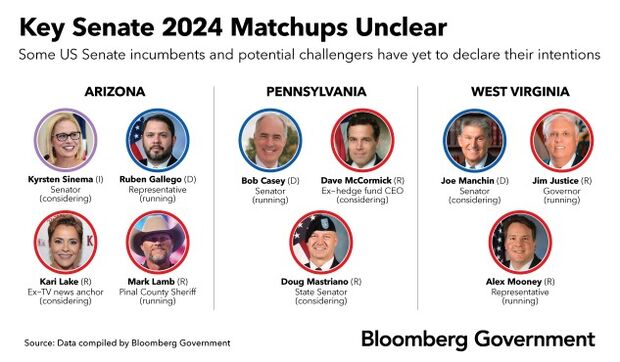 McCormick's decision is complicated by the potential candidacy of Trump-aligned state Sen. Doug Mastriano, who lost the 2022 governor's election by a roughly 15-point landslide.
Surveying the 2024 landscape, Republicans should be sitting pretty, as they have less than half as many seats to defend as Democrats and aren't protecting seats in any states Biden won in 2020.
Democrats are defending three seats in states that Biden decisively lost and have shifted sharply toward the GOP since 2012, when the Democratic incumbents last won them in a presidential election year.
(Ballots & Boundaries helps you keep up with campaign trends, voting law, ballot questions, and redistricting. SUBSCRIBE HERE )
But geography isn't necessarily destiny, and last year's election showed how unprepared candidates can easily lose races that seem to be stacked in their favor.
"We need to find candidates and recruit candidates who not only can win a primary election but also can win a general election," Sen. Steve Daines of Montana, the chair of the National Republican Senatorial Committee, said in an interview last month. "It takes both."
"We had to work with what we ended up with, and I think candidate quality cost us," McConnell said.
Manchin Vexation
In West Virginia, Gov. Jim Justice (R) announced his campaign last month as the preferred candidate of party leaders for Manchin's seat.
Justice must first face a contested primary with Rep. Alex Mooney, who's backed by the Club for Growth, a conservative anti-tax advocacy group that's sometimes at loggerheads with GOP leaders.
Manchin, who has intensified his criticism of the Biden administration in recent weeks and voted Thursday against one of the president's judicial nominees, has said he won't disclose his political plans until the end of the year.
In Arizona and Nevada, Republicans may end up with nominees who echo Trump's false claims that the 2020 election was stolen.
Kari Lake, a Trump ally who continues to challenge her defeat in last year's race for Arizona governor, may run for the seat of Sen. Kyrsten Sinema (I), who aligns with Democrats for committee assignments and hasn't announced her political plans.
Rep. Ruben Gallego (D) is running with the backing of progressive groups, though Democratic leaders are waiting to see what Sinema does before they intervene in the race.
In Nevada, the best-known Republican candidate against Sen. Jacky Rosen (D) thus far is Jim Marchant, a former state assemblyman who lost a 2022 race for Nevada secretary of state and demanded a revote after losing a 2020 House race by 5 percentage points.
Army veteran Sam Brown, the runner-up in the 2022 Republican Senate primary, could get GOP establishment support if he runs.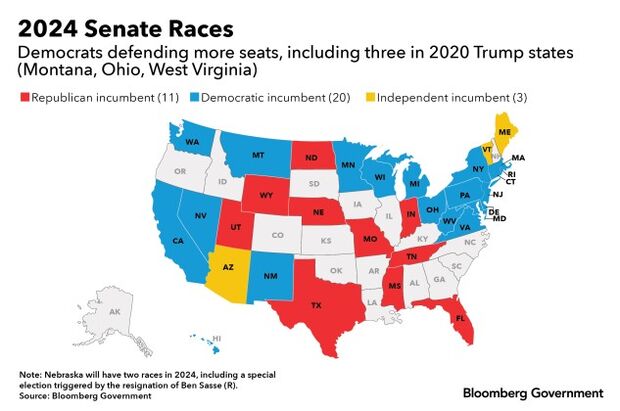 There's no early Republican front-runner in Montana or Ohio, the GOP's next-best opportunities after West Virginia to capture Democratic seats.
Daines is playing some referee in Montana as he leads the effort to unseat his colleague, Veterans' Affairs Committee Chair Jon Tester — dubbed by Montana journalist Mike Dennison as "Master of the Close Shave" after three close Senate wins.
Daines said he wanted Tim Sheehy, an aerospace company CEO and former Navy SEAL, to enter the race and also praised state attorney general Austin Knudsen, who's considering a run.
Either could be challenged by Rep. Matt Rosendale, a member of the hardline conservative Freedom Caucus who didn't support Kevin McCarthy (Calif.) for speaker. Rosendale was the Republican nominee against Tester in 2018, losing by 4 points. He's won statewide before as state auditor and as the state's sole House member before it picked up a seat starting this year.
Republicans also are casting for a top candidate in Michigan after a disastrous 2022 election. Republican leaders are looking at New York Stock Exchange Vice Chairman John Tuttle. Rep. Elissa Slotkin, the Democratic front-runner, is a dominant fundraiser who's won three elections in a competitive district.
In Wisconsin, Rep. Tom Tiffany (R) is weighing a bid against Sen. Tammy Baldwin (D) as Rep. Mike Gallagher (R) resists entreaties to seek the seat. Tiffany, who was first elected three years ago to a strongly Republican district, probably wouldn't have the Republican primary to himself.
Ohio Opportunity
Like West Virginia, which Trump won by 39 percentage points, Montana and Ohio voted Republican in the 2020 presidential election. The Democratic senators, therefore, may need to generate more crossover support from independents and Republicans than at any time in their careers.
Ohio's Brown Shows His Populist Side in Bid to Win in Red State
Republicans are headed for a multicandidate primary in Ohio, where the field seeking to oppose three-term Sen. Sherrod Brown (D) includes state Sen. Matt Dolan and businessman Bernie Moreno, who both ran for Ohio's other Senate seat in 2022.
Dolan, whose family owns the Cleveland Guardians baseball team, hasn't sought Trump's backing, while Moreno began his campaign to praise from Trump. Rep. Warren Davidson, a Freedom Caucus member, and Ohio Secretary of State Frank LaRose may join the race.
If Republicans win two of the three Democratic seats in Trump states, that will be enough to clinch a majority if they also hold all of their own seats including in Texas and Florida, the only two states Trump won by single digits where Republican senators are up for re-election.
Democrats are making a run at flipping Texas with Rep. Colin Allred, who could draw some Republican super-PAC money away from Senate battleground states if his bid threatens Sen. Ted Cruz (R) — not unlike the 2022 Ohio Senate race in which Republican super-PACs were forced to spend millions in a Republican-leaning state to keep JD Vance (R) from losing to Democrat Tim Ryan.
Trump Factor
Apart from those Trump states, "it doesn't seem like Republicans have really put their best foot forward," said Kyle Kondik, managing editor of Sabato's Crystal Ball at the University of Virginia Center for Politics. "It's still early," he added.
And there's a double wild card named Trump, who could be either an asset or a drag on Republican nominees.
"The X factor continues to be Trump and will he play in these races as much, given that he's likely to be on the ballot as well," said Jessica Taylor, the Senate and governors editor for the nonpartisan Cook Political Report with Amy Walter. "What does Trump on the ballot do to some of these down-ticket races in swing states?"
Another dynamic to watch is how the NRSC handles the primaries. The organization must decide how aggressively to assist candidates with strong general-election prospects — at the risk of creating complaints about heavy-handed Washington insiders. A question on Taylor's mind is "whether the forces that now control the Republican party will let them approach it differently or not and let the best candidates through."
Daines's counterpart, Sen. Gary Peters of Michigan, the chairman of the Democratic Senatorial Campaign Committee, sounds like he's counting on core GOP voters to botch the long game.
"I am confident that the candidates who will emerge from these Republican primaries will be deeply flawed in many respects," Peters said in an interview this month. "They'll be out of touch with where folks are in the general election."
— With data visualization by Seemeen Hashem.
To contact the reporter on this story: Greg Giroux in Washington at ggiroux@bgov.com
To contact the editors responsible for this story: Katherine Rizzo at krizzo@bgov.com; Loren Duggan at lduggan@bgov.com
Stay informed with more news like this – from the largest team of reporters on Capitol Hill – subscribe to Bloomberg Government today. Learn more.