Second-Chance Campaigners Seek Vindication After 2022 Losses
Rematch candidates have already announced their 2024 bids
Boebert-Frisch, Vasquez-Herrell among House races to watch
Bloomberg Government subscribers get the stories like this first. Act now and gain unlimited access to everything you need to know. Learn more.
Defeated congressional candidates trying again to punch their tickets to Capitol Hill are about to find out if voters see them as seasoned and well-known or rejected and bruised.
"We needed two more weeks of momentum or probably another $200,000," said Colorado businessman Adam Frisch (D), who lost the closest House race in the US when Rep. Lauren Boebert (R) was re-elected by 546 votes.
"We ran a great campaign, but this just gives us more time to tell our story—more about pro-Adam, not just 'well, Boebert needs to go'," he said in an interview. "And we're able to raise the money that we need."
Of the 14 closest US House races last year, five defeated candidates, including Frisch, have initiated rematch campaigns. Some others are openly considering it.
"For the parties, retread candidates give them proven commodities," Kyle Kondik, the managing editor of Sabato's Crystal Ball at the University of Virginia Center for Politics, said in an e-mail.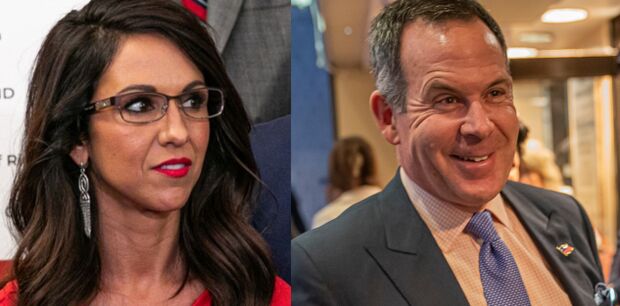 "Generally these candidates have already built up some name ID and a fundraising network, and they also are already vetted," said Kondik. "Such candidates may also be strong enough to prevent others from running."
Frisch's candidacy announcement came a full year earlier than last cycle, and his campaign reported raising $1.7 million in the first quarter of 2023, more than any non-incumbent House candidate.
Boebert's team noticed. One of its fundraising e-mails referred to "Aspen Adam's liberal money machine," reprising attacks from her 2022 campaign.
Vasquez-Herrell Parity
One way rematches can be different is that the newcomers will have records to defend.
In announcing a bid to unseat first-term Rep. Gabe Vasquez (D), ex-Rep. Yvette Herrell (R-N.M.) attacked her successor for voting against House Republicans' energy package (H.R. 1) and a rollback of criminal sentencing rules in the District of Columbia (Public Law 118-1).
Republicans Dust Off Anti-D.C. Playbook to Sound Tough on Crime
"It's time to put conservative voices back in the driver's seat," Herrell said at an event that included Speaker Kevin McCarthy (R-Calif.). Vasquez said the energy bill was about "padding the pockets of executives at the cost of energy workers."
Herrell had lost to Vasquez by seven-tenths of one percentage point.
Another campaign to watch: New York Democrat Josh Riley, a lawyer who lost to Republican Marc Molinaro by fewer than 2 points in 2022. Riley is running again.
(Keep up with congressional campaign trends, ballot initiatives, and voting laws. SUBSCRIBE to Ballots & Boundaries.)

"Marc Molinaro now has a record to run on, and it is not a good one," Riley said in an interview. "He's voting 95% of the time with Marjorie Taylor Greene," Riley said, referring to the Georgia Republican known for her incendiary rhetoric and strong defense of Donald Trump.
"I'm focused on delivering bipartisan results for Upstate New York," Molinaro said in a statement.
New York 'Center of Gravity' in 2024 Campaign For House Control
Republicans shocked the opposition in multiple New York races last year, so that state's a natural venue for retries.
Sarah Klee Hood, a town councilor and Air Force veteran from suburban Syracuse, is campaigning to unseat Rep. Brandon Williams (R) after finishing a close second in the 2022 Democratic primary.
Josh Lafazan, a Nassau County legislator, is seeking to oust Rep. George Santos (R) after placing third in the 2022 Democratic primary. Santos, who is under scrutiny for fabricating much of his resume, announced his re-election bid April 17, though the Nassau County Republican organization has said it will work against the beleaguered freshman in the GOP primary if he doesn't vacate the seat before then.
Narrow Losses
There are now 18 Republicans representing House districts that Joe Biden carried in the 2020 presidential contest, and five Democrats in Trump-favoring districts.
Among the potential rematches:
Former Arizona state senator Kirsten Engel (D) is running to unseat first-term Rep. Juan Ciscomani, who won their 2022 matchup by 1.5 points;
Nebraska state Sen. Tony Vargas (D) is weighing a second bid against Rep. Don Bacon (R), who prevailed by fewer than 3 points in 2022; and
Former California assemblyman Adam Gray may oppose Rep. John Duarte (R) in what would be a rematch of 2022's second-closest House race (0.4 points).
A victor by a wider margin, Rep. Brian Fitzpatrick (R) may get a rematch in suburban Philadelphia's 1st District. Former Army helicopter pilot Ashley Ehasz has announced a second bid to unseat Fitzpatrick after losing to him by 9.7 points in 2022.
Fitzpatrick has long enjoyed crossover appeal, partly by voting with Democrats on environmental and labor issues. He's a co-chair of the moderate Problem Solvers Caucus seeking a bipartisan resolution to a debt-ceiling impasse. Ehasz said she intends to draw attention to Fitzpatrick's opposition to abortion rights and impeaching Trump.
"We had the right messages. We just weren't able to tell them at the scale that we needed to," said Ehasz, who raised less than $1 million for a 2022 campaign she began in October 2021. "This is a district that is incredibly pragmatic and that values to a very strong degree a woman's right to choose."
2024 House Landscape: BGOV OnPoint
At least two of the five House Democrats from districts Trump won in 2020 may face the same Trump-aligned opponents.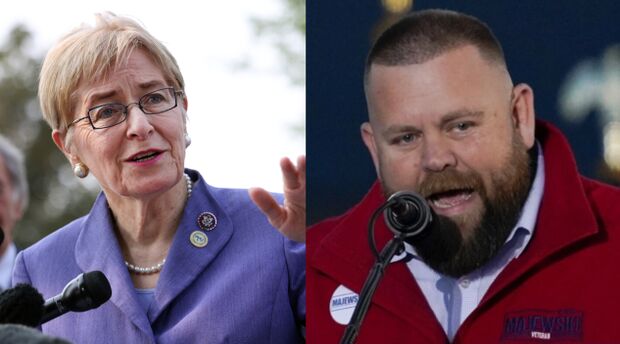 Ohio Republican JR Majewski, a Trump acolyte trounced by Rep. Marcy Kaptur (D) last November, has announced a rematch bid. Majewski was a surprise winner in a 2022 GOP primary that included ex-state Rep. Craig Riedel, who's also running again.
In Washington state, former Army Green Beret Joe Kent (R) is seeking a rematch with first-term Rep. Marie Gluesenkamp Perez, the only Democrat first elected last November from a district that preferred Trump in 2020.
Gluesenkamp Perez bucked Democrats by voting for the Republican energy bill and raised $824,000 in this year's first quarter — second-most among the 29 "Frontline Democrats" who party leaders expect will have the most competitive re-election contests.
In the two most competitive open House districts to date, Republicans probably will have the same nominees as they did two years ago.
Former California assemblyman Scott Baugh is seeking to succeed Rep. Katie Porter (D), who's running for Senate after beating Baugh last year. In Michigan, ex-state Sen. Tom Barrett (R) is likely to make a second bid after losing to Rep. Elissa Slotkin, who's also forgoing re-election to run instead for an open Senate seat.
Senate Hopefuls
Some unsuccessful Senate candidates from 2022 are pursuing or considering 2024 campaigns in states that will be critical to determining whether Democrats can hold their 51-49 majority.
Ohio state Sen. Matt Dolan (R), the third-place finisher in a 2022 Republican primary won by now-Sen. JD Vance, said in January he'd try to unseat Sen. Sherrod Brown (D) in 2024. Dolan, who began his 2022 campaign in September 2021, has opposition including Bernie Moreno, a businessman who also sought the same Senate seat in 2022 before ending his campaign three months before the primary. Trump praised Moreno last week.
2024 Senate Landscape: BGOV OnPoint
In Montana, Rep. Matt Rosendale (R) may try to oppose Sen. Jon Tester (D) in what would be a rematch of a 2018 race Tester won by 4 points. Rosendale could face serious opposition from Tim Sheehy, an aerospace company CEO and former Navy SEAL, or state attorney general Austin Knudsen.
In Pennsylvania, former hedge-fund CEO and Army veteran Dave McCormick is considering a second Senate campaign in as many election cycles. McCormick may try to unseat Sen. Bob Casey (D) after narrowly losing to Trump-endorsed Mehmet Oz in the 2022 Republican primary for Pennsylvania's other Senate seat.
A potential rival is state Sen. Doug Mastriano (R), who decisively lost a bid for governor last year.
To contact the reporter on this story: Greg Giroux in Washington at ggiroux@bgov.com
To contact the editors responsible for this story: George Cahlink at gcahlink@bloombergindustry.com; Katherine Rizzo at krizzo@bgov.com; Bennett Roth at broth@bgov.com
Stay informed with more news like this – from the largest team of reporters on Capitol Hill – subscribe to Bloomberg Government today. Learn more.