Schumer Tasks Peters With Defending Democrats' Senate Majority
Michigan senator was re-elected to second term in 2020
Republicans defending 20 seats, Democrats 14 next year
Sen. Gary Peters was named chairman of the Democratic Senatorial Campaign Committee on Thursday, filling the party's last open leadership slot as it takes control of the Senate for the 117th Congress.
Peters' re-election to a second term in Michigan in November was critical to Democrats winning the majority. Months later, he's taking over the organization charged with strengthening its hold on the chamber, which is currently split 50-50 between the two parties.
Senate Majority Leader Chuck Schumer (D-N.Y.) said in announcing his choice for the job that Peters is "battle-tested" and will "ensure Democrats protect our strong incumbents and go on offense to expand our majority."
On the surface, the map tilts in Democrats' favor, as they're defending 14 seats to 20 for Republicans. But the GOP would historically have an edge in enthusiasm as the party out of power in the White House during a midterm election.
Democrats' top targets include a pair of open seats in North Carolina and Pennsylvania, and the seat of Sen. Ron Johnson (R-Wis.), who hasn't announced whether he'll seek re-election. They also have an opening in Ohio with Sen. Rob Portman's (R) unexpected retirement. Democrats' most vulnerable seats may be those recently won in special elections in Arizona and Georgia.
Raising Money
Helping raise money is one of the top jobs of a campaign committee chairman, along with candidate recruitment and messaging.
Sen. Rick Scott (R-Fla.) is chairman of the National Republican Senatorial Committee. He's been in the spotlight since a rush of corporations announced they were halting political action committee donations to lawmakers who voted to reject any of President Joe Biden's state victories, as Scott did.
NRSC spokesman Chris Hartline released a statement in response to Peters' selection that purposely misstated the senator's name and said he'll "help Republicans win back the Senate in 2022."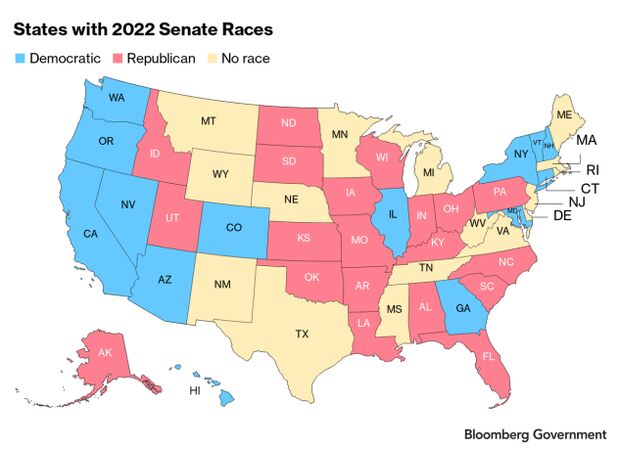 Last year, Peters defeated a top Republican recruit, John James, by 2 percentage points and outraised him $52 million to $48 million, according to post-general election reports filed to the Federal Election Commission. Donald Trump lost to Biden in Michigan after carrying the state in 2016.
Peters replaces Sen. Catherine Cortez Masto (D-Nev.), who's up for re-election. Under her leadership, the committee raised nearly $280 million for the 2020 election, including $20 million in loans, as of Nov. 23, according to its most recent FEC report. The NRSC brought in $295.2 million by that point, including $18 million in loans.
Updated figures through the two January runoffs in Georgia aren't yet available.
To contact the reporter on this story: Kenneth P. Doyle in Washington at kdoyle@bgov.com