Redistricting Turns Allies Into Rivals as Lawmakers Get Paired
Five primaries featuring two incumbents are underway
Candidates often have nearly identical voting records
Redistricting has already produced a handful of awkward clashes between House incumbents from the same party, and more may be on the way.
Three Democratic and two Republican primaries between congressional colleagues are underway in four states: Georgia, Michigan, and West Virginia, and two in Illinois. There were 11 such races in 2012.
These intraparty pairings can become uncomfortable beyond races between Democratic and Republican incumbents, who have a built-in partisan dividing line. They strain relationships between colleagues and friends who vote the same way, collaborate on regional projects and priorities, and share flights to and from Washington.
"It's terrible," said Sen. Gary Peters (D-Mich.), a House member in 2012 when he defeated his Democratic colleague Hansen Clarke. "It's a whole thing to have to go against a friend."
Peters, who was elected to the Senate two years later, said it "tends to divide supporters as well," and that "you do find out who your true friends are in a primary."
( Sign up for Ballots & Boundaries, a weekly check-in as states change voting laws and revise political districts.)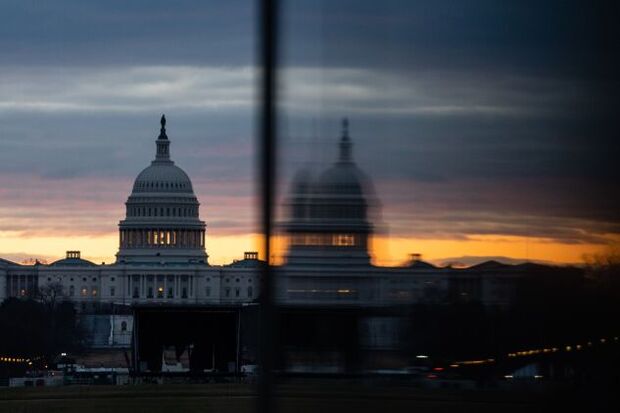 Member-vs.-member primaries sometimes arise from congressional maps drawn by the opposition party, which puts the homes of two incumbents in the same district. They can also be a byproduct of maps from redistricting commissions that can't take into consideration where incumbents live. And they can be forced when a state loses a seat in reapportionment, creating a fierce game of musical chairs.
Incumbents—who don't have to live in the districts they represent—must decide which district gives them the best chance to be re-elected. Sometimes that means that running in the same district as a colleague provides a clearer path than in an open district with an untenable partisan lean or where they simply don't have enough of a political base.
There may be more incumbent pairings in the primaries beyond the five already on tap this year. Rep. Fred Upton (R-Mich.), one of the most senior House members, is weighing whether to seek re-election in the same district as fellow Republican Bill Huizenga. Upton represents more of the merged district, which can be a significant advantage, though his votes last year to impeach Donald Trump and for some Democratic-sponsored bills may be unpopular with conservative primary voters.
"Don't make it emotional. Don't make it personal. It's business," said Rep. David Schweikert (R-Ariz.), who defeated then-Rep. Ben Quayle in a 2012 primary.
That business includes campaigns and outside political groups airing ads that magnify small differences between two House members.
"You start watching each other's votes," said Schweikert, who called it "the nature of the beast."
Here's a closer look at the five incumbent-vs.-incumbent primaries:

Georgia's 7th District (D): A Republican-drawn congressional map in Georgia led Reps. Lucy McBath and Carolyn Bourdeaux to seek the same strongly Democratic district anchored in suburban Atlanta's Gwinnett County.
Bourdeaux, who was elected in 2020, represents far more of the reconfigured district, though McBath spent millions in the Atlanta media market to unseat a Republican in 2018 and defend her seat in 2020. Bourdeaux and McBath have voted similarly on major policy.
Read More: Redistricting Pits Democratic Incumbents in Atlanta-area Clash

Illinois' 6th District (D): Two-term Rep. Sean Casten and first-term Rep. Marie Newman are seeking the same district in parts of Cook and DuPage counties in metropolitan Chicago. Illinois Democrats who controlled redistricting put Newman's residence in a Hispanic-majority district represented by Rep. Chuy Garcia (D).
Casten and Newman have practically identical progressive voting records, though they took different paths to Congress.
Casten in 2018 unseated Republican Peter Roskam in a well-educated suburban district anchored in DuPage County that shifted from Republican to Democratic during Trump's command of the GOP. Casten has focused on climate change and energy innovation in Congress.
Newman became a favorite of some national progressive groups—including EMILY's List, which aids Democratic women who support abortion rights—when she almost beat then-Rep. Dan Lipinski in the 2018 primary and then unseated him in a 2020 rematch in a more Chicago-focused district that was long a Democratic stronghold.
Of the districts where incumbents are paired, Illinois' 6th may be the only one that could host a competitive general election in November. It would have voted for Biden 55%-44% in the 2020 election. That's Democratic-friendly in most election years but is in range for Republicans if the 2022 midterms are anti-Biden.
"I think it's going to come down to a question of who is in a better position to make sure that this district stays Democratic," Casten said. "Because it still is a purple district."

Illinois' 15th District (R): The matchup between Reps. Rodney Davis and Mary Miller may turn out to be the most fractious of the intraparty contests.
Earlier this month, after Miller announced she would oppose Davis in a district includes huge swaths of central Illinois but not her residence, Davis' campaign released a scathing statement calling her an "outsider" and a "carpetbagger."
In an interview, Davis emphasized his conservative credentials in standing up to Speaker Nancy Pelosi (D-Calif.) on Capitol security and Covid-19 protocols as the top Republican on the House Administration Committee.
"We take on all challenges," he said. "Everybody that knows me throughout my entire career knows I'm not afraid of a fight."
Although Davis lives in the merged district, it's much more conservative than his current district in and around Champaign, Decatur, and most of Springfield.
Miller's politics have been more strongly conservative than Davis's, and Trump endorsed her earlier this month as "a champion of our America First agenda." Davis supported and Miller opposed the creation of a Jan. 6 commission that failed to win significant Republican support, and a bill that would allow undocumented agricultural workers to qualify for a new temporary immigration status or permanent legal status. Both Davis and Miller sit on the Agriculture Committee.

Michigan's 11th District (D): Second-term Reps. Haley Stevens and Andy Levin are seeking the same Democratic-friendly, commission-drawn district in suburban Oakland County near Detroit. Both sit on the Education and Labor Committee.
In an interview, Stevens promoted her ties to Oakland County and her record on economic development, workforce training, and advanced manufacturing policies.
"It's an Oakland County seat, and I have always represented the most of Oakland County by far of anyone in the delegation," she said. Stevens added that she's "feeling really good about my race and obviously all of the resources that I have as well to communicate with the voters and doing the grassroots as well."
Levin said he has "zero ill will" toward Stevens, called her before he announced his decision, and spoke with Stevens recently on a flight back to Washington. He said he's planning to emphasize his work on environmental policy and with unions.
"The way that politics work on Capitol Hill, voting records of people in the same party tend to be nearly identical," Levin said. "It's about leadership, it's about what you've led on, what legislation you've championed, and your role in oversight."

West Virginia's 2nd District (R): Reps. David McKinley and Alex Mooney are opponents after West Virginia lost one of its three House seats in reapportionment.
McKinley presently represents two-thirds of the merged district, including Parkersburg and Morgantown. Mooney represents West Virginia's Panhandle.
Trump endorsed Mooney last November in a statement that didn't mention McKinley but suggested the former president is aware McKinley broke with him and most House Republicans in voting for Biden's infrastructure package and the Jan. 6 commission. Trump said Mooney, a member of the Freedom Caucus bloc of conservative, libertarian Republicans, has done an "outstanding job."
McKinley, a civil engineer, said the infrastructure package would help West Virginia, which has struggled with poor roads and bridges and inadequate broadband internet.
"I think the most important thing is we did something that wasn't politically correct," he said in an interview. "But it was right for West Virginia."
Read More: Two GOP Lawmakers Set for Redistricting-Forced Primary Matchup
To contact the reporters on this story: Greg Giroux in Washington at ggiroux@bgov.com; Zach C. Cohen in Washington at mailto:zcohen@bloombergindustry.com; Emily Wilkins in Washington at ewilkins@bgov.com
To contact the editors responsible for this story: Kyle Trygstad at ktrygstad@bloombergindustry.com; Bennett Roth at broth@bgov.com