Two GOP Lawmakers Set for Redistricting-Forced Primary Matchup
Reps. David McKinley, Alex Mooney drawn into same district
Legislature-approved map awaits governor's signature
Two Republican House members are set for a primary face-off next year after the West Virginia legislature approved a new congressional map that merges them into the same district.
The state lost one of its three districts in reapportionment, meaning two of the three current members of its all-Republican congressional delegation must run against each other to win another term. With only Republican Gov. Jim Justice's signature needed for the map's enactment, the state House's move Thursday all but confirmed the matchup political observers saw as the most likely: Reps. Alex Mooney and David McKinley.
Mooney, 50, who was first elected in 2014, immediately announced he'll run in the new district.
"I am excited to be running for re-election," Mooney said in a statement. "Our nation now more than ever needs fighters who will stand toe to toe with the radical left who are attempting to turn America into a socialist nation."
McKinley, 74, was first elected in 2010. His congressional office didn't immediately respond to a request for comment on his re-election plans. The primary is May 10.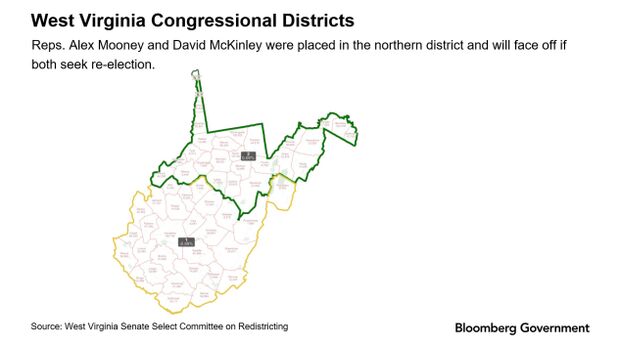 The new congressional map splits the state horizontally creating a northern and a southern district. Mooney and McKinley both live in the new northern district, while Rep. Carol Miller lives in the new southern district. McKinley now represents 66% of the people in the reconfigured district, compared with 34% by Mooney.
All three current West Virginia lawmakers are conservative Republicans, but they've differed over former President Donald Trump. Mooney's statement indicated he'd emphasize those differences against McKinley, who voted to certify President Joe Biden's election in January and to approve an independent commission to investigate the Jan. 6 Capitol riot by pro-Trump demonstrators. Mooney and Miller both voted against certifying at least one state's results and against the Jan. 6 commission.
Mooney has been dogged by an ethics case involving allegations of illegal use of campaign funds. He denied wrongdoing, but the House Ethics Committee is set to announce Oct. 21 whether it will launch a full investigation or take other action.
The two new West Virginia districts would be about equally pro-Trump. The former president would have won the new southern district — designated as the 1st — 70%-29% and the northern district — the new 2nd — 68%-31%.
To contact the reporters on this story: Kenneth P. Doyle in Washington at kdoyle@bgov.com; Greg Giroux in Washington at ggiroux@bgov.com
To contact the editors responsible for this story: Kyle Trygstad at ktrygstad@bloombergindustry.com; Bennett Roth at broth@bgov.com