Markey-Kennedy Donnybrook Leads Massachusetts Primaries Tuesday
House Ways and Means Chairman Neal faces stiff challenge
No other states are holding federal primaries Tuesday
Massachusetts Democrats will decide Tuesday whether they want to oust one of the longest-serving progressive legislators in Washington in favor of a scion of the nation's most distinguished Democratic family, who's a generation younger and has promised more engaged leadership.
Ed Markey, who joined the Senate in 2013 after more than three dozen years in the House, is opposed by four-term Rep. Joe Kennedy III, a grandson of Robert F. Kennedy and great-nephew of John F. Kennedy. It's the only serious primary challenge to a senator in the 2020 election cycle.
Another long-serving Democrat, House Ways and Means Committee Chairman Richard Neal, also faces serious opposition in his primary from a much younger opponent. And Democrats in Kennedy's district will choose a nominee who's likely to join the next Congress.
In addition to voting in person from 7 a.m. to 8 p.m. ET Tuesday, voters were permitted to cast ballots early from Aug. 22-28 or by mail.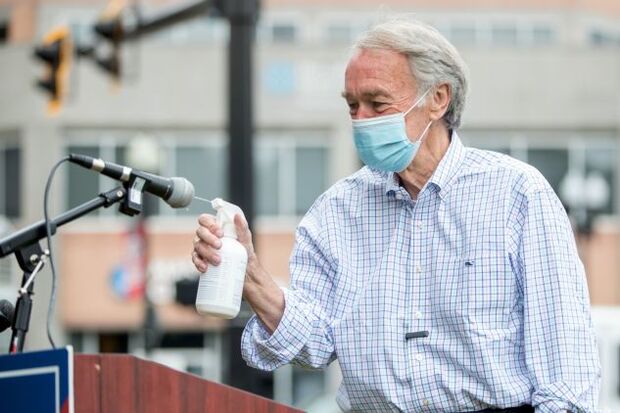 Here's a look at the races to watch:
Senate (Hillary Clinton won Massachusetts 60%-33%): Markey, 74, trailed Kennedy, 39, in early polls, but he may have recovered enough to fend off the challenger and give the storied Kennedy family what would be its first primary loss in Massachusetts.
Kennedy's central argument was that Markey wasn't a visible presence in Massachusetts, hadn't exemplified leadership on major issues, and had done little other than voting the right way and signing on to the right bills. Kennedy faulted Markey for missing votes this year and for his lack of campaigning for Democrats in the 2018 election.
"I believe that there's more to being a senator, particularly a senator from Massachusetts, than just the bills that you file and the votes that you cast," Kennedy said in a candidate debate.
Kennedy was endorsed by some influential House members, led by Speaker Nancy Pelosi (Calif.) and the late Rep. John Lewis (Ga.), who served with Markey in the House far longer than with Kennedy.
But with a progressive voting record and support from some of the biggest names in liberal politics, Markey was an elusive target for Kennedy. With little separating the two liberals on policy, Kennedy invoked Markey's support for the 1994 crime law, which many progressive Democrats now say exacerbated mass incarceration, and the 2002 resolution that authorized U.S. military intervention in Iraq.
Mary Anne Marsh, a Democratic consultant in the state, said Monday on Bloomberg Government's Downballot Counts podcast that "the remarkable makeover of Ed Markey" is what boosted him in the polls. She credited his alliance with Rep. Alexandria Ocasio-Cortez (D-N.Y.), his co-author of the Green New Deal blueprint to confront climate change, which made him a liberal darling that Marsh said is "unrecognizable to most people who have been around here for some time."
Ocasio-Cortez and the youth-driven Sunrise Movement helped to rally young voters to the senator's side and fend off accusations he was out of touch with the electorate and the times.
"When it comes to progressive leadership, it's not your age that counts, it's the age of your ideas, and Ed Markey is the leader that we need," Ocasio-Cortez said in a campaign ad for Markey, who frequently name-checked her in debates.
The Ocasio-Cortez ad aired more than 1,200 times, according to Advertising Analytics.
"Joe Kennedy's a good guy, but we already have a senator who is getting the job done," state Rep. Nika Elugardo said in another Markey spot.
The death of George Floyd in May spurred Markey and Kennedy to talk more about racial justice issues.
Markey said he was working with Sen. Cory Booker (D-N.J.) on changing criminal justice policies, and with Rep. Ayanna Pressley (D) on measures to end qualified immunity and to help states and localities provide fare-free public transportation. At the end of candidate debates, Markey quoted Martin Luther King Jr.'s pronouncement that "the arc of the moral universe is long, but it bends towards justice."
Kennedy touted his work to address black maternal health care and his collaboration with Rep. Hakeem Jeffries (D-N.Y.) on legislation that would make it easier to hold police officers accountable in cases involving police brutality and excessive use of force. Kennedy noted that Markey opposed busing to desegregate Boston's schools, a position Markey said he reversed 40 years ago. Kennedy said Markey did little to aid the family of a Massachusetts man who was shot to death a decade ago by a white police officer who wasn't criminally charged.
"You might be known for some things in your time in office, senator. Racial justice and criminal justice is not one of them," Kennedy said in a debate.
Read More:Impatient Kennedy Pushing to Oust Fellow Democrat From Senate
1st District (Springfield, Pittsfield; Clinton 57%-37%): Neal,the chairman of the tax-writing Ways and Means Committee, faces a determined challenger in Alex Morse, the mayor of Holyoke.
Neal has been in office since 1989, a few weeks before the 31-year-old Morse was born. Morse says Neal hasn't used his seniority to provide leadership on issues including climate change and has accepted more than $2 million in campaign contributions from what he calls "special interest" political action committees.
Neal "used his power to benefit the corporate and special interests that have invested vast amounts of money in his campaign over a 30-year period," Morse said at an Aug. 20 candidate debate. "And so we will not be losing power. When I defeat Congressman Neal on September 1st, we will be gaining power."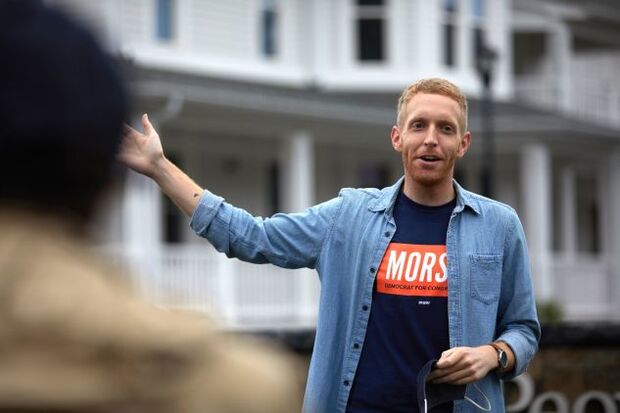 Morse is a supporter of the Green New Deal. Neal backs a bill called the Growing Renewable Energy and Efficiency Now (GREEN) Act that would extend federal tax incentives for wind and solar production.
At the debate, Neal said he "defended Social Security and Medicare and Medicaid and advanced the Affordable Care Act," all programs under the purview of his committee. Neal touted aid he brought back to the district including for the revitalization of Springfield's Union Station.
The primary took a bizarre turn in early August, when the College Democrats of Massachusetts accused Morse of having inappropriate relationships with college students including at the University of Massachusetts Amherst, where Morse taught a course from 2014 to 2019.
Morse, who is gay, said his relationships with other men were consensual and that he didn't date anyone he taught, though he apologized for making some students "uncomfortable with interactions they had with me." Soon after, The Intercept reported that some students who leveled the accusations had discussed how the complaints might torpedo Morse's campaign.
Justice Democrats, the progressive group that helped fuel Ocasio-Cortez's rise, spent at least $710,000 opposing Neal and supporting Morse. Ocasio-Cortez backed Morse through her leadership political action committee, Courage to Change.
Neal's outside backers include American Working Families, a labor-funded super PAC that spent about $1 million, and Democratic Majority For Israel (DMFI) PAC. Both groups aired ads attacking Morse over the performance of Holyoke's school system. The American Hospital Association PAC aired an ad praising Neal for securing coronavirus aid for the district.
Read More:Ocasio-Cortez Steps Up for Scandal-Marred Challenger to Chairman
4th District (Newton, Brookline, part of Fall River; Clinton 59%-35%): In the last open-seat primary of the 2020 election, seven Democrats are vying to succeed Kennedy in a Democratic bastion that runs from wealthy Boston suburbs south to part of lower-income Fall River.
Five of them topped more than $1 million in receipts including Jake Auchincloss, a Newton city councilman and Marine Corps veteran who was endorsed by the editorial page of the Boston Globe. His supporters included groups advocating for more military veterans in Congress, and a super PAC that was funded by his mother Laurie Glimcher, who's the CEO of the Dana-Farber Cancer Institute, and his stepfather Gregory Petsko, a biochemist.
Auchincloss worked on the 2014 campaign of popular Massachusetts Gov. Charlie Baker (R). Auchincloss said his relationship with Baker is a strength and that he would work collaboratively with him on pandemic response and relief.
Jesse Mermell said she's "the proven progressive" in the race, with 20 years "on the front lines" including as a senior official at Planned Parenthood and to Gov. Deval Patrick (D), Baker's predecessor. Her top priority is a national paid family and medical leave policy.
Mermell was endorsed by Pressley, a friend who represents the adjacent 7th District. In an interview with WGBH on Aug. 24, Mermell said the race came down to her and Auchincloss, who she described as "a former Republican operative whose values are not in line with this district." Some big labor unions endorsed Mermell.
Becky Grossman, a Newton city councilor with Auchincloss, said she's running "with the fierce urgency of a mom fed up by what is going on in this country, and determined to make change." Grossman, who has a 9-year-old daughter and 6-year-old son, said there are too few mothers of school-age children in Congress. Her platform includes opposition to the National Rifle Association.
Ihssane Leckey, who worked as an analyst and regulator in the Federal Reserve system, is a self-described democratic socialist who was born in Morocco. She loaned her campaign $1 million and was challenging Kennedy in the primary when he announced for the Senate.
"Immigrants do get the job done. I'm here to get the job done," Leckey told WGBH. "I have stood up to the biggest banks on Wall Street, and I will continue to stand up to corporations and to the corrupt interests that stand between us and passing these policies of Medicare for all and the Green New Deal."
Alan Khazei, a co-founder of the national youth service organization City Year, and an allied super PAC called Unite to Win aired ads promoting his community service work.
Natalia Linos, a Harvard epidemiologist with three young children, said she had a unique skill set to serve in Congress at a time when the nation struggles with the pandemic. "We're in the midst of a global pandemic, and we need leaders who have a plan to get us through this crisis," she said in an ad.
Read More: Candidates Tout Benefits of Having More Doctors in the House
Ben Sigel, the president of the Hispanic National Bar Association for New England, said he was the first candidate to visit all 34 cities and towns in the district and that he would be the first Latino to represent Massachusetts in Congress.
Two of the nine candidates on the ballot, Dave Cavell and Chris Zannetos, withdrew earlier this month and endorsed Mermell.
8th District (Quincy, Brockton, and part of Boston; Clinton 60%-34%): Rep. Stephen Lynch (D), a House member since 2001, is opposed by Robbie Goldstein, an infectious-disease doctor running to the incumbent's left.
Goldstein, whose supporters include former Democratic presidential candidate Andrew Yang, supports a single-payer, government-run health-care system. Lynch is one of three Democrats left in Congress who voted against the Affordable Care Act in 2010. The others are Dan Lipinski (Ill.), who was defeated for re-election in the primary, and Collin Peterson (Minn.)
Lynch said he opposed the ACA because it benefited insurance companies and didn't include a public option. He's voted against Republican bills to repeal the ACA and for Democratic measures to bolster it.
"My opponent is looking to rip out the ACA root and branch, and now go to a completely different model," Lynch said at a debate. "We ought to improve and save the Affordable Care Act, not get rid of it."
To contact the reporter on this story: Greg Giroux in Washington at ggiroux@bgov.com
To contact the editors responsible for this story: Kyle Trygstad at ktrygstad@bgov.com; Loren Duggan at lduggan@bgov.com