Impatient Kennedy Pushing to Oust Fellow Democrat From Senate
Robert Kennedy's grandson wants to move from House to Senate
Generational divide: one poll shows younger voters favor Markey
Bloomberg Government subscribers get the stories like this first. Act now and gain unlimited access to everything you need to know. Learn more.
Democrats in Massachusetts will soon decide whether they like Sen. Ed Markey enough to reject Rep. Joe Kennedy's effort to force the 74-year-old into retirement.
The runup to the Sept. 1 primary election has been increasingly volatile, with debating that has gotten a little personal, a blitz of campaign commercials dominated by Kennedy, and big party names going in opposite directions.
House Speaker Nancy Pelosi (D-Calif.) endorsed the 39-year-old over the colleague she served with in Congress for decades, saying "Joe Kennedy represents this Party's future. He will help lead Democrats forward on the defining battles of our time."
The youngest member of the House, Rep. Alexandria Ocasio-Cortez (D-N.Y.), endorsed Markey, her partner on "Green New Deal" environmental initiatives.
University of Massachusetts polling in June showed a similar generational divide.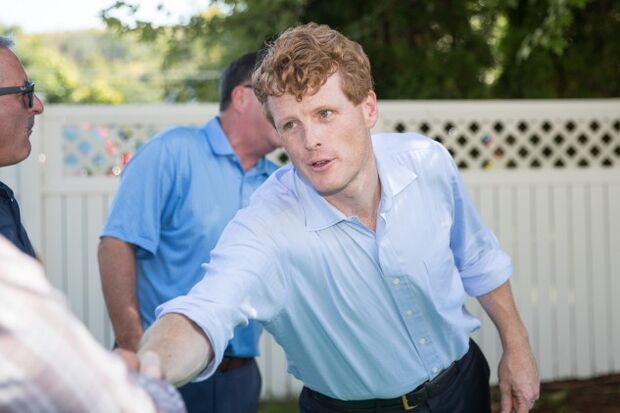 "Markey, the older candidate, seems to be pulling a Bernie Sanders with younger voters," said Raymond La Raja, professor of political science at the University of Massachusetts and associate director of the poll.
Markey has had the edge in recent polls.
Kennedy has led in spending.
Both campaigns began July with about $4.8 million in cash on hand. Over the next six weeks, Kennedy outspent Markey, $4.3 million to $2.8 million, according to pre-primary Federal Election Commission reports.
Kennedy's advantage is on view when Boston viewers turn on CNN, ESPN, and other channels. The campaign and a super PAC supporting his candidacy have booked more than $7.3 million in television commercials, compared with about $4.2 million by Markey and allied super PACs, according to the tracking service Advertising Analytics.
Markey's "cardinal sin is he's boring," especially alongside Rep. Ayanna Pressley (D-Mass.) and Sen. Elizabeth Warren (D-Mass.), Erin O'Brien, associate professor of political science at the University of Massachusetts, said in an interview.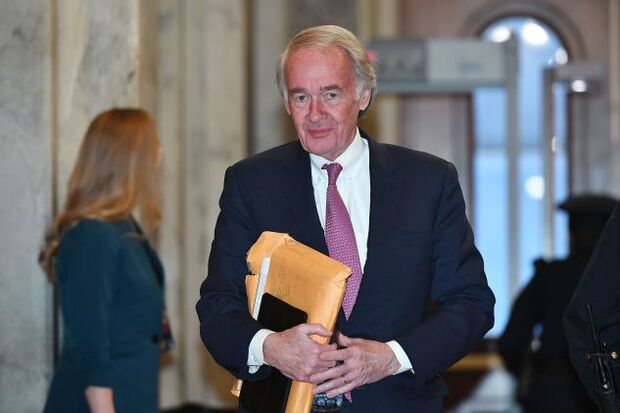 After four decades in Washington, Markey probably would have had an easy primary against any other challenger, she said.
Kennedy is part of a political dynasty. His grandfather Robert, Great Uncle Ted, and Great Uncle John were senators; John went on to become president; his father and a cousin served in Congress; two other relatives were ambassadors; his aunt was Maryland's lieutenant governor, and there's a mayor and state delegate in his generation of the family. In 2018, his party picked Kennedy to deliver the Democrats' response to President Donald Trump's State of the Union address.
"If Joe Kennedy was Joe Smith, he couldn't run against Markey," and expect to win, O'Brien said.
On The Issues
Kennedy has stressed both his record during four terms in the House and his ability to be what the campaign calls an "agent of change" on such issues as health care, climate, immigration, and civil rights.
"Both Kennedy and Markey tend to be spot on the critical issues we care about," said Michael Curry, general counsel with the Massachusetts League of Community Health Centers and a past president of the Boston branch of the NAACP. However, young Black voters want commitments from candidates that racial justice will be a priority. "We want champions," Curry said.
Markey campaigns as a consumer advocate focused on energy, the environment, and "net neutrality." He was an author of the 1992 Cable Act, and has been chairman or ranking Democrat on the congressional panels that write internet legislation.
Both candidates have won significant labor support. Markey was endorsed by The Boston Globe.
Campaign Targets
Kennedy's ad buys show he's trying to reach lower-income voters in cities outside Boston, like Springfield and Fall River, while Markey is focused on voters in the Greater Boston area, O'Brien said.
On the air and in their sometimes-feisty debates, Kennedy has criticized Markey for accepting political donations from the telecommunications industry, while Markey has criticized his rival for benefiting from Kennedy family money.
After nearly eight years in office, Kennedy has been re-elected and "won in his own right," so that might not be a potent attack, said Mary Anne Marsh, a political analyst with Dewey Square Group.
Unusual Election
Shiva Ayyadurai and Kevin O'Connor are seeking the Republican nomination in the Democrat-dominated state.
Marsh noted that many things about this year's election are unusual. For instance, the Covid-19 pandemic could discourage voters from turning out; the vote-by-mail option requires four steps; and the sentiment of the electorate may be colored by the state's 17% unemployment rate.
"With Trump as president and Massachusetts with the highest unemployment in the nation, voters will have to ask 'Who can do better?'" Marsh said.
To contact the reporter on this story: Adrianne Appel in Boston at aappel@bloomberglaw.com
To contact the editors responsible for this story: Katherine Rizzo at krizzo@bgov.com; Tina May at tmay@bloomberglaw.com
Stay informed with more news like this – from the largest team of reporters on Capitol Hill – subscribe to Bloomberg Government today. Learn more.