GOP Impeachers, 'Squad' Members Targeted in Tuesday's Primaries
Notable races include Arizona, Missouri Senate slugfests
Meijer, Herrera Beutler, Newhouse face Trump-backed foes
Three House Republicans who voted to impeach Donald Trump, two vocal progressive Democrats in a bloc called "The Squad," and two Democratic incumbents seeking the same Michigan district all face the voters Tuesday — a busy day of primaries spanning five states.
Trump endorsed candidates challenging Rep. Peter Meijer in Michigan and Reps. Jaime Herrera Beutler and Dan Newhouse in Washington state. They are among the 10 Republicans who voted to impeach Trump over his role in the Jan. 6, 2021, attack at the Capitol.
Only three others from the group sought re-election: Rep. David Valadao (Calif.) narrowly advanced in his June primary after Trump declined to intervene; Rep. Tom Rice (S.C.) was decisively defeated by a Trump-endorsed challenger; and Rep. Liz Cheney (Wyo.) faces a Trump-backed primary opponent Aug. 16.
Other marquee contests Tuesday include Republican Senate primaries in Arizona, where the winner will face Sen. Mark Kelly (D) in a race that will help decide control of the Senate, and Missouri, where the victor will be favored to succeed retiring Sen. Roy Blunt (R).
In Michigan, either Rep. Haley Stevens or Rep. Andy Levin will be ousted in the Democratic primary because they're competing for the same suburban Detroit district drawn by an independent redistricting commission.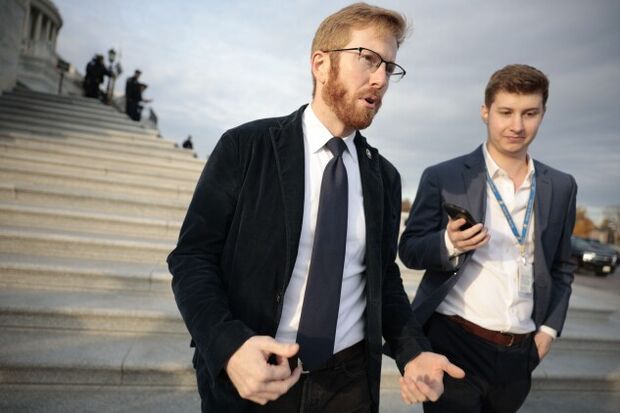 Here's a look at major primaries to watch in Arizona, Kansas, Michigan, Missouri, and Washington state. The 2020 presidential election results for Trump and President Joe Biden are noted parenthetically.
Arizona
Senate (Biden won Arizona 49.4%-49.1%): Mark Kelly awaits the winner of a multi-candidate Republican primary in one of the five states that the nonpartisan Cook Political Report with Amy Walter considers a tossup in the Nov. 8 Senate elections.
Trump endorsed Blake Masters, a venture capitalist, over other Republicans including solar energy executive Jim Lamon and state Attorney General Mark Brnovich. Masters aligned with Trump's false claims that he won the 2020 election and is a protégé of technology billionaire Peter Thiel, who donated $15 million to a pro-Masters super PAC. Lamon primarily self-financed his campaign, loaning it more than $18 million. Trump said Brnovich failed to act on unfounded accusations of widespread fraud in the Arizona election.
Kelly, a former astronaut and businessman, unseated Martha McSally (R) in a November 2020 special election. He had $24.8 million in campaign cash-on-hand as of July 13 and aired commercials promoting an increase in domestic energy production, a cut in the federal gas tax, and banning members of Congress from trading stocks.
1st District (Biden 50%-49%): Rep. David Schweikert (R), who held on to win in 2020 despite ethics violations, faces big-spending primary challenger Elijah Norton in a Scottsdale-area district that redistricting made a little less favorable to Republicans.
Norton, a wealthy vehicle-warranty businessman, self-financed his campaign with more than $4.7 million. His ads referred to "Shady Schweikert" and called attention to the congressman's reprimand by the House in July 2020 after he admitted to 11 counts of ethics violations related to improper use of official funds and campaign finance violations and reporting errors.
The Democratic candidates are Jevin Hodge, who heads a local Head Start center, and Adam Metzendorf, who formerly worked for the Phoenix Suns professional basketball team. Hodge is better-funded, with donors including Speaker Nancy Pelosi (D-Calif.) and Majority Leader Steny Hoyer (D-Md.).
Schweikert, a member of the tax-writing Ways and Means Committee, was re-elected 52%-48% in 2020 in a district that Trump also won by 4 points. Biden would have carried the reconfigured district by 1.4 points.
2nd District (Trump 53%-45%): Few if any House Democrats have a more difficult path to a new term on Nov. 8 than Tom O'Halleran, whose vast district became decidedly more Republican after redistricting. The 2nd District includes all of heavily Republican Yavapai County north of Phoenix; O'Halleran currently represents a small part of Yavapai.
The seven-candidate Republican field includes Eli Crane, a former Navy SEAL and combat veteran who won Trump's endorsement July 22, and state Rep. Walt Blackman, who highlighted a 21-year Army career that took him to Iraq and Afghanistan.
O'Halleran is a member of the Agriculture and the Energy and Commerce committees.
4th District (Biden 54%-44%): Rep. Greg Stanton (D) faces a much tougher race than in 2020 after redistricting lessened the Democratic leanings of a district that was redrawn to include most of Mesa and less of Phoenix, where Stanton was mayor.
The top Republican candidates are Tanya Contreras Wheeless, a lawyer who previously worked for McSally and the Phoenix Suns, and Kelly Cooper, a restaurateur and Marine Corps veteran who primarily self-financed his campaign.
Wheeless was supported by the Congressional Leadership Fund, which is the leading super PAC working to elect a House Republican majority, and House Republican Conference Chair Elise Stefanik (N.Y.). A Cooper ad referred to Wheeless as a RINO — Republican In Name Only — and a bank lobbyist.
Stanton reported $3.2 million in cash on hand as of July 13, four times as much as he had at a comparable point in 2020. The Democratic Congressional Campaign Committee (DCCC), the campaign arm of House Democrats, added Stanton to its "Frontline" incumbent-protection program in January.
6th District (Biden 49.3%-49.2%): Following redistricting, no district nationwide is as evenly divided between Biden and Trump voters than Arizona's 6th, which includes part of Tucson and abuts the U.S.-Mexico border. The retirement of Rep. Ann Kirkpatrick (D) creates an opportunity for Republicans to win control of the seat.
Republican leaders prefer Juan Ciscomani, who was a senior adviser to Gov. Doug Ducey (R). Ciscomani raised more than $1.7 million and was an early beneficiary of the National Republican Congressional Committee's "Young Guns" program that promotes the party's strongest candidates in competitive races.
The leading Democratic candidates are former state legislator Kirsten Engel and state Rep. Daniel Hernandez, who in 2011 was an intern for then-Rep. Gabrielle Giffords (D) and helped save her life after she was shot at a constituent event. Engel's donors included the pro-environment League of Conservation Voters (LCV) Action Fund. Hernandez's backers included pro-Israel organizations and LGBTQ groups and officeholders. Hernandez is openly gay.
9th District (Trump 62%-36%): Rep. Paul Gosar (R) has several primary challengers who called attention to his controversial statements and ties to white nationalists.
Sandra Dowling, a Marine Corps veteran and former Maricopa County school superintendent, said she entered the race after Gosar voted against a bill that would provide expanded health benefits to veterans exposed to toxic burn pits. Randy Kutz, a Marine Corps veteran who was chief of staff to ex-Rep. Trent Franks (R-Ariz.), noted that most of the redrawn district is new to Gosar.
In November 2021, the House voted to censure Gosar and strip him of his committee assignments after he posted an altered video online that depicted him attacking Biden and Rep. Alexandria Ocasio-Cortez (D-N.Y.).
No Democrat filed to run in the strongly Republican district, which includes Buckeye, Lake Havasu City, Bullhead City, and Kingman.
Kansas
Senate (Trump won Kansas 56%-42%): Sen. Jerry Moran (R) is favored to win re-election in a state where Republicans have won 32 straight Senate elections dating to 1936 — the longest active streak by either party, according to Smart Politics analyst Eric Ostermeier.
3rd District (Biden 51%-47%): Two-term Rep. Sharice Davids (D), a target of Republican redistricting, is preparing for a tougher 2022 rematch against Amanda Adkins, who formerly led the Kansas Republican Party. Davids is unopposed in the primary and Adkins has minor opposition.
Davids defeated Adkins 54%-44% in 2020, when the 3rd District voted for Biden by the same margin and included all of strongly Democratic Wyandotte County (Kansas City). Republican mapmakers shifted two-thirds of Wyandotte's population out of the 3rd District and added rural Republican-leaning counties. Davids joined the Agriculture Committee in June. The population center of the district remains suburban Johnson County.
Davids has promoted her support for abortion rights and her opposition to a proposed state constitutional amendment on Tuesday's ballot that would affirm that there's no right to abortion — and allow the legislature to regulate the procedure. Adkins supported the amendment. Kansas is the first state to vote on abortion rights since the Supreme Court overturned Roe v. Wade in June.
Read More: First Post-Dobbs Vote Tests Kansas Abortion Foes' Strategy
Michigan
3rd District (Biden 53%-45%): Rep. Peter Meijer (R) voted to impeach Trump and is opposed by a Trump-backed primary challenger, former Trump Housing and Urban and Development official John Gibbs, who's also getting help from Democrats.
"I took the oath I swore to the Constitution, an oath I took under God, seriously and voted accordingly that day," Meijer said at a June candidate debate about his pro-impeachment vote. "Now obviously the former president still has an axe to grind around that, but I frankly am looking to the future."
The DCCC intervened in the primary with an ad that linked Gibbs to Trump and said Gibbs is "too conservative" for the 3rd District. That suggests the DCCC sees Gibbs as a weaker general-election nominee than Meijer in a Grand Rapids-area district that Michigan's independent redistricting commission redrew to be mildly Democratic-leaning.
A super PAC called Principled Leadership for Michigan responded to the DCCC's meddling with a TV ad that referred to Gibbs as "Nancy Pelosi's handpicked candidate for Congress." The PAC received most of its funding from Meijer's father, Hank Meijer, the executive chairman of the Meijer supermarket chain.
Gibbs also attacked Meijer's votes for a fiscal 2022 omnibus spending package (Public Law 117-103) and for a $40 billion emergency military and humanitarian aid package for Ukraine (Public Law 117-128).
Meijer highlighted his military service and issues like inflation, domestic energy production, and the Biden administration's chaotic withdrawal of US personnel from Afghanistan last year. A US Chamber of Commerce ad called Meijer a "steadfast conservative leader."
Attorney Hillary Scholten (D), who lost 53%-47% to Meijer in 2020, is unopposed in the primary.
Read More: Trump Takes Center Stage Again in Michigan Congressional Primary
7th District (Biden 50%-49%): Two-term Rep. Elissa Slotkin (D) and state Sen. Tom Barrett (R) are unopposed in the primary and headed for a competitive Nov. 8 showdown.
Slotkin, a member of the Armed Services, Homeland Security, and Veterans' Affairs committees, is seeking re-election in a Lansing-area district that's slightly friendlier to Democrats than the one where she was re-elected 51%-47% in 2020.
8th District (Biden 50%-48%): Rep. Dan Kildee (D) is preparing for a close November race in an area of east-central Michigan that's voted less strongly Democratic in the past few years. Genesee County, which includes Flint and leans Democratic, is the dominant population center, though redistricting added most of Republican-leaning Midland County.
Kildee, in a TV ad he began airing last week, said he "stood up to some in my own party and pushed to cut the gas tax and to hire more police officers."
The leading Republican candidate is Paul Junge, a former prosecutor and news anchor who lost to Slotkin in 2020.
Read More: Once-Safe Michigan Democrat Faces Peril in Redrawn District
10th District (Trump 50%-49%): No incumbent is running in a mildly Republican-leaning district that includes most of Macomb County and a part of Oakland County just north of Detroit. The leading candidate in the Republican primary and in the general election is John James, an Army veteran and businessman who made competitive losing bids for the Senate in 2018 and 2020. James had $2.5 million in his campaign account on July 13, more than 26 times the total of the best-funded Democrat.
The Democratic candidates include Huwaida Arraf, a Palestinian-American activist and lawyer; Angela Rogensues, a city councilmember in Warren; Carl Marlinga, a former prosecutor and judge; and Henry Yanez, a Sterling Heights councilman and former state legislator.
11th District (Biden 59%-39%): Reps. Haley Stevens and Andy Levin, who were elected to the House together in 2018, became opponents after they chose to seek the same strongly Democratic district in Oakland County near Detroit.
Stevens represents 45% of the people in the revised district compared with 25% for Levin. She also raised more money than Levin and benefited from far more campaign spending by outside groups. United Democracy Project, a super PAC funded by the American Israel Public Affairs Committee (AIPAC), spent more than $4 million supporting Stevens or opposing Levin. EMILY's List, which aids Democratic women who support abortion rights, spent more than $3 million through its super PAC.
Though Levin is Jewish and Stevens isn't, AIPAC opposes Levin's legislation that seeks a two-state solution to resolve the Israeli-Palestinian conflict. The AIPAC-funded ads didn't mention U.S.-Israel policy. Levin criticized AIPAC for donating to Republicans who voted to object to some of the 2020 presidential election results. J Street, a more dovish and liberal Israeli advocacy group, backed Levin.
Stevens and her allies played up her ties to Barack Obama's administration, for which she worked as chief of staff of its auto rescue task force, and an endorsement from retiring Rep. Brenda Lawrence (D), who currently represents about 30% of the people in the reconfigured 11th.
Stevens and Levin see eye-to-eye on most policy, though Levin, a union organizer who's a member of a prominent Michigan Democratic family, has an image as a more liberal legislator and is a member of the Congressional Progressive Caucus. His endorsers included Sens. Bernie Sanders (I-Vt.) and Elizabeth Warren (D-Mass.).
Read More: Candidate Embraces Her Gender as Abortion Ruling Drives Voters
12th District (Biden 74%-25%): Rep. Rashida Tlaib (D), a member of "The Squad" of outspoken progressives including Ocasio-Cortez, faces three primary challengers in a district that includes western Detroit and the cities of Dearborn, Livonia, and Southfield.
Tlaib's top challenger may be Detroit City Clerk Janice Winfrey, who received contributions from pro-Israel groups and donors. Tlaib, who is Palestinian-American, voted in September 2021 against funding for Israel's Iron Dome missile defense system.
Urban Empowerment Action PAC, a super PAC backing Winfrey that's funded by Third Point CEO Daniel Loeb, paid for ads that attacked Tlaib for opposing the 2021 infrastructure law and for saying in April 2021 there should be "no more policing, incarceration, and militarization."
Tlaib promoted her work to impeach Trump, oppose "corporate greed," and to secure federal funds for the district.
13th District (Biden 74%-25%): The winner of the nine-candidate Democratic primary will be a shoo-in to succeed retiring Rep. Brenda Lawrence in a strongly Democratic, Black-plurality district that includes part of Detroit and some close-in Wayne County suburbs.
State Sen. Adam Hollier, an Army veteran, is backed by the AIPAC-funded United Democracy Project, the Protect Our Future PAC funded by cryptocurrency billionaire Sam Bankman-Fried, and the VoteVets organization that works to elect more military veterans to political office. United Democracy Project also targeted one of Hollier's opponents, state Rep. Shri Thanedar, who self-funded his campaign with more than $6 million.
The big candidate field also includes Portia Roberson, a former Obama administration official endorsed by EMILY's List; Michael Griffie, a civil rights lawyer and former teacher and principal; and John Conyers III, a namesake son of the former congressman who served for more than 50 years and died in 2019.
Read More: Black Districts Gutted as Suburban Flight Reshapes Congress Maps
Missouri
Senate (Trump won Missouri 57%-41%): Missouri Republicans should be able to hold the seat of retiring Sen. Roy Blunt with ease — if they don't nominate ex-Gov. Eric Greitens.
Greitens, who's run a campaign in support of Trump's Make America Great Again movement and against Senate Minority Leader Mitch McConnell (R-Ky.), resigned Missouri's top job in 2018 amid investigations into sexual abuse allegations and his campaign finances. Greitens' ex-wife also accused him of abuse, allegations he denied. A barrage of anti-Greitens ads may have knocked him into third place, behind state Attorney General Eric Schmitt and Rep. Vicky Hartzler.
Trump didn't endorse in the race, though he made clear he wouldn't back Hartzler. Her backers include Sen. Josh Hawley (R-Mo.). Rep. Billy Long also is seeking the Republican nomination but has lagged in polling.
The top Democratic candidates are Trudy Busch Valentine, a philanthropist and nurse who's a member of the Anheuser-Busch brewing family, and Lucas Kunce, a military veteran whose supporters include the Progressive Change Campaign Committee.
John Wood, a conservative lawyer, is running as an independent with assistance from a super PAC funded by $5 million from ex-Sen. John Danforth (R-Mo.).
1st District (Biden 78%-20%): Rep. Cori Bush (D), an outspoken liberal in "The Squad" with Tlaib and the first Black woman to represent Missouri in Congress, is seeking re-election for the first time after unseating Lacy Clay in the 2020 primary in a district that includes all of the city of St. Louis and part of St. Louis County.
Her leading opponent is state Sen. Steve Roberts, who said he would be a more faithful ally of Biden. Roberts faulted Bush for voting against the 2021 infrastructure law (Public Law 117-58) and for her calls to "defund the police" and direct more funding to social services. His supporters include Clay, who donated to Roberts' campaign and to a political committee that waged a modest anti-Bush campaign. Bush outraised Roberts by more than 4 to 1.
Bush promoted her work to protect voting rights and extend a temporary moratorium on evictions during the pandemic. In a TV ad, Bush disclosed she had an abortion at age 17 after being raped.
4th District (Trump 69%-29%): The Republican primary is the key election in a strongly conservative west-central district that Hartzler is giving up to run for Senate.
School Freedom Fund, a super PAC funded by billionaire Susquehanna International Group co-founder Jeff Yass, supported state Sen. Rick Brattin and opposed Mark Alford, a former local TV news anchorman. American Dream Federal Action, a super PAC financed by cryptocurrency executive Ryan Salame, backed Alford.
The Republican contenders also include Taylor Burks, a Navy veteran and former Boone County Clerk, and Kalena Bruce, a rancher and accountant.
7th District (Trump 70%-28%): Like Hartzler's district, Long's district in and around Springfield is a Republican stronghold where the GOP primary is the dispositive election.
The Club for Growth, a pro-free market group that often intervenes in Republican primaries, spent more than $1 million through its super PAC to back state Sen. Eric Burlison and oppose ex-state Sen. Jay Wasson. Conservative Americans PAC, a super PAC that formed three weeks ago and hasn't disclosed its donors, paid for TV ads attacking Burlison and state Sen. Mike Moon on public-safety policies.
Washington
Senate (Biden won Washington 58%-39%): Sen. Patty Murray (D), who leads the Health, Education, Labor and Pensions Committee, represents one of the nation's most Democratic states but isn't taking her bid for a sixth term for granted.
After the Supreme Court overturned Roe v. Wade, Murray aired ads promoting her support for abortion rights and attacking the anti-abortion position of the leading Republican candidate, former nurse Tiffany Smiley. Murray also linked Smiley to Trump.
Murray and Smiley are likely to finish first and second, respectively, in the state's "Top 2″ primary, in which all candidates of all parties run on one ballot and the top two finishers advance.
3rd District (Trump 51%-46%): Six-term Rep. Jaime Herrera Beutler (R) is competing for a spot in the Nov. 8 general election against opponents including Joe Kent (R), an Army veteran who won Trump's endorsement after Herrera Beutler voted for impeachment. Herrera Beutler also was among the 35 Republicans who voted for a bill that would have established a bipartisan Jan. 6 commission, though she voted against creating the current select committee.
Herrera Beutler and Winning For Women (WFW) Action Fund, an allied super PAC that spent more than $2.3 million on the primary, attacked Kent for supporting an increase in the Social Security retirement age and for saying he would cut off federal law enforcement grants because of Gov. Jay Inslee's (D) policies.
A third Republican, evangelical author and speaker Heidi St. John, raised more than $1 million. A super PAC called Conservatives for a Stronger America spent more than $1.4 million on the primary promoting St. John or opposing Kent. The super PAC formed last month and hasn't disclosed its donors.
The best-funded Democrat is Marie Gluesenkamp Perez, who owns an auto-repair shop with her husband. Kent's digital ads noted her support for abortion rights — a sign he's trying to push her into second place in the primary ahead of Herrera Beutler.
Read More: Impeachment-Supporting Washington State Republicans Face Voters
4th District (Trump 57%-40%): Dan Newhouse's vote to impeach Trump drew a challenge from Loren Culp (R), a former small-town police chief and the losing 2020 Republican nominee for governor who has Trump's endorsement.
Culp branded Newhouse as a RINO and said Biden, not Trump, committed "high crimes and misdemeanors" that merit impeachment.
Newhouse's backers include Defending Main Street, which says it supports "governing conservatives who are committed to getting things done." Agriculture is a key industry in the central 4th District, and Newhouse sits on the House Appropriations Agriculture-FDA Subcommittee.
Other Republicans on the ballot include Jerrod Sessler, a Navy veteran and former NASCAR driver, and state Rep. Brad Klippert, who raised little money.
An anti-Newhouse vote splintered among several Republican challengers could help the incumbent and also businessman Doug White, the only Democrat on the ballot. The district is strongly Republican enough, though, that two Republicans could advance to the general election.
8th District (Biden 52%-45%): The top two finishers in the primary probably will be two-term Rep. Kim Schrier (D) and one of the three well-funded Republicans seeking to unseat her in politically competitive suburbs and rural areas east of Seattle.
The main GOP hopefuls are Reagan Dunn, a King County councilman and a son of former Rep. Jennifer Dunn (R); Jesse Jensen, an Army veteran who held Schrier to a 52%-48% win in the 2020 election; and Matt Larkin, a businessman whose ads describe him as a conservative outsider.
Schrier, who's in the DCCC's Frontline incumbent-protection program, highlighted her support for abortion rights. She said in a TV ad her work in Congress included securing money for local police and "taking on the Biden administration to suspend the gas tax."
To contact the reporter on this story: Greg Giroux in Washington at ggiroux@bgov.com
To contact the editors responsible for this story: Bennett Roth at broth@bgov.com; Kyle Trygstad at ktrygstad@bloombergindustry.com