DHS Secretary Nielsen has long sought counter-drone language
Would apply to drones posing threats to facilities, assets
Drones that are deemed a threat could be tracked and taken down by the U.S. Department of Homeland Security and Department of Justice under legislation unveiled Sept. 22.
The provision was included as part of a larger bill (H.R. 302) to reauthorize the Federal Aviation Administration. The House is slated to vote on the measure as early as Wednesday, with a Senate vote expected next week as well as lawmakers seek to have the FAA bill enacted before the current authorization expires Sept. 30.
Granting the new drone authorities has been a legislative priority of DHS Secretary Kirstjen Nielsen, as hundreds of thousands of hobbyists and commercial drone operators have taken to the skies in recent years. Privacy advocates and civil liberties groups warn that the legislation would grant the federal government broad new powers without safeguards to ensure legitimate drone users are protected.
Nielsen has said law enforcement officials' hands are tied when trying to prevent attacks as they currently need a warrant to simply track a drone. An attempted drone attack on Venezuelan President Nicolas Maduro in August spotlighted the potential security risks of drones.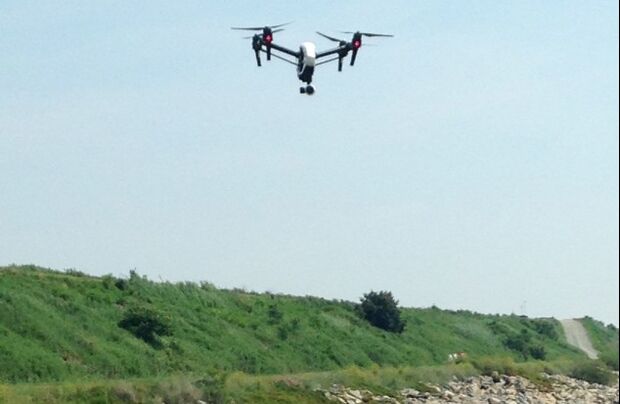 "it's a clear threat, it's here now," Nielsen said this month at a Washington event. "We need these authorities now, before it's too late."
The provisions in the FAA bill are similar to legislation (H.R. 6401) introduced in July by House Homeland Security Chairman Michael McCaul (R-Texas) and approved in June by the Senate Homeland Security and Governmental Affairs Committee in June (S. 2836).
Broad Powers
The bill would allow the Homeland Security and Justice departments to track, monitor, and take down drones that pose a threat to a "covered facility or asset."
Groups including the National Press Photographers Association, American Civil Liberties Union and the Electronic Frontier Foundation have opposed the legislation in part because they say the language could be interpreted broadly, allowing the government to shoot down drones being flown for legitimate reasons in a wide range of areas.
The groups say the legislation also gives too much authority for officials to hack into, collect data from, and destroy drones without warning or recourse for the owners. Drones that pose no real risk, such as those being used by journalists, could be destroyed without due process or oversight, India McKinney, legislative analyst at the Electronic Frontier Foundation, told Bloomberg Government.
Still, other drone industry groups, including the Association for Unmanned Vehicle Systems International, see the bill as a necessary step to address law enforcement concerns before the federal government allows for more expanded drone operations, like flying drones at night or above people.
—With assistance by Shaun Courtney
To contact the reporter on this story: Michaela Ross in Washington at mross@bgov.com
To contact the editors responsible for this story: Paul Hendrie at phendrie@bgov.com; Jonathan Nicholson at jnicholson@bgov.com