What to Know in Washington: Trump Rehashes 2020 as Midterms Near
Trump, Biden duel by proxy in congressional battleground states
Biden marks 9/11 vowing to fight terror despite Afghanistan exit
Former President Donald Trump has demanded that the US somehow re-run the 2020 election he lost. President Joe Biden is doing everything he can to oblige him.
The current president, who has struggled to tame inflation at a 40-year high, has delighted in an opportunity to turn the midterm congressional elections into another referendum on his twice-impeached predecessor. And Trump has eagerly made himself the center of the campaign, to the chagrin of many Republicans.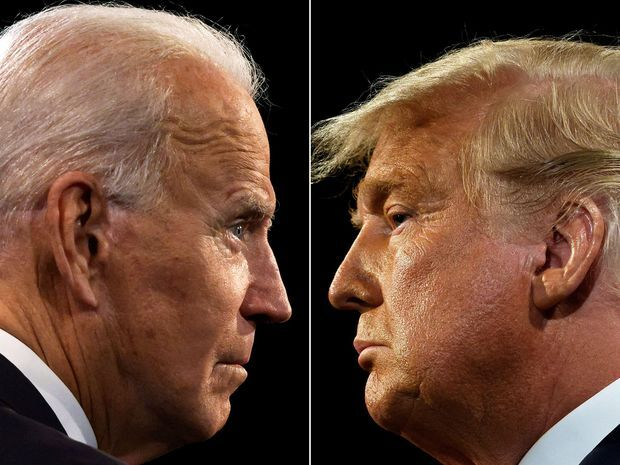 In speeches and rallies across the country over the last two weeks, Biden and Trump have slugged it out as if they're contesting the White House, not Congress. Trump has even shadowed some of Biden's appearances, rallying four days after the president in Pennsylvania last week and in Ohio next weekend. Biden visited the Columbus area on Friday.
The 2022 election season kicked off with Republicans poised to take control of at least the House thanks to voter outrage over high prices. But it's instead becoming a battle between two men: Biden and Trump.
Biden's sharp attacks on Trump and so-called "MAGA Republicans"—a reference to the former president's "Make America Great Again" slogan—for threatening American democracy have broken through with an increasing number of voters, even as some vulnerable Democratic incumbents have occasionally fretted about the president's tone.
Roughly two in ten registered voters in an August NBC News poll named "threats to democracy" as the most important issue facing the country, more than the 16% who named cost of living. It's an improbable turn of events, as economic issues are typically top of mind for voters.
"If the election in the final 60 days is not viewed as a referendum on the president and the party in power, Republicans are leaving opportunity on the table," said Ken Spain, who oversaw House Republicans' communications strategy in the 2010 midterms, the elections that delivered the GOP a majority. Read more from Jordan Fabian and Mark Niquette.
TRUMP'S LEGAL BATTLES
The Justice Department and Trump proposed dueling candidates for a neutral third party to review documents seized from Mar-a-Lago last month. The two sides didn't officially disagree on their choices, telling the judge that they'd update the court on their position on their opponents' candidates on Monday. Read more from Zoe Tillman.
As Trump's legal entanglements wind their way through the courts, he continues to face strong odds of landing before a judge he appointed. Over half of the active judges on the federal appeals court poised to hear the latest phase of Trump's fight with the Justice Department over the FBI raid got their posts through Trump's aggressive remaking of the US judiciary. Read more from Zoe Tillman.
A congressional panel investigating Trump's potential conflicts of interest will get some financial records related to his dealings with foreign states or foreign agencies. The former president and the panel reached agreement on the turnover of the records after a three-year court fight and in a filing on Friday outlined the details of what records the committee will get from Mazars USA. Read more from Joe Schneider.
More in Elections & Politics
Texas has transported more than 10,000 migrants to Washington, New York City and Chicago since April as Gov. Greg Abbott (R) seeks to put pressure on the Biden administration to help alleviate the impacts from a surge in border crossings. Abbott said Friday that the state has bused more than 7,900 people to Washington in the last five months, sent 2,200 to New York and 300 to Chicago. Read more from Shelley Hagan.
Chief Justice John Roberts said he's concerned that criticism of the Supreme Court over controversial decisions has veered into attacks on its legitimacy as an institution. Speaking publicly for the first time since the court eliminated the constitutional right to abortion, Roberts said criticism of rulings is "entirely appropriate," but that the court's role doesn't change when people disagree with its decisions. Joel Rosenblatt has more.
The Supreme Court will reopen its proceedings to the public for the first time since the start of the Covid-19 pandemic when its new term starts in October, Roberts also signaled, Lydia Wheeler reports.
Elections Webinar Wednesday: Join Bloomberg Government's election news team on Wednesday for a look at the major Senate races to watch this November. Find out more and register here.
Defense & Foreign Affairs
Deputy Treasury Secretary Wally Adeyemo made the case that Russia will have no choice but to participate at some level in the proposed oil price-cap regime backed by the G-7, saying it would otherwise risk damaging its oil-production capacity for years to come. Read more from Daniel Flatley and Christopher Condon.
Ukraine's forces continued their rapid advance in the Kharkiv region on Sunday, exploiting an extraordinary collapse of Russian defenses and raising the question of how far they can go. Unconfirmed reports overnight suggested Kyiv's troops had taken Velykyi Burluk, a town not far from the Russia-Ukraine border. Read more from Ros Krasny and Marc Champion.
MORE IN FOREIGN AFFAIRS NEWS
The EU is checking whether protectionist elements of a $437 billion health, climate and tax law (Public Law 117-169) recently passed by the US are in violation of World Trade Organization rules, according to Trade Commissioner Valdis Dombrovskis. Read more from Jorge Valero and Jillian Deutsch.
Biden and Japanese Prime Minister Fumio Kishida are considering holding a meeting in New York later this month to discuss issues including China, Taiwan and Russia's invasion of Ukraine, the Sankei reported. Takashi Nakamichi has more.
The US announced $40 million in funding for Sri Lanka to provide fertilizer and cash for farmers in a nation dealing with an acute shortage of essential items, Malavika Kaur Makol and Anusha Ondaatjie report.
Around the Administration
PRESIDENT'S SCHEDULE
Biden heads to Massachusetts today where he'll discuss the Bipartisan Infrastructure Law at the Boston Logan International Airport at 12:45 p.m.
At 4 p.m. the president delivers remarks on his administration's cancer moonshot at the John F. Kennedy Library and Museum.
Biden joins a reception for the Democratic National Committee at 6 p.m. before departing for Washington shortly after 7 p.m.
Biden said the US would not hesitate to use its military power against terrorist threats even though the Afghanistan war is over, in remarks at a ceremony marking the 21st anniversary of the Sept. 11, 2001 attacks. "We'll continue to monitor and disrupt those terrorist activities wherever we find them, wherever they live, and we'll never hesitate to do what's necessary to defend the American people," Biden said Sunday speaking at the Pentagon. Read more from Jordan Fabian and Alexis Shanes.
Biden plans to sign an order to help expand US biomanufacturing and cut down reliance on China. The draft order lays out a strategy to bolster domestic manufacturing that harnesses biological systems to create everything from drugs to human tissues to biofuels, according to people familiar with the matter. The pandemic created a sense of urgency around developing a clear and consistent industrial strategy, two of the people said. Read more from Riley Griffin.
The Biden administration plans to broaden curbs on US shipments of semiconductors for artificial intelligence and chipmaking tools to China, Reuters reported, citing unidentified people familiar with the matter, Natalie Choy and Nancy Cook report.
Biden and First Lady Jill Biden will travel to the UK for the State Funeral of Queen Elizabeth II on Saturday, according to the White House, Zoe Ma reports.
Tens of thousands of US railroad workers could be on strike by the end of this week, a potential new shock to supply chains that would pose a pre-midterm political quandary for Biden and the Democrats. Railroads warned Friday that they may impose limits on certain shipments starting Monday. Pressure is building from industry groups and Republicans alike for Congress to intervene in the dispute, which the unions have been urging legislators not to do. Read more from Josh Eidelson and Augusta Saraiva.
The Justice Department is more aggressively targeting companies that have fraudulently billed government agencies, expanding the volume and complexity of investigations that could be years away from producing results. Big Law attorneys defending cases under the Civil War-era False Claims Act say enforcers are less sympathetic to pandemic-era concerns that penalties could drive health-care providers and other employers out of business. Ben Penn has more.
And the Justice Department's antitrust division, led by Assistant Attorney General Jonathan Kanter, is ramping up hiring of trial attorneys from Big Law firms as the Biden administration heightens its focus on competition amid a recent surge in mergers. Read more from Dan Papscun and Sam Skolnik.
US officials agreed on a framework for investigating major accidents in the commercial space industry as human tourism and flights hauling hardware into orbit expand rapidly. The National Transportation Safety Board will conduct similar reviews for any mishaps involving private sector rockets and space capsules, according to the deal. Read more from Alan Levin.
Treasury Secretary Janet Yellen said she remains hopeful the US economy can avoid recession, but added that Americans understand the need for the Federal Reserve to conquer inflation. Read more from Christopher Condon.
WHAT ELSE TO KNOW TODAY
Animal rights advocates are banking on a new rule to revive protections for show horses that the Trump administration pulled five years ago. The rule seeks to stop the practice of "soring," where horses' legs are intentionally injured to change their gait. Read more from Maeve Sheehey.
Agencies will have to find ways of tracking and reporting their downstream carbon emissions, down to the level of their employees' travel, under a new set of White House instructions. The rules from the Council on Environmental Quality will be especially tricky for large agencies, specialists say. Stephen Lee has more.
To contact the reporters on this story: Brandon Lee in Washington at blee@bgov.com; Michaela Ross in Washington at mross@bgov.com
To contact the editors responsible for this story: Giuseppe Macri at gmacri@bgov.com; Loren Duggan at lduggan@bgov.com