What to Know in Washington: Jackson Set to Make SCOTUS History
Senate hearings to consider Biden's SCOTUS pick begin Monday
Ketanji Brown Jackson would be first Black woman on the court
Judge Ketanji Brown Jackson will make history Monday as she goes before a Senate panel considering her nomination to be the first Black woman on the U.S. Supreme Court.
Barring a major mishap, the Democrats' narrow control of the Senate means confirmation is all but assured. Though she won't shift the ideological balance on the conservative-controlled court, the 51-year-old Jackson would add a fresh voice to its outnumbered liberal wing and potentially serve for decades.
In the first of four days of hearings, Jackson will listen as senators give opening statements geared as much toward this year's elections as to her confirmation. Democrats are likely to extol her qualifications and criticize the court, while Republicans will seek to use her criminal-defense background as a way to question President Joe Biden's commitment to law and order.
"President Biden is deliberately working to make the whole federal judiciary softer on crime," Senate Minority Leader Mitch McConnell (R-Ky.) said last week. Republicans have also signaled they will try to connect Jackson to liberal outside groups that have endorsed her.
Jackson, who will deliver her own opening remarks at the end of the day, would diversify the court in multiple ways. She would be the first justice ever to have been a public defender and the second to have served on the U.S. Sentencing Commission. She would give the nine-member court four women and three ethnic minorities for the first time.
She would join Justice Sonia Sotomayor as the only two current justices with experience as a U.S. district judge, a position Jackson held for eight years before Biden elevated her to a powerful federal appeals court in Washington. Read more from Greg Stohr and Laura Litvan.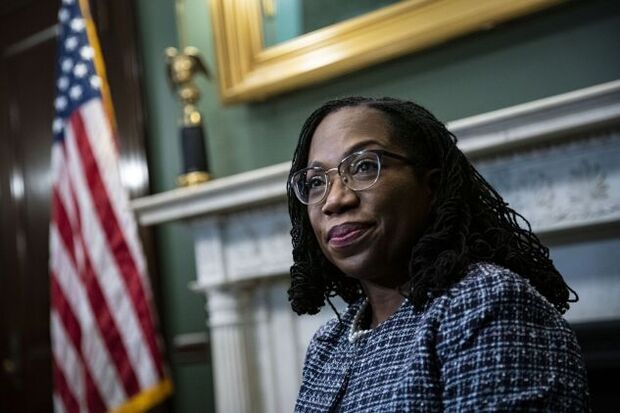 Jackson's mission is simple as her confirmation hearings start: Don't fall for the traps.
Jackson, 51, will spend three days testifying before the Senate Judiciary Committee, playing her role in what Biden, a former chairman of that panel, once called a "kabuki dance." Like past nominees, Jackson in all likelihood will seek to skirt controversy and resist attempts to pin her down on divisive issues that might come before the court, such as gun rights and affirmative action.
Jackson has successfully navigated the process before. Last year she won confirmation to be a federal appeals court judge in Washington and in 2013 she was approved to be a district judge. But the stakes have grown, and Republicans, many still rankled by contentious hearings for former President Donald Trump's Supreme Court nominees, may try to trip her up on key election-year issues like crime.
Her supporters say they expect Jackson to show a mastery of the law and vindicate Biden's selection of her. Read more from Greg Stohr.
Related:
Happening on the Hill
CONGRESSIONAL SCHEDULE:
The Senate meets at 3 p.m. and will hold a procedural vote on advancing the House-passed China competition bill.
The House is not scheduled to meet this week.
Immigrants make up an outsized share of entrepreneurs in the U.S. But some groups warn the country is losing out on foreign talent because of outdated immigration policies. Now, business groups ringing alarm bells over the U.S. falling behind are targeting a $250 billion China competition bill that would make investments in semiconductor manufacturing and supply chain resilience as a pathway to enact the visas and retain startup founders.
The Senate returns today to resume consideration of the House-passed America China competition bill (H.R. 4521), which included new visa classifications for startup founders and key employees as well as exemptions to annual green card caps for graduates of American colleges with doctors in science and engineering fields. Those provisions weren't part of the research and competitiveness package that cleared the Senate (S. 1260) last year, but advocates for the startup visa are making a full court press to make sure it's included in conference legislation negotiated by both chambers. Read more from Andrew Kreighbaum.
Alaska Republican and the longest-serving member of the House, Rep. Don Young (R-Alaska), has died. He was 88. Young, first elected in 1973, was chairman of both the Natural Resources Committee and the Transportation and Infrastructure Committee. He cut a colorful and occasionally cantankerous figure in Washington. Visitors to his office were greeted by a giant bear hide. He died while traveling back to Alaska, his office said in a statement Friday night, without providing a cause or other details. His wife, Anne, was with him at the time. Read more from John Harney and Ari Natter.
The Los Angeles Times has another opportunity to seek court records relating to a search warrant allegedly executed on Sen. Richard Burr (R-N.C.) connected to an insider-trading investigation over stocks he sold just before the pandemic surged, the D.C. Circuit ruled Friday. A district court that cited a "closed, non-public investigation" when it blocked access should reconsider the newspaper's request in light of the Securities and Exchange Commission revealing a parallel investigation, Judge Judith W. Rogers of the U.S. Court of Appeals for the D.C. Circuit said. Read more from Daniel Seiden.
Elections & Politics
Former President Donald Trump endorsed two dozen additional candidates in February, but his political action committee didn't donate to them or any other candidates he's backing, according to its latest filing with the Federal Election Commission. After taking in $3.5 million and spending just $1.2 million, Trump's Save America ended February with $110 million in the bank. Thanks to his prodigious and unprecedented post-presidential fundraising, Trump has amassed a bigger war chest than any of the GOP party committees that are focused on the midterms, but for a second straight month didn't donate any of it to other Republicans. Read more from Bill Allison.
A former governor burdened by scandal is leading a crowded Republican pack in Missouri's Senate race, giving Democrats an outside chance to flip what should be a safe GOP seat and improve their chances of holding the majority. Eric Greitens, who was forced to resign as governor in 2018 amid allegations of sexual misconduct and campaign finance violations, is the one Republican most likely to make the fall election competitive. He faces state Attorney General Eric Schmitt, Reps. Vicky Hartzler and Billy Long, and the leader of the state Senate, Dave Schatz, in the Aug. 2 primary to replace retiring GOP Sen. Roy Blunt. Read more from Kenneth P. Doyle.
The War in Ukraine
Biden's administration will brief banks, energy companies and other firms Monday on the impact of Russia's invasion of Ukraine and ensuing sanctions. Treasury Secretary Janet Yellen, National Security Adviser Jake Sullivan and other top officials will host an off-record discussion with companies across several industries, an official said, speaking on condition of anonymity. They include firms in the energy, refining, financial services and manufacturing sectors, the official said. Read more from Josh Wingrove and Justin Sink.
Biden will travel to Poland after meetings in Brussels with NATO allies, G-7 and EU leaders, Press Secretary Jen Psaki said in a statement Sunday, Michael Sin reports. Biden will travel to Warsaw, Poland on March 25 and hold a bilateral meeting with President Andrzej Duda to discuss how the U.S. is responding to the humanitarian and human rights crisis stemming from Russia's invasion of Ukraine.
Russia's use of hypersonic missiles against Ukraine appears to mark a shift in strategy in response to its losses on the battlefield, one that may signal a new phase of the war while serving to show the world its abundant firepower. Western military analysts point to President Vladimir Putin's ground campaign getting bogged down, with Russian troops failing to achieve their initial objectives and underestimating the scale of Ukraine's resistance. Read more from Alan Crawford.
Ukraine rejected a Russian demand that its forces lay down their arms and leave Mariupol on Monday. The besieged southern city has been under heavy bombardment and Ukraine has accused Russian forces of blocking humanitarian aid. Moscow had delivered the ultimatum with a morning deadline, in return for which food and medicine could be sent into the city, and potentially safe passage arranged for civilians. It's unclear what action might follow the refusal to surrender. Read the latest in the Bloomberg News Ukraine Update.
The European Union looks set to reinforce the U.S. warning to China that Beijing would face serious consequences if it tried to cushion the blow of sanctions against Russia or provide Moscow with military support. The EU and the U.S. have been coordinating closely ahead of a virtual EU-China summit on April 1 and will continue to do so in the days ahead, according to people familiar with the matter and diplomatic correspondence seen by Bloomberg. Read more from Jenny Leonard and Alberto Nardelli.
U.S. citizens hoping to bring their Ukrainian parents, children or employees to America are finding that threats from bombs and bullets count little in the complex U.S. immigration system. Visas routinely given to students on holiday aren't available to Ukrainians who don't know when they can go home, or if their home will even be there. U.S. consulates in the country are closed, and those in neighboring countries are so jammed that the State Department says displaced people should head to Frankfurt, Germany, to apply for longshot visas or finish applications already in progress. Read more from John Holland and Courtney Rozen.
Around the Administration
BIDEN'S SCHEDULE:
Biden will host a call with France President Emmanuel Macron, Germany Chancellor Olaf Scholz, Italy PM Mario Draghi and U.K. PM Boris Johnson at 11 a.m. to discuss Russia's invasion of Ukraine.
The president will join Business Roundtable's CEO quarterly meeting to discuss Ukraine, inflation, jobs and climate change.
Press Secretary Jen Psaki holds a press briefing alongside Deputy National Security Adviser for Cyber and Emerging Technology Anne Neuberger at 2:30 p.m.
The Biden administration said Friday it would resume plans for oil and gas drilling on federal lands after a federal appeals court granted a White House request to allow the administration to use a revamped metric for calculating the potential cost to society of greenhouse gas emissions. Read more from Ari Natter.
Even investors with a lot at stake tend to agree: The stock market shouldn't be a president's top priority, especially when issues like war, blistering inflation and a pandemic are in play. Still, for practical purposes, there's no getting around the disparity between the styles of Biden and Donald Trump when it comes to the intersection of markets and politics. Biden has yet to tweet about the market at all, despite a string of records in his first year in office. Read more from Michael P. Regan and Vildana Hajric.
A highly anticipated plan by the U.S. Securities and Exchange Commission on global warming will demand companies account for some pollution they don't emit themselves, according to people with knowledge of the matter, setting up a major clash over the financial regulator's role in environmental policy. The SEC's push to make companies disclose greenhouse gases that are generated by other firms in their supply chain or by customers using their products will be embraced by climate activists who have been counting on the commission to deliver a tough rule. Read more from Robert Schmidt.
A likely rise in U.S. Covid-19 cases probably won't amount to a full-scale surge or prompt a renewal of widespread restrictions, one of Biden's top advisers said. "The bottom line is we likely will see an uptick in cases, as we've seen in the European countries, particularly the U.K.," Anthony Fauci, Biden's chief medical adviser, said on ABC's "This Week" on Sunday. "Hopefully we won't see a surge. I don't think we will." Read more from Ian Fisher.
U.S.-U.K. Discuss Trade Cooperation with Larger Deal Postponed: U.S. and U.K. officials are set to discuss areas of cooperation on trade this week, even as the larger prize of a sweeping agreement sought by Britain remains far off. U.S. Trade Representative Katherine Tai will host U.K. International Trade Secretary Anne-Marie Trevelyan on Monday and Tuesday for meetings in Baltimore dubbed the "Dialogues on the Future of Atlantic Trade." Read more from Eric Martin.
To contact the reporters on this story: Michaela Ross in Washington at mross@bgov.com; Giuseppe Macri in Washington at gmacri@bgov.com
To contact the editors responsible for this story: Loren Duggan at lduggan@bgov.com; Michaela Ross at mross@bgov.com