What to Know in Washington: Covid Cases Hinder Senate Democrats
The Covid-19 threat is complicating Senate Democratic leaders' ability to push through their agenda, where members' absences threaten to jeopardize nominations and could put at risk a funding bill needed to keep the government running.
Since returning from August recess, three Democratic senators, Jacky Rosen (Nev.), Bob Menendez (N.J.) and Jon Ossoff (Ga.) have tested positive for the virus. So far this year, 19 Democrats have said they've tested positive compared to 11 Republicans. Most isolated for five days and returned to the Capitol, according to a Bloomberg Government analysis of voting data.
With the midterm election looming and their party facing political headwinds, Democrats are eager to show legislative progress — which could be thwarted if they can't hold votes because of absent lawmakers. In the evenly divided chamber, which requires in-person voting, they need nearly perfect attendance to confirm nominees with a majority vote — with the vice president breaking a tie. They will also likely need most Democrats to muster the 60 votes need to pass a stopgap spending bill before the fiscal year begins in October or risk a government shutdown.
As has been the case since the outbreak of covid, attitudes toward dealing with the virus have varied by party, with some Republicans saying they avoid testing — and therefore positive results — while Democrats proceed with testing and pray that a positive case doesn't threaten their fragile majority.
"You just hope that if God is going to send that challenge to a good Democrat he'll also send it to a good Republican so our 50-50 ratio continues," said Sen. Dick Durbin, (D-Ill.), the No. 2 Democrat in the Senate.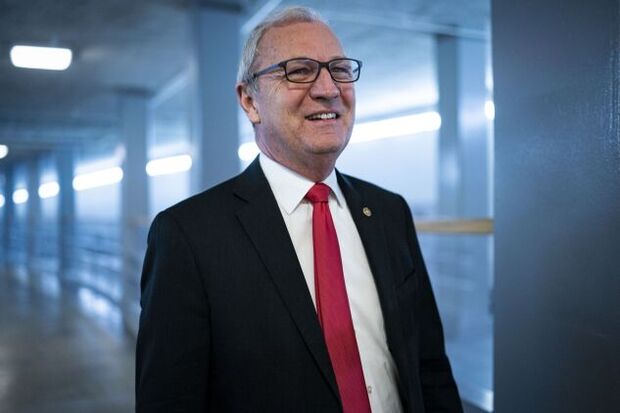 Some Republicans say they deliberately avoid testing, particularly if they are not showing any symptoms.
Sen. Kevin Cramer (R-N.D.) said in an interview he avoids places that require testing. "I think it's time to move on," Cramer said. "I just don't want to participate or contribute to it where you have to take a test for the privilege of meeting. It sends a wrong message to my constituents who are over it and have been over it for a couple of years."
Senate Democrats got a reminder this week how narrow their majority is when Republicans thwarted the confirmation of Arianna Freeman to the US Court of Appeals for the Third Circuit because of the absences of Sens. Tammy Duckworth (D-Ill.) and Maggie Hassan (D-N.H.). Read more from David Hood and Alex Ruoff.
Happening on the Hill
CONGRESS' SCHEDULE
The House meets at 10 a.m. with votes planned on bills addressing Medicare, the census, and whistleblowers.
The Senate meets at 10 a.m. to consider judicial nominations.
Key senators say the only way to avoid layoffs at the FDA is to attach user fee legislation to a government funding bill.
A Twitter whistleblower's appearance at a hearing Tuesday put a focus on lack of action in Congress to rein in big tech.
House Democrats on Tuesday introduced legislation that adds to progressives' pressure on President Joe Biden to limit oil and gas leasing and curb domestic energy production.
The Department of Health and Human Services should strengthen federal privacy protections for patients seeking reproductive care, according to a group of 30 US senators.
Both parties are angling to convince voters they alone can fix ever-higher food inflation, which continued to outpace general prices last month.
US lawmakers will debate a bill Wednesday to boost ties with Taiwan and give it more military hardware to deter a Chinese invasion. In Washington, where politicians often jockey to show who's toughest on Beijing, the legislation is making the White House queasy.
Updated DISCLOSE Act Readied For Another Senate Vote
A new version of a long-pending Democratic-backed proposal to require greater donor disclosure by groups spending money to influence federal elections has been set up for a Senate vote, Kenneth P. Doyle reports.
Senate Majority Leader Chuck Schumer (D-N.Y) on Tuesday placed the measure on the chamber's legislative calendar, clearing the way for a motion to proceed to the bill, although a date isn't set.
Sen. Sheldon Whitehouse (D-R.I.) introduced Monday an updated version of the measure incorporating changes—including greater transparency for digital campaign ad funding—made when the bill was packaged with a broader voting rights measure. That bill was blocked by a GOP filibuster last fall.
"We will try over and over again to get enough Republican support in the Senate to pass the DISCLOSE Act and lift the veil of secrecy over money in politics," said Lisa Gilbert, executive vice president of Public Citizen, which backs transparency in funding. "Americans on both sides of the aisle think this is common sense."
Even if it gets blocked again, supporters say the bill highlights the growing role of "dark money" from undisclosed sources in elections and other political battles, such as Supreme Court confirmations.
Elections & Politics
Former President Donald Trump is trying to have it both ways by arguing that classified documents seized from his Mar-a-Lago home are personal property but also covered by executive privilege, the Justice Department said.
Trump and the US Justice Department don't agree on much, but one thing they came to consensus on is a retiring federal judge in Brooklyn.
MyPillow Inc. CEO Mike Lindell, an outspoken supporter of Trump and his discredited theories about the 2020 election, said the FBI seized his mobile phone Tuesday while he was pulled over at a Hardees drive-thru in Mankato, Minnesota.
An Oregon homeowner who once ran for the U.S. Senate as a Republican is challenging Biden's student loan plan in federal court, arguing that the relief will worsen inflation and raise the interest expense on his mortgage.
Biden ignored worse-than-expected US inflation data that roiled markets during a planned celebration for his signature climate-and-tax law.
House Conference Chair Elise Stefanik said Tuesday she'll run again for the role in the next Congress, avoiding a potentially competitive race for whip.
Biden, who depended on mail-in votes to win office in 2020, unexpectedly flew Air Force One to his home state of Delaware on Tuesday to cast a primary election ballot in-person. The White House didn't publicly announce the trip until just before he left.
Election Webinar: Join Bloomberg Government election reporters today for a webinar on Senate Races to Watch. Find out more and register here .
Around the Administration
PRESIDENT'S SCHEDULE
Biden at 11:15 a.m. will tour the Detroit Auto Show and at 1:45 p.m. will give a speech there about electric vehicle manufacturing in the US.
At 3:10 p.m. Biden will participate in a Democratic National Committee reception in Detroit.
The share of people with health insurance coverage increased by 0.4 percentage points to to 91.7% in 2021, among the highest rates on record, the Census Bureau reported Tuesday.
Information technology problems and scattered recordkeeping allowed Department of Homeland Security officials to lose track of migrants, an agency watchdog said.
Amtrak is preemptively canceling trips on three of its long-distance routes that operate on freight rail-owned tracks and adjusting schedules on other routes due to a possible strike by two of the country's largest rail unions.
The Biden administration is considering replenishing the Strategic Petroleum Reserve when oil dips below $80 a barrel, just two years after Democrats blocked Trump from filling the reserve at a fraction of that price.
US health officials cautioned Tuesday that monkeypox led to neurological complications in two otherwise healthy men in their 30s.
The Justice Department's new criminal fraud chief has arrived just in time to implement forthcoming white-collar policy changes, an agenda that will lean on his experience from both sides of government enforcement.
Provisions in the recently passed climate law have many local leaders looking to leverage federal funds to reduce greenhouse gas emissions. But some of their plans could get stopped up at the state level.
Companies with online shopping platforms have the opportunity to comment on the next step in the federal government's implementation of e-commerce tools covering up to $2 billion annually in purchasing.
US railroads are poised to stop shipments of farm products and other key goods starting Thursday as the industry braces for a possible labor strike that could cost the world's biggest economy more than $2 billion a day.
To contact the reporters on this story: Brandon Lee in Washington at blee@bgov.com; Michaela Ross in Washington at mross@bgov.com
To contact the editor responsible for this story: Giuseppe Macri at gmacri@bgov.com