What to Know in Washington: Biden Warns Voters of Trump Pardons
Biden targets Trump, Republicans that defend Capitol attack
DOJ to appeal Trump Special-Master order as security risk
President Joe Biden warned voters against putting Trump's followers in charge of the House or Senate in November's elections as he assailed his predecessor, Donald Trump, for promising to pardon rioters who attacked the US Capitol.
"To this day, they defend the mob that stormed the Capitol on Jan 6," Biden said Thursday night, and referred to recent remarks by Trump that if he became president again, he would issue full pardons and an official apology to people convicted of crimes arising from the riot.
He would "pardon them all. He'll pay their legal fees. How can you call yourself a democrat with a small d? How can that be?" Biden told a meeting of the Democratic National Committee in a Maryland suburb of Washington.
He spent much of his address at the National Harbor resort assailing the former president and those who continue to back him after the insurrection of Jan. 6, 2021.
Biden portrayed GOP candidates running in the November elections as outside the political mainstream and on the wrong side of issues like climate change and abortion rights.
Republicans have countered Biden's assertions, with House Minority Leader Kevin McCarthy (R-Calif.) saying the president should apologize for his suggestion at a fundraiser last month that the philosophy that underpinned Trump's politics was "like semi-fascism."
Elections Webinar Next Wednesday: Join Bloomberg Government's election news team on Sept. 14 for a look at the major Senate races to watch this November. Find out more and register here .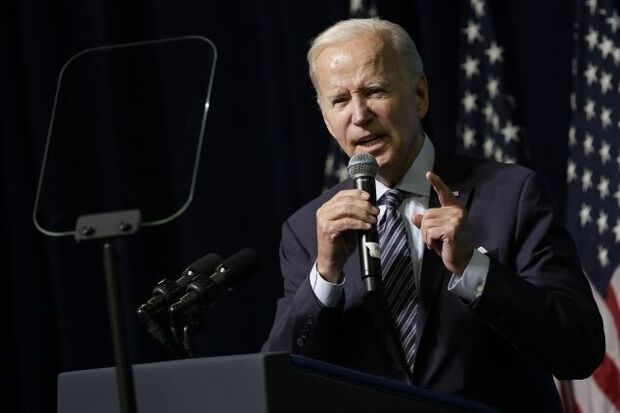 Also on Lawmakers' Radars
CONGRESS' SCHEDULE
The House and Senate return Monday.
The senators that led a successful bid to cap some out-of-pocket insulin costs want to lower what more Americans pay for the medicine, with revised legislation they hope to bring to the floor later this month. Sens. Jeanne Shaheen (D-N.H.) and Susan Collins (R-Maine) were authors of a $35-a-month cap for insulin costs for Medicare beneficiaries that was included in Democrats' reconciliation bill (Public Law 117-169). But it didn't cap costs for private insurers. Alex Ruoff has more.
More Senate Democrats, with at least one exception in Sen. Bernie Sanders (I-Vt.), expressed support for steps to expedite federal permitting for energy projects that Majority Leader Chuck Schumer intends to include in a must-pass government funding measure, setting the stage for a fight with progressives in the House. The White House on Thursday also said it backs the permitting deal. Read more from Kellie Lunney.
Elections, Politics & Probes
The Department of Justice will appeal a federal judge's order for a special master to review documents the FBI seized from former President Donald Trump's Mar-a-Lago resort, saying the ruling has thwarted a review of the potential national-security impact. DOJ also is seeking emergency approval to continue using the classified materials that were removed from Mar-a-Lago as part of its ongoing criminal investigation into whether Trump or anyone else improperly mishandled government records.
Prosecutors filed a notice of appeal with the US District Court in the Southern District of Florida on Thursday. A risk assessment being done by intelligence agencies of the classified material also has been paused because of confusion and inconsistencies in the ruling, DOJ wrote in its 21-page filing for an emergency stay. "The government and the public would suffer irreparable harm absent a stay," it said. Read more from Chris Strohm.
LinkedIn founder Reid Hoffman and other major Democratic contributors are making Utah's Senate race more expensive—and possibly more competitive—than recent races in this deep-red state. The Democrats are pouring cash into an unlikely place: an independent Senate bid by Evan McMullin, who once worked for Republicans in Congress. The ex-CIA agent and Trump critic said he wouldn't caucus with either party if he unseats Sen. Mike Lee (R). Kenneth Doyle has more.
A judge's ousting of a New Mexico county commissioner for participating in the Jan. 6 riot buoyed activists targeting Trump, but it may be an overreach to infer too much from the ruling, legal scholars say. The insurrectionist case against Otero County Commissioner Couy Griffin was less complicated since it involved a current government official who was criminally prosecuted, said Keith Whittington, a professor of politics at Princeton University. Kaustuv Basu has more.
Around the Administration
PRESIDENT'S SCHEDULE
Biden will travel to the groundbreaking of a new Intel semiconductor plant in Licking County, Ohio to deliver a speech at 12:15 p.m. on the CHIPS and Science Act (Public Law 117-167).
Biden's economic package is now law, but the Treasury Department's work on it is just starting. The new tax-and-climate law gives Treasury the authority to write regulations that'll be needed to answer key questions about a host of the law's provisions: What will and won't count as part of a company's "book" income, which will be subject to a new minimum tax? And what type of transactions will be considered stock buybacks? What requirements must companies meet to qualify for the law's clean-energy tax credits? Michael Rapoport and Erin Slowey explore those questions and more.
Google pays billions of dollars each year to Apple, Samsung and other telecom giants to illegally maintain its spot as the No. 1 search engine, the US Justice Department told a federal judge on Thursday. DOJ attorney Kenneth Dintzer didn't disclose how much Google spends to be the default search engine on most browsers and all US mobile phones, but described the payments as "enormous numbers." Google's contracts form the basis of the DOJ's landmark antitrust lawsuit, while state attorneys general are pursuing a parallel antitrust suit. Read more from Leah Nylen.
Some farmers may have engaged in fraud to receive pandemic-era payments from the Agriculture Department, a government watchdog found Thursday. The government aid, which aimed to help farmers who were hit by losses in the early days of the Covid-19 pandemic, totaled more than $30 billion in 2020 and 2021, Maeve Sheehey reports.
WHAT ELSE TO KNOW TODAY
To contact the reporters on this story: Brandon Lee in Washington at blee@bgov.com; Michaela Ross in Washington at mross@bgov.com
To contact the editors responsible for this story: Giuseppe Macri at gmacri@bgov.com; Loren Duggan at lduggan@bgov.com