What to Know in Washington: Biden to Call Allies About Ukraine
Call will focus on next steps as US announces more aid, weapons
Schumer to seek vote on marriage equality bill in coming weeks
President Joe Biden will host a call with allies on Thursday about next steps in support of Ukraine against Russia's invasion, according to people familiar with the matter.
Biden will lead the video session late Thursday morning Washington time with several participants, including Group of Seven leaders, as well as the leaders of NATO and the European Union, the people said, speaking on condition of anonymity before the discussion. It wasn't immediately clear who else would participate.
The video format was used in the early months of the war, and Biden is reviving it as we approach the seven-month mark of the conflict, one of the people said. Josh Wingrove, Brian Platt and Jennifer Jacobs preview the call.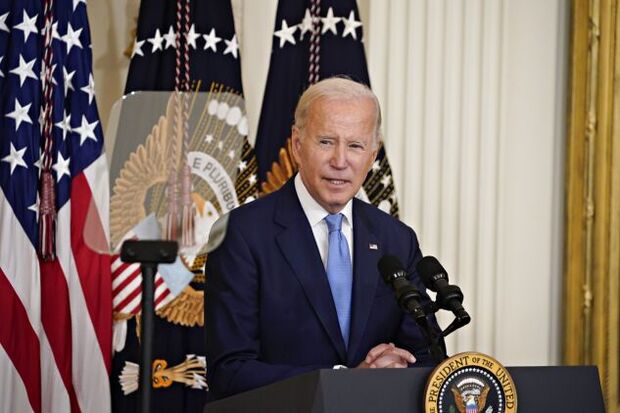 The talks come after the US announced plans to provide $2 billion in foreign military financing to bolster defense capabilities in Ukraine and 18 neighboring countries, Secretary of State Antony Blinken announced, Courtney McBride reports. Blinken made an unannounced visit to Kyiv Thursday for meetings with Ukrainian officials as the country's military presses to regain territory that Russia seized in the first six months of its invasion. Defense Secretary Lloyd Austin said the US also is also making available another $675 million in military aid for Ukraine.
The Pentagon has sent Ukraine its most accurate artillery shell, the GPS-guided Excalibur, according to budget documents that confirm the previously unannounced addition to the arsenal assembled to combat the Russian invasion.
A plan to replenish the US stock of Excaliburs acknowledges for the first time that the Pentagon has been supplying Ukrainian forces with the shell. Officials have sidestepped questions about the Excalibur despite reports that planning was underway to provide it and then that it was already in use in Ukraine. Tony Capaccio and Roxana Tiron have the details.
Follow the latest updates on the war in Ukraine here.
Also Happening on the Hill
CONGRESS' SCHEDULE
The Senate meets at 10 a.m. to consider judicial nominations.
Senate Majority Leader Chuck Schumer vowed to seek a vote on a marriage equality bill "in coming weeks" whether or not there are enough Republican votes to send it to Biden. "Let me be clear: A vote will happen," Chuck Schumer (D-N.Y.) said of the bill. The bill's backers want it passed as stand-alone legislation rather attaching it to a government funding bill that needs to be finished by the end of the month. But moving forward would require 60 votes in the 50-50 Senate.
Sens. Tammy Baldwin (D-Wis.) and Kyrsten Sinema (D-Ariz.) are taking the lead for Democrats in trying to gain Republican votes, Schumer said. Some GOP senators have publicly expressed support, but more are needed. Sen. Susan Collins, one of the bill's Senate co-sponsors, said backers are making headway in winning Republican votes. Read more from Laura Litvan and Jarrell Dillard.
John Z. Lee easily won bipartisan confirmation as the first Asian-American judge on the US Court of Appeals for the Seventh Circuit as Senate Democrats begin a pre-election push to advance judicial picks. Lee, who was confirmed 50-44 to the Chicago-based court that deals with appeals from Illinois, Indiana, and Wisconsin, moves up from the federal trial bench where he was appointed by Barack Obama. Read more from Madison Alder.
A Senate panel approved Biden's agricultural trade pick, moving Doug McKalip closer to confirmation for a key position that's been empty for over a year. The finance panel voted 27-0 to send McKalip's nomination to the full chamber for a vote to be chief agricultural negotiator at the US Trade Representative, Maeve Sheehey reports.
The NFL's head of security is keeping an eye on the sky as the country's most popular spectator sport kicks off its season in stadiums across the country. Federal officials who guard the biggest events have power to intercept drones, but it's set to expire Oct. 5. The Biden administration wants Congress to step in before the authority lapses with a bill that would expand federal counterdrone power and extend some drone-fighting authority to local law enforcement. Read more from Ellen M. Gilmer and Lillianna Byington.
Elections, Politics & Probes
Republican leaders are scrambling to salvage the party's chances at a congressional majority and stave off an embarrassing midterm election performance in a year that the GOP was heavily favored to take control of both chambers. Two top Republican senators—Mitch McConnell (Ky.) and Rick Scott (Fla.)—have feuded over strategy amid a shortfall in fundraising and worries about candidate recruitment. The party is playing defense in states where it currently holds Senate seats and is behind or in tight races for once-promising pickup opportunities.
Meanwhile, Republicans in the House are set to unveil a united party platform to give them an added boost as Democratic enthusiasm has rebounded. With nine weeks before Election Day, Republicans find themselves in a much different position than a few months ago, when a "red wave" seemed inevitable. Read more from Gregory Korte, Steven T. Dennis, and Mark Niquette.
Nearly a year after Donald Trump's former Chief of Staff Mark Meadows sued to block House Jan. 6 committee subpoenas, a federal judge pressed the panel's lawyer on why they hadn't pursued what seemed like an easier legal argument to get the lawsuit tossed. US District Judge Carl Nichols reserved ruling on the fate of Meadows' challenge, saying he would act "appropriately quickly." But he called the committee's legal strategy "frustrating." Read more from Zoe Tillman.
Pennsylvania Democratic Senate candidate John Fetterman said on Wednesday he would debate his Republican opponent, Mehmet Oz—without saying when or where—and that he would seek an accommodation for speech and hearing difficulties he continues to experience after suffering a stroke in May. But the statement was unlikely to end weeks of cajoling from Oz, who's made increasingly pointed attacks on Fetterman's fitness. Gregory Korte has more.
Elections Webinar Next Wednesday: Join Bloomberg Government's election news team on Sept. 14 for a look at the major Senate races to watch this November. Find out more and register here .
Around the Administration
PRESIDENT'S SCHEDULE
At 1:45 p.m., Biden will deliver a speech about the newly released Covid booster vaccines.
At 7 p.m., Biden will attend a reception for the Democratic National Committee in National Harbor, Maryland.
The new chief of the nation's top firearms regulator said he'll partner with local law enforcement and use crime data to catch more illegal gun dealers in a bid to combat the country's highest gun-murder rates in decades. Steve Dettelbach, director of the Bureau of Alcohol, Tobacco, Firearms, and Explosives (ATF), in an exclusive interview with Bloomberg Government said he's particularly focused on reducing hate-fueled crime like the 2018 anti-Semitic attack at a Pittsburgh synagogue. "We are not going to sit back and let this become somehow something that is normalized in our country," Dettelbach said. Read more from Courtney Rozen.
White House aide Peter Harrell is slated to leave within the next two months, according to people familiar with the matter, the latest change to the president's team of national security aides. Harrell serves as senior director for international economics and competitiveness on the National Security Council. It's part of a larger reshuffling at that team as they work on energy, an oil price cap and economic sanctions, Saleha Mohsin and Jennifer Jacobs report.
Biden is holding back on a decision to scrap any Trump-era tariffs on China imports, while the administration studies ways to help businesses seeking relief, according to people familiar with the matter, Eric Martin, Saleha Mohsin and Jennifer Jacobs report.
Any attempt to roll back rules governing the UK's post-Brexit trade with Northern Ireland could hurt chances of a bilateral trade agreement with the US, the White House said on Wednesday. Read more from Jordan Fabian and Justin Sink.
The SEC Office of the Whistleblower has a habit of not returning calls to whistleblowers when it comes time to get paid. The pattern in the agency's handling of several high-dollar cases involving banks, pharmaceutical companies, and investment houses emerged in a Bloomberg Law review of lawsuits and agency documents. John Holland has the exclusive follow-up story exposing another facet of the troubled program. Read more.
WHAT ELSE TO KNOW TODAY
To contact the reporters on this story: Brandon Lee in Washington at blee@bgov.com; Michaela Ross in Washington at mross@bgov.com
To contact the editors responsible for this story: Giuseppe Macri at gmacri@bgov.com; Loren Duggan at lduggan@bgov.com