Upset Possible in Kentucky Democratic Primary to Face McConnell
Bloomberg Government subscribers get the stories like this first. Act now and gain unlimited access to everything you need to know. Learn more.
Kentucky's Democratic Senate primary will be closely watched Tuesday as state Rep. Charles Booker, a favorite of progressive activists, seeks to upset Amy McGrath, the Senate Democratic campaign organization's well-funded candidate to oppose Majority Leader Mitch McConnell (R).
Booker, who is Black, has seized on the calls for changes to policing in the aftermath of the killing of George Floyd in Minneapolis. At a June 1 candidate debate, Booker called for ending no-knock warrants and said "we need to reform and reimagine how we engage with the police."
A Booker win would be a stunning rebuke to the Democratic establishment. McGrath was endorsed by the Democratic Senatorial Campaign Committee, raised more than $41 million and had $19.3 million in cash on hand as of June 3. Booker raised $793,000 and had $285,000 cash-on-hand, though his fundraising spiked in the final three weeks of the campaign.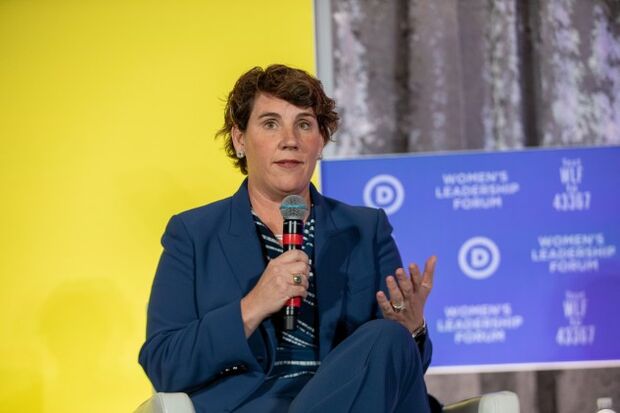 Other states are also holding elections Tuesday.
Virginia's primaries include a four-candidate Democratic contest in the sprawling 5th District, where first-term Rep. Denver Riggleman (R) was ousted in a June 13 nominating convention. A Republican runoff in North Carolina's 11th District will determine the nominee for the November contest to replace former Rep. Mark Meadows (R), who resigned to become President Donald Trump's chief of staff.
And in New York, House Foreign Affairs Committee Chairman Eliot Engel (D) is facing a serious primary challenge in a district that stretches from the northern reaches of New York City into suburban Westchester County.
Read More: Engel Challenge Leads New York's Hectic Slate of Elections Tuesday
Here is what to watch in Kentucky, North Carolina and Virginia:
Kentucky
Senate (Trump won Kentucky 63%-33% in 2016): McGrath, a former Marine fighter pilot, is trying to stave off a late surge from Booker, who recently amassed a string of endorsements from progressive stalwarts.
Ocasio-Cortez, Sen. Bernie Sanders (I-Vt.), Kentucky Sports Radio host Matt Jones, and the editorial pages of the Louisville Courier-Journal and Lexington Herald-Leader all endorsed Booker this month. So did Sen. Elizabeth Warren (D-Mass.), who initially endorsed McGrath before Booker entered the race.
Booker aired a television ad contrasting his active role in Louisville's protests against police brutality with McGrath's lack of participation. Booker shares a Louisville hometown with Breonna Taylor, a Black city worker who was shot and killed in March while unarmed by police who were serving a no-knock warrant at her apartment.
He supports a Medicare for All health-insurance system, the Green New Deal blueprint for a carbon-free economy, and a universal basic income.
McGrath supports adding a public option to the Affordable Care Act. McGrath said at the June 1 debate she "looks at things through the lens of being a wife, of being a mother, and being a United States Marine."
The third major Democratic candidate is Mike Broihier, a Marine veteran and farmer who ran as a supporter of single-payer health care and a universal basic income. He called attention to McGrath initially saying she would have voted to confirm Brett Kavanaugh to the Supreme Court before quickly backtracking to oppose him.
"We have this history in Kentucky, for the last 35 years, of running nice but centrist candidates against Mitch McConnell and getting creamed every time," Broihier said at the debate. "If you want to excite people, you have to give them a vision, a path forward, a progressive leadership idea."
McConnell, who is seeking a seventh term, has minor primary opposition. He had $15.4 million cash-on-hand as of June 3.
4th District (Covington, Independence, Ashland; Trump 65%-29%): Rep. Thomas Massie, a libertarian-leaning Republican with a contrarian streak, is opposed in the primary by Todd McMurtry, a lawyer who said he's "running to be a conservative whose votes Kentucky can finally rely on."
Massie is well-known for often being in a small bloc of dissenters on bills the House passes overwhelmingly. In March, when the House sought to pass a pandemic relief measure in an uncontested voice vote, Massie irked party leaders and Trump when he sought a roll-call vote. Trump called Massie a "third rate Grandstander" and called on Republicans to expel him from the party. Republican Conference Chairwoman Liz Cheney (Wyo.), Rep. Mike Turner (Ohio) and the Republican Jewish Coalition's political action committee donated to McMurtry.
But they rescinded their endorsements after some of McMurtry's past controversial social-media posts about racial issues came to light. McMurtry's fundraising slowed to $28,000 in a 64-day period ending June 3, compared with $336,000 for Massie.
6th District (Lexington, Frankfort; Trump 55%-39%): Josh Hicks, a Marine Corps veteran and former police officer, is favored to advance to the November election against Rep. Andy Barr (R), who edged McGrath by 3 percentage points in the 2018 election. Hicks suspended his campaign operations last week after the unexpected death of Barr's wife.
North Carolina
11th District (far west; Trump 57%-40%): Lynda Bennett and Madison Cawthorn are competing in a Republican primary runoff in the district Meadows vacated in March. Bennett and Cawthorn were the top vote-getters in the first-round primary in March, with Bennett taking 23% and Cawthorn winning 20% in a 12-candidate field.
Bennett, a real estate businesswoman, was endorsed by Trump, Meadows, and the Freedom Caucus, the bloc of strongly conservative Republicans that Meadows previously led.
Cawthorn primarily self-financed his campaign and also received help from Protect Freedom PAC, a super PAC that supports Republicans with libertarian leanings. It aired TV ads noting Bennett's past criticisms of Trump. Cawthorn has used a wheelchair since he was seriously injured in a 2014 car crash at age 18.
The winner will face Moe Davis (D), a retired Air Force colonel and the former chief prosecutor for the military commissions at Guantánamo Bay, Cuba. No special election has been scheduled to complete the remainder of Meadows's unexpired term.
Virginia
Senate (Hillary Clinton won Virginia 50%-44%): Two-term Sen. Mark Warner (D), nearly swept out of office in the 2014 Republican Senate election surge, is in a much stronger position this year against weaker Republican competition in Democratic-trending Virginia, where Republicans haven't won a statewide election in more than a decade.
Warner had $8.7 million in his campaign fund on June 3 — more than 82 times the bankroll of the best-funded Republican, retired Army officer Daniel Gade.
2nd District (Virginia Beach, Williamsburg, parts of Norfolk & Hampton; Trump 49%-45%): Ex-Rep. Scott Taylor (R) is seeking to avenge his 2018 loss to Elaine Luria (D), who won 51%-49%. Taylor initially ran for the Senate before ending that campaign to seek a rematch with Luria.
Taylor, a former Navy SEAL, has two opponents in the Republican primary: Ben Loyola and Jarome Bell, who are also Navy veterans. Taylor and Loyola both sought this seat in 2010, losing in the Republican primary.
Luria, a Navy veteran, is a member of the House Armed Services Committee and House Veterans' Affairs Committee, where she serves as chairwoman of the panel's Subcommittee on Disability Assistance and Memorial Affairs. She's prioritized increasing child-care options for military families and providing Gold Star families with tax relief.
5th District (Charlottesville, Danville, Appomattox; Trump 53%-42%): Four Democrats are seeking to succeed Riggleman in a sprawling, Republican-leaning district reaching from exurbs of Washington, D.C., south to the North Carolina border.
Cameron Webb, a physician and lawyer at the University of Virginia who worked on health care policy as a White House Fellow in the Obama administration, received donations from the Congressional Black Caucus PAC and the 314 Action Fund, which works to elect more people to Congress with STEM backgrounds. Webb is the only Black candidate in the Democratic primary.
Claire Russo, a Marine Corps veteran and a sexual assault survivor, has support from EMILY's List and some Democratic women in Congress. RD Huffstetler, a Marine Corps veteran of wars in Iraq and Afghanistan, said his military background and rural upbringing in North Carolina will appeal to independents and Republicans. Vote Vets Action Fund aired ads supporting him. John Lesinski, also a Marine Corps veteran, noted he was the only Democratic supervisor in Republican-leaning Rappahannock County.
The Democratic nominee will face Bob Good (R), a former county supervisor and Liberty University official who defeated Riggleman at the party convention after running as a more strongly conservative candidate on social issues. After Riggleman's loss, the nonpartisan Cook Political Report shifted its rating of the race to the more-competitive "Lean Republican" category from "Likely Republican."
7th District (parts of Chesterfield & Henrico Counties; Trump 50%-44%): First-term Rep. Abigail Spanberger (D) is unopposed in the primary and awaits the winner of a July 18 Republican convention. Spanberger, who unseated Dave Brat (R) in the 2018 election, had more than $3.5 million in her campaign account as of June 3.
10th District (Loudoun County, Manassas, parts of Fairfax and Prince William Counties; Clinton 52%-42%): Freshman Rep. Jennifer Wexton (D) is unopposed in the primary and will face Aliscia Andrews (R), a Marine Corps veteran who was nominated by a district party convention on June 20. Wexton unseated Barbara Comstock (R) in the 2018 election in a well-educated, upper-income district west of Washington that's shifted toward Democrats in the Trump era.
To contact the reporter on this story: Greg Giroux in Washington at ggiroux@bgov.com
To contact the editors responsible for this story: Bennett Roth at broth@bgov.com; Kyle Trygstad at ktrygstad@bgov.com
Stay informed with more news like this – from the largest team of reporters on Capitol Hill – subscribe to Bloomberg Government today. Learn more.