Engel Primary Leads New York's Hectic Slate of Elections Tuesday
Bloomberg Government subscribers get the stories like this first. Act now and gain unlimited access to everything you need to know. Learn more.
Democratic primaries in New York on Tuesday will test the capacity of the party's progressive insurgent wing to nominate candidates over those backed by the party establishment.
Headlining the day is New York City educator Jamaal Bowman's challenge to House Foreign Affairs Committee Chairman Eliot Engel, one of several endangered incumbents.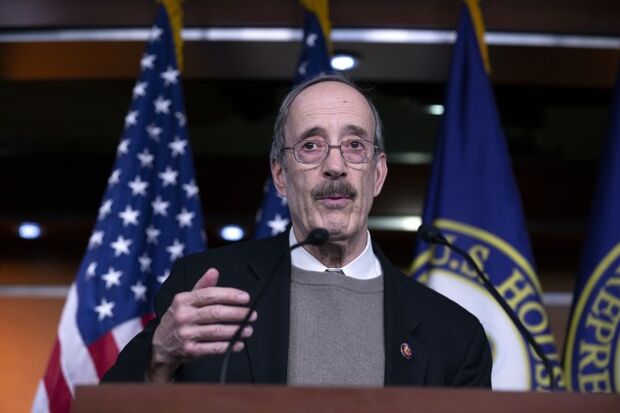 Bowman is also among the prominent Black candidates in Tuesday's elections, held when the Black Lives Matter movement has shone a spotlight on police brutality and spurred calls for more Black economic and political power. In addition to Bowman, Democrats could field Black nominees in all three New York districts where incumbents aren't seeking re-election in November.
Allied with Bowman is Rep. Alexandria Ocasio-Cortez (D-N.Y.), the progressive leader who's defending her House seat for the first time. New York also is holding a special election to complete the term of former Rep. Chris Collins (R) in a heavily Republican district near Buffalo.
Because so many people are voting by mail in lieu of in-person polling stations during the pandemic, it probably will take days to determine the winners of competitive races.
Here's a look at races to watch:
New York
1st District (eastern Long Island; President Donald Trump won 54%-42%): Three Democrats are seeking to unseat three-term Rep. Lee Zeldin (R) in a district that includes the Hamptons, a group of towns and villages on the eastern end of Long Island that are a popular summer destination for the affluent.
Perry Gershon, a businessman, is seeking a rematch after losing to Zeldin by 51%-47% in 2018. He has serious competition from Nancy Goroff, a Ph.D. chemistry professor, and Bridget Fleming, a Suffolk County legislator and former prosecutor.
Goroff led the Democratic field with more $2.5 million in fundraising, including more than $1.1 million in personal funds. She was endorsed by EMILY's List, which advises and raises money for Democratic women who support abortion rights, and 314 Action Fund, a group working to elect more scientists to Congress. The latter group spent more than $500,000 on the race, some of it attacking Gershon.
Blue Tide NY-1, a super PAC that formed in early June and hasn't revealed its donors, spent about $169,000 favoring Gershon, who said in a candidate debate he's been "campaigning continuously for over three years" and driven 70,000 miles.
Fleming received contributions from labor unions. "This time, let's go with someone who's actually won elections on Long Island — five to be exact," according to one of her ads.
Zeldin is a Trump ally, though he bucked his party in voting to prohibit oil and gas leasing off the Pacific and Atlantic coasts and against the 2017 Republican tax law that capped a popular deduction for state and local taxes.
2nd District (parts of Nassau and Suffolk Counties; Trump 53%-44%): Both parties are targeting this Long Island district that Rep. Pete King (R) is giving up after almost three decades of House service.
Jackie Gordon, an Army veteran, educator, and former town councilwoman who is Black, is backed by the Democratic Congressional Campaign Committee, which included her in its list of "Red to Blue" candidates seeking to shift Republican-held districts to Democratic control.
State Assemblymen Andrew Garbarino and Mike LiPetri are seeking the Republican nomination. Garbarino is better-funded and has support from King, Minority Leader Kevin McCarthy (Calif.) and the U.S. Chamber of Commerce PAC.
3rd District (parts of Nassau and Suffolk County and Queens; Hillary Clinton won 52%-45%): Rep. Tom Suozzi (D), a member of the tax-writing Ways and Means Committee who's seeking a third term, promoted his efforts to repeal the SALT cap and secure funding to clean up Long Island Sound.
He's opposed in the primary by Melanie D'Arrigo, a progressive activist, and Michael Weinstock, a former sex crimes prosecutor. Both ran to Suozzi's left and criticized his work with Republicans in the bipartisan Problem Solvers Caucus.
9th District (part of Brooklyn; Clinton won 83%-14%): Seven-term Rep. Yvette Clarke (D) is again opposed by Adem Bunkeddeko, a community organizer and son of Ugandan refugees, in a rematch of a 2018 primary that Clarke won 53%-47%.
Bunkeddeko has focused on making more moderate- and lower-income residents homeowners. He said the district, a Black-plurality area that includes central Brooklyn, has had "a congressperson for the past decade not do anything" and that Clarke only became more attentive to its needs after he came close to unseating her.
"That's being out of touch, and we don't need that right now," Bunkeddeko said at a candidate debate in early June. "We need folks who have been on the ground, doing the work in this community, and that's the kind of work that we need to get done in Washington. The choice is very clear."
The New York Times editorial page endorsed Bunkeddeko, as it did in the 2018 primary.
Clarke said the district has benefited from her leadership and experience. "I have been focused since day one like a laser on the needs, the wants, the desires, and the fight that needs to be taken to Washington, D.C., to deliver for this community. And I continue to do so. It's not time for on-the-job training," Clarke said at the debate.
Three other Democrats are challenging Clarke including New York City Councilman Chaim Deutsch, who's run a less-visible campaign and avoided candidate debates, and Isiah James, an activist and disabled veteran.
10th District (parts of Manhattan and Brooklyn; Clinton 78%-19%): Judiciary Committee Chairman Jerry Nadler (D) has two primary opponents in a strongly Democratic district that meanders down the west side of Manhattan into southern Brooklyn.
Lindsey Boylan, who was deputy secretary of economic development under Gov. Andrew Cuomo (D), called attention to the district's extreme income inequality, and said Nadler has passed few bills and taken too much in corporate PAC money. "He writes strongly worded letters and gives empty talk," Boylan said at a candidate debate that aired June 17. She raised more than $930,000 through June 3, including some self-funding.
Jonathan Herzog, a civil rights organizer and legal advocate, worked on Andrew Yang's presidential campaign and called for a universal basic income and publicly financed elections.
Nadler has been politically dominant in the district since 1992. As Judiciary chairman, Nadler had a visible role in the House's impeachment of Trump in 2019, and his panel last week advanced a Democratic bill to overhaul policing procedures.
"We have to work together to ensure social justice, to make sure that Black Lives Matter, to restore people's jobs and health care, to deal with our climate crisis that threatens all of us — and that's why I've been leading the fight for all of these things for many years," Nadler said at the debate.
11th District (Staten Island and part of Brooklyn; Trump 54%-44%): First-term Democrat Max Rose's likely Republican opponent is Assemblywoman Nicole Malliotakis, who's favored to win her primary over nominal opposition. Malliotakis was the Republican nominee for New York City mayor in the 2017 election, losing to Democratic incumbent Bill de Blasio.
Rose, the chairman of the House Homeland Security's Intelligence and Counterterrorism Subcommittee, opposed Nancy Pelosi (Calif.) for speaker at the start of the 116th Congress but has voted with his party on most policy matters. He reported $3.8 million on hand as of June 3, one of the highest totals among House members. Malliotakis had $894,000.
12th District (parts of Manhattan, Brooklyn and Queens; Clinton 83%-13%): Rep. Carolyn Maloney (D-N.Y.), the chairwoman of the Oversight and Reform Committee, has three primary opponents, including Suraj Patel, a lawyer who worked on Barack Obama's presidential campaigns and lost 60%-40% to Maloney in the 2018 primary.
Patel criticized Maloney for taking corporate PAC money and voting for the Clinton administration's 1994 anti-crime law, which has come under scrutiny as lawmakers debate policing overhaul legislation.
Competing with Patel for anti-Maloney votes are Lauren Ashcraft, a self-described democratic socialist who called for a Green New Deal for public housing, and Peter Harrison, a housing activist who called for repealing a federal rule that caps the construction of new public housing units.
Maloney, who was first elected in 1992, has led the Oversight panel since November. In July 2019, Trump signed into law her measure to reauthorize the September 11th Victim Compensation Fund through at least fiscal 2092.
14th District (parts of Queens and the Bronx; Clinton 78%-20%): Ocasio-Cortez, who stunned the political world in 2018 by unseating Democratic Caucus Chairman Joe Crowley in the Democratic primary, is seeking re-election for the first time. She has three primary challengers led by Michelle Caruso-Cabrera, a former CNBC journalist.
Caruso-Cabrera accused Ocasio-Cortez of absenteeism and lackluster constituent service in the district, frequently saying "AOC is MIA." Caruso-Cabrera said she would have a better working relationship with Pelosi, and she faulted Ocasio-Cortez for being the only Democrat who voted against a $484 billion pandemic relief measure in April (Public Law 116-139).
"She's a democratic socialist, and she's a polarizing, divisive force," Caruso-Cabrera said at a candidate debate. "She is wrong for the times. She is wrong for New York. And she is wrong for our neighborhoods."
Ocasio-Cortez, the House author of the Green New Deal climate-change resolution, said she hosted or attended more than 200 events in the district and held 17 town halls during her first term. She said Caruso-Cabrera is a former Republican who's financed by Republican donors and previously lived in Trump Tower.
"I believe, unapologetically, in 21st century economic, human and social rights," Ocasio-Cortez said at a candidate debate.
Caruso-Cabrera raised more than $3 million for her campaign, including more than $1 million from herself. Her donors include Blackstone CEO Stephen Schwarzman, billionaire hedge-fund manager John Paulson, and TD Ameritrade founder Joe Ricketts, who have all made large donations to Republican candidates and committees. The U.S. Chamber of Commerce PAC, which endorses more Republicans than Democrats, also donated to Caruso-Cabrera's campaign.
Ocasio-Cortez raised more than $10 million, about 80% of it from donors giving less than $200.
Ocasio-Cortez and Caruso-Cabrera overshadowed the other two Democrats in the race, community activist Badrun Khan and Samuel Sloan.
15th District (South Bronx; Clinton 94%-5%): Twelve Democrats are on the ballot in a Hispanic-majority district that was the most Democratic in the nation in the 2016 presidential election. Rep. José E. Serrano is retiring after more than three decades in office.
All of the leading candidates are progressives except for Rubén Díaz Sr., a New York City councilman and minister who opposes abortion and same-sex marriage. The crowded ballot raised concerns on the left that the progressive vote would splinter and allow Diaz to win with a small plurality.
The best-funded candidate is Ritchie Torres, a New York City councilman who is gay, Black and Latino. He received donations from the LGBTQ Victory Fund and the Congressional Progressive Caucus, and the New York Times editorial page endorsed him.
Michael Blake, a Black state Assemblyman, previously worked on Obama's presidential campaigns and in his administration. Samelys Lopez, a community organizer, was endorsed by Ocasio-Cortez and Sanders. Melissa Mark-Viverito, the former speaker of the New York City Council, received donations from the American Federation of Teachers and the National Organization for Women.
The district is about two-thirds Hispanic and 30% Black and has the lowest median household income of any congressional district nationwide.
16th District (parts of Westchester County and the Bronx; Clinton 75%-22%): Engel, a House member since 1989, is at risk of losing his seat to Bowman, an educator whose backers include Ocasio-Cortez, Sanders, Warren, and the progressive activist group Justice Democrats.
Bowman said Engel wasn't a visible presence in the district. He criticized Engel's campaign funding by corporate PACs and his votes for the Iraq War and against the Iran nuclear deal. Bowman talked during the campaign about experiencing police brutality for the first time at age 11.
Bowman's ads shared unflattering "hot mic" footage of Engel at a press conference earlier this month, pressing Bronx Borough President Ruben Diaz Jr. for an opportunity to speak. "If I didn't have a primary, I wouldn't care," Engel said. The New York Times editorial page endorsed Bowman.
Engel touted his seniority, the funding he secured for New York hospitals, a 100% voting record with Planned Parenthood, and opposition to Trump.
"The seniority system works in Washington," Engel said at a candidate debate. "I've now had lots of seniority being in Congress a long time, and I have the clout. I bring home the bacon. I bring home the money. I can do those kinds of things. That's not something a freshman can do."
Democratic Majority for Israel (DMFI) PAC spent more than $1.5 million to aid Engel. A new super-PAC called Stand With Us Committee spent at least $142,000 on anti-Bowman ads beginning June 16 and isn't required to reveal its donors until after the primary.
Justice Democrats, which helped fuel Ocasio-Cortez's rise, spent at least $920,000 on the race through its PAC.
The district is racially and ethnically diverse — about 35% white, 30% Black, and 27% Hispanic.
Read More: Engel's Primary Fight Exposes Fissures That Fueled Ocasio-Cortez
17th District (Rockland County and part of Westchester County; Clinton 59%-38%): The seven-candidate Democratic primary is the key contest in a district where Rep. Nita Lowey (D), the Appropriations Committee chairwoman, is retiring after 16 terms in the House.
Mondaire Jones, a lawyer who worked in Obama's Justice Department, has support from Ocasio-Cortez, Sanders, Warren, and the Congressional Progressive Caucus PAC. Jones, who is Black and gay, supports a Medicare for All health-care system.
The best-funded candidate is Adam Schleifer, a lawyer who was a prosecutor in the "Operation Varsity Blues" college admissions scandal. Schleifer gave at least $4.4 million to his campaign. Evelyn Farkas, a former Defense Department official, was backed by EMILY's List and said in a debate she "helped President Obama manage multiple crises in the White House Situation Room." An ad for Assemblyman David Buchwald said he "passed more progressive legislation than every other candidate running."
The candidate field also includes Allison Fine, a businesswoman and former chairwoman of the board of the NARAL Pro-Choice America Foundation, and state Sen. David Carlucci, who said in a debate he has "the energy, the experience to hit the ground running where Congresswoman Nita Lowey is leaving off."
18th District (Poughkeepsie, Newburgh; Trump 49%-47%): Neither four-term Rep. Sean Patrick Maloney (D) nor Republican Chele Farley is opposed in the primary in this Lower Hudson Valley district. Maloney was re-elected by 11 percentage points in 2018, when Farley was the losing Republican nominee for the Senate against Democratic incumbent Kirsten Gillibrand.
19th District (Kingston, Oneonta, Saugerties, New Paltz; Trump 51%-44%): Two little-known Republicans are seeking to oppose Rep. Antonio Delgado (D), who unseated a Republican incumbent in 2018 in a competitive district in the Hudson Valley.
Ola Hawatmeh, a fashion designer, has primarily self-financed her campaign. Kyle Van De Water is a lawyer and Army veteran.
Delgado sponsored the 2019 law (Public Law 116-51) that increased the debt cap on eligibility for family farmers seeking Chapter 12 bankruptcy protection. He had $2.7 million in his campaign fund on June 3, about 12 times what Hawatmeh reported.
22nd District (Utica, Binghamton, Rome; Trump 55%-39%): Ex-Rep. Claudia Tenney (R) wants a rematch with Rep. Anthony Brindisi (D), who's seeking a second term in the most pro-Trump district nationwide that's held by a Democratic freshman.
Tenney, who lost to Brindisi by 51%-49% in 2018, is opposed in the primary by George Phillips, a former legislator in Broome County and a frequent House candidate who lost to Tenney in the 2016 Republican primary.
Brindisi voted to impeach Trump but bucked most Democrats on some issues including guns, the minimum wage, and Pelosi's speakership. Brindisi voted instead for former Vice President Joe Biden. He's a member of the bipartisan Problem Solvers Caucus and of the Blue Dog Coalition of Democrats who prioritize fiscal restraint.
24th District (Syracuse, Auburn, Oswego; Clinton 49%-45%): Two Democrats are vying to oppose three-term Rep. John Katko, one of just four House Republicans nationwide from districts Trump lost in 2016.
Dana Balter, a progressive activist and college professor, wants a second chance at unseating Katko after losing to him by just over 5 percentage points in 2018. "We came closer to beating John Katko than anyone ever had before. And now, we have just two and a half points to go to flip the seat," she said at a candidate debate. EMILY's List and Planned Parenthood are supporting Balter.
She's opposed in the primary by Francis Conole, an intelligence analyst and Navy veteran. His supporters include VoteVets, a Democratic-leaning PAC that supports military veterans running for office.
27th District (Buffalo and Rochester suburbs; Trump 60%-35%): In addition to a regularly scheduled Republican primary, this district is holding a special election to succeed Collins, who resigned last September after pleading guilty to insider trading.
Chris Jacobs, a wealthy state senator, is the leading candidate in both contests. The Democratic nominee in both elections is Nate McMurray, a lawyer and former town supervisor who came within three-tenths of a percentage point of unseating Collins in the 2018 election, while Collins was under indictment.
This is the most pro-Trump district in the Empire State, though McMurray told Jacobs in a candidate debate that "you do not have the guts to stand up to that man."
Jacobs aired a TV ad late in the special-election campaign that accused McMurray of "supporting trade agreements costing us thousands of jobs." The ad cited a May 2016 blog post from the Economic Policy Institute that was critical of a 2012 U.S.-South Korea free-trade agreement.
In the Republican primary, Jacobs's most serious opponent probably is Beth Parlato, a lawyer and conservative activist who branded Jacobs as a "career politician" with a "very liberal voting record" for a Republican in the New York legislature. Value in Electing Women PAC, which works to elect more Republican women to Congress, donated to Parlato's campaign. Even if she loses to Jacobs, Parlato will be on the November ballot as the nominee of New York's Conservative Party.
To contact the reporter on this story: Greg Giroux in Washington at ggiroux@bgov.com
To contact the editors responsible for this story: Bennett Roth at broth@bgov.com; Kyle Trygstad at ktrygstad@bgov.com
Stay informed with more news like this – from the largest team of reporters on Capitol Hill – subscribe to Bloomberg Government today. Learn more.