Trump's Endorsement Tested in West Virginia Incumbent Matchup
Ex-president aiding Mooney over McKinley in House primary
Nebraska holding primaries for Fortenberry, Bacon districts
A Republican primary Tuesday in West Virginia will test whether Donald Trump's sway over party voters can help an ally oust a fellow sitting congressman.
Trump is helping Rep. Alex Mooney unseat Rep. David McKinley after McKinley antagonized the former president by voting for the 2021 infrastructure law and for a bipartisan commission to investigate the Jan. 6, 2021, attack on the Capitol.
The McKinley-Mooney contest is the first of five primaries between sitting House members pushed together by redistricting.
The former president is seeking to augment his success last week in Ohio, where Trump-endorsed author JD Vance won a fractured Republican Senate primary and Trump acolytes were nominated in two politically competitive districts and in a Republican-friendly open district.
Tuesday is also primary day in Nebraska.
Here's a look at key races to watch. The 2020 election vote percentages for Trump and President Joe Biden are noted parenthetically.
West Virginia
2nd District (Trump 68%-30%): McKinley and Mooney became opponents after West Virginia, with its declining population, lost a district in reapportionment and the subsequent redistricting merged their districts.
McKinley, an Energy and Commerce Committee member first elected in 2010, defended his vote for the infrastructure package (Public Law 117-58) as necessary to refurbish aging roads, bridges and internet access in one of the nation's poorest states.
He provided one of the 13 Republican votes for that measure and one of the 35 Republican votes for the bipartisan Jan. 6 commission, which was blocked in the Senate. McKinley opposed the select committee created by Speaker Nancy Pelosi (D-Calif.) that's investigating the attack on the Capitol.
McKinley represents 64% of registered Republicans and 19 of the 27 counties in the new district, including Monongalia (Morgantown), Wood (Parkersburg), and Harrison (Clarksburg). Mooney represents the Eastern Panhandle counties of Morgan (Berkeley Springs), Berkeley (Martinsburg), and Jefferson (Charles Town).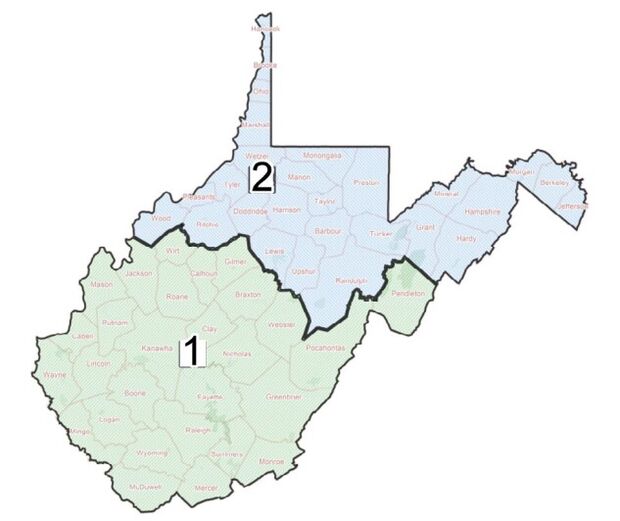 McKinley's endorsers include Gov. Jim Justice (R) and Sen. Joe Manchin (D). The U.S. Chamber of Commerce, which also backed the infrastructure bill, and Defending Main Street, a super-PAC that advocates for Republican centrism, intervened in the race to help McKinley.
A super PAC called Voters for West Virginia Values produced mail pieces that underscored McKinley's West Virginia ties and defended his infrastructure vote while attacking Mooney as a "former Maryland political party boss." Mooney was a state senator and Republican Party chairman in Maryland before he was elected to Congress in 2014.
Mooney's backers include Rep. Lauren Boebert (R-Colo.), who campaigned for Mooney last month, and Rep. Andy Biggs (R-Ariz.), who formerly led the Freedom Caucus bloc of strongly conservative House Republicans who sometimes buck GOP leaders.
Club for Growth Action, a conservative group that wants to cut spending and taxes more deeply than many Republicans, spent more than $1 million to aid Mooney and attack McKinley.
Mooney, a Financial Services Committee member, entered the final 20 days of the primary with more money to spend than McKinley, $874,000 to $510,000. McKinley gave his campaign $220,000 on May 2.
Three lesser-known Republicans are also on the primary ballot. The district is safely Republican.
Read More: Trump's Anti-Incumbent Endorsements Face First Test Next Month
Nebraska
1st District (Trump 54%-43%): State Sen. Mike Flood (R), the favorite to succeed former Rep. Jeff Fortenberry in a June 28 special election, also is the front-runner in the primary Tuesday for the full-term election. The Republican-leaning district includes Lincoln, the state capital.
Flood was challenging Fortenberry in the primary when Fortenberry resigned March 31 after he was convicted on charges related to an illegal campaign contribution.
The likely Democratic nominee is state Sen. Patty Pansing Brooks, who's also the Democratic nominee against Flood in the special election to complete the remainder of Fortenberry's unexpired term.
The special election will be held under the current configuration of the 1st District, which Trump won by 15 percentage points. The full-term election will be held in the post-redistricting 1st, which Trump would've won by 11 points.
2nd District (Biden 52%-46%): Two Democrats are seeking to unseat Rep. Don Bacon (R) in a politically competitive, Omaha-based district where Bacon has outperformed Trump.
The primary is between state Sen. Tony Vargas, a son of immigrants from Peru, and Alisha Shelton, a mental health therapist who ran for the Senate in 2020.
Vargas more than tripled Shelton's fundraising, taking in more than $1 million from donors including Majority Leader Steny Hoyer (D-Md.), the Congressional Hispanic Caucus PAC, the New Democrat Coalition Action Fund, and labor unions.
Shelton, who is Black, is supported by the Congressional Black Caucus PAC and other groups promoting more Black political power. Her donors include Reps. Lauren Underwood (D-Ill.) and Gwen Moore (D-Wis.), and EMILY's List, which aids Democratic women who support abortion rights.
Bacon has a bipartisan image as a member of the Problem Solvers Caucus who occasionally votes for Democratic bills. Bacon departed from most Republicans in voting for the 2021 infrastructure law, a bipartisan Jan. 6 commission, an overhaul of immigration laws known as the Dream Act, and to cap insulin payments at $35 per month.
For all of his party-bucking votes, Bacon avoided a serious challenger in the Republican primary.
The redistricting process made negligible political changes to the 2nd District, narrowing Biden's advantage to 6.3 points from 6.5 points under the current lines.
To contact the reporter on this story: Greg Giroux in Washington at ggiroux@bgov.com
To contact the editors responsible for this story: Bennett Roth at broth@bgov.com; Kyle Trygstad at ktrygstad@bloombergindustry.com