Trump Seeks to Sack Reps. Mace, Rice in South Carolina Primary
Rice among 10 Republicans who voted to impeach Trump
Nevada primaries to tee up key Senate and House races
Donald Trump is angling to oust two House Republicans in South Carolina's primary on Tuesday.
The former president is backing challengers to Reps. Tom Rice, who voted to impeach Trump over his role in the Jan. 6, 2021 attack on the Capitol, and Nancy Mace, who Trump says is insufficiently loyal.
Rice's vote 17 months ago came into sharper focus last week as the select committee that's investigating the riot opened a series of public hearings.
Senate Minority Leader Mitch McConnell (R-Ky.), another frequent target of Trump's criticism, donated to both Rice and Mace through his leadership PAC.
Voting concludes in South Carolina on Tuesday at 7 p.m. Eastern Time.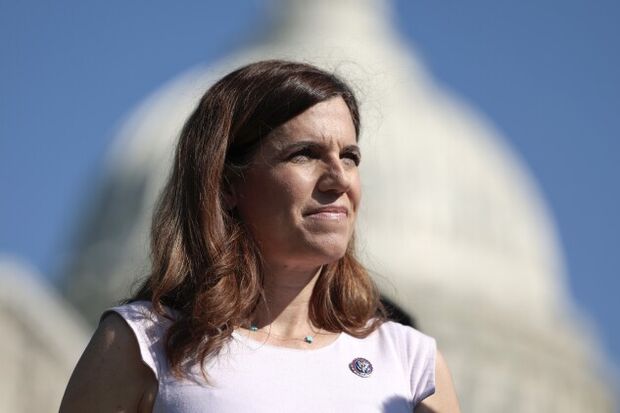 Later in the evening, the results from primaries in Nevada will set up competitive races for the Senate and in three congressional districts that will help determine which party controls the next Congress.
Nevada's elections will test the potency of a new Democratic-drawn congressional map in a midterm election year when President Joe Biden's approval rating is sagging and Nevada's gas prices are second-highest in the nation.
There also are primaries in Maine and North Dakota.
Here's what you need to know about the key races. The 2020 election percentages for Biden and Trump are noted parenthetically.
Maine
2nd District (Trump 52%-45%): Two-term Rep. Jared Golden (D) and ex-Rep. Bruce Poliquin (R) are headed for a rematch four years after Golden ousted Poliquin in the first congressional general election conducted under ranked-choice voting. Golden is unopposed in the primary, while Poliquin has one minor challenger.
Golden, one of the few Democrats from districts Biden lost in 2020, opposed Nancy Pelosi (D-Calif.) for speaker in 2021 and was the only Democrat who voted against a $1.9 trillion pandemic relief package known as the American Rescue Plan Act (Public Law 117-2). He also was the lone Democratic vote against the House version of a stalled Biden economic package known as the Build Back Better Act (H.R. 5376), and one of the two House Democrats last week who voted against a package of gun-safety bills (H.R. 7910).
With $1.9 million in cash on hand on May 25, Poliquin is one of the best-funded Republican challengers in the nation. Golden had $1.8 million.
Redistricting made the 2nd a little less pro-Trump, reducing his margin of victory to 6.1 percentage points from 7.4 points. The 2nd absorbed seven Kennebec County municipalities including Augusta, the Democratic-leaning state capital.
Nevada
Senate (Biden won Nevada 50%-48%): Catherine Cortez Masto (D), the first Latina senator, faces a serious re-election challenge in a state Biden carried by 2.4 points in 2020—when he was more popular opposing Trump for re-election than he is today.
The leading Republican nominee is Adam Laxalt, a former state attorney general who lost a close 2018 race for governor to Steve Sisolak (D). Laxalt's Republican rivals include Army veteran Sam Brown.
Read More: Economy, New Voters Cloud Nevada Democrat's Re-Election Campaign
1st District (Biden 53%-45%): Politically safe before redistricting, Rep. Dina Titus (D) can expect a competitive re-election after Nevada Democratic legislators who controlled redistricting shifted Democratic voters out of her district to aid two Democrats from more competitive districts. Titus wasn't pleased with the new map, though she represented a competitive district earlier in her House career.
The top Republican candidates are Carolina Serrano, a former journalist who led Hispanic outreach efforts for Trump's 2020 campaign in Las Vegas; Mark Robertson, a financial planner and retired Army colonel; ex-Rep. Cresent Hardy, who unseated Rep. Steven Horsford (D) in the 4th District in 2014 and then lost House bids in 2016 and 2018; and David Brog, a lawyer and former Senate aide who has a long association with pro-Israel groups.
Serrano's donors include House Republican Conference Chair Elise Stefanik (N.Y.)
Titus is opposed in the primary by Amy Vilela, an accountant who's aligned with the views of Sen. Bernie Sanders (I-Vt.). He endorsed Vilela on June 9, five days before the primary.
2nd District (Trump 54%-43%): Rep. Mark Amodei (R) is opposed in the primary by Danny Tarkanian, a lawyer and businessman who waged a string of losing campaigns for federal and state office before winning a seat on the Douglas County Commission in 2020.
Tarkanian has partially self-financed his campaign, including a $115,000 donation on June 6. He's accused Amodei of being the "first Republican to support the witch hunt into President Donald Trump," a reference to Amodei's comments in 2019 that appeared to support an inquiry into a whistleblower's complaint that Trump sought to coerce Ukraine. Amodei clarified that he opposed Trump's impeachment.
Amodei focuses on land management policy from a district that covers the top half of Nevada, including much land controlled by the federal government. He's a member of the Appropriations Committee and its interior subcommittee.
3rd District (Biden 52%-46%): Two-term Rep. Susie Lee (D) has minor primary opposition and probably will face April Becker (R), a lawyer who's raised more than $1.1 million from donors including Minority Leader Kevin McCarthy (R-Calif.) and the anti-abortion-rights Susan B. Anthony List.
Lee is a member of the Appropriations Committee who won two elections in one of the nation's most competitive congressional districts. After redistricting, the 3rd contains about one-third of Las Vegas and Biden's margin of victory rose to 6.6 points from 0.2 points.
4th District (Biden 53%-45%): Horsford's likely Republican opponent is Annie Black, a state assemblywoman.
After redistricting, the 4th includes slightly more than half of Las Vegas' population. The changes lifted Biden's margin of victory in the 4th to 8.3 points from 3.9 points before redistricting.
Titus, Lee, and Horsford are all on the Democratic Congressional Campaign Committee's list of "Frontline Democrats" it anticipates will have close races.
North Dakota
Senate (Trump won North Dakota 65%-32%): Sen. John Hoeven (R) is favored to win a third term in one of the nation's most Republican states.
South Carolina
Senate (Trump won South Carolina 55%-43%): Sen. Tim Scott (R) is unopposed in the primary and will face the winner of a three-candidate Democratic primary that includes state Rep. Krystle Matthews.
Scott, the only Black Republican in the Senate, was re-elected with 61% in 2016 and is favored to win again. Democrats last won a Senate election in South Carolina in 1998, when Fritz Hollings won his final term.
1st District (Trump 53%-45%): Mace's Trump-backed opponent is former state Rep. Katie Arrington, who unseated Mark Sanford in the 2018 Republican primary and then lost the general election to Joe Cunningham (D). Mace unseated Cunningham in 2020.
"I am the Trump-endorsed, America First candidate," Arrington said at a candidate debate last month.
Mace, the first woman to graduate from The Citadel, sits on the Veterans' Affairs Committee and has occasionally bucked Republicans on votes. She was the only South Carolina Republican who voted to reject objections to Trump's 2020 election losses in Arizona and Pennsylvania; to remove Confederate statues and busts from the Capitol; to require that the EPA designate certain PFAS "forever chemicals" as hazardous substances; and to recommend that former Trump adviser Steve Bannon be cited in contempt of Congress.
Trump, in a February statement endorsing Arrington, called Mace "absolutely terrible" and said her "remarks and attitude have been devastating for her community." Mace then released a video of her outside Trump Tower in New York, praising Trump's policies and warning that Arrington would be a weaker general-election nominee for Republicans eyeing a House majority.
"If you want to lose this seat once again in a midterm election cycle to Democrats, then my opponent is more than qualified to do just that," Mace said.
Mace's outside supporters include Americans for Prosperity Action, which paid for mail pieces that praised Mace for opposing Democratic proposals on spending and elections policy.
A third Republican on the ballot, Lynz Piper-Loomis, announced her withdrawal from the race during last month's candidate debate and endorsed Arrington.
The Democratic nominee is Annie Andrews, a pediatrician who raised $920,000 through May 25. South Carolina's Republican-led legislature redrew the coastal 1st District to have a more pronounced Republican lean.
7th District (Trump 59%-40%): Rice is trying to win a majority of the vote — and avoid a runoff election on June 28 — against six opponents led by state Rep. Russell Fry, who has Trump's imprimatur.
Rice said that his vote to impeach Trump was consistent with the Constitution and that Republicans need to "move on" from Trump and not allow him to "keep the Republican Party hostage."
Rice, a certified public accountant and tax lawyer, is trying to be defined instead by his service on the tax-writing Ways and Means Committee and his work on district-specific priorities such as tourism, transportation, and flood mitigation. The 7th takes in fast-growing Horry County in and around Myrtle Beach.
"You may disagree with me on one vote, but I've delivered for this district," Rice told the Charleston Post and Courier.
Rice received donations from the US Chamber of Commerce's PAC on May 2 and McConnell's Bluegrass Committee on May 16. His other recent donors include investor Dan Loeb and conservative lawyer Chuck Cooper.
Fry highlighted Trump's endorsement and his anti-abortion and pro-gun positions. He suggested he'd be a more assertive and higher-profile conservative than Rice.
"We need warriors in Congress and not wallflowers," Fry told the Post and Courier.
A super PAC called Grand Strand Pee Dee PAC — a reference to two regions in northeastern South Carolina — spent more than $300,000 opposing Fry. The PAC hasn't yet disclosed its donors.
To contact the reporter on this story: Greg Giroux in Washington at ggiroux@bgov.com
To contact the editors responsible for this story: Kyle Trygstad at ktrygstad@bloombergindustry.com; Bennett Roth at broth@bgov.com