Economy, New Voters Cloud Nevada Democrat's Re-Election Campaign
Sen. Cortez Masto among 2022's most vulnerable incumbents
Ex-Attorney General Laxalt is June 14 GOP primary front-runner
The epicenter of Democrats' struggle to keep control of the Senate is in Nevada, where first-term Democrat Catherine Cortez Masto is attempting to connect with a transient population amid unhappiness with President Joe Biden's performance.
The race for the seat will crystallize after the state's primaries next week, with former state Attorney General Adam Laxalt pushing to hold off a challenge for the Republican nomination from Army veteran Sam Brown and train his focus on one of the most vulnerable senators.
Nevada could tip the 50-50 Senate in either direction. It's one of five races rated as a tossup by the Cook Political Report with Amy Walter. Of the other four seats, Arizona and Georgia are held by Democrats, and Pennsylvania and Wisconsin by Republicans
"I still believe she's the most endangered incumbent Democrat," said Jessica Taylor, Cook's Senate editor. "It's a hard state and a midterm environment for Democrats."
With Democrats the party in power, Cortez Masto must overcome a political environment in which Nevada voters are concerned about inflation, gas prices, and immigration. She also must introduce herself to the state's newcomers since becoming the Senate's first Latina in 2016, with many voters having moved there since she was last on the ballot.
Cortez Masto said in an interview she's fully aware that voters are focused on economic issues. She said she knows the state better than Laxalt, who grew up and worked in the Washington, D.C., area. But Laxalt has a helpful last name as the grandson of Paul Laxalt (R), a former Nevada governor and senator.
"I am not taking anything for granted," Cortez Masto said. "At the height of the pandemic we had 30% unemployment. So I want to be sure we are addressing jobs and talking to everyone throughout the state, including the businesses about their needs. I'm a Nevadan through and through, and that's what this is about."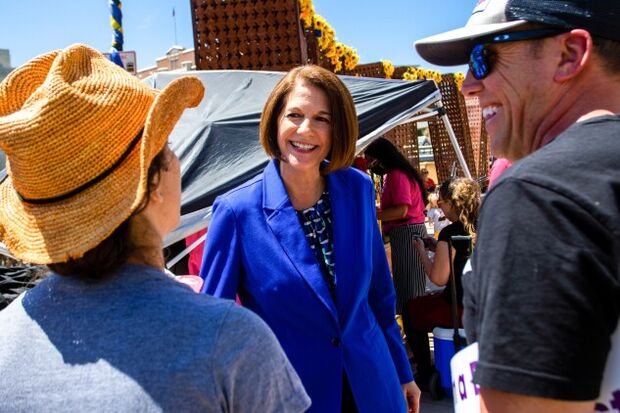 Cortez Masto launched her re-election bid with an ad playing up her family's Mexican background and life-long ties to the state. She also held numerous events highlighting the billions she helped secure for Nevada's water, transit, and road projects in Biden's bipartisan infrastructure package (Public Law 117-58).
She's raising plenty of money as a top GOP target and after serving as Democratic Senatorial Campaign Committee chair last cycle. She raised $3.65 million from April 1 through May 25 and had $9 million in cash on hand at the end of the last month, according to the most recent filing with the Federal Election Commission.
Her fundraising total of nearly $20 million since the beginning of 2021 is more than three times Laxalt's $5.9 million, and her cash on hand is over four times more than Laxalt's $2 million. Brown has raised nearly $4 million and had $360,000 in cash on hand.
DSCC Chair Gary Peters (D-Mich.) and Cortez Masto said if the US Supreme Court overturns Roe v. Wade, it would galvanize Democrats in a state that codified the 1973 decision legalizing abortion.
"There's going to be a stark contrast between me and my opponent," Cortez Masto said. "I support a woman's right to choose and my opponent does not. The voters will know the difference."
Getting to Know You
Peters said Cortez Masto faces challenges, particularly when half of those currently on Nevada's voter rolls registered since 2016.
"You always have to reintroduce yourself to voters every six years," Peters said in an interview.
The economy is also weighing her down in a state that's voted Democratic in the past four presidential elections, said Mike Noble, chief of research at Phoenix-based OH Predictive Insights, which conducts polls in Nevada and Arizona races. Two polls released in early April showed varied results, with Cortez Masto up 8 percentage points in one and Laxalt up 3 points in the other, but the senator was in the low 40s in both.
"Typically she would probably be in a little bit stronger, more solidified position, but she's not, she's below that 50% threshold," Noble said. "It's just a very tough electoral environment for Democrats."
In 2016, Cortez Masto benefited from her close relationship with former Senate Majority leader Harry Reid (D-Nev.) whose political organization was key in turning out Democratic constituencies in the state such as unionized hotel workers and Hispanics.
It's a question whether Democrats can achieve the same level of voter mobilization "without Harry Reid conducting the orchestra" following his death last year, said Jim Denton, a retired political consultant in Nevada who represented clients in both parties for several decades.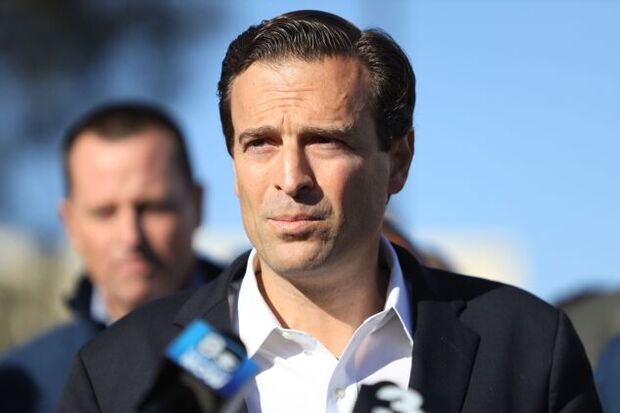 Betting on Laxalt
Laxalt is backed by former President Donald Trump and groups aligned with Senate Minority Leader Mitch McConnell (R-Ky.). The Club for Growth's super PAC also reported spending nearly $500,000 on TV ads in late May to bolster Laxalt as Brown gained in the polls.
Brown, a former Army captain who was injured in Afghanistan, has been endorsed by the Nevada Republican Party. He's accused Laxalt of being too cozy with the Republican establishment.
National Republican Senatorial Committee Chairman Rick Scott (R-Fla.) said in an interview predicted that he expects Laxalt to win the nomination and that the Republican strategy will be to tie Cortez Masto to Biden.
"Cortez Masto has been part of all the Biden problems," Scott said.
To contact the reporters on this story: Nancy Ognanovich in Washington at nognanov@bgov.com; Kenneth P. Doyle in Washington at kdoyle@bgov.com
To contact the editors responsible for this story: Bennett Roth at broth@bgov.com; Kyle Trygstad at ktrygstad@bloombergindustry.com