Trump-Connected Lobbyists Sign Virus-Related Clients in Boom (1)
(Updates to add another new Ballard client)
Bloomberg Government subscribers get the stories like this first. Act now and gain unlimited access to everything you need to know. Learn more.
Lobbying firms close to President Donald Trump are capitalizing on the race to K Street, as industries flock to hire advocates who can help them navigate the federal government's response to the coronavirus pandemic.
Congress has authorized trillions of dollars in relief measures over the last month to help mitigate the economic downturn, with more aid likely in the coming weeks. Federal agencies, meanwhile, are untangling new loan and grant programs that affect millions of businesses.
Firms with high-level connections are seen as attractive to clients trying to figure out what these massive sets of bills and regulations mean for them or how they can help the federal government with their products.
"At times like this, people value experience and strategic counsel that's based on real relationships — that you can come in with real information, real intelligence, and then advise them on what to do," said David Tamasi, a founder of Chartwell Strategy Group and longtime Trump supporter and donor.
The firm recently signed the Society of Nurse Scientists Innovators Entrepreneurs & Leaders to work on a pro bono basis, Tamasi said, to help the group as it forms a network to distribute personal protective equipment. Its two other new clients — prepared food company Compass Group USA and biometrics company Veridos America — also need help maneuvering in an uncertain climate.
"There are a lot of people banging on Treasury's door these days, and so you've got to be strategic and judicious about your asks and how you get information. You need to understand the rhythms of the people there, based on working experience," Tamasi said. "That is how you're able to make sure your clients get a clean look and are able to have their information reviewed and have conversations to understand what's coming next."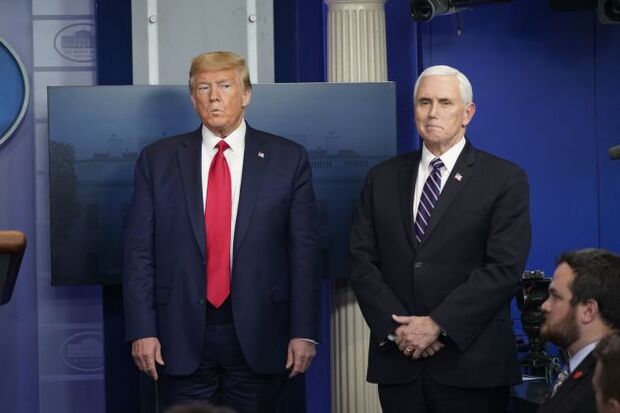 Washington 'Maze'
Ballard Partners, a bipartisan Florida-based firm staffed with a number of former Trump aides, also has four new Covid-19-tied clients, including the Millennium Physician Group, which is seeking to weigh in on "economic development and regulatory relief" efforts, and cleaning product company NanoPure on "environmental safety in response to the COVID-19 virus."
Brian Ballard, the firm's founder, is the vice chair of the Republican National Committee's finance committee and led Trump's campaign in Florida in 2016.
"For many, Washington is a maze to them. They have an issue, but they don't know where to go," said Justin Sayfie, a partner at Ballard Partners who serves on the President's Commission on White House Fellowships in the Trump administration. He also held that position in the George W. Bush administration.
"That's definitely something we help clients with, because we have an understanding of who the decisionmakers are in Congress and who the decisionmakers are in the vastness of the executive branch," he said.
Read More: 3M Among Dozens Hiring Lobbyists as Covid-19 Aid Starts to Flow
Laundrylux, which makes coin-operated washing machines, hired the firm on March 21 to help it be classified by the federal government as "essential," according to disclosures. That allows the company to keep operating during temporary shutdowns. Days later, Fidelity National Financial, Inc., also looking to be classified as essential, hired Ballard and Pam Bondi, the former Florida attorney general who rejoined the firm last month after serving as a senior adviser to Trump's defense team during the impeachment process.
The Department of Homeland Security included the workers at "laundromats, laundry services, and dry cleaners" in its list of essential businesses. Those who "provide, process and maintain systems for processing, verification, and recording of financial transactions and services" were also included.
Sayfie said the firm doesn't use its close connections with the Trump administration to attract business. He noted that much of it comes from existing clients' referrals.
Avenue Strategies, a firm founded by former Trump campaign adviser Barry Bennett, added two new coronavirus-related clients to its roster.
Disclosures indicate Bennett will lobby on behalf of Arcturus Therapeutics, touting the company's "technology and science as a potential solution to limit the spread and adverse effects of the COVID-19 virus." He'll also work for web hosting company Endurance International Group, related to legislative efforts to help small businesses.
Jeff Miller, who runs Miller Strategies, is lobbying for the California Business Roundtable on economic relief efforts. Diagnostics company Nuclein hired Miller and his team — which includes a former aide to Vice President Mike Pence during his time as a congressman — to work on "issues as they relate to infection disease diagnostics technology, specifically for COVID-19."
Political Donations
Last year, Ballard contributed $100,000 to Trump's re-election committee, the Republican National Committee (RNC) and Trump Victory, a joint committee between the RNC and Trump's campaign, according to the most recent records available.
Miller donated $66,000 to those three entities. Tamasi had $40,800 in donations to those committees in 2019.
Ballard, Miller and Tamasi are also Trump campaign bundlers, collectively raising last year $1.3 million, $485,000 and $42,034 for Trump Victory, respectively, according to the most recent records.
To contact the reporter on this story: Megan R. Wilson in Washington at mwilson@bgov.com
To contact the editors responsible for this story: Kyle Trygstad at ktrygstad@bgov.com; Bennett Roth at broth@bgov.com
Stay informed with more news like this – from the largest team of reporters on Capitol Hill – subscribe to Bloomberg Government today. Learn more.