3M Among Dozens Hiring Lobbyists as Covid-19 Aid Starts to Flow
Business has boomed on K Street since the coronavirus outbreak, with lobbying firms bringing in more than 100 new clients to work on congressional relief efforts and issues tied to Covid-19.
The influx represents about 40% of all new lobbying clients that were signed between Feb. 24 and April 7, according to a Bloomberg Government analysis of lobbying disclosures maintained by the Senate.
Hires by the health care industry comprise about one-third of all new Covid-19-connected lobbying contracts, with pharmaceuticals, telemedicine companies, medical device manufacturers, and medical centers or clinics all bringing on lobbying firepower.
Among the companies tapping lobbyists was 3M, which this week reached a deal with the Trump administration to produce 55.5 million masks a month for health workers in the U.S.
Hospitals have asked for more funding to help deal with the crisis, while many of the biopharmaceutical firms or research institutions that have hired lobbyists are working on treatments or vaccines.
Read More: Coronavirus Response Legislation Spurs Hiring Spree on K Street
But the list of new clients includes an array of interests including the makers of clothes, slot machines, laundry equipment and textbooks. Aerospace and defense companies, municipalities, education companies, higher-education institutions, and clients in the food and agriculture sector have also flocked to K Street.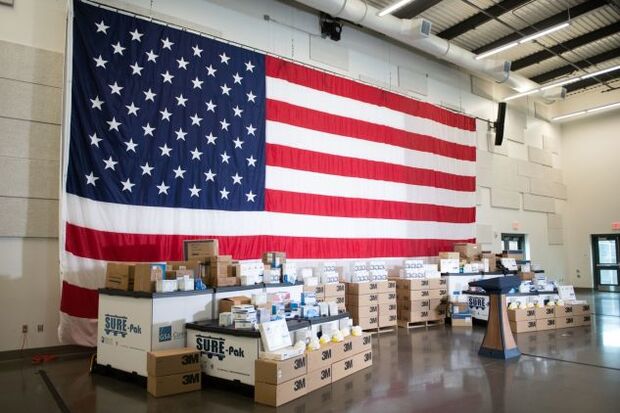 Of 104 new coronavirus-related contracts identified, the actual number is likely much higher, as firms have up to 45 days after signing a client to file paperwork.
Brownstein Hyatt Farber Schreck reported signing 14 new clients since the beginning of March. Nine, including the National Retail Federation and the Tunica-Biloxi Tribe of Louisiana, listed Covid-19 relief measures as the only issue on the agenda.
Confluence Government Relations began lobbying for 3M Co. on Feb. 24, the earliest disclosed instance of Covid-19-specific advocacy, according to available disclosures. The firm said it would lobby on appropriations, "issues related to manufacturing of respirators and liability protection during health emergencies," and policy areas unrelated to the pandemic.
The work began on the same day 3M, which makes N95 respirator masks, announced it would partner with Ford Motor Co. and General Electric Co. to ramp up the production of medical equipment to help meet increasing demand.
About two weeks later, 3M added Marshall & Popp, a firm founded by former senior aides to Senate Majority Leader Mitch McConnell (R-Ky.) and Sen. John Cornyn (R-Texas), to work on the same issues.
The company has six additional firms already on retainer.
To contact the reporter on this story: Megan R. Wilson in Washington at mwilson@bgov.com
To contact the editors responsible for this story: Kyle Trygstad at ktrygstad@bgov.com; Bennett Roth at broth@bgov.com