Texas Special Election Provides Clues for Hispanic Voter Support
GOP sees the race as early referendum on Biden policies
Also elections in Alaska, California, Minnesota, Nebraska
Republicans are eyeing a special election in a heavily Hispanic south Texas district as a bellwether ahead of the midterm elections that could deliver them the House majority.
The June 14 contest in Texas' 34th District, an 84% Hispanic area that abuts the Mexico border, is an inviting target for Republicans. In a longtime Democratic stronghold, the district voted for Joe Biden over Donald Trump by just 4 percentage points in the 2020 election, when Republicans made unexpected big gains in the Rio Grande Valley.
The Texas election "could be a real pre-election barometer of how Hispanic voters have moved," said David Wasserman, the House editor for the nonpartisan Cook Political Report with Amy Walter. "I think it's one that could draw more national attention than the others," he added.
Triggered by the resignation last month of former Rep. Filemon Vela (D), it may be the most competitive of the five special elections set for this spring and summer. There are also contests to fill vacancies in Republican-leaning districts in Alaska, California, Minnesota, and Nebraska as a result of deaths, the conviction of one former lawmaker, and the early departure of another.
Special election winners running for re-election in November could get a boost in name recognition and fundraising. The victors also will be able to participate in any lame-duck legislative session after the election and before the new Congress convenes in January.
Republicans see the special election in Texas as an early referendum on Biden's policies, including his management of border security and immigration. The leading Republican candidate is Mayra Flores, a Mexican-born GOP activist and health-care worker who on March 1 won the Republican nomination for a full two-year term under new district lines.
Torunn Sinclair, a spokeswoman for the National Republican Congressional Committee, said the GOP will win the race "because Democrats have abandoned voters in the Rio Grande Valley while wreaking havoc with their border crisis."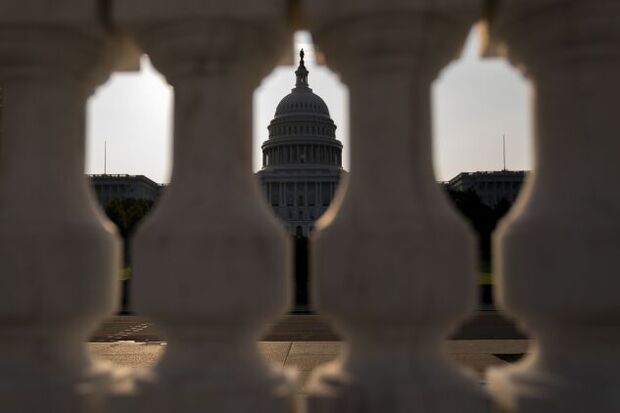 Democrats acknowledge the special election may be competitive but say Flores won't win the full-term election in the 34th District, which became more strongly Democratic after redistricting. Rep. Vicente Gonzalez (D), who now represents the adjacent 15th District, is seeking re-election in the new 34th in November but not running in the special election.
"A Democrat will be sworn in to represent Texas's 34th Congressional District in January 2023. If the Republican Party wants to light their money on fire for a seat that is completely out of their reach come November, we warmly invite them to do so," said Monica Robinson, a spokeswoman for the Democratic Congressional Campaign Committee.
Dan Sanchez (D), a former county commissioner, is running in the special election.
Republican Juana Cantu-Cabrera, who took 7% in the March primary won by Flores, filed to run on April 12 and could keep Flores below the vote majority needed to win the all-candidate, single-ballot June election. If no one wins a majority, the top two finishers will compete in a runoff in August.
Here's a look at the other four special elections on tap:
California's 22nd District (June 7)
Connie Conway (R), a former California assemblywoman and county supervisor, is favored to complete the unexpired term of ex-Rep. Devin Nunes (R) in a Republican-leaning swath of central California.
In the first-round ballot on April 5, Conway won 35% of the vote to top a six-candidate field that included three other Republicans and two Democrats including Lourin Hubbard, who was in second place with 19%.
California's 22nd, which includes parts of Fresno and Tulare counties, backed Trump in 2020 by a modest 52%-46% margin. But it also voted 58%-42% to recall Gov. Gavin Newsom (D) in 2021, and the four Republicans on the April 5 ballot combined to win 66% of the total vote compared with 34% for the two Democrats.
Neither Conway nor Hubbard is running for a full term in any district following the implementation of new congressional district lines that will be used in the regularly scheduled June 7 primary, held the same day as the special election. Most of the people who live in the 22nd District were shifted to districts where Minority Leader Kevin McCarthy (R) and Rep. Jim Costa (D) are seeking re-election.
Nebraska's 1st District (June 28)
State Sen. Mike Flood (R) has the edge to succeed ex-Rep. Jeff Fortenberry (R) in a Lincoln-area district Trump won by 15 percentage points.
Republican officials on April 9 nominated Flood to face state Sen. Patty Pansing Brooks (D), who secured her party's nomination April 5. In Nebraska special elections, nominees are chosen by party officials and not in primaries.
Flood and Pansing Brooks also are the leading candidates for the full-term election, starting in the May 10 primary. Both had been challenging Fortenberry, who resigned March 31 after being convicted for lying to federal investigators about illegal campaign contributions.
Minnesota's 1st District (Aug. 9)
Ten Republicans and eight Democrats are vying in May 24 primaries to succeed Jim Hagedorn (R), who died in February.
The Republican candidates include state Rep. Jeremy Munson, ex-state Rep. Brad Finstad, and Jennifer Carnahan, Hagedorn's widow. Carnahan was forced to resign as head of the state Republican Party last summer after a top GOP donor was indicted on charges of sex trafficking with minors.
Democratic candidates include former Hormel CEO Jeff Ettinger and Richard Painter, former President George W. Bush's top ethics lawyer who's been highly critical of Donald Trump and who ran for the Senate in 2018.
The 1st District takes in all of Minnesota's southern border and includes the cities of Rochester, Mankato, and Winona. Trump carried the district by 10 points, though both of Hagedorn's general elections were close.
Alaska's At-Large District (Aug. 16)
Four dozen candidates are running to succeed Don Young (R), who'd represented Alaska's only House district for more than 49 years — about 78% of its time as a state — when he died last month.
The best-known candidate is former Gov. Sarah Palin, the 2008 Republican vice-presidential nominee and early Trump backer who quickly secured the former president's endorsement. Al Gross, an orthopedic surgeon and political independent, is also seeking the seat and could win Democratic support, as he did as in an unsuccessful 2020 bid to unseat Sen. Dan Sullivan (R).
Other Republicans in the race include Nick Begich III, a businessman who was challenging Young in the Republican primary and who's the namesake grandson of the late Democratic congressman Young replaced; state Sen. Josh Revak; former state Sen. John Coghill; and Tara Sweeney, who was the Interior Department's assistant secretary for Indian Affairs under Trump.
The contenders also include Democrat Christopher Constant, an Anchorage assemblyman, Emil Notti, 89, who was the Democratic nominee against Young in 1973, and independent Andrew Halcro, a former Alaska Republican legislator who ran against Palin in 2006.
Not only is an open seat in Alaska unusual, so too is the new process to select Young's replacement. All 48 candidates will appear on one ballot in the June 11 primary, which will be conducted by mail. The top four finishers will advance to an Aug. 16 election that will be held using a ranked-choice voting system in which voters rank candidates by preference on their ballots.
Adding to the confusion, the special election will coincide with the regularly scheduled primary for a full term. Look for both parties to engage in intensive voter-education efforts. Trump carried Alaska by 10 points in 2020, but the state has an independent streak.
To contact the reporter on this story: Greg Giroux in Washington at ggiroux@bgov.com
To contact the editors responsible for this story: Bennett Roth at broth@bgov.com; Kyle Trygstad at ktrygstad@bloombergindustry.com