GOP Scion of Alaska Democratic Family Taking on Rep. Don Young
Nick Begich III is grandson of congressman Young replaced in 1973
His uncles are former Sen. Mark Begich, state Sen. Tom Begich
Alaska businessman Nick Begich III, a Republican from a family of Democratic officeholders, is challenging Rep. Don Young, who succeeded Begich's grandfather in 1973.
"What I'm hearing from Alaskans all over the state is that they're ready for some new leadership," Begich, 44, said in an interview a day after filing paperwork with the Federal Election Commission. "They're ready for some new ideas, some fresh energy, and they're really looking forward to someone who can help lead the state in the 21st century."
Young, 88, has been Alaska's lone House member for almost half a century, is the longest-serving Republican in the history of Congress, and is the most senior House member in the 117th Congress. The former chair of both the Natural Resources and the Transportation and Infrastructure committees has frequently invoked the importance of his seniority to Alaska.
Begich said seniority is valuable "if you are able to show up."
"The congressman, I have a tremendous amount of respect for him," Begich said. "But he's older than Joe Biden, and he's missed a lot of votes recently."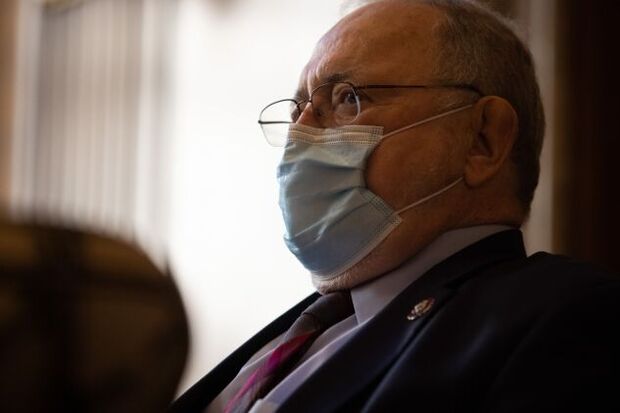 Begich is a nephew of former Sen. Mark Begich (D) and current state Sen. Tom Begich (D), and the paternal grandson of Nick Begich (D), who was Alaska's House member in October 1972 when a plane carrying him and House Majority Leader Hale Boggs (D-La.) disappeared while on a campaign flight in Alaska. Begich was re-elected in November over Young. After the seat was declared vacant, Young won a March 1973 special election and has held the seat ever since.
Though the Begich name is associated with Alaska Democrats, candidate Begich said his wife and mother are Republicans and his father, Nick Begich Jr., is a registered Libertarian.
"I think just like any family, you've got people from all over the political spectrum," Begich said. "And we don't always see eye to eye with one another on our political views, but we care about each other, we love each other, we respect each other, and I think that's like most families."
Begich's campaign manager is Truman Reed, who ran Young's re-election campaign in 2020. Begich III served as a co-chair of that campaign, which Young won 54%-45% over challenger Alyse Galvin. Donald Trump defeated Biden in Alaska 53%-43%.
'In it to Win it'
Begich said he's been "building businesses my entire career" and described himself as a "strong conservative" who would focus on combating "censorship" on large technology platforms and "reckless" government spending proposals.
Young has a conservative voting record but has backed some Democratic labor and environmental bills. In March, he was among five House Republicans who voted for the PRO Act (H.R. 842), which would expand protections for private sector workers' right to unionize. In July, he was among 23 House Republicans who voted for the PFAS Action Act of 2021 (H.R. 2467), which would direct the Environmental Protection Agency to regulate and mitigate pollution from per- and polyfluoroalkyl substances (PFAS) known as "forever chemicals."
Young's campaign committee, Alaskans for Don Young, said in an e-mailed statement that Young "is in it to win it. He welcomes challengers to the race, and looks forward to once again earning Alaskans' trust. Congressman Young knows how to get things done; he is excited to take his message of experience and conservative values across the state."
Alaska is set for some significant changes in how it conducts elections. It will begin holding nonpartisan primaries next year under which the top four vote-getters advance to the general election, which will be held for the first time using a ranked-choice system that allows voters to rank candidates in order of preference.
"It really changes the dynamics of a race, and what's interesting about it is it does allow for other candidates to have a larger voice than they may have otherwise had," Begich said.
To contact the reporter on this story: Greg Giroux in Washington at ggiroux@bgov.com
To contact the editors responsible for this story: Kyle Trygstad at ktrygstad@bloombergindustry.com; Bennett Roth at broth@bgov.com