Texas Primary Draws Contenders in More Partisan House Districts
Most election competition will be in winning nominations
Lone Star State to hold first congressional primary in March
The 2022 House elections in Texas will feature more competition in the March primaries than in November, after Republican redistricting crafted almost all of the 38 districts as one-party bastions.
It's possible there will be only one highly competitive race next fall in the nation's second most-populous state. That's according to a Bloomberg Government analysis of the 2020 election results in the new districts, as well as the slate of candidates who met this week's filing deadline to compete in the first-in-the-nation congressional primary.
Democrats, who fielded candidates in every Texas district in 2020, will have none running in six districts next year, according to a list compiled by the Texas Secretary of State's office. Republican Reps. Jake Ellzey, Roger Williams, and John Carter didn't draw Democratic opposition after being significantly strengthened by redistricting.
Democrats will also be hard-pressed to run competitive campaigns against other Republican incumbents including Michael McCaul, Beth Van Duyne, Chip Roy, and Troy Nehls, who also were bolstered by new district lines after winning by single-digit percentage-point margins in 2020.
The GOP-led redistricting shored up House Republicans after they won 23 of 36 Texas districts in the 2020 election, including 11 with less than 56% of the vote. Donald Trump would have carried 25 of the 38 reconfigured districts in 2020, all but two of them by more than 12 points. President Joe Biden would have carried 13 districts, all but one of them by at least 12 points.
"Unlike 2020 or 2018, there's not much in the way of competitive races to run in," said Mark Jones, a political scientist at Rice University in Houston. "Most of the districts have been redrawn in such a way that they are a lock for Republicans or a lock for Democrats."
"In 2022 in Texas, I wouldn't expect much movement. I would look to later cycles," said Cal Jillson, a political scientist at Southern Methodist University in Dallas.
The fast-growing Lone Star state added two districts in reapportionment. The U.S. Justice Department this month filed suit against the new Texas map, alleging that the changes unlawfully dilute the voting power of Latino and Black residents.
Kelly Burton, the president of the National Democratic Redistricting Committee, said the map increased the number of white-majority districts after 95% of the state's net population growth during the 2010s came from people of color.
"What you should see in the map in Texas is an increase in districts where communities of color have an ability to elect candidates of their choice and have the ability to influence the outcome of the election," Burton said on Bloomberg Government's "Downballot Counts" podcast.
Republican state Sen. Joan Huffman, the chair of the Texas Senate redistricting committee, said during the legislature's consideration of the map that districts were drawn "blind to race" and complied with the Voting Rights Act.
( Sign up for Ballots & Boundaries, a weekly check-in as states change voting laws and revise political districts.)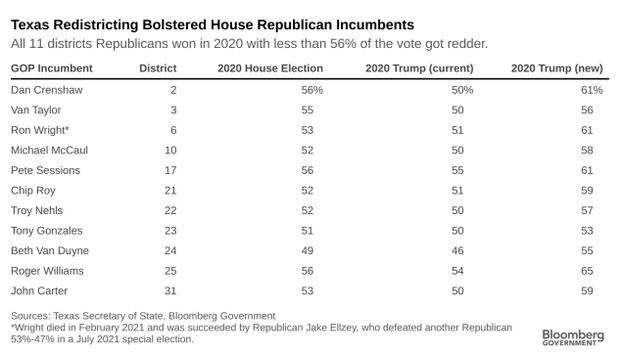 Here's a look at some Texas districts to watch in the March 1 primary. Runoffs, if needed, would be held on May 24. Each district number is followed parenthetically by the vote percentages that Biden and Trump would have received there in 2020.
1st District (Trump 72%-26%): Rep. Louie Gohmert (R) is running for Texas attorney general, and the GOP primary or runoff will determine Gohmert's successor in one of the nation's most strongly conservative districts. Republican candidates include Nathaniel Moran, the elected judge in Smith County (Tyler), the most populous jurisdiction in the district.
3rd District (Trump 56%-42%): Rep. Van Taylor's (R) district, anchored in fast-growing Collin County north of Dallas, became more Republican after redistricting. Taylor drew several primary opponents including Keith Self, Collin County's former elected judge and an Army veteran, and Suzanne Harp, an investment bank executive whose son is chief of staff to Rep. Madison Cawthorn (R-N.C.). Taylor was one of the 35 House Republicans who voted for a bill that would have created a bipartisan commission to investigate the Jan. 6 attack on the Capitol.
8th District (Trump 63%-36%): The 11-candidate Republican primary is the race to watch in a district enveloping parts of Harris and Montgomery counties in metropolitan Houston. Rep. Kevin Brady, the top Republican and former chair of the Ways and Means Committee, isn't seeking re-election. Would-be successors include Morgan Luttrell, a retired Navy SEAL backed by former Gov. Rick Perry; Christian Collins, Brady's former campaign manager and a former aide to Sen. Ted Cruz (R), who endorsed Collins; and Jonathan Hullihan, a lawyer and Navy veteran.
15th District (Trump 51%-48%): On the Biden-Trump numbers, the reconfigured 15th is the most competitive district in Texas—an unusual claim to fame for a border district that's 81% Hispanic and was reliably Democratic before Republican gains in 2020, when Biden carried it by 2 percentage points and Rep. Vicente Gonzalez (D) was re-elected by 3 points. Redistricting prodded Gonzalez to run for re-election in the more Democratic 34th District next door.
Businessman Monica De La Cruz, who was Gonzalez's opponent in 2020, is among the Republicans seeking the nomination. She was one of the first candidates endorsed by House Republican Conference Chair Elise Stefanik (N.Y.), who's working to elect more Republican women to Congress. The Democratic candidates include Ruben Ramirez, a lawyer and Army veteran, and Michelle Vallejo, a businesswoman.
23rd District (Trump 53%-46%): Redistricting bolstered first-term Rep. Tony Gonzales (R) in a district that stretches hundreds of miles from San Antonio west to El Paso. John Lira, a Marine Corps veteran, probably is the leading Democratic candidate. Democrats protested the reduction of the district's Latino population percentage to 63% from 68% in redistricting.
28th District (Biden 53%-46%): Rep. Henry Cuellar, a centrist Blue Dog Democrat and the only House Democrat opposed to abortion rights, faces progressive immigration lawyer Jessica Cisneros in a rematch of their close 2020 primary. Tannya Benavides, a former teacher, also is seeking the Democratic nomination.
Redistricting made the 28th marginally more Democratic-leaning, though Republicans could seriously compete here if they build upon their improved 2020 showing with Latino voters—and particularly if Cisneros unseats Cuellar, who has bipartisan appeal and ran well ahead of Biden's performance in the 2020 general election. Cassy Garcia, a former Cruz aide, has the senator's support in the Republican primary.
If Cisneros beats Cuellar, "then that district becomes much more vulnerable, especially if Cassy Garcia ends up being the Republican candidate," Jones said.
Read More: South Texas Rematch Pits Centrist Incumbent Against Progressive
30th District (Biden 78%-21%): House Science, Space and Technology Committee Chair Eddie Bernice Johnson (D) is retiring after three decades from a Black-plurality district in the Dallas area, and the crowded Democratic primary is the contest to watch. State Rep. Jasmine Crockett has Johnson's endorsement.
34th District (Biden 57%-42%): Gonzalez eschewed a re-election bid in the competitive 15th District to run instead to succeed Rep. Filemon Vela (D), who's retiring from a border district that's more friendly to Democrats. Gonzalez faces several challengers in the primary. The best-funded Republican is Mayra Flores, a respiratory therapist practitioner who came to the U.S. from Mexico as a child.
35th District (Biden 72%-26%): The open-seat Democratic primary is the key race in a Hispanic-majority district that connects parts of Travis County (Austin) and Bexar County (San Antonio) via Interstate 35. The candidates include Austin councilman Greg Casar, state Rep. Eddie Rodriguez, and former San Antonio councilwoman Rebecca Viagran.
Rep. Lloyd Doggett (D) lives in the district, but he's running for re-election in the newly created 37th District, a Democratic bastion dominated by Travis County.
38th District (Trump 58%-40%): Republican mapmakers carved out a new GOP-leaning district in west-central Harris County that 10 Republicans are seeking. They include Wesley Hunt, an Army veteran who ran competitively against Rep. Lizzie Fletcher (D) in the 7th District in 2020. Redistricting shifted more Democrats into Fletcher's district to accommodate the creation of the GOP-leaning 38th.
To contact the reporter on this story: Greg Giroux in Washington at ggiroux@bgov.com
To contact the editors responsible for this story: Bennett Roth at broth@bgov.com; Kyle Trygstad at ktrygstad@bloombergindustry.com