What Category Management Means for Your IT Contract
Federal agencies are facing pressure from the White House Office of Management and Budget to shift IT investments from stand-alone contracts to contracts designated as "Best in Class" as part of its category management strategy.
The stratification of IT contract vehicles as OMB expands its category management efforts may lead to cost savings and improve the performance of the federal government's IT investments. It could also lead to stiffer competition spots on BIC contracts, reduce the number of firms competing, drive additional merger and acquisition activity, or put incumbents at risk of not winning follow-on contracts.
Current Spending on 'BICs'
To analyze federal IT spending on "Best in Class," or BIC, contracts, Bloomberg Government created a market definition for all BIC contracts using the list available on the General Services Administration's Acquisition Gateway.
Agencies spent about $18.5 billion on information technology through BIC contracts in fiscal 2018, representing almost 30 percent of governmentwide IT contract spending, according to BGOV's analysis. However, the use of BICs for IT purchasing varies widely by agency.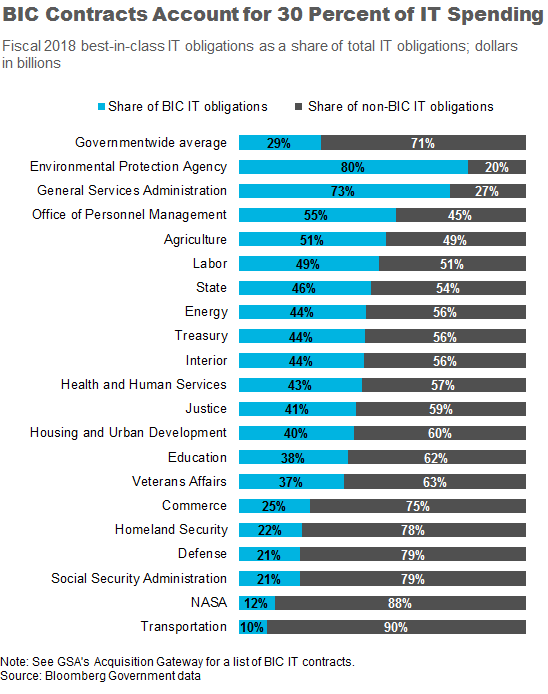 The Transportation Department put only 10 percent of its IT spending on BIC contracts in fiscal 2018, NASA only about 12 percent. The departments of Defense and Homeland Security spent 21 and 22 percent of their IT dollars, respectively, through BIC contracts in fiscal 2018, well below the governmentwide average of 29 percent.
GSA, which manages most BIC contracts, used them for almost three-quarters of its IT contract spending. The Environmental Protection Agency relied on BICs for 80 percent of its IT needs.
Each agency's IT requirements are different, and it's not necessarily true that BICs are the right solution in every scenario. Nevertheless, agencies with relatively low BIC usage may experience greater pressure from OMB to rethink their contracting strategies.
Category Management Changes
A March 20 memorandum from OMB directed agency leaders to implement category management measures in an effort to reduce unnecessary and duplicative investments. OMB's category management strategy calls on agencies to reduce ad hoc spending and replace it with spending on governmentwide acquisition contracts that are subject to greater oversight, standardized pricing, and data sharing requirements.
"The Government must take action now to buy more like an enterprise, and less like hundreds of individual entities," the memo states.
OMB instructs each agency to divide contract spending into four distinct tiers:
Tier 0 – Unmanaged or ad hoc spending lacking central oversight and without consideration of pricing or performance data from other customers;
Tier 1 – Spending that is managed at the agencywide level with some mandatory-use policies, data analysis, and use of metrics;
Tier 2 – Spending that is managed through governmentwide or multi-agency contracts with strong management practices and cross-agency metrics; and
Tier 3 – Spending with BIC contracts, which have been certified as offering the best pricing and terms in the federal marketplace.
About 56 percent of the more than $325 million agencies spent on commodity goods and services falls into Tier 0, according to OMB. Similarly, OMB estimates that BICs save federal agencies 10-15 percent compared with other vehicles.
The memo instructs each agency to designate a senior accountable official, or SAO, who will be responsible for updating OMB on progress in shifting spending toward higher tiers. Agencies will be required to develop an analysis of alternatives (AoA) to justify every Tier 0 investment over $50 million and every Tier 1 investment over $100 million.
Defining the Tiers in Federal IT
In the absence of clear guidance from OMB, Bloomberg Government developed a methodology to help subscribers understand which types of contracts fall into which tiers.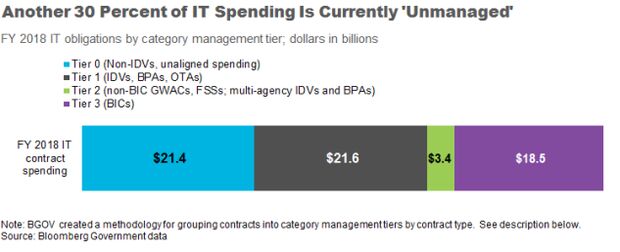 Tier 3 is reserved for BIC contracts, which collectively accounted for $18.5 billion in obligations in fiscal 2018.
Tier 2 includes any remaining IT spending on other governmentwide acquisition contracts (GWACs) or federal supply schedules (FSSs) that aren't designated as BICs. Also included in Tier 2 are a handful of blanket purchase agreements (BPAs) and indefinite delivery vehicles (IDVs), but only those that service multiple federal agencies.
Tier 1 includes the vast majority of IDVs and BPAs, specifically those that support only a single agency, as well as "other transaction" agreements (OTAs).
Tier 0 encompasses the remaining $21.4 billion, which is mostly made up of definitive, or non-IDV contracts, and other unaligned spending.
There may be some debate about the boundaries of each tier. But for the purposes of this analysis, BGOV defaulted to placing each contract vehicle type in the most conservative tier possible.
Contracts at Risk
Using the methodology described above, Bloomberg Government found hundreds of IT contracts and task orders that may be at risk of being shifted to a higher-tier contract once they expire, or not being recompeted at all. This is especially true of large contracts exceeding the $50 million or $100 million thresholds for Tier 0 and Tier 1, respectively.
BGOV identified more than 17,000 Tier 0 IT contracts, valued collectively at $19.2 billion, that are set to expire between May 1, 2019, and Sept. 30, 2020. Of these, 48 — worth a combined $12 billion — have generated $50 million or more in transactions to date. As non-IDV contracts, there is a high likelihood that these contracts will not be recompeted once they expire. If additional work is required, agencies will face pressure to shift that spending onto BICs or other GWACs.
Similarly, BGOV found 169 Tier 1 IT task orders, each with a total value of $100 million or more, that will expire by Sept. 30, 2020. These task orders have generated a combined $18.2 billion to date. Based on the guidelines described in the March 20 category management memorandum, if agencies want to recompete these task orders using the same contract vehicles, they will have to complete an AoA to justify that decision.
The contractors facing the greatest exposure to this risk are Leidos Holdings Inc., with 63 such task orders that have generated $2.9 billion to date, followed by General Dynamics Corp. (13 generating $2.3 billion), Northrop Grumman Corp. (14 generating $2.2 billion), and Enterprise Services LLC (11 generating $1.7 billion).
Consolidation Is Coming
OMB's category management initiative may have the effect of further stratifying not only the contracts agencies use to buy IT goods and services, but also the vendors that supply them. Category management rewards a subset of high-performing vendors by prequalifying them for a pool of valuable contract opportunities on BICs. But at the same time, category management might represent a barrier to entry for some companies new to the federal market, or those that find it too costly to compete for or maintain a spot on those contracts.
Similarly, category management may drive further M&A activity as companies face pressure to remain competitive on the vehicles. On the one hand, winning a spot on a BIC could make a company more attractive to potential buyers. On the other, the loss of a spot on a preferred contract — an increasingly valuable revenue stream — could leave a contractor vulnerable to a takeover by a more financially stable firm.
Category management will increase the value of winning a spot on a BIC, as well as the opportunity cost of not doing so. In the long run, this may have the effect of consolidating contract earnings among a smaller pool of highly qualified contractors. It may also have the effect of reducing the total number of competitors, as firms unable to secure spots on preferred contracts exit the market.
Chris Cornillie is a federal market analyst with Bloomberg Government.
To contact the analyst on this story: Chris Cornillie in Washington at ccornillie@bgov.com
To contact the editors responsible for this story: Daniel Snyder at dsnyder@bgov.com; Jodie Morris at jmorris@bgov.com
Read more editions of Technocrat