PAC Money Plunge Offset by Explosion in Online Campaign Giving
Congressional campaigns relying less on PAC money
Boom in small-dollar donors who respond to requests
The steep dropoff in political action committee contributions to members of Congress this year likely won't bring the same concerns for incumbents that it once might have.
Precipitated by the Jan. 6 attack on the Capitol, congressional campaigns' total PAC receipts of $76.8 million through two quarters were about 31% lower than in the comparable period in the 2020 election cycle, according to FEC figures analyzed by Bloomberg Government. But PAC money as a percentage of overall fundraising was already on the decline.
Since the 2018 election cycle, congressional campaigns have capitalized on the boom in small-dollar donations and relied on PAC money far less than in the past. In the first half of the last decade, PAC money consistently accounted for a quarter of total funding of House and Senate campaigns. By 2020, PAC money's share fell to 12%.
Online contributions by small-dollar donors "have exploded," said Rick Pildes, a New York University law professor who studies campaign financing.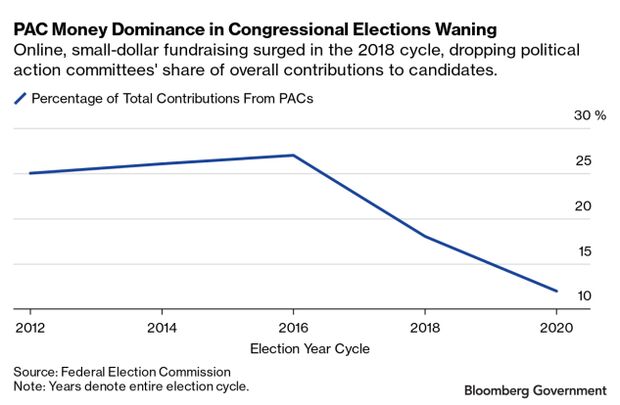 Shifting Sources
No one illustrates the fundraising trend better than House Minority Leader Kevin McCarthy (R-Calif.).
As recently as the 2018 midterms, McCarthy's campaign committee received $3.2 million—40% of its total—from corporate and other PACs, while collecting only $23,000 from donors giving less than $200 each. In the first six months of this year, McCarthy collected less than 1% of his $6.3 million total from PACs while raking in $2.3 million from small-dollar donors.
"Do you want to live in a Leftist dictatorship?" said one email signed by McCarthy that went out this month. It urged readers to click and contribute to Republicans if they want to "live in a free society that upholds America's traditional values."
Longtime Democratic fundraiser Mike Fraioli said PAC money and other large donations will continue to remain important to lobbyists and others seeking to meet with lawmakers at fundraising events, but the bulk of funding for candidates and party committees increasingly relies on message-driven online donations.
Donald Trump has been an online money machine for both parties. Democrats used anti-Trump messages to break fundraising records in the 2018 midterms. Republicans are still pressed to ally themselves with the former president to appeal to Trump-friendly online donors.
The online platform WinRed, which features Trump and his Save America PAC prominently on its website, processed more than $2 billion for Republican federal candidates in the 2020 election cycle, according to FEC reports. Republicans have been catching up to their more established Democratic counterpart ActBlue, which processed $4 billion for federal candidates in 2020 fueled in part by messages opposing Trump.
"You go along with Trump and press a button and money comes rolling in," said veteran election lawyer Kenneth Gross of the law firm Skadden Arps.
Political Pressure
PAC contributions bounced back modestly in the second quarter from the 40% drop in the three months immediately after Jan. 6.
The overall slowdown is due to corporate PACs, who were pressed to stop giving by watchdog groups and others. Republicans have been hit harder, collecting about $10 million less than Democrats in the first half of 2021.
Read More: PAC Giving to GOP Dives as Companies Retrench After Jan. 6 Riots
Dozens of companies said they'd cut off PAC giving, either to the 147 GOP lawmakers who voted against certifying President Joe Biden's election or altogether. Now, several big companies including Boeing Co., General Motors Co., and American Airlines Group Inc. are resuming PAC contributions.
To contact the reporter on this story: Kenneth P. Doyle in Washington at kdoyle@bgov.com
To contact the editors responsible for this story: Kyle Trygstad at ktrygstad@bgov.com; Bennett Roth at broth@bgov.com