PAC Giving to GOP Dives as Companies Retrench After Jan. 6 Riots
Contributions to congressional Republicans fell by half
Giving may pick up as 2022 midterm elections approach
Political action committee contributions to congressional lawmakers fell sharply in the first three months of the year, with Republicans taking the brunt of the plunge as a result of the fallout from the 2020 election and the Jan. 6 Capitol riot.
PAC contributions to incumbents decreased by about 40% to $26.9 million in the first quarter of 2021, compared to $43.4 million in the same period in the previous election cycle, according to the latest round of candidate disclosure reports filed with the Federal Election Commission and analyzed by Bloomberg Government.
As giving to Democratic incumbents dropped 29% to $15.8 million compared to the same period in the previous election cycle, it declined by roughly half, to $11.1 million, during the first quarter for Republicans.
Many large PACs curbed their giving to Republicans who objected to certifying the presidential election of Joe Biden even after Donald Trump supporters had stormed the Capitol.
"Folks for the time being are skittish" following the refusal of former President Donald Trump and his supporters to accept last year's election result, Bruce Freed, head of the nonprofit Center for Political Accountability, said in a phone interview.
The figures include money contributed by PACs directly to a lawmaker's campaign committee. They don't include other contributions, such as to party committees or leadership PACs linked to lawmakers.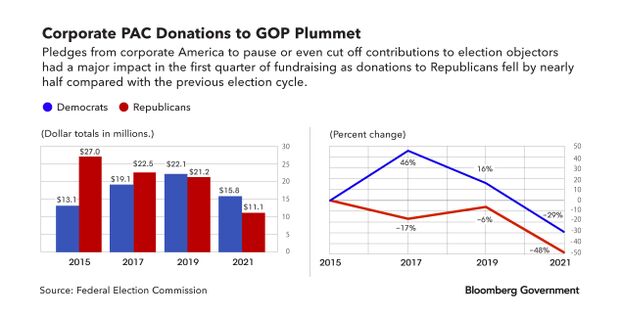 Contributions fell most dramatically for top Republicans in Congress. House Minority Leader Kevin McCarthy (R -Calif.), who received more than a half a million dollars in PAC money in the first quarter of 2019 and over $300,000 in the comparable period in the previous two cycles, got only $2,800 this year from two PACs: the National Federation of Independent Business and the California Beet Growers Association.
Senate Republican Leader Mitch McConnell (R-Ky.), who was re-elected in 2020, received no PAC contributions to his campaign committee in the first quarter of this year, compared to nearly $659,000 the same period in 2019.
McCarthy voted in January with most House Republicans to support Trump's objections to the Electoral College vote count. McConnell didn't support the objections but voted against impeaching Trump over the Capitol riot.
The pullback may signal the diminishing of the historically dominant role of corporate PACs in fundraising, as companies seek to distance themselves from the increasingly toxic partisan warfare in Washington and in state capitals.
The pause in giving, however, may only be a temporary blip that will end when the news cycle and public attention have shifted, said Freed, who's followed trends in corporate political giving for nearly two decades. There could be more pressure on companies to give as the midterm elections get closer, especially if there's an impression that Republicans have a shot at taking back the House and Senate majorities, he said.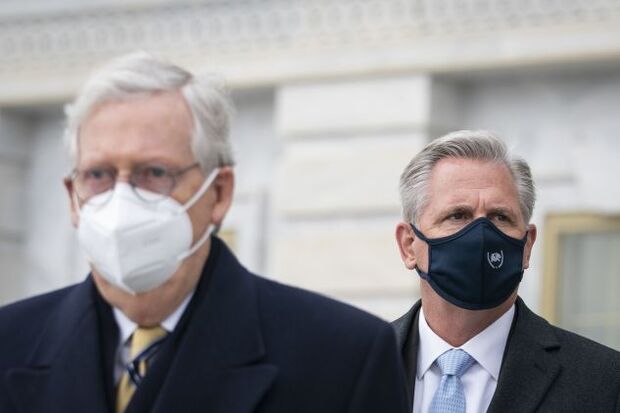 PAC Pledge
Nearly 150 PACs pledged to halt contributions to members who refused to certify the presidential election or said they would pause political donations entirely. Contributions among the 108 of these PACs for which there is FEC data available dropped to $3.8 million during the first quarter of this year from $17 million in the first three months of the 2020 election cycle — a 78% decline, according to data compiled by BGOV.
A number of corporate and association PACs have been shuttered in recent months. The most prominent was financial services company Charles Schwab Corp., which announced shortly after the Capitol riot in January it would shut down its PAC and followed up by giving all its money to charity.
About a half-dozen corporate PACs quietly terminated in April, according to Brett Kappel, an election lawyer with the firm Harmon Curran. "The cost of having the PAC (the literal financial cost and the reputational cost of being tied to specific politicians) may outweigh the benefits (access to politicians)," he said in an email.
Some companies that paused PAC contributions to lawmakers who objected to the presidential vote certification have now resumed giving, including JetBlue Airways Corp., which defended the move by saying it would resume donations to candidates relevant to its business.
Read More: JetBlue Cites Business Ties in Donations to Election Objector
Some Republicans who voted against the election objections or for impeachment have continued to collect large amounts of PAC money, including Rep. Liz Cheney (R-Wyo.), the third-ranking House GOP leader, who received just over $300,000 in the first quarter.
Senate Majority Leader Chuck Schumer (D-N.Y.) was the biggest recipient of PAC contributions in the first quarter, as Democrats took over the Senate majority and Schumer prepared for a 2022 re-election bid. He received over $663,000 in PAC money.
Congressional fundraising consultants have acknowledged PAC giving pauses in solicitations to lobbyists. An email from a fundraiser for Sen. Tim Scott(R-S.C.) stated in large, bolded, highlighted, underlined text that the event was being held in the second quarter of the year. Another fundraising solicitation, on behalf of freshman Rep. Victoria Spartz (R-Ind.), noted that options were being sent for virtual events to be held through June, so that those taking a break from donations could consider giving later.
Republicans said they expect contributions will increase as the 2022 election approaches.
"The confluence of the pandemic, Jan. 6, and normal post-election fatigue are far less than even a month ago," said David Tamasi, a Republican fundraiser and a co-founder of lobbying firm Chartwell Strategy Group. "The pace of in-person fundraising and PAC giving is only going to continue moving forward."
With assistance from Megan R. Wilson and Cordelia Gaffney
To contact the reporter on this story: Kenneth P. Doyle in Washington at kdoyle@bgov.com
To contact the editor responsible for this story: Bennett Roth at broth@bgov.com