North Carolina Senate Race May Be Decided by Independent Voters
Primary set up match between GOP's Budd, Democrat Beasley
Republicans running ads, Democrats to decide later on TV
This week's Senate primary in North Carolina set up a marquee general election race for an open seat that's likely to result in a scramble to appeal to independent voters in the closely divided state.
Rep. Ted Budd (R-N.C.) will face off in November against Cheri Beasley (D), a former state Supreme Court chief justice, for the open seat held by retiring Sen. Richard Burr (R-N.C.).
Budd, a member of the conservative House Freedom Caucus who won the primary with the help of Donald Trump's endorsement, starts with an advantage in a state that the former Republican president narrowly carried twice. But both parties have identified the race as a competitive one.
Campaign officials say the candidates will need to appeal to the state's unaffiliated voters, who make up about a third of the electorate, especially in the state's fast-growing cities and suburbs.
"The middle does matter," said North Carolina Democratic strategist Morgan Jackson. "And it matters a lot in North Carolina because we're a 50/50 state. And you win races—I don't care if it's the presidential, a gubernatorial or a US Senate race—you win it on the margins."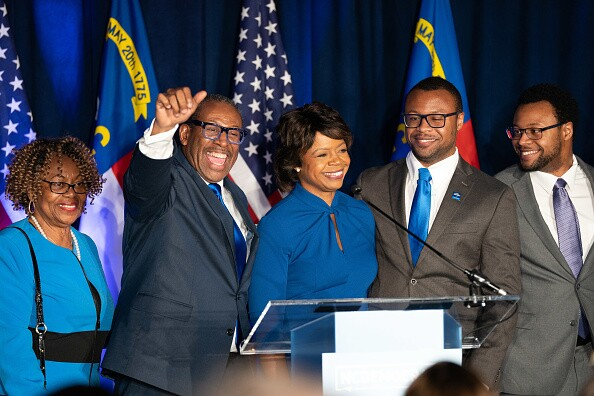 Former North Carolina Gov. Pat McCrory, who lost the primary after portraying himself as a traditional Reagan Republican, said Budd now faces an "extremely difficult race because of the large number of independents."
"You're already seeing Beasley move to the middle because she wasn't forced to the left during the primary, and now it's going to be interesting to see what Budd does," McCrory said in an interview.
Limited Resources
With control of the closely divided Senate at stake, Democrats will have to decide in the coming months what kind of resources to devote to North Carolina as they also try to win another open seat in Pennsylvania, unseat an incumbent Republican in Wisconsin, and shore up their party's incumbents in states such as Arizona, Georgia, and Nevada.
The Democratic Senatorial Campaign Committee and Senate Majority PAC, the super PAC aligned with Senate Majority Leader Chuck Schumer (D-N.Y.), haven't yet made advance ad reservation buys in the state, as they have elsewhere.
But the DSCC has invested in field staff there. A DSCC aide, speaking on condition of anonymity to discuss strategy, said ad reservations "could be added" later on. The group's initial slate of reservations allowed them to secure "affordable advertising rates" in other states, the aide said.
"Clearly, North Carolina is a really important state for us," DSCC Chair Gary Peters (D-Mich.) said in an interview Wednesday. "And we're watching it very closely and we're going to do what we can to help Cheri Beasley."
Beasley starts the general election with a financial advantage. Her campaign reported earlier this month having nearly $3.3 million on hand as of April 27. Budd by comparison entered the final stretch of the primary with almost $1.1 million in the bank.
Beasley faced only nominal opposition in the primary, allowing her to direct her TV advertising last month to a general election audience while Budd had to focus largely on winning his Republican base.
Read More: Trump Backing, Club for Growth PAC Lift Budd in North Carolina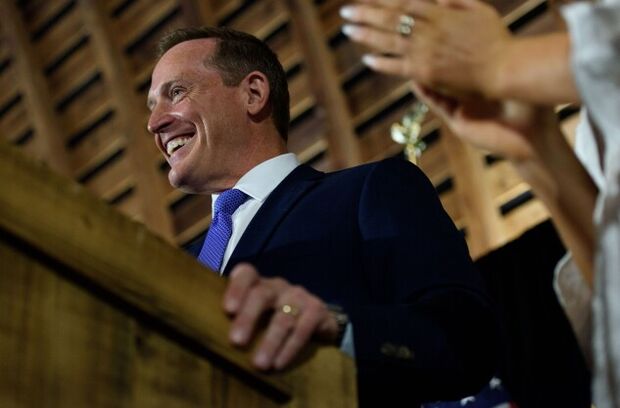 The National Republican Senatorial Committee is stepping in to bolster Budd, spending $1 million to run its first TV ad in the state this cycle. It criticizes Beasley for ruling in favor of people accused of committing violent crimes. The group has another $5.5 million in reservations teed up, according to NRSC independent expenditure director Joanna Burgos.
"Her ads are all about being the centrist, 'both parties are wrong,'" Sen. Thom Tillis (R-N.C.) said of Beasley in an interview. "But I don't think it's going to take much time for people to look back at specific positions that she's taken, some of them on the bench."
The Senate Leadership Fund, a Republican super PAC aligned with Senate Minority Leader Mitch McConnell(R-Ky.), has also reserved $27 million in TV advertising in the state this fall.
Recent polling conducted by Emerson College found Budd leading Beasley by 7 points, though Beasley's campaign released results of an internal survey that showed a tied race.
Beasley campaign manager Travis Brimm in a public memo Wednesday argued that Beasley, the first Black woman North Carolina Democrats have ever nominated to the Senate, was "well-positioned to win" the race given her personal and professional background. He touted her record combating human trafficking and support for police funding and contrasted that with Budd's status as a "deeply-flawed D.C. Insider."
"While Washington focuses on pointing fingers and passing blame, the people of North Carolina focus on working hard and getting things done," Beasley said in her primary victory speech Tuesday.
Peters said that Budd, in his "contentious primary" with McCrory and former Rep. Mark Walker (R-N.C.), has "worked very hard to be very far to the right."
"I think that's out of step with where a majority of folks in North Carolina are, particularly independent voters," Peters said. "They'll feel more comfortable with Cheri Beasley."
Election Objections
Budd's embrace of Trump's false allegations about the 2020 election and his support of objections to certifying presidential results in Pennsylvania and Arizona are also likely to provide fodder for Democrats.
Beasley has also emphasized her support for abortion rights, particularly after the leak of a draft Supreme Court opinion from a majority of the justices that would overturn the landmark Roe vs. Wade decision legalizing the procedure.
Budd in his victory speech bemoaned the rising costs of goods and fuel and the flow of migrants and opioids across the southern border. Budd's promise of economic opportunity based on Trump's economic policites appeals to those middle-of-the-road voters, Budd campaign adviser Jonathan Felts said.
"Do I think those voters will be important? Absolutely," Felts said in an interview. "Every voter's important. But I also think Ted Budd has a message that will resonate with them."
McCrory has not endorsed Budd for re-election after their scorched-earth primary, when the Club for Growth's super PAC spent millions of dollars attacking the former governor. Instead, McCrory used his concession speech Tuesday urging his supporters to demand "commonsense conservatism, maturity, and professionalism" from their nominee.
McCrory, in the interview, said he wants the two major party nominees to debate, rather than allowing both to "say as little as possible and hide." He also panned a Budd ad filmed at the southern border with a handgun tucked into the front of the congressman's pants.
"It's not befitting of, I think, a US senator," McCrory said. "But it made its point, and it may have worked."
To contact the reporter on this story: Zach C. Cohen in Washington at zcohen@bgov.com
To contact the editors responsible for this story: Bennett Roth at broth@bgov.com; Kyle Trygstad at ktrygstad@bloombergindustry.com