New Lines Force Lawmakers to Ramp Up Re-Election Fundraising
House Democrats at risk grew after unfriendly redistricting
Some "Frontline" members reported big campaign accounts
Redistricting has nudged three House Democrats into a situation they aren't accustomed to: on their party's most vulnerable list and under pressure to raise money.
As three of the newest additions, Reps. Sanford Bishop (Ga.), Dina Titus (Nev.), and Marcy Kaptur (Ohio) began 2022 with the least amount of cash on hand of anyone in the Democratic Congressional Campaign Committee's Frontline program, according to fourth-quarter fundraising reports due Monday. More than half of the program's 32 members had at least $2 million in cash on hand, while Titus and Bishop were the only two who had less than $1 million.
The Frontline designation is designed to steer campaign cash toward all the highlighted races and position the incumbents for a competitive race as the party fights to hold its five-seat majority in a challenging midterm election environment.
Mike Fraioli, a Democratic fundraiser, said the DCCC will do a "whole top-to-bottom campaign analysis" of the members on the list to ensure they're on pace and have the proper organization in place.
"The committee will connect with them now and say, 'OK, here's where you are, here's where you need to be, how's your call time, how's your finance structure, how's your digital operation, how's your PAC money?'" he said.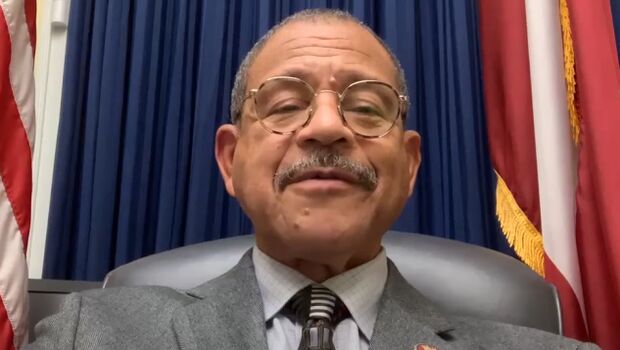 Bishop, a senior Appropriations Committee member who's been in the House since 1993, had $393,000 on hand, which was by far the lowest of any Frontline Democrat. The DCCC added Bishop to the list last week, after the Dec. 31 fundraising cutoff date for the new FEC reports. Georgia Republican legislators tweaked his mostly rural southwestern district to be slightly less Democratic-leaning.
Brent Comstock, a consultant and spokesperson for Bishop's campaign, said Bishop "has been a steadfast fighter for the hardworking people of Middle and Southwest Georgia" and a "powerful voice" for farmers, rural Georgia, the military, veterans, and working families.
"Our work is just getting started, and we're excited to hit the trail and re-elect Sanford Bishop to Congress," Comstock said.
Titus, who had $838,000 on hand as 2022 began, was added to the Frontline list in December after her Las Vegas-area district became far more politically competitive.
Nevada Democratic legislators, who controlled the redistricting process, shifted Democrats out of Titus' district to shore up Democratic Reps. Susie Lee and Steven Horsford in adjacent districts. The changes slashed Biden's margin of victory in Titus' district to 9 points from 25 points. Lee and Horsford are also Frontline Democrats.
Titus on Wednesday promoted an endorsement from EMILY's List, which helps fund Democratic women who support abortion rights.
Blake Williams, a spokesperson for Titus' campaign, said Titus is "focused on delivering for working families on the issues that matter to them" and that "this critical endorsement shows how important this race will be in the fight to protect a Democratic majority in the House."
"With the support of EMILY's List, DCCC, Democratic Majority for Israel, and others, Rep. Titus will take her message directly to voters and keep the 1st District a Democratic seat," Williams said.
Kaptur had $1 million on hand and was added last week with the expectation she may face the most difficult re-election campaign in her four decades in the House. Republicans may try again to redraw her heavily Democratic Toledo-Cleveland district to be competitive after the Ohio Supreme Court invalidated a GOP-favoring map last month.
All three incumbents are used to being elected by wide margins. Bishop's 59% re-election vote share in 2020 was the lowest of the three.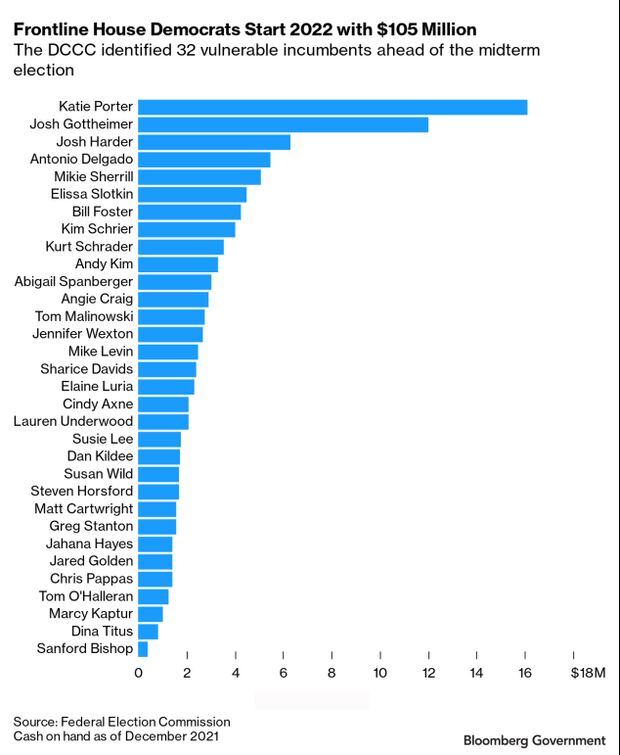 Read More: Democrats' List of At-Risk Incumbents Illuminates 2022 Challenge
Top Raisers
A few Frontline Democrats' reports stood out for boasting huge campaign accounts.
Rep. Katie Porter (Calif.), a progressive hero, began the year with $16.1 million in cash on hand, the most of any Frontline Democrat and second most of any House member.
Porter is seeking re-election in a reconfigured Orange County district that Biden would have carried by 11 percentage points. That's not much different than the margin in her current district, though about 60% of the people in the revised one are new to her.
Rep. Josh Gottheimer (N.J.), who reported $12 million on hand, was restored to the Frontline list last week even though a Democratic-friendly congressional map adopted by New Jersey's redistricting commission increased Biden's victory margin to 12 points from 5 points in his 5th District near New York City. Gottheimer, a member of the Financial Services Committee, was on the Frontline list in 2020, when he was re-elected by 8 points.
The next-highest cash-on-hand totals for Frontline Democrats came from Josh Harder (Calif.) with $6.3 milllion, Antonio Delgado (N.Y.) with $5.5 million, and Mikie Sherrill (N.J.) with $5.1 million. All three are running for re-election in districts that are more Democratic-friendly than their current constituencies though they could be competitive in a good Republican midterm election year.
Andrew Small also contributed to this story.
To contact the reporter on this story: Greg Giroux in Washington at ggiroux@bgov.com
To contact the editors responsible for this story: Kyle Trygstad at ktrygstad@bloombergindustry.com; Bennett Roth at broth@bgov.com