Democrats' List of At-Risk Incumbents Illuminates 2022 Challenge
Some added Thursday represent solidly Biden districts
Includes members from New Jersey, Virginia, Georgia
The House Democrats' campaign arm expanded its roster of politically vulnerable members to include some from decidedly Democratic-leaning districts that may become highly competitive in a favorable environment for Republicans.
The Democratic Congressional Campaign Committee's revised list of 32 "Frontline" members—those the DCCC considers most in need of financial and political support—includes some seeking re-election in reconfigured districts President Joe Biden would have won by double-digit percentage-point margins in the 2020 election.
The changes underscore the challenges facing Democrats as they defend their slender five-seat majority against a determined Republican campaign to reclaim the majority the GOP lost in 2018. In most midterm elections, the White House's party loses ground in Congress.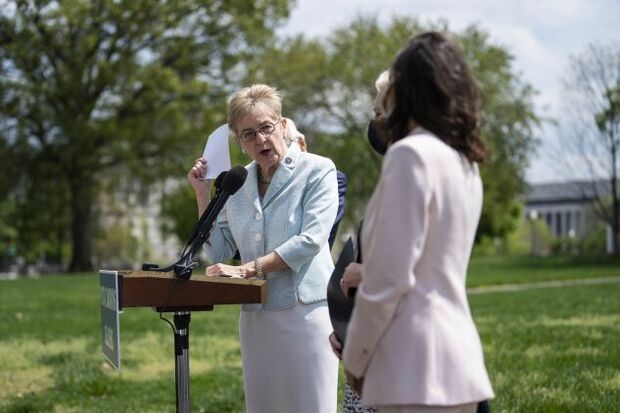 The DCCC's newest Frontline members include:
Rep.

Sanford D. Bishop Jr.

's (Ga.) southwestern 2nd District was tweaked in Republican-controlled redistricting but still would have voted for Biden by 10 points in 2020. Bishop, a senior member of the Appropriations Committee, was re-elected with 59% in 2020.
Rep.

Jennifer Wexton

(Va.) is seeking a third term in a northern Virginia district near Washington that formerly favored Republicans but trended strongly Democratic during Donald Trump's presidency. Biden would have carried Wexton's new district by 18 points, comparable to his 19-point win in her current district. Wexton won by 13 points in 2020.
Rep.

Bill Foster

(Ill.) won competitive House elections earlier in his career. Democratic-led redistricting reduced Biden's victory margin in his district to 15 points from 26 points.
Rep.

Josh Gottheimer

's (N.J.) northern 5th District near New York City became more Democratic-friendly following redistricting: Biden would have carried it by 12 points. Gottheimer was on the Frontline list in 2020, when he was re-elected 53%-46%.
Rep.

Greg Stanton

(Ariz.) is seeking re-election in a redrawn 4th District that's mildly Democratic-leaning and includes Tempe and parts of Mesa, Chandler, and Phoenix. Biden would've won that district by 10 points, compared to the president's 23-point margin in Stanton's current district.
( Sign up for Ballots & Boundaries, a weekly check-in as states change voting laws and revise political districts.)
Perhaps the most conspicuous addition to the list is Rep. Marcy Kaptur (Ohio), the longest-serving woman in the history of the House. Kaptur presently represents a strongly Democratic district connecting most of Toledo with part of Cleveland. Ohio Republican mapmakers drew her into a Republican-leaning district, but the Ohio Supreme Court invalidated that map earlier this month. Ohio Republicans are preparing a new map that could still target Kaptur, a House member since 1983.
"The DCCC recognizes that with each passing day more Democrat incumbents are vulnerable," said Mike Berg, spokesman for the National Republican Congressional Committee. "Democrats have a choice heading into Election Day: retire or lose."
The DCCC also updated its list of GOP-held seats the party sees as in play. In a statement, DCCC Chairman Sean Patrick Maloney (D-N.Y.) said all of the Frontline members "head into November with a record of delivering for the American people," adding that "Republicans will have to defend their extremist agenda that just doesn't work for American families."
The new Frontline list includes some members whose districts are highly competitive. Rep. Dan Kildee (Mich.) is seeking a new term in a Flint-area district that was revised in redistricting to absorb some Republican-leaning turf. Biden would have carried the district by 2 points.
The DCCC previously added Reps. Dina Titus (Nev.) and Kurt Schrader (Ore.) to the Frontline list after Democratic-led redistricting made their districts more competitive while boosting the party's prospects in adjacent districts.
To contact the reporter on this story: Greg Giroux in Washington at ggiroux@bgov.com
To contact the editors responsible for this story: Kyle Trygstad at ktrygstad@bloombergindustry.com; Bennett Roth at broth@bgov.com