More Lawmakers Vulnerable in Primaries After First One Loses
Cawthorn, Schrader, Cuellar, Greene face May challenges
Redistricting can complicate a member's re-election bid
David McKinley was the first member of Congress defeated for re-election in the 2022 midterm elections, but he won't stand out for long.
McKinley's West Virginia race Tuesday is one of five primaries this year that feature multiple House members pushed together by redistricting and that guarantee an incumbent will lose. Beyond them are at least five more House members facing legitimate opponents just in the next two weeks, and a half-dozen Republicans who voted to impeach Donald Trump who are seeking to stave off spirited challenges.
Primary losses traditionally increase in the elections held immediately after redistricting, as incumbents run in new territory and even against their colleagues. This year's primaries are taking place as the GOP looks to take advantage of favorable political conditions and win majorities in both chambers of Congress.
"I don't look at any other race in the country and how it impacts mine, because mine is going to be decided on the ground in Illinois," said Rep. Rodney Davis (R-Ill.), who's facing a Trump-backed fellow House Republican, as did McKinley.
The next member-vs.-member matchup is on May 24 in suburban Atlanta between Democratic Reps. Lucy McBath and Carolyn Bourdeaux. Georgia Republicans redrew McBath's district to lean Republican, so she's opposing Bourdeaux in a strongly Democratic district.
Other House incumbents worth watching this month include Madison Cawthorn (R-N.C.), Kurt Schrader (D-Ore.), and Mike Simpson (R-Idaho) on May 17, and Henry Cuellar (D-Texas) and Marjorie Taylor Greene (R-Ga.) on May 24.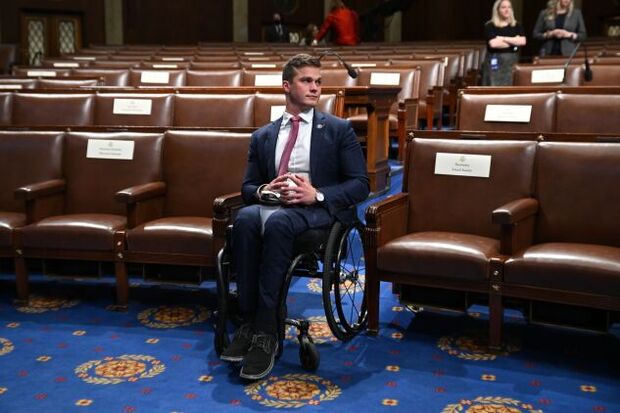 Cawthorn's laboring to win a second term after a spate of personal controversies and after antagonizing North Carolina Republican officeholders, including Sen. Thom Tillis. He'll need to finish first with more than 30% of the vote against seven primary opponents, including Tillis-backed state Sen. Chuck Edwards, to win outright and avoid a runoff.
Schrader, a member of the moderate Blue Dog Coalition who voted against the $1.9 trillion pandemic relief law known as the American Rescue Plan (Public Law 117-2), faces a more progressive primary challenger, lawyer Jamie McLeod-Skinner, in a district where a majority of the people aren't Schrader's current constituents.
Simpson, a senior member of the Appropriations Committee, faces a well-funded challenge from Bryan Smith, a lawyer trying to run to Simpson's right.
The following week, a primary runoff in south Texas will decide the fate of Cuellar, a Blue Dog Democrat and the lone anti-abortion House Democrat. The homestretch of his race against Jessica Cisneros, a lawyer who's highlighted her support for abortion rights, comes as President Joe Biden and Democratic congressional leaders push to codify the protections of Roe v. Wade in response to the Supreme Court possibly overturning the landmark ruling.
Read More: Anti-Abortion Rights Democrat Hit by Rival After Leaked Draft
As the incumbent, Cuellar has support from Democratic leaders including Majority Whip Jim Clyburn (S.C.), who campaigned with Cuellar last week, and former Democratic Congressional Campaign Committee Chair Cheri Bustos (Ill.), who donated to Cuellar's campaign this week.
The same day as the Cuellar-Cisneros runoff, five challengers will seek to deny Greene a majority of the vote and force her into a runoff. Greene's best-funded primary challenger is Jennifer Strahan, a health-care business executive.
And that's only in May.
Of the 10 House Republicans who voted to impeach Donald Trump over the Jan. 6, 2021, attack on the Capitol, six are seeking re-election. They include Tom Rice (S.C.), who has a June 14 primary, Peter Meijer (Mich.) on Aug. 2, and Liz Cheney (Wyo.) on Aug. 16.
Reps. David Valadao (Calif.) on June 7 and Reps. Jaime Herrera Beutler (Wash.) and Dan Newhouse (Wash.) on Aug. 2 are running in "Top 2″ primaries in which all candidates run on the same ballot and the top two vote-getters, regardless of their partisan affiliations, advance to the general election.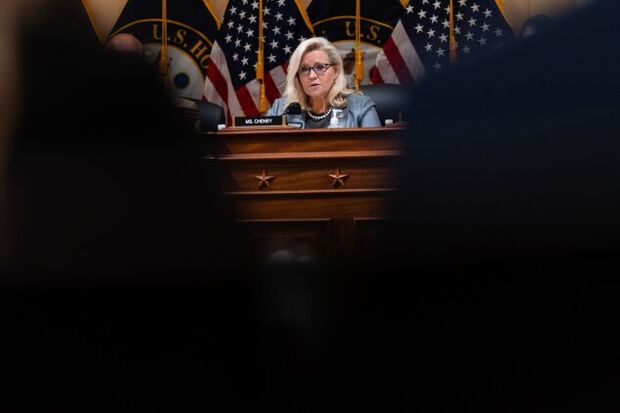 Colleague Faceoffs
Every two years, House members are unseated in primaries for a host of reasons—bucking party leaders on major votes, making controversial statements, scandalous behavior, or not tending to district needs or constituent requests. In the four elections between 2014 and 2020, a total of 21 House members were defeated for re-election in a primary, an average of just more than five per election.
More House members lose in primaries in redistricting election years when they're forced to run against colleagues or in reconfigured districts where they're not as familiar to voters. In 2012, when the nation's districts were last redrawn, 13 House members were unseated in a primary.
After West Virginia and Georgia, the next member vs. member primaries are in Illinois on June 28. There's a Democratic primary between Sean Casten and Marie Newman and a Republican primary between Davis and Mary Miller.
Newman said that while much of the new district she's running for is new to her, she's "lived around the district, so it's really nice to see old friends. I have to say that's been an absolute joy."
Democratic Reps. Haley Stevens and Andy Levin of Michigan will square off Aug. 2 in the Detroit suburbs. Stevens now represents more of the reconfigured district than Levin and is better-funded, but Levin has underscored his family's deep ties to the area.
"I'm like a happy warrior for justice running for re-election, just very much based on who I am and what I've done here in Congress—both being super-progressive, but also super-effective doing bipartisan things," Levin said.
With assistance from Zach C. Cohen
To contact the reporter on this story: Greg Giroux in Washington at ggiroux@bgov.com
To contact the editors responsible for this story: Kyle Trygstad at ktrygstad@bloombergindustry.com; Bennett Roth at broth@bgov.com