Kansas Republican Feuds Top Five-State Primary Voting Tuesday
Kansas Republican voters on Tuesday will resolve a raucous Senate primary that includes a congressman preferred by party leaders and a conservative firebrand Democrats want to see win the nomination.
Rep. Roger Marshall, a mainstream conservative backed by the GOP establishment, and Kris Kobach, a former Kansas secretary of state known for his restrictive immigration and voter-identification policies, are the leading candidates among 11 Republicans seeking the seat of retiring Sen. Pat Roberts (R).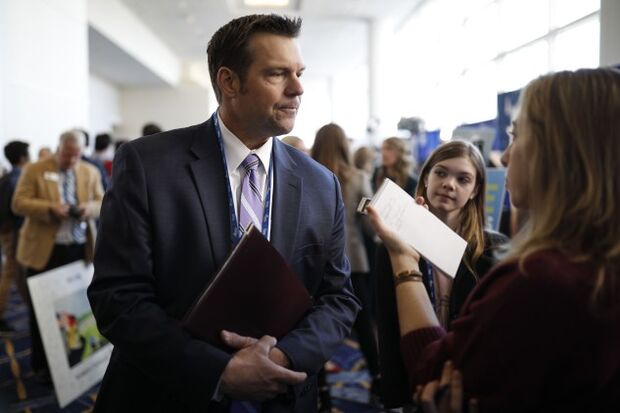 Kansas Republicans also will settle a donnybrook in the 2nd District, where Rep. Steve Watkins (R) is at risk of losing his seat after being charged with voter fraud.
Watkins is one of three House members facing serious primary challengers Tuesday, along with first-term Rep. Rashida Tlaib (D-Mich.) and 10-term Rep. Lacy Clay (D-Mo.)
There are also primaries in Arizona and Washington state.
Here's a look at the races to watch:
Arizona
Senate (President Donald Trump won Arizona 49%-45%): The primary is a formality for Sen. Martha McSally (R) and Mark Kelly (D), who have been engaged for more than a year in one of the most consequential Senate elections of 2020.
Kelly, a Navy veteran and retired astronaut who's married to former Rep. Gabrielle Giffords (D), had more than $21 million in his campaign account on July 15, more than any Senate candidate in the nation including incumbents. McSally had $11 million.
The Senate race is a special election to fill the remainder of the term won in 2016 by John McCain, who died in 2018. The winner will be up for re-election in 2022. McSally was appointed after losing a bid for Arizona's other Senate seat to Kyrsten Sinema(D).
1st District (Flagstaff, Casa Grande, Oro Valley; Trump 48%-47%): Two-term Rep. Tom O'Halleran, a member of the Blue Dog Coalition with moderate leanings on fiscal policy, is among the few Democrats from politically competitive districts facing a primary challenger.
Eva Putzova, a former Flagstaff councilwoman, supports a Medicare for All health-care system and the Green New Deal climate-change blueprint. Putzova raised a respectable $369,000 through July 15, though progressive groups haven't boosted her with outside spending. O'Halleran's voting record in the 116th Congress has been loyally Democratic.
The likely Republican candidate is Tiffany Shedd, a lawyer and farmer. She sought the seat in 2018, losing in the primary. GOP women in Congress, whose ranks were decimated by the 2018 election, donated to her campaign.
Arizona's 1st is the state's largest district, covering more than 55,000 square miles of land area from the Utah border to near Tucson and enveloping the Navajo Nation and Hopi Tribe.
6th District (parts of Phoenix & Scottsdale; Trump 52%-42%): Four Democrats are seeking to challenge five-term Rep. David Schweikert (R), who has been weakened politically by a long investigation into his ethical behavior.
The Democratic Congressional Campaign Committee, the campaign arm of House Democrats, supports Hiral Tipirneni, a physician who lost special and general elections in 2018 in the more strongly Republican 8th District. Tipirneni had $1.3 million in her campaign account as of July 15, about six times the $230,000 reported by Schweikert. She's on the DCCC's Red to Blue list of candidates running competitively in Republican-held districts.
Tipirneni's opponents in the primary include Anita Malik, the 2018 nominee who lost 55%-45% to Schweikert after running an underfunded campaign.
On July 30, the House Ethics Committee released an investigative report that said there was "substantial" evidence Schweikert violated campaign finance laws, misused office funds, and pressured official staff to perform campaign work. Schweikert agreed to admit to 11 violations and accept the committee's recommendation of a reprimand and $50,000 fine. The House voted to reprimand Schweikert on July 31.
Read More:Schweikert Re-election Hopes Hobbled by House Ethics Reprimand
Kansas
Senate (Trump won Kansas 56%-36%): Outside spending in the Republican Senate primary has topped $14 million, most of it attacking Marshall or Kobach and outpacing spending by the candidates.
The biggest spender, at more than $5 million, is not a Republican group but a Democratic super PAC that has blasted Marshall in ads while describing Kobach as "the pro-Trump conservative leader" who supports the president's border wall — messages designed to buttress Kobach's image among Republican primary voters.
It's a sign Democrats see Kobach, who lost the 2018 Kansas governor's election, as a weaker general election candidate than Marshall against their likely nominee, state Sen. Barbara Bollier.
The Democratic-aligned super PAC, named Sunflower State after Kansas' official nickname, won't reveal its donors to the Federal Election Commission until after the primary.
Plains PAC, a super PAC opposed to Kobach, has spent more than $3.3 million in the primary, including on ads that noted Kobach's 2018 election loss and the Democratic meddling. It also won't disclose its sources of funding until after the primary.
Marshall's supporters include Senate Leadership Fund, a super PAC aligned with Senate Majority Leader Mitch McConnell (R-Ky.). One of its ads described Marshall as a "doctor and military veteran" who has been "standing strong with President Trump."
Kobach's backers include technology billionaire Peter Thiel, who financed a super PAC that ran an ad that said, "Kansas needs a conservative fighter in the United States Senate."
A Kobach ad showed footage of praise from Trump, though the president declined to intervene in the primary.
The third major candidate in the race is Bob Hamilton, a wealthy plumbing company founder who has spent more than $3.5 million of his money on the primary. Marshall's campaign and a pro-Marshall super PAC called Keep Kansas Great PAC aired some anti-Hamilton ads, suggesting Hamilton was seriously competing with Marshall for anti-Kobach votes.
Bollier, a physician, had $4.2 million in her campaign account on July 15, compared with $1 million for Marshall and $136,000 for Kobach. Bollier is supported by Emily's List, which funds Democratic women who support abortion rights.
Read More:Super PACs Flood Consequential Kansas GOP Primary's Final Days
1st District (Manhattan, Hutchinson, Dodge City; Trump 69%-24%): The Republican primary is the election that matters in the "Big First" district, which envelops almost two-thirds of Kansas' land area. Marshall is giving up the seat to run for the Senate.
The main contenders are Bill Clifford, an eye surgeon and Air Force veteran, and Tracey Mann, a former lieutenant governor who sought this seat in 2010, coming in third in the Republican primary.
Clifford has raised more than $1 million, most of it from his own pockets. Republican doctors in Congress and health-care PACs contributed to his campaign.
Mann and an allied super PAC aired ads attacking Clifford's views on immigration.
2nd District (Topeka, Lawrence, Leavenworth, Pittsburg; Trump 56%-37%): Watkins is struggling to keep his seat after being charged with felonies for voter fraud related to his participation in a 2019 local election.
His top competitor is Kansas Treasurer Jake LaTurner, who said Republicans need to field their "very best candidate" in a Republican-friendly district Watkins barely won in 2018.
"Clearly, our current congressman, with three felony charges and a misdemeanor charge, is not the person to do that," LaTurner said at a televised candidate debate. The Kansas Farm Bureau endorsed LaTurner.
Watkins denied wrongdoing and said he was cooperating with prosecutors. He attributed the charges to political motives, noting they were announced three weeks before the primary and right before the debate.
Former Kansas Labor Secretary Dennis Taylor, the third Republican candidate, said he'd serve no more than two terms and would give 50% of his salary to pandemic relief.
The likely Democratic nominee is Topeka Mayor Michelle De La Isla, who's on the DCCC's Red to Blue list.
Read More: Congressman Charged With Felonies Already in Primary Trouble
3rd District (Overland Park, Kansas City, Olathe, Shawnee, Lenexa; Hillary Clinton won 47%-46%): Five Republicans are seeking to oppose Rep. Sharice Davids (D), who ousted Kevin Yoder (R) by a 10-point margin in the 2018 election.
The best-funded are Amanda Adkins, a businesswoman and former state party chairwoman, and Sara Hart Weir, who formerly led the National Down Syndrome Society.
Adkins' donors include Sen. Ted Cruz (R-Texas). A super PAC funded by Adkins' father aired TV ads attacking Hart Weir's previous Democratic affiliation. Hart Weir said in a candidate debate that Adkins was "bankrolled by dad's bank account and corporate interests."
Hart Weir's donors include Rep. Cathy McMorris Rodgers (R-Wash.), the Republican Main Street Partnership, and Maggie's List, which works to elect conservative women.
Davids is unopposed in the primary. A member of the Small Business Committee, Davids sponsored legislation the House passed in November 2019 to direct the Small Business Administration to report on resources for veteran-owned small businesses. She also sponsored a measure the House passed to reauthorize the SBA's Women's Business Center program.
Michigan
Senate (Trump won 47.5%-47.3%): Sen. Gary Peters (D) and John James (R), a businessman and Army veteran, are unopposed in the primary.
Michigan and Alabama are the only states Trump won in 2016 where Democrats are defending Senate seats this year. James ran respectably against Sen. Debbie Stabenow (D) in the 2018 election and is the best-funded Republican challenger in the nation, with $9.2 million in cash on hand as of July 15. But Peters, who's seeking a second term, has moved out to a clear lead in the polls as Trump struggles to carry Michigan again.
James, one of the prominent Black Republicans running for federal office, has highlighted his military service.
3rd District (Grand Rapids, Battle Creek; Trump 52%-42%): Both parties are targeting the western Michigan district of retiring Rep. Justin Amash, who's not seeking re-election after leaving the Republican Party to become an independent and then a Libertarian.
The leading Republican candidates are state Rep. Lynn Afendoulis and Peter Meijer, an Army veteran who's a member of a family that owns an eponymous supermarket chain. Both candidates aligned with Trump and linked each other to Gov. Gretchen Whitmer (D), whose management of the state's coronavirus response drew strong criticism from conservatives.
A Meijer ad that said Afendoulis "joined with Governor Whitmer to raise your taxes" referred to Afendoulis' sponsorship of a 2019 law that applied Michigan's sales tax to out-of-state websites that facilitate online sales in the state. Afendoulis said the measure leveled the playing field for Michigan businesses.
"I led the fight against Governor Whitmer's shutdown," Afendoulis said in an ad that mentioned Whitmer six times. Her donors include the National Association of Realtors PAC.
The Democratic nominee is Hillary Scholten, an immigration lawyer who worked for the Department of Justice during Barack Obama's presidency. The district has a Republican orientation, though the GOP nominee for governor in 2018 carried the 3rd by less than one percentage point.
Read More:Amash Retirement Opens Michigan Seat Democrats Plan to Target
6th District (Kalamazoo, Portage; Trump 51%-43%): The primaries will likely set a November matchup between 17-term Rep. Fred Upton (R), the dean of the Michigan delegation, and state Rep. Jon Hoadley (D).
Upton, a former Energy and Commerce Committee chairman, was re-elected 50%-46% in 2018 in the closest race of his career. He's one of the chief authors of the 21st Century Cures Act, which increased funding for health research. Upton's bipartisan work with Democrats has sometimes antagonized conservatives in his district, though he avoided serious primary opposition.
Hoadley was first elected to the state House in 2014 from the Kalamazoo area and is openly gay. He was added to the DCCC's Red to Blue List last week.
7th District (Jackson, Adrian, Monroe; Trump 56%-39%): Rep. Tim Walberg (R) and former state Rep. Gretchen Driskell (D) are facing off for the third consecutive election in a southern Michigan district that's been tantalizingly out of reach for Democrats. Walberg has never topped 55% of the vote, including wins of 54%-46% in 2018 and 55%-40% in 2016 over Driskell.
8th District (Lansing, East Lansing, Rochester Hills; Trump 51%-44%): Rep. Elissa Slotkin (D), who unseated a Republican in 2018, built a huge campaign treasury in a GOP-leaning district as she prepared to face the winner of a four-candidate Republican primary.
The best-funded is Paul Junge, a former prosecutor and television news anchor who most recently worked for U.S. Citizenship and Immigration Services. In a TV ad, Junge described himself as a "Trump administration official" and tied Slotkin to Speaker Nancy Pelosi (D-Calif.).
Slotkin had more than $5 million on hand on July 15, more than any other first-term Democrat from a district Trump won in 2016. Slotkin has a background in national security and is a member of the Armed Services and Homeland Security committees.
10th District (Port Huron, part of Sterling Heights; Trump 64%-32%): Michigan's most Republican district, an area that includes northern Macomb County and the state's Thumb, surely will produce a Republican successor to retiring two-term Rep. Paul Mitchell (R).
State Rep. Shane Hernandez, the chairman of the Michigan House Appropriations Committee, is backed by the Club for Growth, a conservative group that supports cutting spending and taxes. Its super PAC arm spent more than $1.5 million to support Hernandez and attack rival Lisa McClain, a businesswoman and first-time candidate who's self-funded her bid with at least $1.75 million.
McClain's ads linked Hernandez to Whitmer and faulted him for opposing Trump in the 2016 Republican primaries and for referring then to a "ridiculous wall" Trump supports on the U.S.-Mexico border. Hernandez backed Cruz for president.
The third Republican candidate is Doug "Odie" Slocum, a retired Air Force brigadier general and the former commander of Selfridge Air National Guard Base.
13th District (part of Detroit and Dearborn Heights; Clinton 79%-18%): Tlaib, a member of the "squad" of four first-term progressive Democratic women with national political profiles, is facing Brenda Jones, the Detroit City Council president, for the third time.
Tlaib and Jones squared off twice in 2018, after John Conyers' (D) death created a vacancy and attracted interest from many would-be successors. Jones defeated Tlaib and other candidates in a special primary and served the final two months of the unexpired term, but Tlaib won the regular primary on the same day and secured the full two-year term. This time only Tlaib and Jones are on the ballot, and the other candidates who ran in 2018 are backing Jones.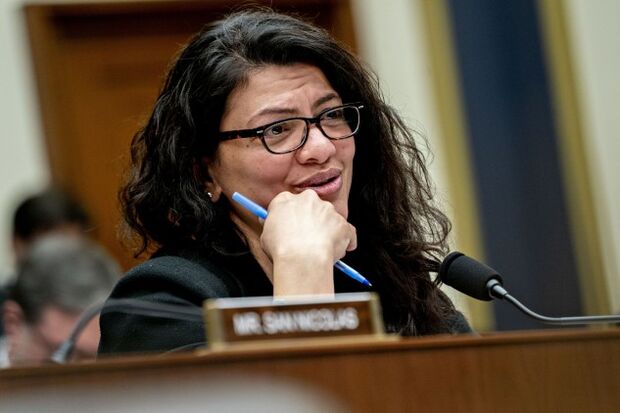 Jones said her legislative work and coalition-building on the city council made her better-equipped than Tlaib to serve one of the poorest congressional districts in the nation.
"Things have to change. You have to be able to work with people to bring home the bacon, to bring home the money, to bring home the resources that are needed for the 13th Congressional District," Jones told the Detroit radio station WDET last month.
Tlaib told WDET she's been accessible and responsive to her constituents by coming home every weekend and holding town-hall meetings. She said she's held companies accountable on the Oversight and Reform's Environment Subcommittee and worked on anti-poverty legislation and securing money to help low-income households with drinking water and wastewater service payments.
Tlaib, who issued a profanity-laced call for Trump's impeachment her first week in office, noted Trump signed into law her measure to protect federal retirement benefits from fraud. "I actually got the president that I ran on impeaching to sign a bill into law," she said. "Very hard for a new freshman in Congress."
Michigan's 13th is more than 53% Black. Tlaib is Palestinian-American and Jones is Black.
Missouri
1st District (St. Louis, Florissant, Ferguson; Clinton 77%-19%): Clay is facing Cori Bush, a nurse and pastor, in a rematch of their 2018 primary.
Bush, a single mother, said Clay "hasn't risen to meet this moment." Her supporters include Justice Democrats, the progressive group that helped fuel the rise of Rep. Alexandria Ocasio-Cortez (D-N.Y.). It aired a TV ad describing the primary as a choice between "the same old politicians who created this mess, or a new voice." Justice Democrats spent at least $150,000 on the race.
A progressive organization called Fight Corporate Monopolies spent $90,000 criticizing Clay for campaign contributions from corporate PACs.
Clay is taking the challenge seriously. One TV ad highlighted his support for overhauling policing and urged voters to "Stay With Clay." Another attacked Bush for taking salary payments from her campaign. The practice is legal.
Clay, who followed his namesake father's 32 years of House service, was tested seriously for the first time in 2018, when Bush held him to a 57%-37% win. Bush was among the four progressive Democratic women featured in the 2019 documentary, "Knock Down The House."
Missouri's 1st has all of St. Louis and part of St. Louis County including Ferguson, where the fatal shooting of an 18-year-old Black man by a white police officer in 2014 sparked protests.
2nd District (suburban St. Louis; Trump 53%-42%): Four-term Rep. Ann Wagner (R) and state Sen. Jill Schupp (D) have no primary opposition in a Republican-leaning district that includes most of St. Louis County outside the city.
Wagner was held to a 51%-47% win in 2018, when well-educated and historically Republican districts like Missouri's 2nd shifted away from the party in reaction to Trump. Wagner leads a Suburban Caucus of Republicans and has focused on ending human trafficking. Schupp is on the DCCC's Red to Blue list.
Washington
3rd District (Vancouver, Longview, Camas; Trump 50%-43%): Five-term Rep. Jaime Herrera Beutler (R) and Carolyn Long (D), a professor at Washington State University Vancouver, will likely advance to a rematch of a 2018 race that Herrera Beutler won 53%-47%. The congresswoman had $1.9 million on hand compared to Long's $1.6 million.
Herrera Beutler votes against most Republicans from time to time. She voted to ban oil and gas drilling off the coasts and was one of two Republicans who sided with a Democratic prescription drug-pricing bill. Last week, she voted for a pair of child care measures that the House passed primarily with Democratic votes.
8th District (Auburn, Sammamish, Wenatchee; Clinton 48%-45%): Rep. Kim Schrier (D), the only female doctor in Congress, is more politically secure in her bid for a second term after flipping a suburban Seattle district from Republican control in the 2018 election. Her leading opponent, Jesse Jensen (R), had only $53,000 in the bank on July 15. Schrier had $2.4 million.
10th District (Lakewood, Olympia, part of Tacoma: Clinton 51%-40% ): Nineteen candidates, including eight Democrats and eight Republicans, are seeking to succeed Rep. Denny Heck (D), a candidate for lieutenant governor. Under Washington's top-two primary rules, all candidates appear on one ballot and the two leading vote-getters advance to the November general election, regardless of party affiliation.
Democrats have dominated the field in fundraising. State Rep. Beth Doglio (D) is the preferred candidate of Sen. Bernie Sanders (I-Vt.). She's also promoted support from labor unions and environmental and nurses' organizations. The Congressional Progressive Caucus PAC spent at least $335,000 on her behalf.
Marilyn Strickland (D), a former Tacoma mayor who also led the Seattle Metropolitan Chamber of Commerce, is supported by former Govs. Christine Gregoire and Gary Locke and The Collective Super PAC, which works to increase Black representation in Congress. One of Strickland's ads noted that Washington state has never had a Black member of Congress. Strickland was born in Seoul to a Korean mother and Black father.
Former state Rep. Kristine Reeves (D), who previously worked for Sen. Patty Murray (D-Wash.), received backing from the campaign arm of the Congressional Hispanic Caucus, which spent more than $246,000 on the race. Reeves is Latina and Black.
Phil Gardner (D), Heck's former district director, was endorsed by Equality PAC, which works to elect more LGBT people to Congress.
No Republican candidate is well-funded, and Heck almost certainly will be succeeded by a Democrat.
Read More: Progressives Look to Washington State for Next Primary Victory
To contact the reporter on this story: Greg Giroux in Washington at ggiroux@bgov.com
To contact the editors responsible for this story: Bennett Roth at broth@bgov.com; Kyle Trygstad at ktrygstad@bgov.com