Jackson Lee, Green Mapped Into Same Seat: Ballots & Boundaries
Bloomberg Government subscribers get the stories like this first. Act now and gain unlimited access to everything you need to know. Learn more.

Rep. Sheila Jackson Lee was drawn out of her own district by the Texas Senate's redistricting committee.
Though there's still time for lines to change, the version ready for floor consideration would put Jackson Lee (D) into the same Houston-area seat as Rep. Al Green (D).
"This surgery seems totally without purpose," Jackson Lee told the committee. And Green pointed out that only the districts of Black incumbents are being merged as the state figures out how to add two seats, going to 38 from 36.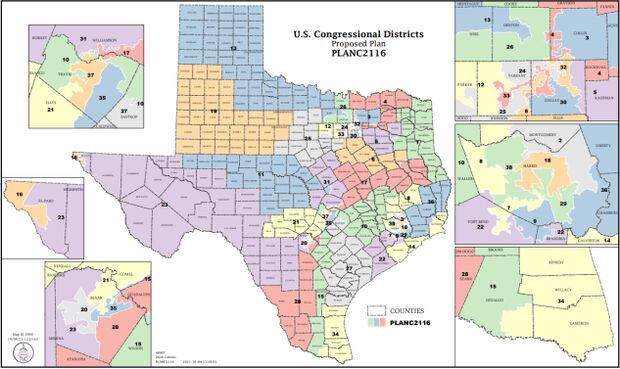 The full Texas Senate, meanwhile, has given initial approval to a map that would help its own Republican members while dramatically revising a Fort Worth-area district where the Black and Hispanic population has been rising.
"I know of no other district that has been gerrymandered in this fashion, where we have cracked apart the minority voters in a district and submerged them into a highly Anglo, rural population," said state Sen. Beverly Powell (D), who'd have to win over voters in seven rural counties to keep her job.
"Do you think your district is being targeted for elimination?" asked state Sen. Royce West (D). "Absolutely," said Powell. — Greg Giroux and Stephen Joyce
(Did you get this newsletter as a forward? Subscribe here.)
IOWA: GOP-LED LEGISLATURE APPRAISING NONPARTISAN MAP IN SPECIAL SESSION
This is the day that Iowa's legislature starts considering new congressional and state legislative maps drawn by a nonpartisan state legislative agency.
The Republican-controlled legislature, meeting in a special session, must give the maps an up-or-down vote. If the proposed lines are rejected, the agency will submit a second set of maps for consideration.
In GOP-trending Iowa, Republicans hold three of four House districts and almost unseated Rep. Cindy Axne (D) in 2020. — Greg Giroux
WEST VIRGINIA: REDISTRICTING MAPS GALORE
West Virginia House and Senate committees have released more than two dozen maps of possible new congressional districts as they figure out how to go to two seats from three.
Most of the proposed maps would place Reps. Alex Mooney of Charles Town and David McKinley of Wheeling in the same new district in the northern half of the state.
Mooney, McKinley, and Rep. Carol Miller, whose Huntington home is in the southern half of the state, said in a joint statement in April that they all planned to run for re-election but would reconsider when district maps were finalized. The state legislature is expected to vote on a final map in mid-October, according to Ann Ali, a spokeswoman for the state House Select Committee on Redistricting. — Kenneth P. Doyle
MICHIGAN: GOP ELECTION BILLS VETOED
Michigan Gov. Gretchen Whitmer has vetoed a four-pack of bills that critics say could have given credence to claims the state's elections aren't secure.
The Republican-sponsored package included prohibitions of things already not allowed in Michigan, such as a ban on public access to the voter file (H.B. 4837) and a bar on internet-connected voting machines (H.B. 4838). Also included was a measure (H.B. 4528) that would have required formalized training for election challengers and a bill (H.B. 4492) that would have allowed election officials to rent out country clubs for polling places.
Whitmer (D), who killed the bills during a dinner held by the NAACP, said the bills were "designed to undermine confidence in our election system" and disenfranchise Black voters. — Alex Ebert
COLORADO: TIME FOR HIGH COURT TO WEIGH IN
Colorado's Independent Redistricting Commission has submitted the state's final congressional plan for 2022–2031 to the state Supreme Court.
Now they wait. The court could comment, suggest changes, or approve it.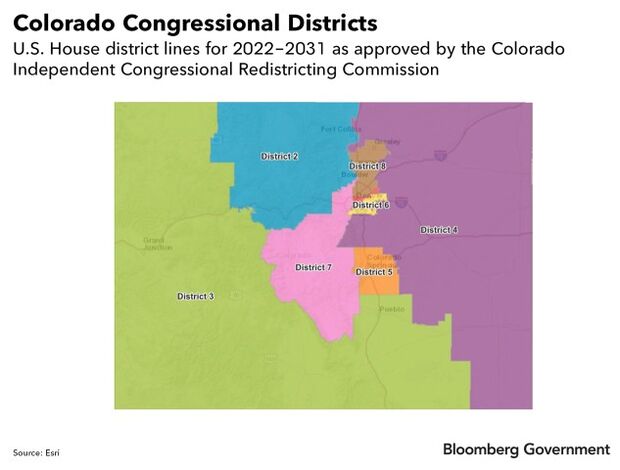 The map carves out a new 8th Congressional District north of Denver that would be the state's most competitive and have a Latino population of nearly 40%.
Of the remaining seven districts, three would be safe for Democrats including the 2nd District, currently represented by Rep. Democrat Joe Neguse, three for the GOP, including Republican Rep. Lauren Boebert's 3rd District, and one would lean Democratic. That would be District 7, currently represented by Democratic Rep. Ed Perlmutter. — Tripp Baltz
NEBRASKA: NEW MAP KEEPS SWING DISTRICT IN OMAHA
The Omaha-based 2nd Congressional District of Rep. Don Bacon (R) will remain politically competitive under a map Gov. Pete Ricketts (R) has signed into law.
Republicans in effect control Nebraska's nonpartisan unicameral legislature, but Democrats had enough votes to thwart a more ambitious GOP map that would have carved up Democratic-leaning Douglas County in and around Omaha. Bacon is one of nine House Republicans from districts Joe Biden won in 2020. — Greg Giroux
See also: New Nebraska Congressional Map Keeps Swing District in Omaha
MAINE: NEW MAP GIVES SMALL BOOST TO DEMOCRAT GOLDEN
Maine's new congressional map marginally benefits Rep. Jared Golden, though the party-bucking Democrat could still face a tough re-election next year in a district that voted for Donald Trump in the 2020 election. The commission-drawn map, now signed into law, shifted the state capital of Augusta to Golden's mostly rural and conservative 2nd District. — Greg Giroux
INDIANA: GOP LOCKS IN 7–2 SPLIT
Indiana Gov. Eric Holcomb (R) has signed into law a redistricting bill (H.B. 1581) designed to cement Republicans' 7–2 congressional district edge.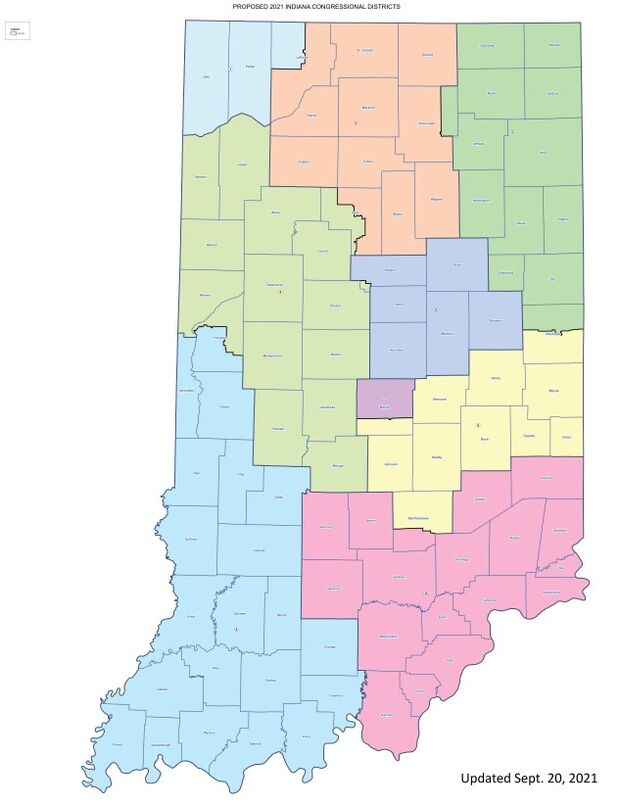 The biggest winner appears to be Rep. Victoria Spartz (R), elected by four points in 2020. Her 5th Congressional District trades part of liberal Marion County for more Republican-favoring turf outside the Indianapolis suburbs.
Democrats said they'll have an advantage in 22% of the congressional districts even though they get roughly 44% of votes in statewide elections. Unlike neighboring Michigan and Ohio, Indiana's laws don't require partisan fairness in the maps. — Alex Ebert
PENNSYLVANIA: GOING AROUND THE GOVERNOR
Pennsylvania Republicans are reviving election law changes vetoed earlier this year. The House State Government Committee approved a proposed constitutional amendment (H.B. 1596) that would require voters to show identification when casting ballots in person or by mail. It also would require an "audit" for each election before results are certified, and it would allow voters to select the state's top election official, who currently is appointed by the governor.
The state Senate also is considering an amendment (S.B. 735) that would require voters to show "valid identification."
No word from the Commonwealth Court of Pennsylvania on a demand by legislators for voter birth dates and partial Social Security numbers as part of an Arizona-like election review. — Jennifer Kay
ARIZONA: AND YOU THOUGHT THE AUDIT WAS OVER
Nothing went wrong in the 2020 election, according to Maricopa County leaders—and they're asking for a couple of weeks to prove it.
The county is working on a technical report to refute claims made by cybersecurity company Cyber Ninjas when presenting the results of its Republican-led audit. The company confirmed President Joe Biden's win (though a Republican data analyst claims even that finding was conjecture) and suggested there are voting discrepancies that need fixing.
Maricopa County's response "will address many of the 'anomalies' that stumped the Senate's contractors but appear not to have been fully investigated by their team," according to a news release. Arizona Attorney General Mark Brnovich (R) has asked the county to preserve all documents from the election because the Cyber Ninjas report raises "some serious questions." — Brenna Goth
LISTEN HERE: ADVICE FROM A GOP REDISTRICTING GURU
Adam Kincaid, executive director of the National Republican Redistricting Trust, says he's advising states to draw maps for the long game. "There's no point in taking back the House in 2022 if we can't hold it," he said on Bloomberg Government's "Downballot Counts" podcast.
"You lock down your vulnerable incumbents, you make sure that they're shored up. And the less money you're spending on defense, the more you can spend on offense," he said. — Greg Giroux
DOWNBALLOT COUNTS: HEAR THE FULL EPSODE
Resources
Add Us to Your Inbox
Click HERE to sign up for Ballots & Boundaries, your weekly check-in as states change voting laws and revise political districts, influencing power and policy for the next decade.
To contact the reporters on this story: Greg Giroux in Washington at ggiroux@bgov.com; Stephen Joyce in Chicago at sjoyce@bloomberglaw.com; Kenneth P. Doyle in Washington at kdoyle@bgov.com; Alex Ebert in Columbus, Ohio at aebert@bloomberglaw.com; Brenna Goth in Phoenix at bgoth@bloomberglaw.com; Jennifer Kay in Miami at jkay@bloomberglaw.com; Tripp Baltz in Denver at abaltz@bloomberglaw.com
To contact the editors responsible for this story: Tina May at tmay@bloomberglaw.com; Katherine Rizzo at krizzo@bgov.com
Stay informed with more news like this – from the largest team of reporters on Capitol Hill – subscribe to Bloomberg Government today. Learn more.