It's Redistricting `Stress Test' Day: Ballots & Boundaries

California's primary today provides an early political stress test for House incumbents running under significantly redrawn congressional lines.
Of the 47 House members seeking re-election in the nation's most populous state, 17 are running in reconfigured districts where more than 40% of residents aren't their current constituents, according to data compiled by Bloomberg Government.
As returns come in, two of the names to watch are Republican Reps. Young Kim and David Valadao. Both face serious Democratic and Republican challengers. In California's primaries, all candidates run on one ballot and the top two finishers advance to November.
Kim's running in a southern California district where 80% of the population is new to her, while Valadao is seeking another term in a Central Valley district that's 45% new to him. Here's a detailed rundown of today's key primaries. — Greg Giroux
See also:
Democrats Look to Flip California Seat But Differ on Candidate
Los Angeles Faces Choice Between Billionaire and Political Vet
LOUISIANA: MAP UNDONE
Louisiana's legislative leaders want to keep their congressional map in place while the courts consider the challenge against it. With no election before November, though, a federal judge decided there's time to get a redo done.
In their motion for stay, the Republican leaders say the order to create a map with an additional majority-Black district compromises the state's election administration and requires "elections under a racial gerrymander."
The court set a June 20 deadline. Gov. John Bel Edwards (D) will need to call the legislature back to Baton Rouge for a special map-drawing session. —Jennifer Kay
READ MORE: Court Orders Louisiana to Add 2nd Black Majority District
FLORIDA: DESANTIS' MAP STANDS
Now that the Florida Supreme Court declined to intervene in a congressional redistricting challenge, candidates will be running for Congress in the districts drawn by Gov. Ron DeSantis' office while litigation continues in both state and federal courts.
A lower-court state judge had found that map unconstitutional for diminishing Black voters' ability to elect the representative of their choice in North Florida.
In the federal case, the judge allowed Common Cause Florida and other plaintiffs to amend their original complaint to challenge the constitutionality of the congressional redistricting plan. New Florida Secretary of State Cord Byrd and DeSantis (R) have until tomorrow to respond to the amended complaint. — Jennifer Kay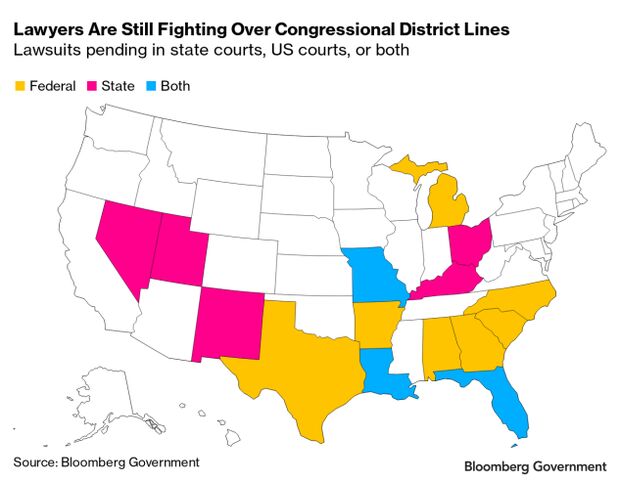 (Was this newsletter forwarded to you? It's free. SUBSCRIBE)
Election Law
ARIZONA: STILL NOT ILLEGAL
Mail-in voting in Arizona goes back to 1918, and no one has needed an excuse to use it for three decades.
That's news to note because for a second time, a court has denied the Arizona Republican Party's attempt to ban mail-in voting before this November's election.
Mail-in voting laws are "far from perfect" but don't go against the intentions of the Arizona Constitution, according to the ruling by Mohave County Superior Court Judge Lee F. Jantzen. — Brenna Goth
ARIZONA: HUNTING AND CIVICS
Securing a hunting license and registering to vote could soon be a twofer at the Arizona Game & Fish Department.
Lawmakers have sent legislation to Gov. Doug Ducey (R) that would require the department to help its customers with voter registration (S.B. 1170). Also ready for the governor: a measure (S.B. 1460) to let elected officials keep voter registration identifying information confidential — a privacy provision already available to people such as judges and law enforcement officers. — Brenna Goth
BALLOT QUESTIONS: LOUISIANA and OHIO
Ohio and Louisiana voters will be asked to change their state constitutions to limit the right to vote to just US citizens. That may sound redundant, but a few cities around the country do let "green card" holders vote in local elections.
Ohio's proposed amendment (H.J.R. 4) is on the November ballot and Louisiana's (H.B. 178) is on the state's Dec. 10 runoff ballot. Meanwhile, Gov. John Bel Edwards (D) signed legislation (S.B. 74) clarifying who can be a poll watcher. — Jennifer Kay and Alex Ebert
Caught Our Eye
All But One Now Done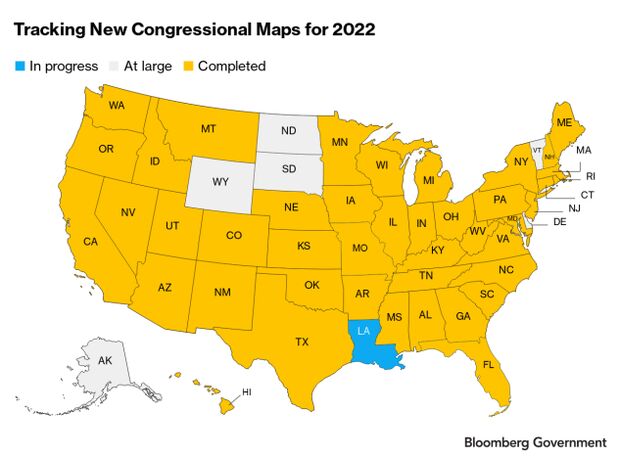 Alabama|Arizona | Arkansas | California| Colorado |Connecticut | Florida| Georgia |Hawaii| Idaho | Illinois | Indiana | Iowa | Kansas | Kentucky | Maine | Maryland | Massachusetts | Michigan | Minnesota | Mississippi | Missouri |Montana | Nebraska | Nevada | New Hampshire | New Jersey | New Mexico |New York |North Carolina |Ohio| Oklahoma | Oregon | Pennsylvania | Rhode Island |South Carolina |Tennessee| Texas | Utah | Virginia|Washington | West Virginia | Wisconsin
More Resources
Add Us to Your Inbox
Click HERE to sign up for Ballots & Boundaries, your check-in on redistricting, state voting laws, and initiatives.
With assistance from Andrew Small
To contact the reporters on this story: Greg Giroux in Washington at ggiroux@bgov.com; Brenna Goth in Phoenix at bgoth@bloomberglaw.com; Jennifer Kay in Miami at jkay@bloomberglaw.com
To contact the editors responsible for this story: Tina May at tmay@bloomberglaw.com; Katherine Rizzo at krizzo@bgov.com