California, New Jersey Lead Busiest 2022 Primary Day on Tuesday
Valadao faces first test after vote to impeach Donald Trump
Ex-Trump Interior secretary seeks House comeback in Montana
Primary voting returns with a vengeance Tuesday. The elections across seven states and spanning 78 congressional districts are led by California, the nation's most populous state.
It marks the busiest day of voting in 2022 before the Nov. 8 general election, with voters selecting general-election nominees in almost one-fifth of the 435 House districts.
California's primary is its first held under new district lines and after the state's loss of a district in reapportionment for the first time in state history. Candidates from all parties are listed on one ballot, and the top two finishers advance. Some House members are running for re-election in substantially revised districts, though no two incumbents are rivals for the same district.
The California primary presents a political stress test for Rep. David Valadao (R), who was among the 10 House Republicans who voted to impeach Donald Trump in January 2021 — and the first to face primary voters of the six of those Republicans who are seeking re-election. Yet Trump didn't intervene in the central California district that the former president lost decisively in 2020 and that neighbors one held by House Minority leader Kevin McCarthy (R).
Other states holding primaries Tuesday include New Jersey, where a commission's 12-district map aided some vulnerable Democrats but not Rep. Tom Malinowski, and Montana, where Trump's former Interior Secretary Ryan Zinke (R) is seeking a return to Congress. There also are primaries in Iowa, Mississippi, New Mexico, and South Dakota.
One House election will be held under the old district lines. Connie Conway (R), a former California state assemblywoman, is favored to win a special House election in the district Devin Nunes (R) vacated at the beginning of the year. Conway would complete the final seven months of the unexpired term and isn't seeking a full two-year term.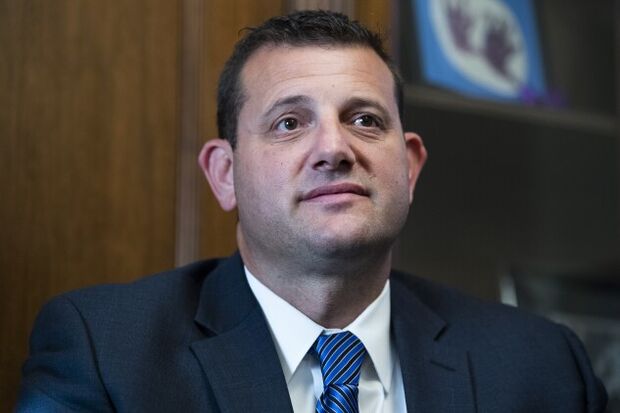 Here's what you need to know about the key races. The vote percentages for President Joe Biden and Trump in the 2020 presidential election are noted parenthetically.
California
Senate (Biden won California 63%-34%): Sen. Alex Padilla (D), appointed last year to the Senate seat Kamala Harris vacated to become vice president, is favored to win a full six-year term in a strongly Democratic state that last elected a Republican to the Senate in 1988.
3rd District (Trump 50%-48%): No incumbent is running in a district that runs from suburbs north of Sacramento to Lake Tahoe and southeast to Death Valley. Most of the people in the district are now represented by Rep. Tom McClintock (R), who's running in a more Republican district.
The two Republican candidates are state Assemblyman Kevin Kiley, who has Trump's endorsement, and Sacramento County Sheriff Scott Jones. The leading Democratic candidate is Kermit Jones, a doctor and Navy veteran.
9th District (Biden 55%-43%): Rep. Jerry McNerney (D) not seeking re-election allowed Rep. Josh Harder (D) to shift to the 9th, which is more Democratic-leaning than Harder's current constituency or the district where he originally planned to seek re-election. The 9th District is dominated by San Joaquin County and is more than 70% new to Harder.
The leading Republican is Tom Patti, who's a San Joaquin County Supervisor.
13th District (Biden 54%-43%): No incumbent is seeking a mildly Democratic-leaning district that includes Merced, Madera, Ceres, and parts of Modesto and Turlock.
The two Democrats on the ballot are state Assemblyman Adam Gray and Phil Arballo, a financial planner who was the 2020 Democratic nominee against Nunes. Gray received donations from PACs in agriculture, banking, and labor, and from the Blue Dog Coalition and New Democrat Coalition.
Republican leaders prefer John Duarte, a nursery owner and farmer.
15th District (Biden 78%-20%): A Democrat is a shoo-in to succeed retiring Rep. Jackie Speier (D) in most of San Mateo County and the southern part of San Francisco. This area is so strongly Democratic that two Democrats could advance to the November election.
State Assemblyman Kevin Mullin's donors include Rep. Anna Eshoo (D-Calif.), Democratic Majority for Israel (DMFI) PAC, and labor unions. David Canepa, a San Mateo County Supervisor, is backed by the political arm of the Congressional Hispanic Caucus. Emily Beach, a Burlingame councilwoman and Army veteran, received donations from groups that advocate for more veterans in Congress.
22nd District (Biden 55%-42%): Valadao may be the only Republican who could win this Central Valley district in most of Kern County and parts of Kings and Tulare counties. After losing his bid for a fourth term in 2018, Valadao won in 2020 in a district that Biden carried by 11 percentage points, a margin that increased slightly after redistricting.
Valadao may be in the strongest political position, at least in the primary, of the six House Republicans seeking re-election who voted to impeach Trump over his role in the Jan. 6, 2021 attack on the Capitol.
Trump hasn't said anything publicly about this race. The other Republicans on the ballot are Chris Mathys, a self-funding cattle rancher and former Fresno councilman, and Adam Medeiros, an immigrant from Portugal who owns a salon.
House Republican leaders aren't taking the race for granted. Congressional Leadership Fund, the super PAC that aids House Republicans, spent more than $790,000 before the primary to aid Valadao or attack Mathys.
State Assemblyman Rudy Salas is practically assured of one of the two November berths because he's the only Democrat on the ballot. He received a pre-primary boost from spending by House Majority PAC, the leading super PAC defending the Democratic majority.
26th District (Biden 59%-39%): Unseating five-term Rep. Julia Brownley (D) in this Democratic-friendly district spanning most of Ventura County is a reach for Republicans, but GOP officials have been impressed by former federal prosecutor Matt Jacobs' $1.4 million in fundraising and are keeping an eye on the district.
27th District (Biden 55%-43%): Rep. Mike Garcia is a rare House Republican in jeopardy of losing his seat in November in part because of redistricting.
The three Democrats seeking to unseat him include Christy Smith, a former state assemblywoman who lost decisively to Garcia in a May 2020 special election and then again by only 333 votes that November. She has stiff competition from Quaye Quartey, a Navy veteran and political newcomer whose father immigrated from Ghana.
The 27th was redrawn to be wholly within northern Los Angeles County, including the cities of Lancaster, Palmdale and Santa Clarita. Redistricting made it a little more friendly to Democrats after excising Simi Valley in Ventura County, where Garcia did well in the 2020 elections.
37th District (Biden 86%-12%): Two Democrats probably will advance to the November election in an overwhelmingly Democratic district that takes in south Los Angeles and most of Culver City. Rep. Karen Bass (D), who represents most of the people in the reconfigured district, is running for Los Angeles mayor.
State Sen. Sydney Kamlager is backed by the Congressional Black Caucus PAC, EMILY's List, House Democratic Caucus Chair Hakeem Jeffries (N.Y.), and the Protect Our Future super PAC funded by crypto billionaire Sam Bankman-Fried.
Her Democratic rivals include Jan Perry, a former Los Angeles councilwoman backed by Rep. Maxine Waters (D-Calif.); Culver City Mayor Daniel Lee; and journalist Michael Shure, whose supporters include Rep. Eric Swalwell (D-Calif.) and a super PAC called Californians for Good Government.
40th District (Biden 50%-48%): Rep. Young Kim (R) is seeking a second term in a district that's about 80% new to her and is dominated by Orange County, with smaller parts of Riverside and San Bernardino counties. Running to Kim's right is Greg Raths (R), a Mission Viejo city councilman and former Marine Corps fighter pilot who lost a 2020 challenge to Rep. Katie Porter (D).
Kim is taking Raths seriously. The Congressional Leadership Fund has spent more than $877,000 on the race, most of it attacking Raths. Physician Asif Mahmood is the only Democratic candidate, so he'll likely move on to the November election. A Mahmood TV ad that attacked Raths' anti-abortion stance but didn't mention Kim, who's also anti-abortion, is a clear sign Democrats would rather face Raths in the fall.
41st District (Trump 50%-49%): Rep. Ken Calvert, the top Republican on the House Appropriations Defense Subcommittee and the most senior Republican in the California congressional delegation, is seeking a 16th term in a Riverside County district that's more politically competitive than his current district.
The Democratic candidates are Will Rollins, a former federal prosecutor, and Shrina Kurani, an engineer. Rollins, who is gay, received donations from LGBTQ organizations and members of Congress including Reps. David Cicilline (D-R.I.) and Mondaire Jones (D-N.Y.). Kurani, a daughter of Indian immigrants, is supported by groups promoting more Asian American and Pacific Islander (AAPI) members of Congress.
42nd District (Biden 72%-26%): Six Democrats and one Republican are on the ballot in a strongly Democratic open district that links Long Beach to southeastern Los Angeles. The 42nd is Hispanic-majority and was created from large parts of the districts of Reps. Lucille Roybal-Allard (D) and Alan Lowenthal (D), who aren't seeking re-election.
The top two Democrats are Long Beach Mayor Robert Garcia and state Assemblywoman Cristina Garcia, who aren't related. Robert Garcia, the first immigrant and LGBTQ mayor in Long Beach's history, has backing from the Congressional Progressive Caucus PAC, Jeffries, Majority Leader Steny Hoyer (D-Md.), and Bankman-Fried's super PAC.
Pro-Israel groups, including the American Israel Public Affairs Committee (AIPAC) and its United Democracy Project super PAC, also supported the mayor over Cristina Garcia.
45th District (Biden 52%-46%): Rep. Michelle Steel (R) is running for a second term in a district in parts of Orange and Los Angeles counties, including Garden Grove, Westminster, and Fountain Valley in the south, and Buena Park and part of Fullerton to the north. Only 15% of the district's residents are Steel's current constituents, though she's expected to advance to the November election along with Jay Chen (D), an officer in the Navy Reserves.
Steel, who is Korean-American, and Chen, who is Taiwanese-American, are seeking to represent a district where Asian voters account for a plurality of the citizen voting age population.
47th District (Biden 55%-43%): Porter, one of the most visible progressives in Congress, is seeking a third term in an Orange County district that's about 60% new to her after redistricting. Porter had $18.7 million in her campaign account on May 18, a huge sum for a House member.
Scott Baugh, a former state assemblyman, is the preferred candidate of House Republican leaders.
49th District (Biden 55%-43%): Five Republicans want a shot at unseating Rep. Mike Levin (D), a member of the Congressional Progressive Caucus seeking a third term in coastal communities of northern San Diego County and southern Orange County.
The best-funded Republican is Brian Maryott, a wealthy businessman who lost 53%-47% to Levin in 2020. Christopher Rodriguez, an Oceanside city councilman and Marine Corps veteran, emphasized his military background and referred to Maryott and Levin as "empty suits." Lisa Bartlett, an Orange County supervisor also seeking the seat, said Maryott shouldn't get another chance at Levin after his 2020 loss.
American Patriots PAC, a super PAC funded by billionaire Ken Griffin that says it's "dedicated to electing conservative heroic veterans," spent more than $500,000 on the race supporting Rodriguez and opposing Maryott.
Iowa
Senate (Trump won Iowa 53%-45%): Sen. Chuck Grassley, the top Republican on the Judiciary Committee, was first elected to the Senate in 1980 and is favored to win an eighth six-year term that would make him the most senior senator in the 118th Congress next January and the longest-serving Republican senator in history.
The leading Democratic candidates are former Rep. Abby Finkenauer and Mike Franken, a retired Navy admiral who was the runner-up in the 2020 Democratic primary for Iowa's other Senate seat.
Grassley, 88, has been invincible in Iowa elections. He's opposed in the primary by state Sen. Jim Carlin, who self-financed most of the $508,000 he raised through May 18. It's the first time Grassley has been opposed for re-election in the Republican primary.
1st District (Trump 51%-48%): Rep. Mariannette Miller-Meeks (R) and state Rep. Christina Bohannan (D) are unopposed in the primaries in a southeastern district that includes Davenport and Iowa City.
2nd District (Trump 51%-47%): Rep. Ashley Hinson (R), who unseated Finkenauer in 2020, and state Sen. Liz Mathis (D) are unopposed in the primaries in a northeastern district that takes in Cedar Rapids, Waterloo, and Dubuque.
3rd District (Trump 49.3%-48.9%): Rep. Cindy Axne, a member of the Agriculture and Financial Services Committees and a rare Democrat from a district Trump won in 2020, will face the winner of a three-candidate Republican primary.
State Sen. Zach Nunn, an Air Force veteran, is the best-funded Republican and has support from fellow veterans including former Secretary of State Mike Pompeo and Reps. Dan Crenshaw (R-Texas) and Brian Mast (R-Fla.). Nunn's top rival is Nicole Hasso, a financial planner backed by Sen. Ted Cruz (R-Texas).
The district includes strongly Democratic Polk County in and around the state capital of Des Moines, fast-growing Dallas County to the west, and 19 more rural counties that strongly backed Trump. The most populous county added to the 3rd in redistricting is Wapello, which includes Ottumwa in southeastern Iowa.
Mississippi
4th District (Trump 68%-30%): Rep. Steven Palazzo (R) has six primary challengers seeking to pull him below a majority of the vote and into a June 28 runoff in the Gulf Coast district.
They raised questions about Palazzo's ethical behavior after a report by the Office of Congressional Ethics last year said there was "substantial reason to believe" Palazzo improperly converted campaign and congressional office funds for personal use and performed special favors for his brother. Palazzo denied wrongdoing.
Palazzo's challengers include state Sen. Brice Wiggins, a 10-year legislator from Pascagoula who said he'd provide stronger leadership for a district that includes Ingalls Shipbuilding; Mike Ezell, the sheriff of Jackson County in and around Pascagoula who touted his four decades in law enforcement; and Clay Wagner, a retired banker.
Montana
1st District (Trump 52%-45%): After fast-growing Montana gained a second district in the 2020 reapportionment of House seats, redistricting divided the state into a western 1st District that's less strongly Republican than the central-eastern 2nd District where Rep. Matt Rosendale (R) is favored.
In the 1st, Zinke is seeking a return to the House after serving as Trump's first Interior secretary. His opponents in the primary include Al Olszewski, a former state senator and surgeon who raised questions about Zinke's ethical conduct, and pastor Mary Todd.
The three Democratic candidates are Cora Neumann, a nonprofit executive with a background in public health; Monica Tranel, a lawyer and former Olympic rower; and former state Rep. Tom Winter, who touted his 2018 win in a legislative district that Trump carried.
Montanans for a Better Congress, a super PAC that supports Tranel, aired a TV ad that referred to her as a "lifelong Montanan who can beat Ryan Zinke" and linked Zinke and Neumann to California.
New Jersey
3rd District (Biden 56%-42%): After two wins in a south-central district Trump carried, Rep. Andy Kim (D) is seeking a third in a more Democratic-friendly area following redistricting.
In the Republican primary, yacht manufacturer Bob Healey is much better-funded than Ian Smith, a gym owner who defied Covid restrictions during the pandemic.
4th District (Trump 61%-38%): Rep. Chris Smith (R), a visible advocate in Congress of curbing abortion and human trafficking, was first elected in 1980 at age 27 and is now the longest-serving House member in the 117th Congress along with Rep. Hal Rogers (R-Ky.). Smith sometimes bucks party leaders on votes and invited Trump's ire late last year when he sided with just 12 other Republicans to back the big infrastructure package Biden signed into law.
Smith's primary opponents include Mike Crispi, a conservative talk-show host who appeared on Tucker Carlson's Fox News program last week to attack Smith on gun policy. Smith last year provided a rare Republican vote for Democratic bills (H.R. 8, H.R. 1446) that would expand and strengthen background checks prior to gun purchases. Redistricting carved out Smith's Mercer County home base.
The district includes most of Ocean County and part of Monmouth County and is by far the most Republican district in New Jersey.
5th District (Biden 56%-43%): There are two main Republican contenders seeking to oppose three-term Rep. Josh Gottheimer (D) in a northern New Jersey district that's dominated by Bergen County and also includes parts of Passaic and Sussex counties.
The best-funded Republican is Nick De Gregorio, a Marine Corps veteran who entered the race after the chaotic US withdrawal from Afghanistan last summer. Frank Pallotta, a former investment banking executive who lost to Gottheimer 53%-46% in 2020, is trying again.
Gottheimer, a co-chair of the Problem Solvers Caucus and a member of the Blue Dog Coalition of Democrats who emphasize fiscal restraint, avoided primary opposition and had $13.4 million in his campaign account as of May 18. Redistricting boosted Biden's margin of victory in the 5th District to more than 12 points from 5 points, though Gottheimer is on the Democratic Congressional Campaign Committee's list of 33 "Frontline Democrats" who are in the toughest races.
7th District (Biden 51%-47%): The primary probably will tee up a rematch between two-term Rep. Tom Malinowski (D) and Tom Kean Jr. (R), a former state senator who came within 1.3 points of unseating Malinowski in 2020.
Malinowski may be the underdog this time in a more difficult political environment for Democrats and after redistricting added Republican voters from Sussex and Warren counties in northwestern New Jersey. The changes shaved Biden's 2020 margin of victory in the 7th District to 4 points from 10 points.
8th District (Biden 72%-27%): The Democratic primary is the election that matters in this district in Hudson, Essex and Union counties in the north. Rob Menendez, a lawyer whose father is Sen. Bob Menendez (D), has the backing of the Democratic establishment and raised more than $1 million. Rep. Albio Sires (D) isn't seeking re-election.
10th District (Biden 81%-18%): Five-term Rep. Donald Payne Jr. (D) is opposed in the primary by Imani Oakley, a progressive political activist who's running against what she called a "corrupt" New Jersey Democratic "machine." Oakley raised about $426,000 through May 18, none of it from PACs.
There's little to no room to oppose Payne on the left. Payne, the chairman of the Transportation and Infrastructure's Subcommittee on Railroads, Pipelines and Hazardous Materials, has a loyally Democratic voting record and high ratings from progressive groups. Taking in slightly more than half of Essex County (Newark) plus parts of Union and Hudson Counties, the 10th is New Jersey's only Black-majority district and its most Democratic.
New Mexico
2nd District (Biden 52%-46%): The DCCC and Speaker Nancy Pelosi (Calif.) want Gabe Vasquez, a former Las Cruces city councilman who worked for Sen. Martin Heinrich (D-N.M.), to win the Democratic nomination and oppose Rep. Yvette Herrell (R).
New Mexico Democrats controlled the redistricting process and targeted Herrell by adding to the 2nd District some heavily Hispanic and Democratic-friendly precincts on the west side of Albuquerque. Redistricting also stripped the 2nd of Roswell and some Republican-leaning areas in the oil-rich southeast.
3rd District (Biden 54%-44%): By targeting Herrell, Democratic mapmakers diluted the strongly Democratic leanings of the northern 3rd District held by first-term Rep. Teresa Leger Fernández. The redrawn 3rd stretches from the northwestern corner of the state to Hobbs, about 500 miles to the southeast.
Republicans haven't waged a well-financed campaign, though. Alexis Martinez Johnson, who lost to Leger Fernández 59%-41% in 2020 and then lost a bid for Santa Fe mayor in 2021, reported raising less than $50,000 through May 18.
South Dakota
Senate (Trump won South Dakota 62%-36%): John Thune, the No. 2 Senate Republican, is favored to win the primary and then a fourth term in November. Thune had $16.1 million in his campaign account as of May 18 — more than $23 for every South Dakotan of voting age.
At-Large District: Rep. Dusty Johnson (R), who's seeking a third term in South Dakota's statewide district, is opposed in the primary by state Rep. Taffy Howard, who's trying to run to the right of the incumbent.
Howard sided with Trump's unproven claims of widespread fraud in the 2020 election and attacked Johnson for voting to reject objections to Biden's victories in Arizona and Pennsylvania. Johnson told SDPB Radio that Howard "wants to federalize elections to her liking" in a way that's "not consistent with the Constitution."
Drain the DC Swamp PAC, a pro-Trump super PAC funded by Colorado retiree Tatnall Hillman, spent more than $500,000 to aid Howard. Defending Main Street, which helps mainstream Republicans fend off more combative right-wing challengers, spent at least $218,000 to help Johnson.
Howard's donors included the Colorado-based National Association for Gun Rights, which says its "no-compromise stance" distinguishes it from the National Rifle Association and other gun-rights organizations.
Johnson has a conservative voting record. He did depart from most Republicans in voting for a proposal that would have established a bipartisan commission to investigate the Jan. 6, 2021 attack on the Capitol by a pro-Trump mob. Johnson opposed the select committee that House Democratic leaders established.
American Dream Federal Action, a super PAC financed by crypto executive Ryan Salame, paid for a TV ad that defended Johnson's anti-abortion and pro-gun positions.
To contact the reporter on this story: Greg Giroux in Washington at ggiroux@bgov.com
To contact the editors responsible for this story: Bennett Roth at broth@bgov.com; Kyle Trygstad at ktrygstad@bloombergindustry.com