Iowa's Second Redistricting Proposal Pairs Axne, Miller-Meeks
New map released after legislature rejected first redrawing
Plan would maintain three competitive U.S. House districts
A second proposed redrawing of Iowa's congressional map released Thursday would maintain three competitive districts, including one where two House members both live, and is more favorable to Republicans than a map the GOP-controlled state legislature rejected earlier this month.
The new map, drafted by a nonpartisan state legislative agency, more closely resembles Iowa's current district lines than did the agency's first proposal. It would continue to include three districts where Donald Trump would've narrowly defeated Joe Biden in the 2020 election, according to data compiled by Bloomberg Government. Trump carried Iowa 53%-45%.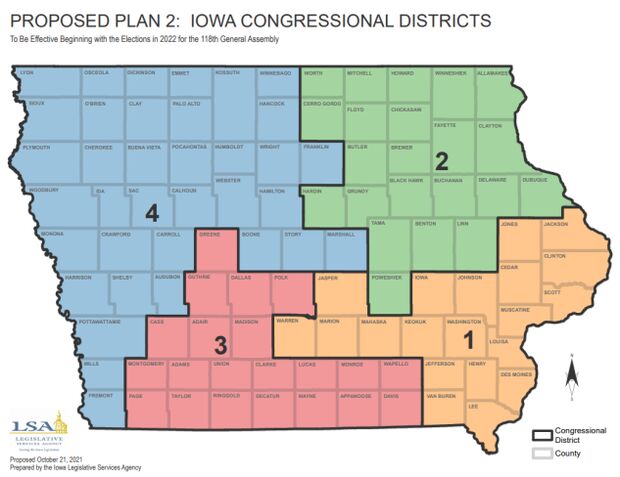 First-term Rep. Ashley Hinson (R) would be given a northeastern district that looks much like her current district. Trump would have won the proposed district, numbered the 2nd, by 51%-47%.
The map put the home counties of Reps. Mariannette Miller-Meeks (R) and Cindy Axne (D) in a revised 3rd District that would be dominated by Axne's current constituents in Polk and Dallas counties in and around Des Moines in central Iowa, while including eight mostly rural southern counties now represented by Miller-Meeks. Trump would've won the proposed 3rd District 49.3%-48.9%, comparable to the 49.1%-49.0% margin by which he edged Biden in Axne's current district.
If the map becomes law, Miller-Meeks probably would run instead in an open southeastern district, numbered the 1st, which would include most of her current constituents and voted for Trump by 51%-48%. Members of Congress aren't required to live in their districts.
Axne, the lone Democrat in the Iowa congressional delegation, hasn't announced her political plans. She's considering a 2022 campaign for governor.
Rep. Randy Feenstra (R) would seek re-election in the overwhelmingly Republican and sprawling 4th District encompassing 36 counties in the west and north.
Next Steps
The state legislature will reconvene Oct. 28 to consider the new map from Iowa's Legislative Services Agency, which is barred by law from considering political data and the home addresses of incumbents in establishing districts.
Read More: Iowa District Map Faces Uphill Sell to Republican Legislature
The Iowa Senate rejected the agency's first map on a party-line vote Oct. 5, with all Republicans voting no and all Democrats voting yes. Those proposed lines included Hinson's home county in a Democratic-leaning district and also marginally benefited Axne.
Under Iowa's redistricting law established in 1980, the LSA submits up to three proposed plans of congressional and state legislative maps to the legislature, which must accept or reject the first or second map on an up-or-down vote but may amend the third. The legislature has never rejected all three of the agency's maps and has by tradition deferred to Iowa's unique line-drawing process as a model of nonpartisan redistricting.
To contact the reporter on this story: Greg Giroux in Washington at ggiroux@bgov.com
To contact the editors responsible for this story: Bennett Roth at broth@bgov.com; Kyle Trygstad at ktrygstad@bloombergindustry.com