Iowa District Map Faces Uphill Sell to Republican Legislature
Nonpartisan state agency released proposal Thursday
New one must be drawn if state legislators reject the first
A proposed remap of Iowa's congressional districts released Thursday by a nonpartisan state agency may not survive scrutiny by the Republican-led state legislature.
In 2020, Donald Trump won all four of the state's districts, three of them by fewer than 4 percentage points, as he defeated Joe Biden statewide 53%-45%.
The new lines, crafted by the Iowa Legislative Services Agency, create two districts that Biden would have carried over Trump, according to a Bloomberg Government analysis.
"That raises the prospect of a 2D-2R delegation, which Republicans probably aren't going to like," Dave Wasserman, the House editor of the nonpartisan Cook Political Report with Amy Walter, said on Twitter.
House Republicans won three seats in 2020 and only narrowly fell short of winning all four — after Democrats held three of the four following the 2018 midterm elections.
( Sign up for Ballots & Boundaries, a weekly check-in as states change voting laws and revise political districts.)
The legislature will review the agency's congressional map in tandem with its state legislative map.
"We will do our due diligence and review it thoroughly to ensure it is a fair set of maps for the people of Iowa," state House Speaker Pat Grassley (R) said in a statement.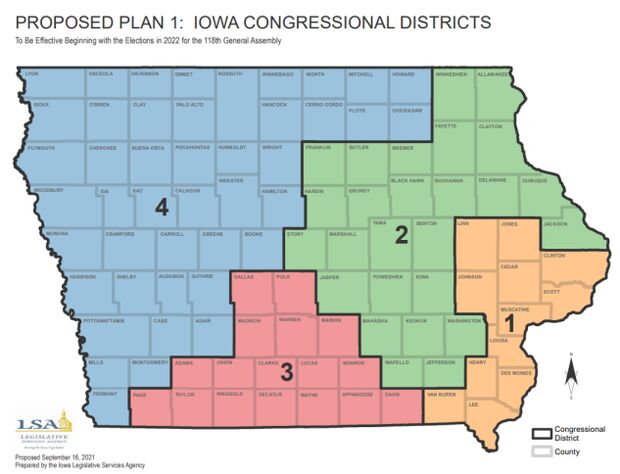 Between the Lines
Republicans may object to the reconfiguration of the 1st District — presently a mildly pro-Trump swath of northeastern Iowa represented by first-term Rep. Ashley Hinson (R) — to be a more compact and Democratic-leaning district in the southeast. The proposed 1st would include only Hinson's home county of Linn (Cedar Rapids) and one other county from the current 1st, while adding heavily Democratic Johnson County (Iowa City), populous Scott County (Davenport), and other territory from the 2nd District of fellow first-term Rep. Mariannette Miller-Meeks (R).
The proposed 1st would have voted for Biden over Trump 53%-45% in the 2020 presidential election. Under the current lines, Trump carried it 51%-47% in 2020 as Hinson unseated Abby Finkenauer (D) by 51%-49%.
The LSA's map put most of Hinson's current constituents into a reconfigured and Republican-leaning 2nd District that would envelop much of east-central and northeastern Iowa, including Miller-Meeks' Ottumwa hometown. Trump would have won the proposed 2nd by 55%-44%; he carried the current 2nd by 51%-47% and Miller-Meeks was elected there by six votes. Members of Congress aren't required to live in their districts.
"There is a long process still to play out. Congresswoman Hinson is focused on serving her district, not drawing it," Sophie Crowell, Hinson's campaign manager, said in an email.
The 3rd District of two-term Rep. Cindy Axne (D), the only Democrat in Iowa's congressional delegation, would remain the state's most competitive. It would continue to be dominated by Democratic-leaning Polk County in and around Des Moines plus fast-growing Dallas County, where Republican victory margins have shrunk as most of the rest of Iowa has shifted to the GOP. The proposed 3rd would absorb more rural and Republican-friendly counties fanning out southwest and southeast to include most of Iowa's southern border.
Axne "would have to work to introduce herself in those counties, but at least those more rural and Republican counties don't shift the overall balance from her current district," Tim Hagle, a political scientist at the University of Iowa, said in an email.
Biden would have won the proposed 3rd by 49.2%-49.0%, a slight improvement to his 49.1%-49.0% loss to Trump in the current 3rd.
Axne, who was re-elected by 1.4 points in 2020, hasn't said if she'll seek re-election. She's considering a bid for governor.
The 4th District of first-term Rep. Randy Feenstra (R) would remain a Republican stronghold under the proposed map, taking up all of Iowa's western border and most of its northern border. Trump would have won the proposed 4th by 65%-33%, compared with his 63%-36% victory in the current 4th.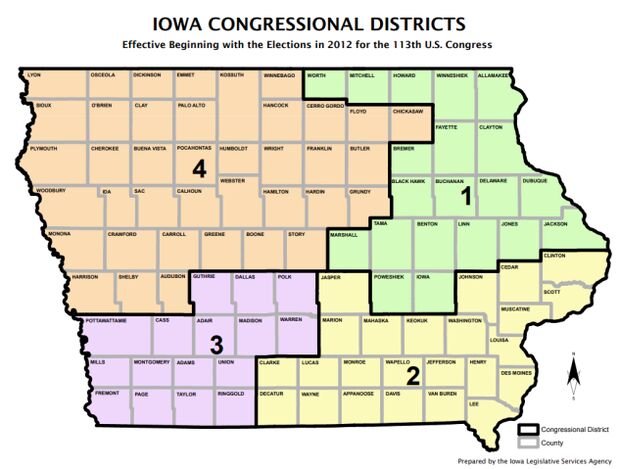 Next Steps
The LSA initiates congressional redistricting under strict rules including a prohibition on using political data or dividing counties among districts.
An advisory commission will conduct public hearings on the map Sept. 20 to 22 and send a report to the legislature before it meets in a special session Oct. 5, according to a proclamation from Gov. Kim Reynolds (R).
Read More: Iowa's Nonpartisan Redistricting Set for State GOP Majority Test
The legislature must give the map an up-or-down vote. If the LSA's first map is rejected, it will release a second map. Only after a third map is turned down can the legislature substantively amend it. Since Iowa adopted its unique redistricting system in 1980, the legislature has occasionally rejected a map from the LSA but has never implemented its own.
"Given that state legislators vote on the new plan, how it affects state legislative districts might be more important to them than the congressional districts," Hagle said. "Republicans control the state legislature, but even if they aren't thrilled with the proposal, there's always a concern that the next one might be worse. We'll just have to wait for additional analysis and the reaction of the legislators."
Iowa is among the first states to begin redrawing congressional district lines following a monthslong delay in the delivery of detailed 2020 census population data to the states. The Census Bureau released the data Aug. 12 in an older format; the agency published the information on Thursday in more user-friendly formats.
Indiana Republican legislators this week released a draft map that would fortify their party in seven of the nine districts. The Arkansas legislature will reconvene Sept. 29 to redraw the state's districts, all held by Republicans. New York's redistricting commission this week released two maps, though the Democratic legislature and governor could draw their own 26-district map targeting some Republican incumbents.
Read more: New York Redistricting Panel Fails to Agree on Draft Maps
To contact the reporter on this story: Greg Giroux in Washington at ggiroux@bgov.com
To contact the editors responsible for this story: Kyle Trygstad at ktrygstad@bloombergindustry.com; Loren Duggan at lduggan@bgov.com