Iowa's Nonpartisan Redistricting Set for State GOP Majority Test
Nonpartisan agency will release map by next week
State legislature must accept or reject it with a vote
Iowa's Legislative Services Agency will release its first set of political maps by Sept. 16, making the state one of the first to initiate congressional redistricting and setting the table for multiple House races to watch next year.
The intensely political map-drawing process is led in most states by state legislators and governors determined to fortify their party at the expense of the other. Then there's Iowa, where duties are handled by the nonpartisan agency, which is prohibited from considering political data, including past election results or incumbents' home addresses.
How it redraws Iowa's four districts — and whether Republicans who control the governorship and state legislature accept or replace it — could have an outsized influence on a 2022 midterm election in which Democrats are defending a five-seat majority.
"Iowa's nonpartisan redistricting process is considered one of the fairest in all 50 states," state House Speaker Pat Grassley (R), the grandson of Sen. Chuck Grassley (R), said in a statement. "Despite the delay in census data, we have worked with the nonpartisan Legislative Services Agency and the Iowa Supreme Court to ensure that we maintain the integrity of our highly-praised redistricting process in Iowa."
( Sign up for Ballots & Boundaries, a weekly check-in as states change voting laws and revise political districts.)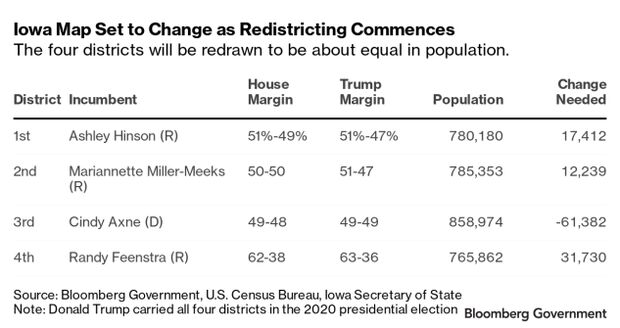 Under Iowa law, the legislature must give the LSA's map a straight up-or-down vote. If the map is rejected, the agency will produce a second map that's also subject to an up-or-down vote. If the legislature spurns that map, the LSA will submit a third map that can be amended like any other bill — or the legislature could enact its own district lines. The congressional and state legislative district maps are considered together.
Iowa Democrats and Republicans have praised the state's redistricting method, and the GOP majority hasn't signaled plans to supersede the LSA's map with one of its own. That hasn't happened since the redistricting law was enacted in 1980: in 1991 and 2011, the legislature approved the first map; in 2001, the second map was enacted; and in 1981, the third map was accepted without amendment.
"The process is pretty institutionalized," said Karen Kedrowski, a political scientist at Iowa State University. "It's a respected process, and I don't expect it to be controversial."
Off to the Races
Iowa's congressional delegation saw significant turnover in 2020 and is primed for more next year depending in part on how the lines are drawn.
Last year Republicans captured the seat of a retiring Democrat, defeated an incumbent Democrat, and almost unseated another — all in races where the winner received less than 52% of the vote. The 2022 House campaign in Iowa is already underway.
In the 1st District, which in its current form takes in 20 counties in the northeastern part of the state, state Sen. Liz Mathis (D) is challenging Rep. Ashley Hinson (R) after Hinson unseated one-term Rep. Abby Finkenauer (D) in 2020.
The district's population centers of Linn County (Cedar Rapids) and Black Hawk County (Waterloo/Cedar Falls) voted decisively for Finkenauer, who also edged Hinson in Dubuque County (Dubuque). But Hinson racked up big margins in the 17 more rural counties and won 51.2%-48.6%.
Hinson has prepared for a potentially competitive 2022 race by stocking $929,000 in cash on hand as of June 30 after raising more than $1.4 million. Both Hinson and Mathis are from Linn County, so they'd be opponents under any reconfiguration of the 1st District.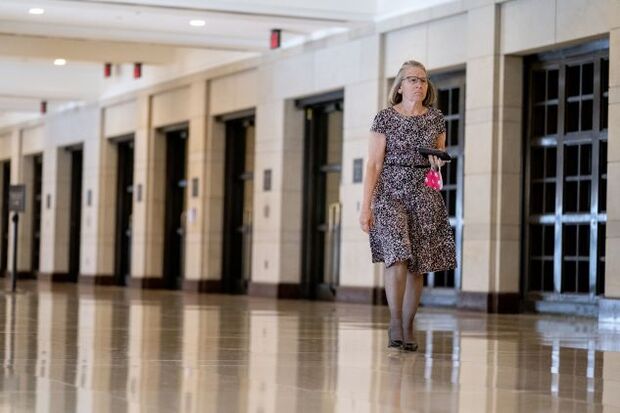 In the 2nd District, which envelops 24 counties in the southeast including Scott County (Davenport), Rep. Mariannette Miller-Meeks (R) won an open-seat race in 2020 by six votes on her fourth try for Congress.
State Rep. Christina Bohannan, a law professor, announced her House campaign on Aug. 25. She's from Iowa City in Johnson County, a liberal bastion in the northeastern part of the district that's home to the University of Iowa and just south of Linn County in the 1st. Miller-Meeks is from Ottumwa in Wapello County, which is southwest of Johnson and in the central part of the 2nd. She had $1.2 million in her campaign account on June 30.
Rep. Cindy Axne, the lone Democrat in the delegation, represents the 3rd District dominated by Democratic-friendly Polk County in and around Des Moines and its suburbs. Iowa's redistricting rules bar dividing up counties, so Polk's 492,401 people will account for more than 60% of the reconfigured district's population of about 798,000 people, according to 2020 census data.
The question is which Iowa counties join Polk in the new district — rural counties that are strongly Republican, or turf more favorable to Democrats. Axne would benefit if the 3rd became a more compact central Iowa district that retained Polk and fast-growing Dallas County, which is trending Democratic, while adding Democratic-leaning Story County (Ames) from the heavily Republican northwestern 4th District of Rep. Randy Feenstra (R). In 2001, the LSA's first map proposed a Polk-Dallas-Story congressional district, but it was rejected.
"Polk is going to be key. It's her base, it's good for her," Tim Hagle, a political scientist at the University of Iowa, told Bloomberg Government last month. "But if it's a matter of pulling in the smaller counties, which tend to be rural and tend to be more Republican, that could potentially make it difficult."
Axne's GOP opponents include state Sen. Zach Nunn and financial planner Nicole Hasso, who are from Polk, and former state Rep. Mary Ann Hanusa from Council Bluffs in the western part of the district and state. Axne hasn't said if she'll run for re-election or for governor. She had $1 million on hand on June 30.
Emily Wilkins in Washington also contributed to this story.
To contact the reporter on this story: Greg Giroux in Washington at ggiroux@bgov.com
To contact the editors responsible for this story: Kyle Trygstad at ktrygstad@bloombergindustry.com; Bennett Roth at broth@bgov.com