Democrats' House Grip Relies on Holding Districts Trump Carried
Two of seven incumbents not running again
New lines could make races more challenging
Republicans' path to winning the House majority runs through more than a half-dozen Democratic-held districts Donald Trump carried in 2020.
Redistricting, which began in earnest last week, will help decide how competitive those seven ticket-splitting swing seats will be. So will retirements, with Rep. Ron Kind of Wisconsin last week becoming the second of those incumbents to announce he won't seek re-election.
Both parties are closely monitoring the line-drawing process in each of the districts, as well as whether the other five Democrats will run for another term. Those variables will weigh heavily on this subset of the GOP's target list, which is enough to swing control of the closely divided chamber.
"We need every seat we can get," said Ian Russell, a consultant and former top official at the Democratic Congressional Campaign Committee. "This majority could be won or lost based on incremental changes. So it's really important that we fight for every seat."
( Sign up for Ballots & Boundaries, a weekly check-in as states change voting laws and revise political districts.)
Census Bureau data released last week will guide state legislators or commissions as they redraw the lines of congressional districts, based on population changes, as required every 10 years. Line-drawers, some partisan, some independent, will work to shape the new districts before the 2022 election.
Meanwhile, members considering their future look at the length of time they've been in office, their health, their family situation, and political dynamics in their district or state.
Here's a closer look at the seven districts that voted to re-elect a House Democrat in 2020 while also backing Trump over Joe Biden: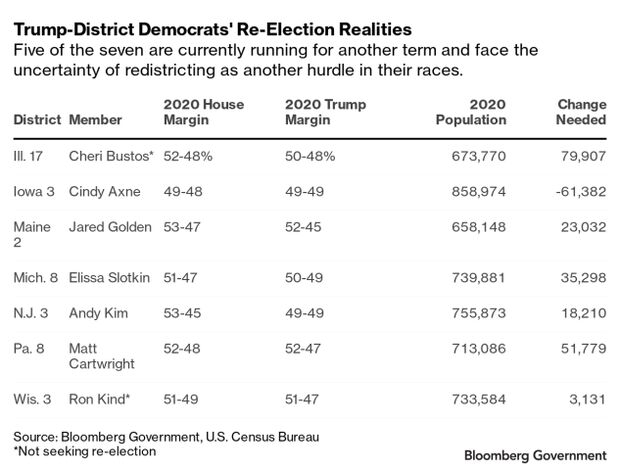 Illinois' 17th (Open): Rep. Cheri Bustos, who led the DCCC in the 2020 election, is retiring after five terms representing a northwest Illinois district that hugs the Mississippi River and has appendages extending to Rockford and Peoria. A decade ago, Illinois Democrats crafted the district to help Bustos unseat Republican Bobby Schilling. But its mostly white, working-class constituency trended toward Republicans when Trump led the party, and Bustos was narrowly re-elected in 2020.
Democrats again control redistricting in Illinois, which is losing one of its 18 House districts after losing population in the 2010s. The legislature could try to draw new a congressional map that eliminates and then apportions some of the more Democratic parts of the Bustos district to Rep. Lauren Underwood (D), who was re-elected by 51%-49% in 2020. Other parts of the Bustos district could be apportioned to two Republican-leaning districts currently held by Reps. Adam Kinzinger and Darin LaHood.
Iowa's 3rd (Cindy Axne): Axne hasn't announced whether she'll run again for her seat or join the 2022 governor race, according to the Des Moines Register. But her district in the southwest corner of the state is likely to remain favorable to her: Iowa's 3rd contains Polk County in and around Des Moines, a stronghold for Democrats. Under Iowa's unique redistricting rules, Polk can't be divided up. The county will account for more than 60% of the reconfigured district's population.
Even if Polk was shifted to another district, Axne doesn't need to worry about getting drawn in with another Democratic incumbent: she's the only one in the state. The bigger question is which rural counties her district will envelop — those she'll have represented for almost four years by the November 2022 election, or new ones where she doesn't have the same name recognition, said Tim Hagle, a political science professor at the University of Iowa who has studied the state's redistricting process.
"Polk is going to be key. It's her base, it's good for her," Hagle said. "But if it's a matter of pulling in the smaller counties, which tend to be rural and tend to be more Republican, that could potentially make it difficult."
Iowa's lines will be drawn by the state's nonpartisan Legislative Services Agency. The Republican-led legislature could enact its own map after rejecting three of the agency's maps, though legislators traditionally have deferred to the LSA. It plans to release its first map next month.
Maine's 2nd (Jared Golden): Golden, a Marine Corps veteran in his second term, represents the more rural and conservative of Maine's two districts. His probably won't be significantly revised, as it needs to add only 23,000 people from the 1st District to make them equal in population.
By the end of September an advisory commission will submit a map to the legislature, which can enact that plan or one of its own by a two-thirds vote. Democrats control the legislature, though not by a two-thirds margin, and Democrat Janet Mills is governor. If the legislature doesn't pass a plan, the state Supreme Court will handle redistricting.
Golden isn't an easy target for Republicans. One of the least liberal House Democrats, Golden in 2021 voted against Nancy Pelosi(D-Calif.) in the speaker election and opposed the party's $1.9 trillion stimulus package and gun background check bills. Golden won 53% of the vote in 2020 compared with 45% for Biden, the biggest gap among Trump-district Democrats.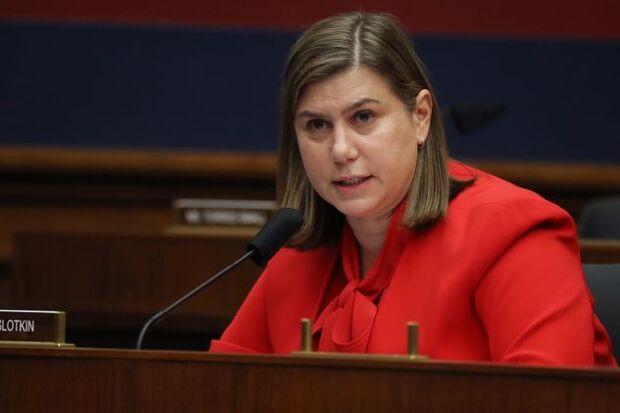 Michigan's 8th (Elissa Slotkin): Slotkin is already planning to run for re-election in her central Michigan district. For the first time, an independent commission will draw the state's lines, meaning many of the gerrymandered districts around Detroit and its suburbs could be radically changed with little regard for either party. Slotkin's district stretches from the suburbs of Detroit to the capital city of Lansing near the center of the state, and covers a large stretch of rural areas in between.
Slotkin has elevated her profile in Congress by being vocal on national issues that overlap with her experience as a former intelligence and national security official. That included favoring an impeachment inquiry into Trump's withholding of funding from Ukraine. Yet Slotkin has also worked on more bipartisan and local issues, allowing her to win her last re-election by 4 points. Slotkin is one of the best-funded House members, with $3.1 million in her campaign account as of June 30.
New Jersey's 3rd (Andy Kim): A bipartisan redistricting commission will redraw New Jersey's 12 districts, including Kim's in the south-central part of the state. Kim, who was first elected in 2018, represents a swath of Burlington County that votes Democratic and a section of Ocean County that leans Republican. His district is abutted to the north by Rep. Chris Smith's strongly Republican 4th District and to the south by Rep. Donald Norcross' Democratic-friendly 1st District and Rep. Jeff Van Drew's mildly Republican-leaning 2nd District.
Kim had more than $2 million in cash on hand on June 30.
Pennsylvania's 8th (Matt Cartwright): Cartwright's district, set in northeastern Pennsylvania and anchored by Lackawanna and Luzerne counties in and around Scranton and Wilkes-Barre, needs to add about 52,000 people and is surrounded mostly by Republican turf.
Cartwright would benefit from adding Democratic voters from the Lehigh Valley-based 7th District to the south, though that could harm Rep. Susan Wild (D), who was re-elected in 2020 by just 52%-48%.
If Democratic Gov. Tom Wolf and the Republican-led legislature can't agree on a new map, the courts would assume responsibility for redistricting. In 2018, the Pennsylvania Supreme Court invalidated a Republican-drawn map and implemented a map under which Democrats won nine of 18 seats in 2018 and 2020, compared with five in each of the three previous elections. Slow-growing Pennsylvania must lose a district.
Wisconsin's 3rd (Open): Kind, the most senior of the Trump-district Democrats, announced last week he's not seeking a 14th House term in 2022 — a blow to Democrats who'll be hard-pressed to keep control of a district that includes La Crosse, Eau Claire, and significant rural territory. It may not change much in redistricting because it's tucked in the western part of the state and only needs to add 3,100 people.
The courts will handle redistricting if Democratic Gov. Tony Evers and the Republican-controlled legislature can't agree on a remap. Democratic elections lawyer Marc Elias filed a lawsuit Aug. 13 that asked a federal court in Madison to redraw lines in the event of a "near-certain deadlock." Lawyers for the Republican-led legislature asked the court in an Aug. 17 filing to dismiss the "wildly premature litigation."
Stephen Joyce in Chicago also contributed to this story.
To contact the reporters on this story: Greg Giroux in Washington at ggiroux@bgov.com; Emily Wilkins in Washington at ewilkins@bgov.com
To contact the editors responsible for this story: Kyle Trygstad at ktrygstad@bloombergindustry.com; Cheryl Saenz at csaenz@bloombergindustry.com